More than 2000 active SERPPLERS have made the right choice!
Track. Rank.
Grow.

Repeat.

Don't settle for average data to build your SEO strategies. Utilize our free seo tool for optimal results which is compiled for you in a simple form to help you understand the progress, identify the growth and strategize the needs to increase your website traffic
SERP Marketing with Serpple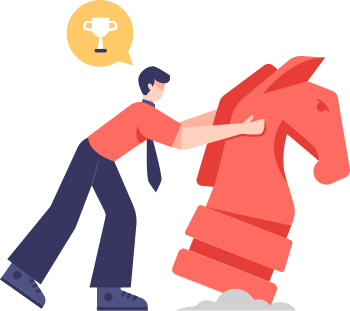 Group of Information in One Place –
Widgets

Understand the progress of keyword performance – Serpple Score

Well organized keyword groups & easy to track

Absolute SERP Tracking with in-depth details like our SERP legend elements

Hunt your known/unknown competitors with the help of AI

Competitors are monitored the same as yours including SERP, ads, and others.
SERP Marketing without Serpple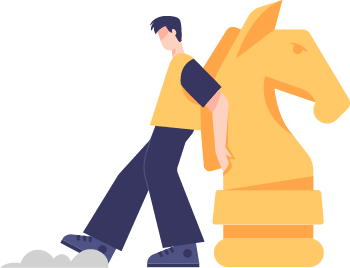 Information spread everywhere and is hard to Analyze
Tracking overall keyword performance is challenging
Keyword grouping is just tagging them as a group
Track regular SERP details, just the tip of the iceberg
You are supposed to mention competitors & teach the tool to track
Selected competitors & their rank comparison is the highest level

Data-Driven SERP Insights to
Outgun the Competitors
Best SEO tool to get your daily rankings, analyze your keywords, and
check your potential keyword metrics at your convenience.

Get started in less than 3 minutes.

Track your keywords across 189 countries.

Access more than 20+ advanced SERP elements.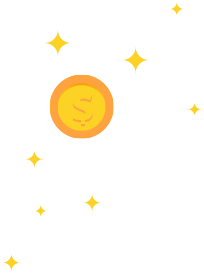 Watch Every Step of Your Organic Growth
You get the bird's-eye view of all key SERP features on your project from our interactive dashboard.
Eager to find out how your website is performing in Google?
Organic Progress
Snapshot of your SEO Progress
Observe your SEO performance from our dynamic graphs in the wink of an eye.
Weigh the overall organic progress of your potential keywords with our Serpple score.
Discover the distribution of your keywords' position from #1 to #100, all of them in one place with our all in one SEO tool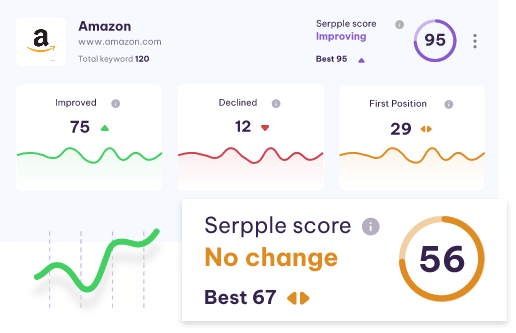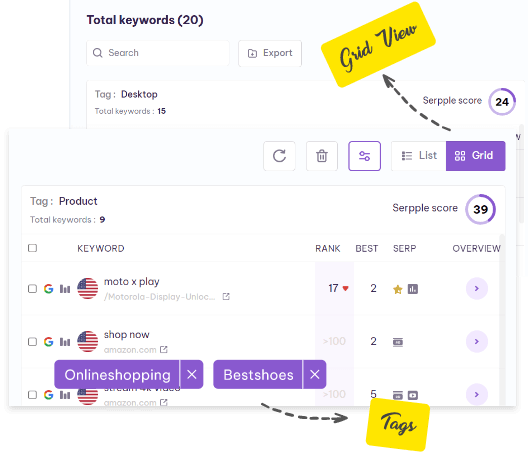 Keyword Tracking
Mastermind your next move
Sort your keywords into groups with relevant tags.
Observe the performance of those individual groups in the grid view.
Evaluate the organic performance of each group to plot a better game plan.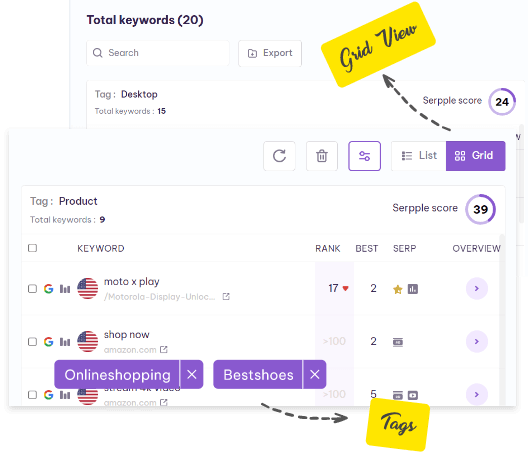 Competitor AI
Competitor AI to Spy on Your Competitors
Serpple bot uncovers all your competitors with similar keywords.
Stalk not just the rankings but a few other metrics of your competitors.
Track down when your competitors run ads for your keywords.
Don't miss a single track of their organic progress with our SEO tool.
You neither know all of your competitors nor all about your competitor.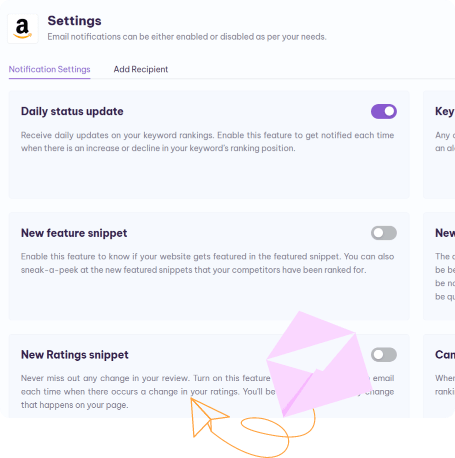 Custom Notifications
Get the Nudge Whenever You Need
Customized notification system to avoid spamming your inbox every day.
Get hyper-relevant alerts to your mailbox only if you feel is important to keep a look at .
Add team members or clients to receive curated alert notifications directly to their inboxes.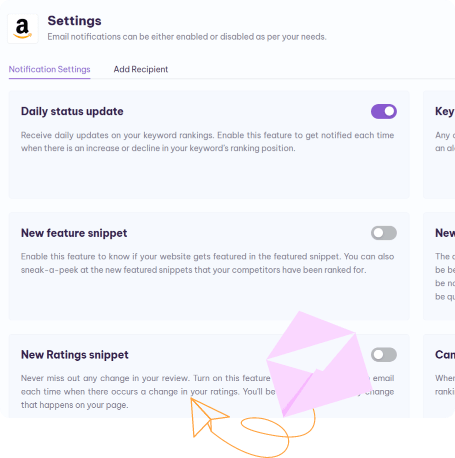 Love from Our Customers
You should be consistent in your SEO progress to sustain your dominance in your niche. And, we find
great joy and honor that Serpple is serving as a top SEO tool and a good companion throughout your SEO journey.
I've been following up this tool since the early bird registration. Though it took some time, the tool came really good. I feel lots of differences from other tools. This tool will go for miles and Good luck guys.
Serpple is a good tool in terms of essential notifications. Other tools just give you the rank but not much details such as new ads, SERP features, etc. My preference is always serpple among other keyword rank tracker tools.
I am glad to know this tool and the founding team behind this great tool. Even before the platform went live, I've been impressed by its speed, UX design, reporting and looking forward to seeing all the other great features.
SERPPLE APP - Perfect SEO tool for tracking all the keyword ranking metrics and what I like it's accurate and suggests to us which keywords are cannibalization too. I tried many free tools at beginning of my SEO journey but SERPPLE is my favourite.
It is so easy to track search ranking belonging to your keywords. You can even select which localised version of the search engine you use to track the results.
Accurate track of rankings, Daily reports, Support, UI and Affordable cost compared to other service providers. Only problem is every time we need to change the locations to see local rankings
  Helping Over 2K+ Users to Drive Massive Organic Growth 
All in one SEO tool - Serpple was crafted not just to track your rankings but to ensure your organic progress with
reliable SERP metrics. Your SEO success is our purpose. All set to Start Serppling?
More than 2000 Users Can't be
Manipulated-Serpple is the Apple of their Eye!
See these reviews for yourself
Are you still not convinced? Give us a call on +91-7788996620
You can also book a demo with one of our SERPPLE Specialists.
Serpple is a highly advanced SEO tool that aids users to level up their SEO progress by tracking the ranking progress of their keywords with absolute accuracy and by precisely measuring their overall organic performance.
Will I get any future updates irrespective of my subscription plan?
Yes! You'll get updates each time we upgrade our tool with remarkable features. It's a promise in disguise, we will be adding new features periodically.
How does Serpple - SEO tool stand unique from the rest?
SEO tool – Serpple stays unrivaled in terms of its accuracy users can get 99.5% accurate data quality. And, they also get to measure their overall organic performance and stay updated with SERP changes.
Is Serpple a free SEO tool?
Yes! Serpple has a free plan for its users with powerful features These features will be limited as per the plan. Users on exploring the free plan, can upgrade to pricing plan based on their needs anytime.