Cheap Affordable Keyword Rank Tracker You'll Love Using
14 Day Free Trial | Cancel Anytime
SERP Tracking Tool Thats Easy To Use
Simply add your website and leave the rest to Serpple Google rank tracker. We've built Serpple to be so easy that your grandma can understand the ranking reports. But we also give you guided help on improving your Google SERP performance.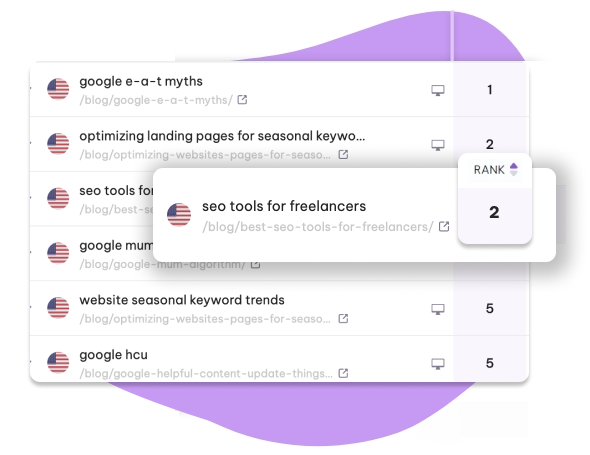 Easily See Where Your Most Important Keywords Rank
You don't have to sift through 10k datapoints to see your rankings. Our simple to read and understand rank tracking tool makes it super easy to know how your SEO is progressing.
You don't need a masters degree in SEO to use Serpple's SERP tracking tool.
Find New Keywords That Will Drive More Traffic and Sales
Are you missing out on important keywords in your niche? More than a mere keyword tracking tool, Serpple analyzes your website and periodically presents you with overlooked keywords' traffic, turning potential oversights into game-changing opportunities.
Discover high-impact keywords that drive traffic and prioritize them to grow your business.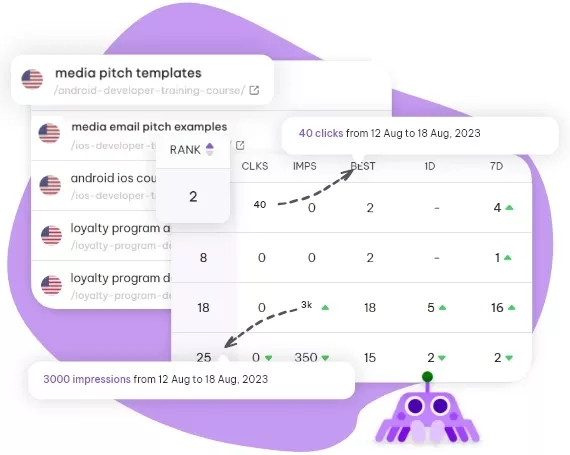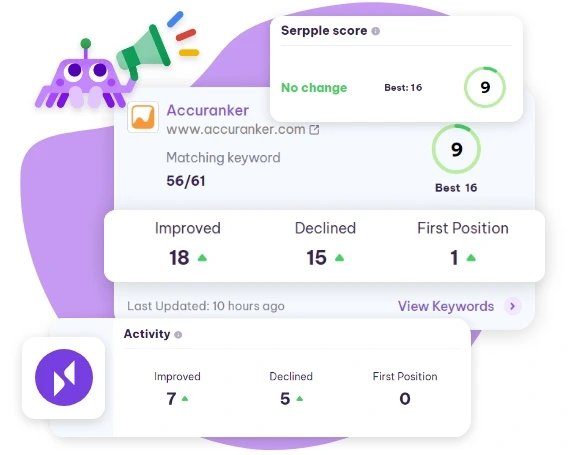 Spy On Your SEO Competitors
Want to know what your competitors are doing to grow organically in Google? Our AI competitor tracking lets you track organic changes of your competitors and compare them to yours. Stay ahead of your competition.
Harness the power of Competitor AI, Serpple's custom SEO competitor tracking system.
Explore Untapped Keyword Opportunities and Broaden Your Reach
Encountering relevant niche keywords requires in-depth analysis as they don't originate from a single source. Serpple doesn't only find effective keywords, it unveils fresh keyword opportunities to enlarge your reach and engage new audiences.
Broaden your audience with Relevant and Low-Competition Keyword Opportunities.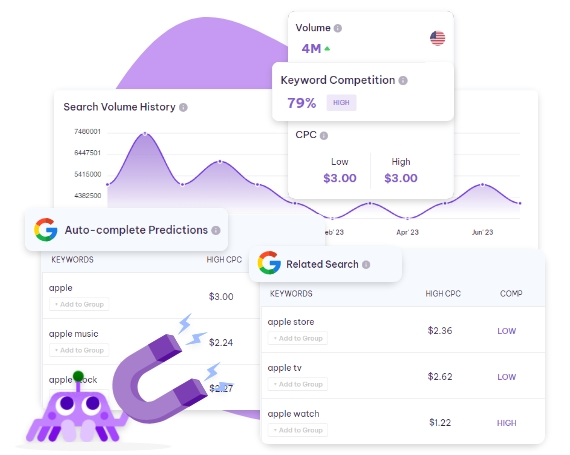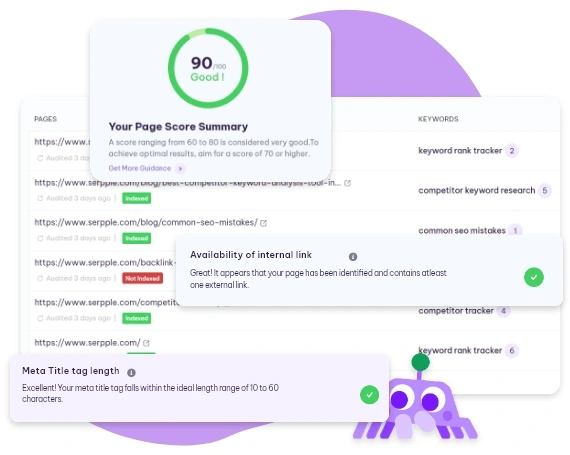 Get SEO Help With Our Content Audit Tool
Great quality content is key in grabbing the attention of your target audience but there is a delicate balance to also include the right SEO techniques to rank at the top of the search results. Serpple's Content Audit tool scans each page individually and gives you SEO insights that strengthen content optimization making it more visible, engaging, and proficient in driving sales and conversions.
Keep up your content well optimized for all the Search Engines.
Bonus Tool: Monitor Your Backlinks
We all know that backlinks are the lifeblood of SEO. Thereis nothing worse than working hard to get a backlink just to have a blog owner remove the link without your knowledge. Easily manage and Monitor all your website's backlinks with our Backlink Monitor tool.
Keep track of your hard earned backlinks with our easy to use backlink monitor.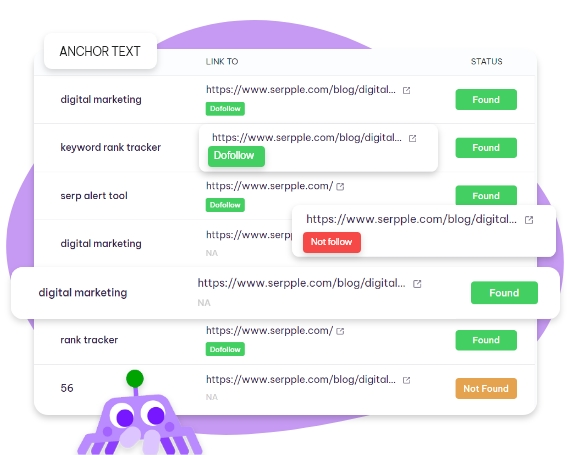 Come See Why Serpple Is Your New Favorite SEO Tool
Say Yes to Organic Growth
Explore the Perks of Easy Keyword Rank Tracker to kickstart your SEO journey!
Save Time and Effort
Our tool does the heavy lifting, freeing up more time for you to focus on what you do best - running your business.
Reliable and Accurate Rank Tracker
Trust your SEO strategy to reliable, accurate data. Our tool provides dependable tracking that you can base your business decisions on.
Daily Rank Tracking
Our tool daily tracks your rankings, unlike other expensive solutions that track your ranking once a week.
SERP Alert Ranking Tool
Introducing the first-ever SERP Notification Ranking Tool that emails you whenever there is a change in SERP.
Actionable Insights
We don't just show you the data, we provide clear, actionable insights to improve your online presence and stay ahead of the competition.
Affordable
High quality doesn't have to mean high cost. We offer top-notch keyword position tracker at a price that anyone can afford.
No SEO Experience Needed
New to SEO? Our Simple Rank Tracker with user friendly UI and easy-to-understand reports make SEO accessible to everyone.
Real Time Rank Tracking
Serpple Ensure 99% accurate ranking data for your new business SEO strategy with it's Real-Time SERP Tracking
Get Started In 3 Easy Steps
Add your website
Add your website with parameters like Location, Language and Device.
Enter your SEO keywords
Track your keywords by adding them manually or importing from a file.
Sit back and Watch
Stay informed with daily rank tracking updates and SERP notifications.
Serpple Rank Tracker Supports All Language Websites?
Yes! Serpple supports all  languages and nations where Google has a presence. 
Can I Switch From Another Rank Rracker to Serpple?
Yes. Just export all the keywords from your current provider as excel sheet or text file and import all those keywords in to Serpple Google Rank Tracker. 
What is the Frequency of Keyword Tracking?
We track keywords once for every 24 hours, usually early morning so you can check your rankings while you have breakfast.
What search engines do you support?
We support rank tracking for Google's search engine.
I'm not an SEO pro. Can I still use Serpple?
Yes! We have built Serpple to be super accurate and affordable but also easy enough for your grandma to use and understand. 
Can I Check One or More Keyword Positions Instantly?
Yes! Each plan allows a certain number of instant refreshes which allow you to run a live check of keywords positions instantly from Google. 
Start Tracking Your Rankings With Serpple Now
Start your SEO Journey with Serpple Rank Tracker's assistance and
watch your organic traffic grow daily.