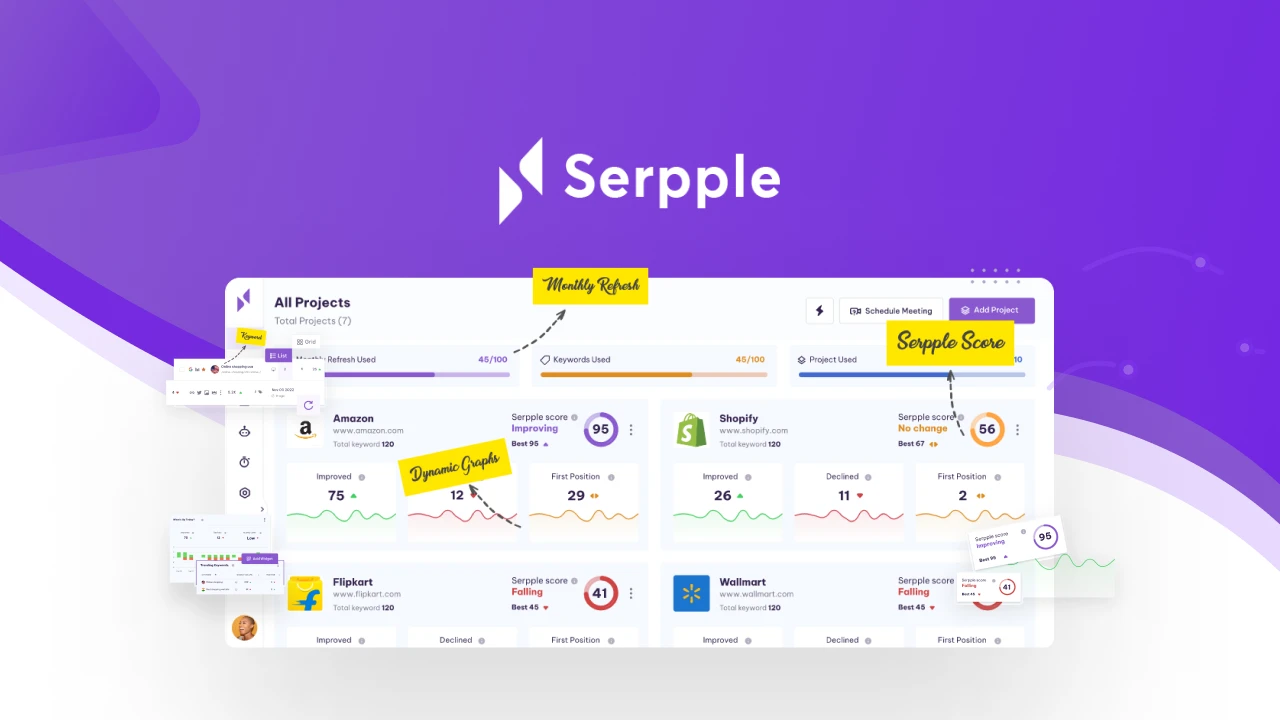 We have all experienced it, don't we?
That feeling of "meh" when we try to track keyword rankings manually every time.
That moment when we are helpless, unable to evaluate our organic progress.
That desperate feeling as we find it extremely hard to keep up with the SERP updates.
That annoying moment, though we opt for the best keyword tracking software but go incognito to check rankings accurately.
And, don't you think that we need the smartest way out not just the best way to help us all with our SEO journey?
However, we indeed have a list of the softwares in the market.  Yes, we do depend on Google search console yet, we require something beyond perfection.
Yes! And, we needn't panic anymore! Thankfully, now there is a reliable option and a long-term solution. Just stick with me until the end of this blog to find it out.
Why do You Need the Best Keyword Tracking Software?
Primarily you need a keyword rank tracking software to monitor if those efforts you're putting into SEO are paying off, and to keep track of the SERP changes of your keywords.
Besides, there may be another best keyword tracking app that can help you with exploring the performance of your competitors too.
Indeed, nearly all the best keyword tracker tools provide you with these standard features. Even then,
Which keyword tracking tool is the best?  is a question we often end up googling the most.
Bearing this in mind, I would bring to your notice the best keyword tracking software that has been crafted with highly advanced features, the SERPPLE.
How does Serpple Differ from Other Best Keyword Tracking Software in the Industry?
Serpple differs from other keyword monitoring tools in terms of its unique features that exceed users' expectations.
It provides users with pinpoint accuracy more than any of its contemporaries.
It aids users to evaluate the overall performance of their site.
It has made staying updated with SERP changes quite easy.
These three aren't the only features. Yet, these are the aspects that distinguish Serpple from other best rank-tracking tools.
How Accurate is Keyword Tracking with Serpple?
Serpple is a highly advanced keyword rank tracker tool that can provide you with 99.5 % accurate results.
Most of us think that the best keyword tracking tools fail to provide users with pinpoint ranking information.
This is because Google has introduced variables into its ranking algorithm.
And, these variables have in them the device information, search history, location, and social signals.
Thus, it is understood that Google displays different SERPs depending on these factors combined.
Thus, this makes us conclude that site ranking information can't be accurate as it is concerned with each searcher individually.
Moreover, it convinces us that the data we get from keyword tracking tools are nothing more than rough estimates.
Google is indeed keeping track of what users are searching for. So, to give relevant and accurate SERPs, it's essential to know what the user wants.
However, a tool that crawls the entire internet like some all-in-one SEO platforms is bound to miss an essential piece of information.
It takes more time to finish the task.

By the time it's done, the data can't be expected to be relevant anymore.
However, these baseless facts aren't valid anymore.
On the contrary, a smart and best rank checking software like SERPPLE is designed to replicate human behavior when it comes to searching for a specific keyword position you ask for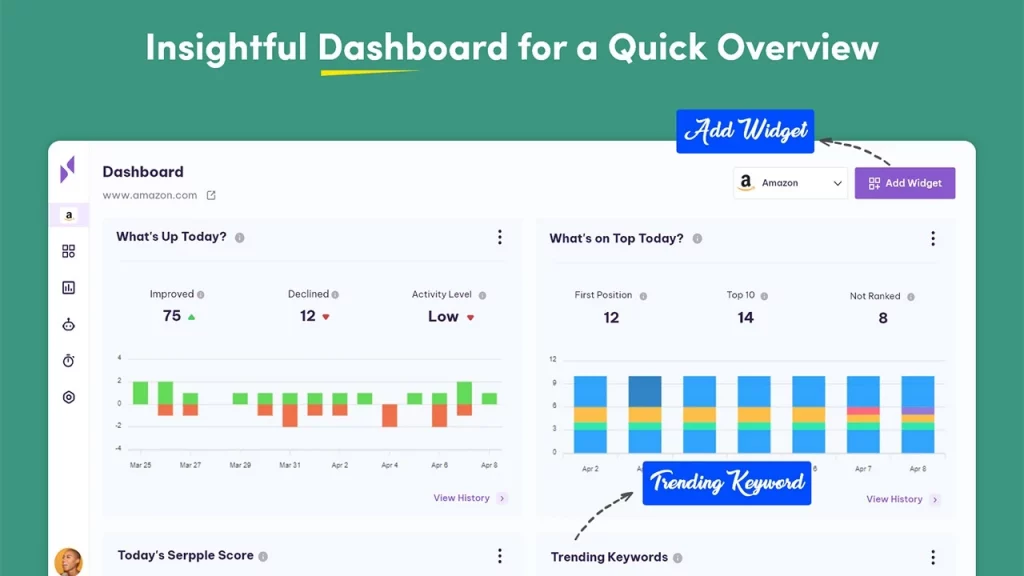 So, the data it provides is supremely accurate, fresh, and always relevant.
Serpple reads complex search engine algorithms and pulls out neutral results that we would get by switching no to incognito.
This way Serpple displays 99.5 % accurate results to users and seems to be the most accurate and the best keyword tracking software in 2022.
What is SERPple Score?
Serpple Score is a feature that measures how much is the overall performance of your site.
So, this lets you evaluate the SEO effort it might take to organically rank your site /your page in the top 10 of Google's Search Engine rankings for a certain keyword.
The percentage of serpple score will be of great help to fix priorities especially when you plan your SEO campaigns.
The higher the serpple score is, the more efficient is your performance. Much lesser your score is, the much efficient should be your SEO strategy to see desired results.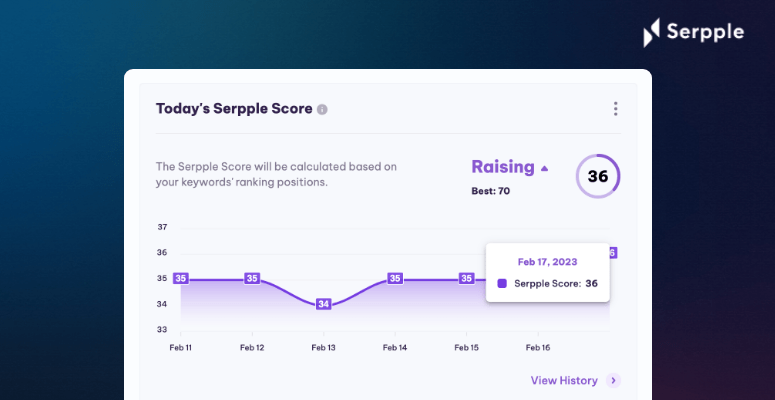 For instance, let's say you're planning to consider two keywords for an SEO campaign:
Keyword A has a Serpple score of 64, and keyword B has a serpple score of 40.
So, focusing on keyword A gives you a better chance of ranking on the first page much quicker comparatively.
And at the same time, you get enough insights to form a better strategy to try and rank for keyword B.
This Serpple score is estimated based on the ranking positions and other SERP factors that impact your SEO progress.
How to stay updated with SERP changes?
Serpple sensor is designed to monitor the daily changes in the rankings of your potential keywords and notifies you of those changes.
In other words, this best keyword rank tracker software watchdogs your ranking fluctuations 24/7 and provides you with fresh and precise data.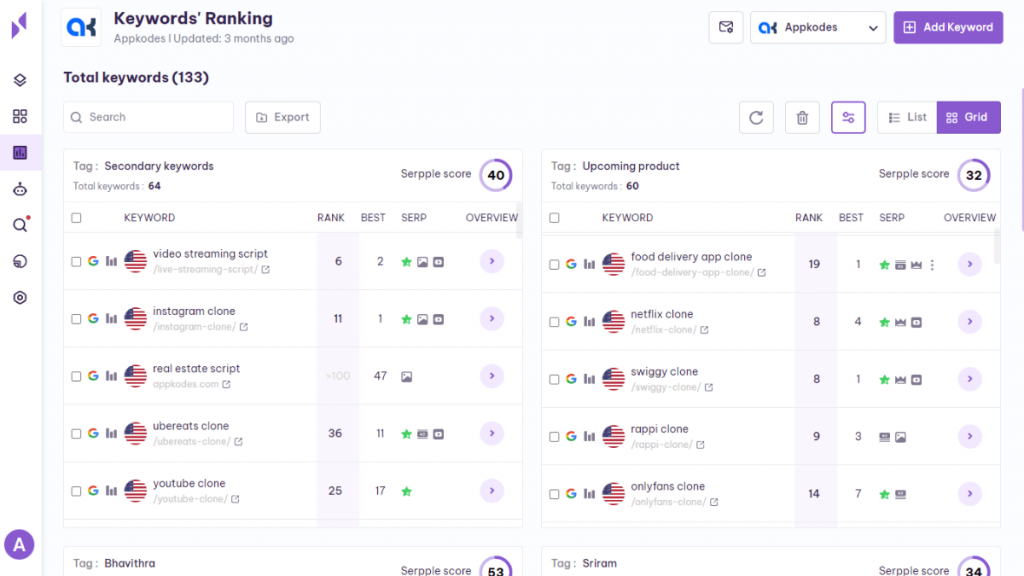 So, staying updated with the SERP changes is no more a herculean task using SERPPLE.
Apart from these unique features do you know what factors make SERRPLE the best keyword tracking software online among the rest?
What Makes Serpple the Best Keyword tracking Software amidst the Rest?
Indeed, Google has improved over the years and keeps updating its Algorithms.
As it is now tha only most widely used search engine, this has made key word tracking more difficult.
So, as discussed already it's normal for keyword rankings to be inconsistent. 
The main factor to pay attention to is not just the rank, but the trends.
Despite the ranking changes in other regions or on people's browsers, the trends of movement will often remain consistent.
Thus, Serpple has been crafted to help you make your site attract Google bots.
All of this makes Web-based SaaS solution to be the best choice to stay on track with your advanced web rankings. Serpple does not run on your local computers. Instead, it runs on a subscription-based server.
And, this eliminates the challenge of managing multiple IP addresses and you needn't bother about leaving them running overnight.
When most of the best web-based services in the market focus chiefly on ranking, Serpple, the best keywords tracking software for agencies lets you have multiple capabilities.
It is more stable, demands less maintenance, and lets you track local results, as well as international results for different countries.
And, unlike other Web-based solutions, Serpple seems much more affordable than other popular and contemporary desktop Keyword tracking software applications.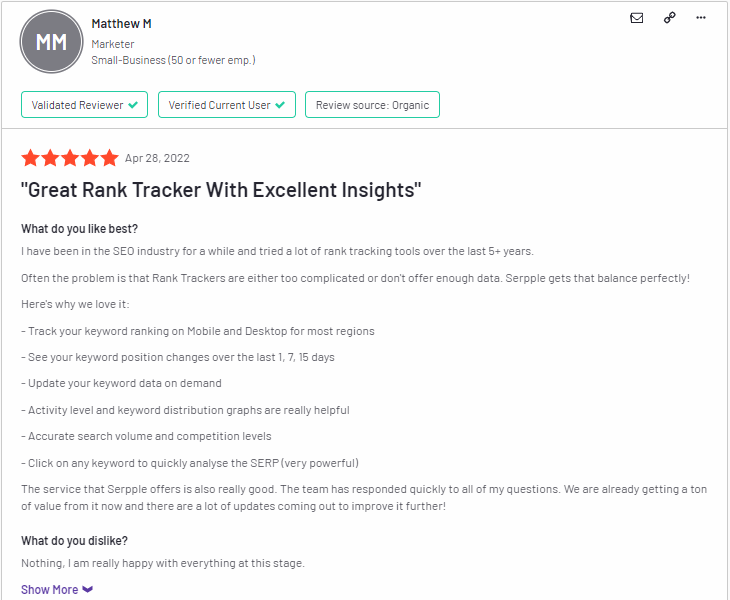 What did We Find Missing in Ahref, Moz, Mangools, Accuranker, and Zutrix?
Mangools and Accurankers Serp score and other SERP features may appear precise and similar, yet both don't pinpoint accuracy results as SERPPLE does.
Ahrefs, Moz, and Zutrix SERP checker do have a lot of insightful features like Serpple yet you cant opt for a life time free keyword tracking software without providing your credit card details.
Therefore without further doubt, be it a large digital marketing agency, a large SEO company, a newbie, or even an SEO expert, Serpple is the apt and the best keyword tracking software in 2022.
Find it for Yourself
And, if you are still in denial then, the best way is to find it for yourself.
Amongst many cheap keyword tracking tool that keeps mushrooming out all the time.
Serpple is the best keyword tracking software. And, it not only does keyword tracking but a lot more despite being affordable. 
So, it is the smartest choice to replace your other standard seo rank tracking system tool as most of the best keyword tracking tools are missing a lot of the reliable SERP features you'll find in this daily rank tracking software.
Explore the tool to gain the most accurate and quick keyword-tracking experience.
You can always let us know your thoughts and feedback at [email protected] or via G2Crowd.