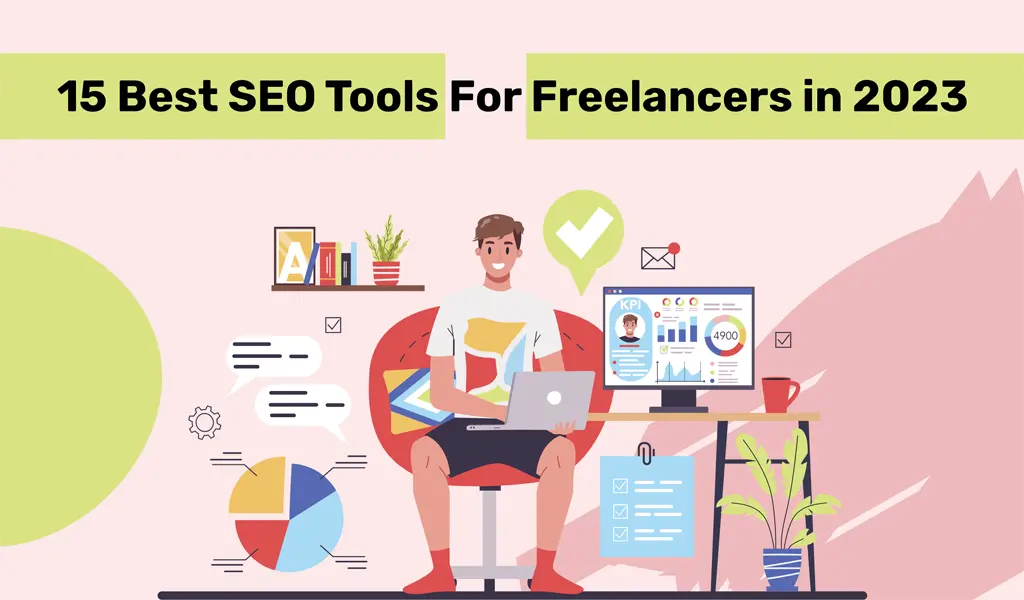 Who doesn't need help with everyday SEO tasks, right? To get the expected results in SEO you need to employ the best tools. Discover the best SEO tools in this post.
An SEO freelancer, will be completely aware of the fact that search engine optimization is the most effective digital marketing strategies.
So, the need to rely on SEO tools for required insights is inevitable.
There would raise a need to develop content for sites that are completely optimized and check that it meets the required factors to rank on Google search engine pages.
On the other hand, to improve conversion rates, freelancers must also work on optimizing keywords and tracking website performance. Understanding Search engine optimization is a tricky task, especially if you're a budding SEO freelancer.
So, how will you do that?
Good News: Here's the list of 15 best SEO tools for freelancers, with all their benefits for your business.
You can gain a comprehensive view of how Search engines view your website and overcome the struggles associated with keyword monitoring as well as analysis. We've compiled this blog on both free and paid SEO tools after in-depth analysis.
It focuses on the features that multiply a freelancer's productivity, streamline implementing the SEO strategies, and tracking its impacts.
Above all, we are conscious of the fact that a freelancer can't have the budget of an agency, so we accounted for cost and ROI.
And now, all you need to do is stick it to the end.
The List of Best SEO Tools For Freelancers – Free Tools
1. Serpple
Advanced SEO tool that boosts your analysis
Serpple tops the list of the best SEO tools for freelancers. It helps you monitor the accurate keyword ranking with 99.95% efficiency.
More than just a keyword tracker, Serpple brings a host of extraordinary features for SEO professionals by giving you insights about SERP metrics.
This tool is designed to bring you the most accurate keyword ranking position with detailed information that includes search volume history, domain data, and a knowledge panel with added SERP features.
You can get all pieces of information under one umbrella and a lot more that can be exported in CSV or PDF formats and the platform has shareable live reports too.
Here you also get the Serpple score based on evaluated organic traffic performance and keyword positions.
Above all, they offer a forever-free plan. This plan allows users to experience all of their powerful features. Limitless features in limited numbers. After exploring the platform users can upgrade to any pricing plans they offer based on their SEO needs.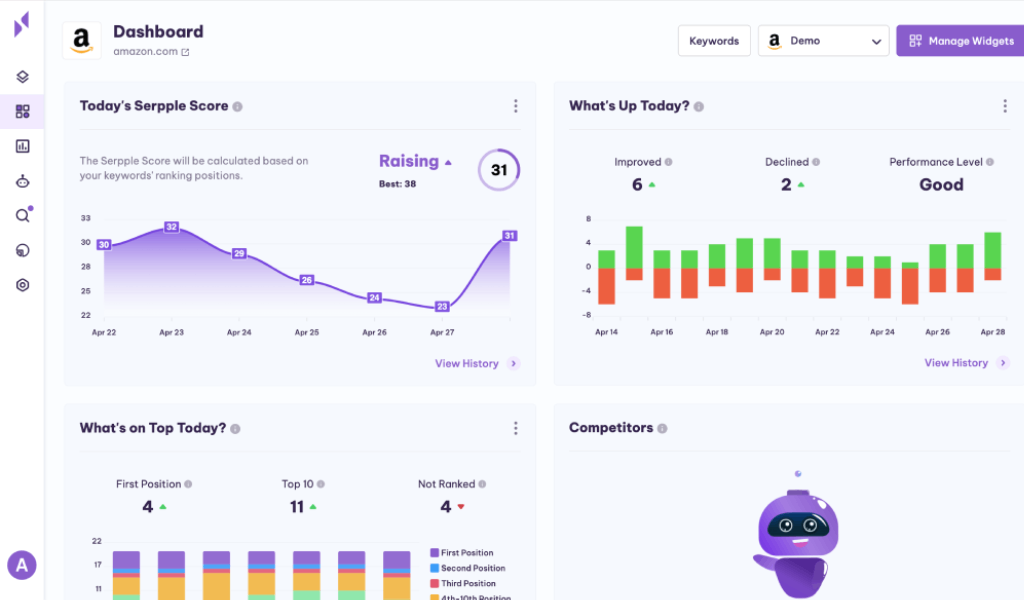 Key Features
With Serpple, you can:
Get easy access to targeted keywords: With an automated wizard, you can add new keywords as per trends within minutes and start the research.
Group your keywords: View grouped keywords by region, location, and more, hence, simplifying your search.
Customize notifications as per your needs: Get notified of any specific updates, such as Google ads, reports, and more.
Multiple projects with security: Get a hold of multiple projects with separate notification settings for each one.
Real-time Reports: Get automated reports whenever you need them in your email.
Choose the view mode: Get two views: Grid, i.e., filtered with device, tags, and locations, and second, a list with all SERP metrics mentioned.
Competitor analysis: Keep a check on specific keyword performance by knowing when your competitors are running a campaign on that specific keyword.
Keyword Explorer: A time-saving tool that lets you find profitable keywords, analyze them, and form clusters by organizing your keywords into lists.
Guaranteed Data Accuracy: The advanced SEO tool is built with both automated refresh and refresh on-demand. The platform refreshes the tracked data at a scheduled time and you can also refresh the data on demand to ensure accuracy.
2. Google Search Console
The Google Search Console tool offers assistance to marketers, webmasters, and SEO professionals by helping them understand how Google views web pages.
Google Search Console can provide you with in-detailed crawl reports and your page's indexing information directly from the Google index.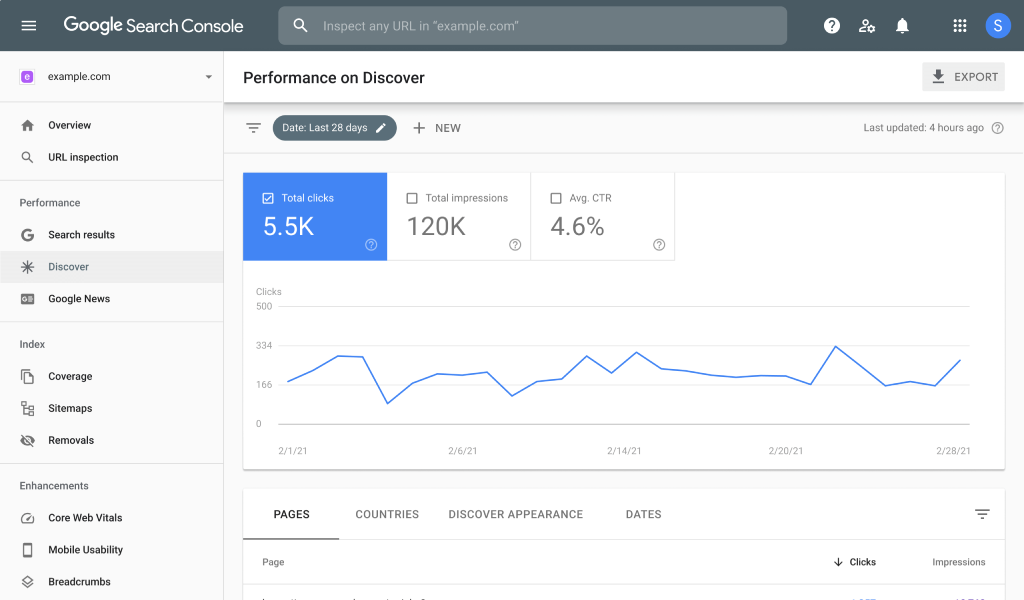 Key Features
Allows you to analyze your website's performance and make the needed improvements.
By integrating it with your Google Analytics account you can optimize your website's content and search performance.
To affirm that Google has the freshest view of your website, It will crawl your data.
Helps you identify if there are any issues with your website so you shall fix them and improve your rankings.
3. Answerthepublic
Answer the Public is an insightful keyword tool that gives freelancers a different approach to keyword research.
For any seed keyword you enter, you will get the main related questions starting with:
| What | When |
| --- | --- |
| How | Why |
| Where | Will |
| Which | Can |
For example, if you run an SEO blog, entering "SEO" in Answer the Public generates questions such as "How to do SEO for your website?" or "What is SEO?
Pro-tip:

It is wise to add search queries that have only 1–2 keywords if you need the most relevant results.
Just click on the specific question on the search wheel and you'll get redirected to the SERP for that keyword.
FAQ pages or add or even alter your Header tags with the questions from the search wheel as it covers those search strings.
By doing so, you can potentially increase your organic traffic and also figure out what your competitors target on search engines like Google or Bing.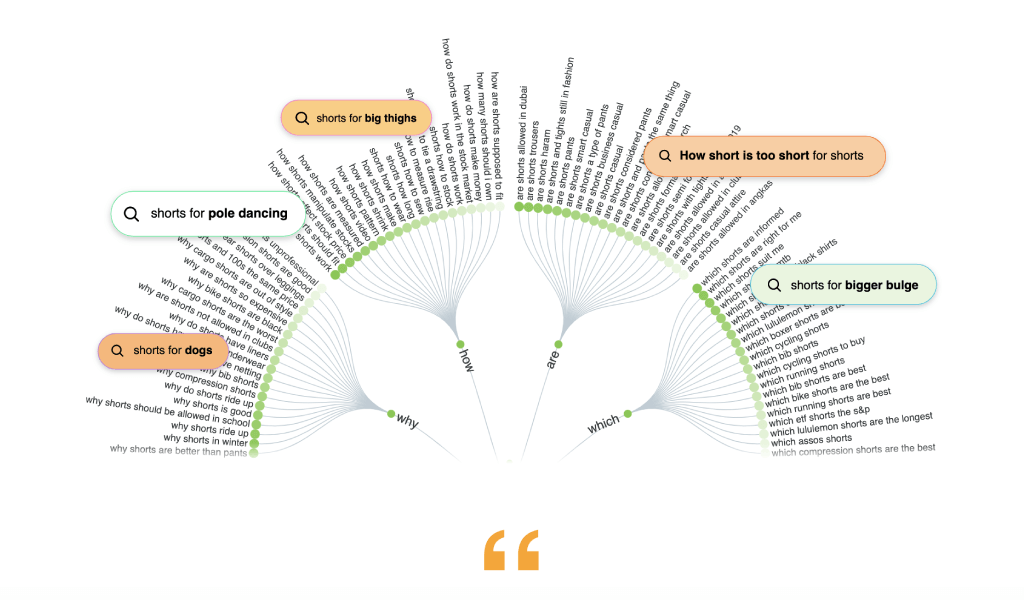 Key Features
Discover the search volume, search difficulty, CPC, and paid difficulty for any of your seed keywords.
Get related questions for any keyword with its search volume.
View your related keyword suggestions in alphabetical order.
Alerts to spot seasonal trends along with their paid plan.
Observe search behavior changes over some time.
Use customized folders to sort your keyword research data and stay organized.
The free version of Answer The Public is super powerful, but it's only a matter of time. It has a daily search limit. If you need more searches, or the premium features you'll need to choose one of their paid subscription plans.
4. Google Analytics
Google Analytics is a premier analytics platform to track your website's or app's performance. You get a comprehensive4 picture of your site's traffic and user interactions.
Using Google Analytics, you can easily track who visits your site, how much time they spend, what search queries are used, and a lot more.
Then using that information you can optimize your site further and provide a great user experience. This will in turn increase your site's traffic.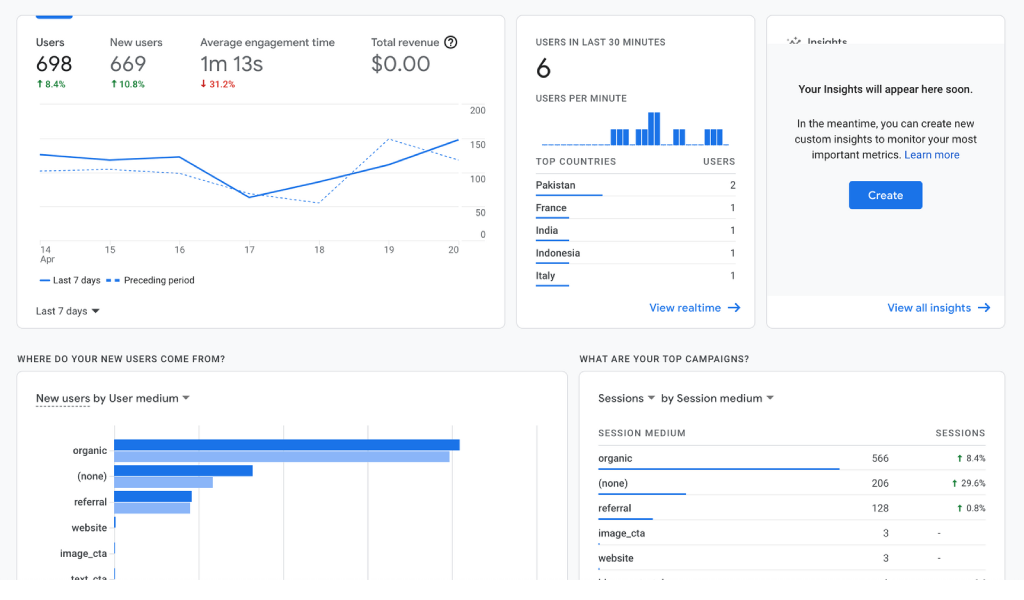 Key Features
Lets you understand your users better and deliver them great user experiences.
Ensures that you get all relevant opinions from real users.
Saves your time and increases your efficiency by working seamlessly with other Google platforms.
Google Analytics is the right tool for a freelancer to understand customers and improve websites, free of charge. So it's a must-have SEO tool for freelancers.
5. Detailed SEO Extension
Detailed SEO Extension gives you an exact report on the SEO structure of a web page.
You need to download the extension on Chrome, Firefox, or others, then just click on the icon in your extension bar to get the required information.
A lot of information can be observed in a click. Using it, any freelancer can improve and optimize the pages of your website for SEO.
Key Features
Gain access to a wide range of data
Provides bonus with quick links to other SEO tools
Carry-out title length analysis and the following,
URL analysis & Canonical
Robot Tag Analysis
Language analysis & word count
Heading structure analysis
Link and anchor analysis
Image and Alt Text Analysis
Schema analysis
Robots.txt & Sitemap analysis
And this is on our list of the best SEO tools for freelancers as it is easy to access and is forever free.
6. Hunter.io
Hunter.io is a lead generation and email outreach plugin, built to aid freelancers like you to optimize the outreach processes for your business.
For starters, Hunter has an elegant and easy-to-navigate interface along with other most-needed features.
Key Features
Easily manage Bulk emails.
Effective for lead management.
Most need insights for campaign optimization.
Provides free cold email templates.
Above all, it has an amazing free plan with up to 50 email searches available to anyone after a simple sign-up.
Many comment Hunter's pricing can be a bit too much for some businesses, all we would say is try the free plan you will realize it's great quality service and support.
7. Dynomapper
Known for sitemap generation
DYNO Mapper gives you access to the website's true architecture and enables you to build interactive visual sitemaps in just a single click.
This is among the best SEO tools for freelancers as it is economical and can be used to analyze and realize and design the sitemap, perform a content audit, and acts as a content analysis tool.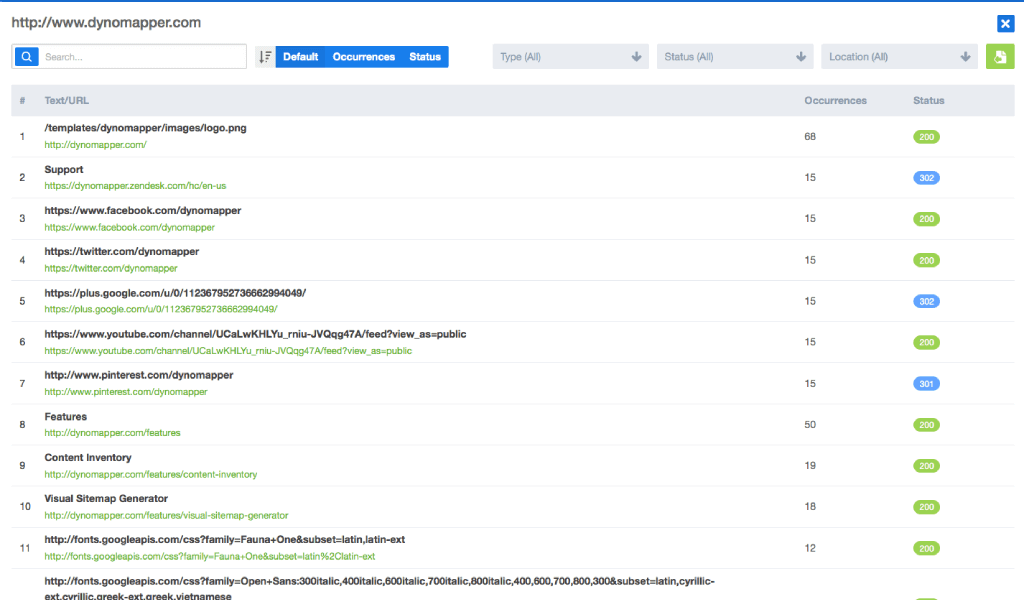 Key Features
Inventory, auditing, and planning: Keep an inventory for all webpage, visuals, files, videos, audio, and files on your website. This content audit feature helps you optimize your assets and the content calendar to plan tasks.
Integration with Google Analytics: Show Google Analytics metrics for each navigation bar and sort and filter pages in your visual sitemap. Sitemaps that have been filtered can be extracted into PDF or CSV.
Daily Keyword Performance Tracking: Export keywords automatically and keep receiving keyword tracking reports on Google, Yahoo, and Bing, with the ability to track by location or device.
Testing for Website Accessibility: Our web accessibility tool can check the WCAG / Section 508 compliance of an entire website. Identify known ADA website compliance errors in web design and content.
8. Similarweb
Similarweb is an advanced platform that can help you check your clients' as well as competitors' web performance.
Through this digital intelligence tool, you can also check engagement rate, traffic sources, keyword ranking, and other important metrics.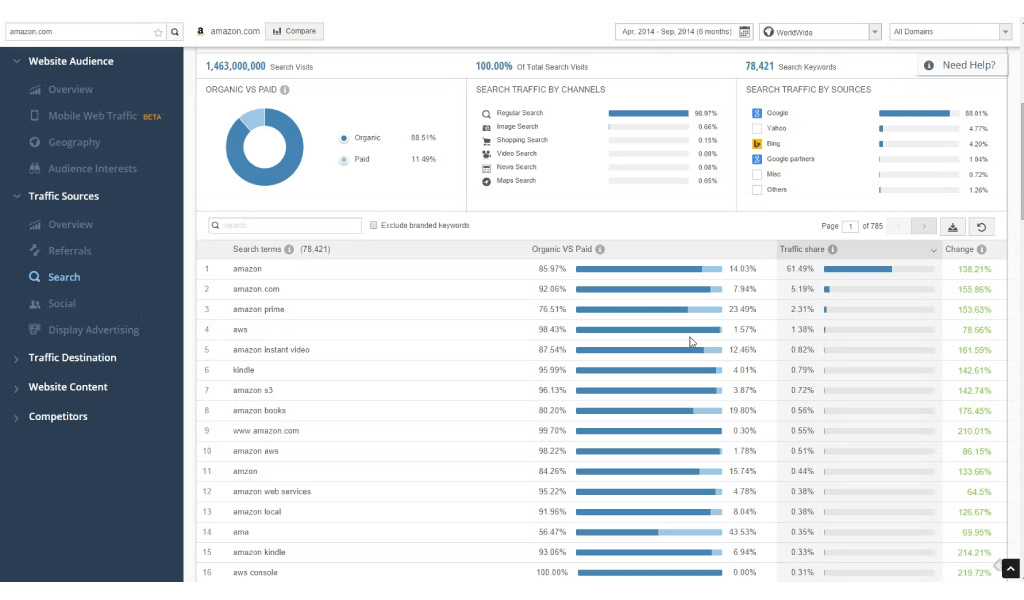 Key Features
Keyword research
Competitor analysis
Web industry analysis
App category analysis
Search intent analysis
Website analysis
Company analysis
Mobile app analysis
Segment analysis
There's a lot more to Similarweb but most of it is for the paid option. Before committing to the paid plans, make sure you give the free version a go!
9. SEO PowerSuite
SEO PowerSuite is an all-in-one solution for all the SEO needs of a freelancer. You can track unlimited websites, keywords, search results rankings, backlinks, etc. all of these in one place.
The platform can also help you with automating site audits and reporting tasks and is composed of four tools:
Website Auditor – Analyzes your website for issues. Looks for areas of improvement. So, you can optimize accordingly and boost your organic rankings.
Rank Tracker – This lets you monitor your SERP rankings. Evaluate your SEO performance. Gives you access to an array of research methodologies. And lets you find low-volume keywords to optimize your site.
SEO Spyglass – Review your link-building campaign and estimate your profile strength. Also, spy on your competitors' link-building strategies and campaigns.
Link Assistant – Find the prospect's respective email addresses to reach out to. Use it for your effective link-building outreach campaign.
The pricing and data metrics are a bit of a hurdle, especially for freelancers working at remote locations. This very limitation of SEO PowerSuite could
Yet, startups or agencies working near their team of SEO specialists will find SEO PowerSuite to be their ideal SEO reporting tool.
10. Advanced Web Ranking
Ideal for checking website ranking
Advanced web ranking is a rank tracking, SEO reporting, and competitor analysis tool that enables freelancers to track their website or keyword performance with full accuracy.
This best SEO tool for freelancers is known for marketing pulls data that bots leave while browsing and helps you identify which keywords are ranking best for competitors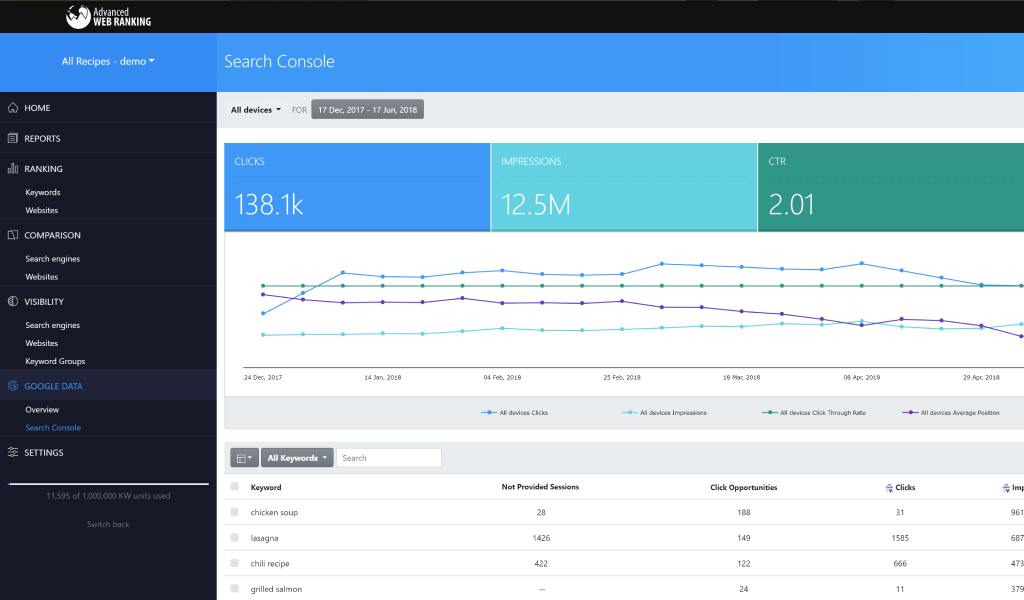 Rank tracking on any SERP: track and optimize your website performance for any SERP apart from Gouding Yahoo, Bing, Yandex, and more.
Work on local rank tracking: Define the location you want to check the performance and get fresh ranking gathered on demand as per local search volumes.
Pixel positions: Visualize the keyword position and check the above and below-the-fold search listing with dedicated visibility metrics.
Measure and improve CTR: determine which metric drives the highest traffic and click-through rate and gain visibility.
11. Authority Labs
Reliable SEO tracker tailored to business needs
Authority Labs is indeed a cloud-based search engine optimization (SEO) tool that allows you to track and measure your website's search engine rankings.
It mainly serves small to medium-sized businesses, consultants, freelancers, and agencies by providing critical data to improve local rankings.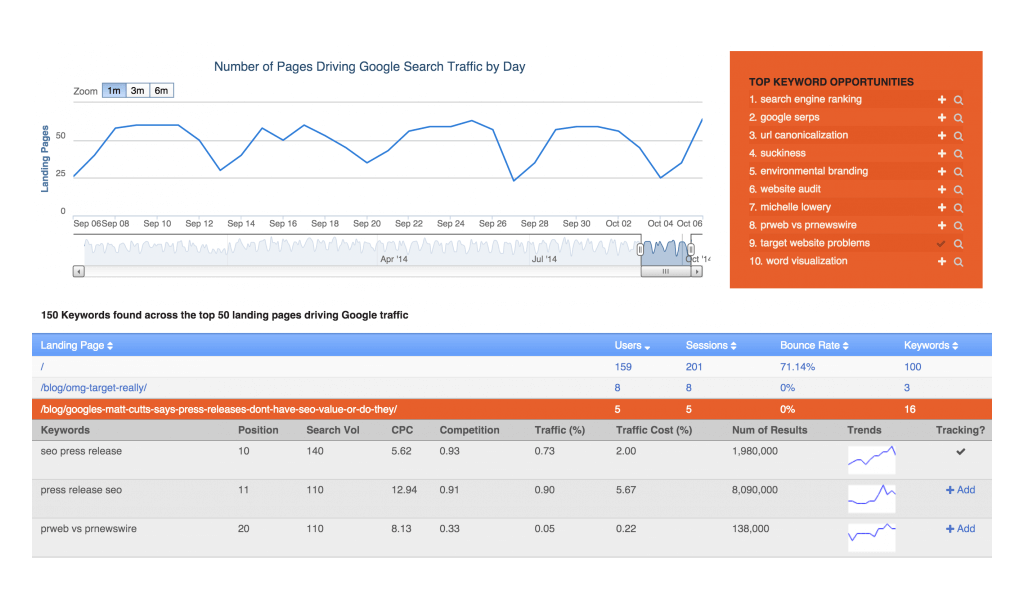 Additionally, with AuthorityLabs, you can:
Perform competitive analysis and track locally and globally: Analyze white-label keywords based on local and global search engine results.
Import/export keywords and reports: Get insightful reports on your email anytime on your device.
Domain groups: Create domain groups and monitor or track the performance of multiple sites at the same time.
12. Rankwatch
Rank monitoring tool for every marketer
RankWatch stands out among the best SEO tools for freelancers that do much more than just track keywords.
It offers additional data about your backlinks, competitors, and hidden SEO possibilities, which can help you boost the ranking of your website.
Rankwatch is an SEO tool that gives you all the information you need to enhance your website's SEO performance and create loads of organic traffic.
It's an "all-in-one SEO tool" marketing tool that offers advanced features beyond keyword tracking.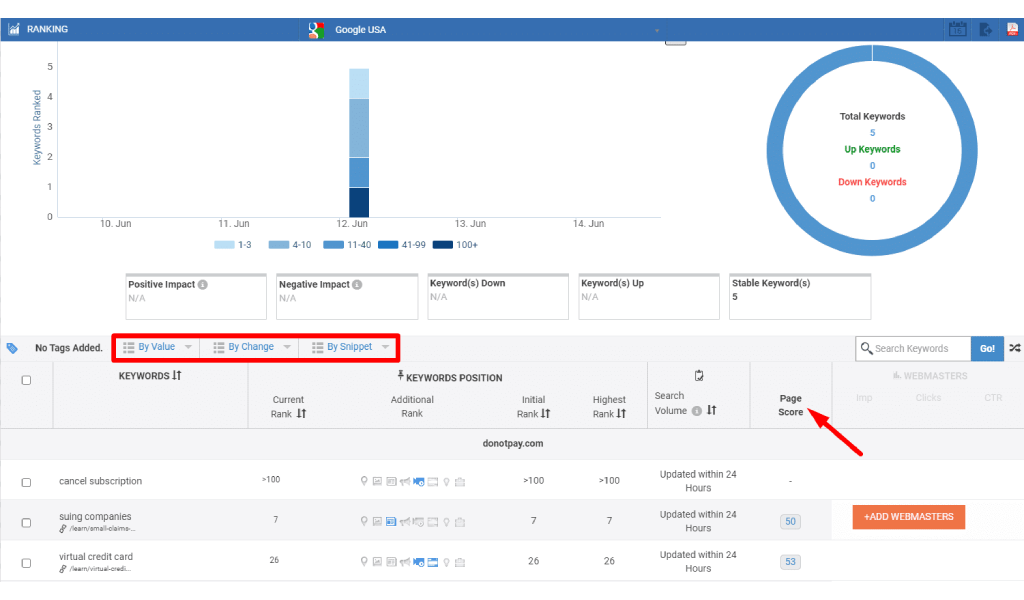 Rank Monitoring: Keep track of all ranking across all major SERPS.
Competitor Rank Monitor: Get a detailed analysis of your SERP competitors and stay one step ahead.
Site audit: RankWatch performs your site audit by analyzing over 100 parameters.
BackLink Monitor: Track the backlinks with the automated smart crawler over a billion websites.
13. Seobility
Overall SEO tool

Seobility is a free SEO auditing tool helping you to assess your website's compliance with current SEO guidelines.
Simply enter your website URL, the tool will analyze your website and you can get some recommendations on how to improve its performance.
Here are some additional benefits of using Seobility:
• Identify technical errors: Resolve on-page SEO issues as soon as possible to regain lost traffic and avoid future traffic dips.
• Accurate SEO scoring: Obtain an SEO score that takes into account a variety of website factors such as meta-information, page quality, link structure, and others.
14. Linkody
Spy for backlink analysis
Linkody is one of the best SEO tools for freelancers that enables SEO experts to have a good overview of website backlinks.
You can discover, track, and analyze the backlinks with a user-friendly interface. Also, it provides you insights if any link is lost or broken.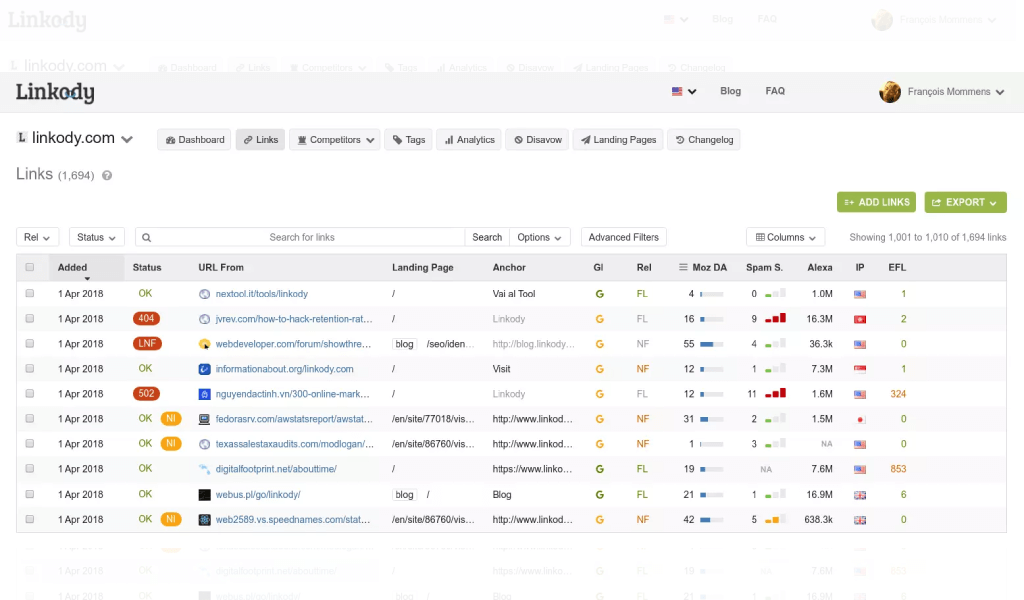 Also, it enables you to:
Pull competitor backlinks: With Linkody, you can act as a spy for your competitor's backlinks, and it lets you have a list of all the backlinks they have just by entering their URL.
Get valuable insights: Get a detailed version of crucial metrics related to backlink tracking, including Google indexing status, Domain Authority, Alexa rank, and more.
Leverage white-label reports: Keep your team updated with the backlink distribution and process by having downloadable reports that can be shared in the form of PDF or CSV.
15. Seomator
Known for its website crawling

Seomator is a smart and easy-to-use SEO auditing tool that assists you with technical optimization testing.
This tool crawls your site to determine the internal and external links, organic traffic, and page speed.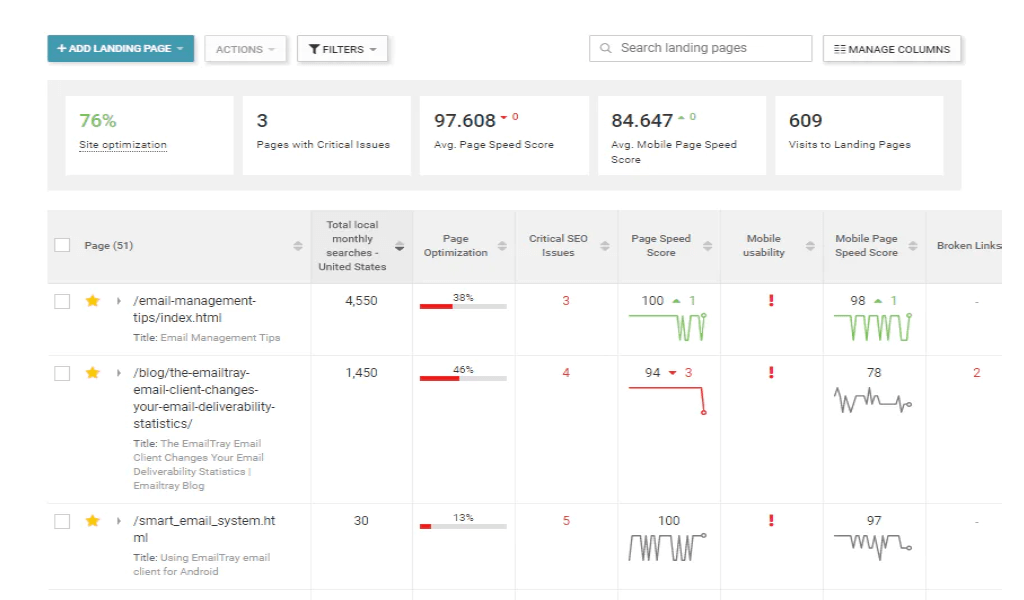 Along with this, Seomator's additional features include:
SEO Monitoring Alerts: Be updated with any issue your site observes after being crawled as you can get a notification.
Get precise reports: Discover insights regarding on-page and off-page SEO elements.
Domain Comparison tool: Use all metrics such as content quality, HTML, broken links, meta, and more to analyze and boost website performance with your competitors
Bottom Line
The above list of the 15 best SEO tools for freelancers not only gives you detailed insights without hassles.
That said, you can cover all SEO bases with a few free and paid features that keep you updated with all SERP trends.
Wait no more. Take that next step, success lies in your choice now!