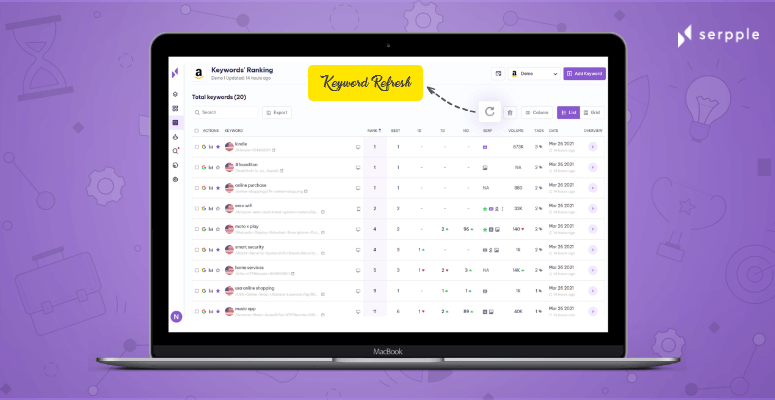 In the SEO journey, experts like you use various SEO tools from starting with the website audit to ending with complete optimisation to increase your organic presence on SERP.
The healthy practice that you have to follow is to do some research on the tool before making a decision. Hope now you did that, that's why you have reached out to the daily rank tracking software blog.
I believe that you know how to play games with data, experiments, strategies, plans, and executions to boost your organic rankings.
Even you have followed the keyword research best practices to identify the keywords which can bring traffic to your site. But, at the end of the day, you have to gain good organic rankings for those keywords, only then it will bring more traffic to your site.
Monitoring and tracking the fluctuations of these organic rankings will help you better understand your progress. And help you easily figure out whether your SEO tactics work or not. For that purpose, the daily rank tracking software comes into the game.
As how it sounds, the daily SEO rank tracking software will track your keyword rankings in a daily manner with many vital features that help you to find and plan an effective SEO strategy.
Now I am going to share with you the need for the best daily rank tracking software for SEO, Serpple, and let you know the benefits that you will get from Serpple's keyword refresh system for your SEO.
Why Should You Need a Daily Rank Tracking Software?
I know SEOs like you are doing many tasks regularly for your keywords. But how you will find which of your work impacts your ranking?
The best keyword tracking software that does daily tracking of your keyword rankings with 99.5% accuracy and in-depth analysis of the SERP features.
Also, If you think manually tracking multiple keyword rankings in various countries along with keeping their history is an easy job.
Then look at these major features the best daily rank tracking software will provide you. Yes, other than rank tracking, the Serpple daily SEO rank tracking software will
Provide you the improved and declined keywords in rankings,
Maintain your ranking history detail and other data in graph format, as well as the indicators, are dynamic,
Show you the overall organic performance score which will help you to measure your progress,
Show you the trending keywords and deviating keywords based on the keyword volume fluctuations,
Track more than 10 SERP features in the platform,
Have scheduled report feature to get the custom report to your email and a few other recipients with an enable or disable option,
99.5% SERP detail accuracy along with the snapshot of how your website's metadata looks on Google's search list,
Provides you fresh rankings every time when you use instant refresh option present in it,
And a lot more.
Hope now you know the need for the best daily rank tracking software for SEO. A question will cross most of the reader's mind. And that is.
What is the Keyword Ranking Refresh?
This is the method of refreshing your keywords to get accurate ranking results in the rank tracker platform. Keyword refresh systems are essential features for any daily rank tracking software.
Mainly there are two types of keyword ranking refresh. They are default refresh and instant refresh. And know the difference between these two to understand clearly.
Difference Between Regular Refresh and Instant Refresh?
| Default Refresh | Instant Refresh |
| --- | --- |
| The Default Refresh is also known as an Automatic refresh and is handled by the platform. | The Instant Refresh is also known as the Manual refresh and is handled by the users. |
| The platform refreshes all the keywords that you have added to the tool on a daily basis at a specific time. | You can refresh all your keywords, a set of selected keywords, or even a specific keyword at any time when you need fresh ranking data. |
| All days, even weekends aren't a problem at all, the tool tracks your rankings and stores your ranking history and other data. | Any time of the day, you can refresh any specific or all keywords to get your rankings and other metrics with a 99.5% accuracy. |
| There will be no limit for regular refresh in the pricing, but your keywords will be limited. | The Instant Refresh is limited depending on the plan you are choosing with the monthly instant refresh option. |
| When you choose the default refresh plan, no instant refresh will be available. | Whereas when you choose the instant refresh plan, you'll get benefitted from both instant as well as default refresh. |
How do Default and Instant Refresh Work in the Best Daily Rank Tracking Software for SEO – Serpple?
As we know Google rankings will change at any time, our Serpple team thought refreshing keyword rankings only every 24 hours is not enough for the users. That's why we at Serpple took one next step by including both default and instant refresh.
Once you add your keywords to the Serpple platform, the keywords will automatically come up with fresh rankings.
How Default Refresh Operates?
On the next day, based on your region and geographical location, exactly before 7:00 A.M Serpple will automatically refresh your keywords (no matter how many keywords & projects you have) and come up with updated ranking positions and other SERP metrics. This is how our Default refresh operates.
How Instant Refresh Operates?
If you need to know the keyword rankings on demand, you can use our instant refresh which means you can manually refresh all keywords or choose any specific keywords to get fresh and accurate results and to stay updated with SERP changes. This is how our Instant Refresh operates.
Note that the ranking results will not be auto-updated if there occur any SERP changes.
How Instant Refresh is Helpful in your Daily SEO Rank Tracking?
The Instant refresh options help you to stay updated with fresh rankings for your
Top-performing keywords, which bring leads and customers to you.
Transactional keywords, which are focused on buyer intent.
High-traffic keywords, which send the majority of traffic to your website.
Also, the Instant refresh option provides value in various use cases. Well, use this instant refresh when
You have done some effective work for a particular keyword and eagerly waiting to know its impact on rankings.
You published a new blog or new page on your website and added those keywords to Serpple to know when it ranks.
You have to send a report to your client by end of the day, then you can use this instant refresh option, and along with the rankings you can also get updated metrics for the keywords that you have refreshed with the instant refresh option.
A tiny or major algorithm update occurs, and you will be excited to know your rankings instantly.
You are experimenting with new things for your keywords and waiting to track how it impacts your rankings.
Suddenly some of your keyword's rankings have a setback, the instant refresh option will surely help you with that time.
Like the above ways and many more ways that depend on your need, our instant refresh will always help you to get fresh rankings in a single click.
Conclusion:
I Hope now you knew the importance of the daily rank tracking software and understood the benefits of Serpple's keyword refresh system. Serpple has both default and instant refresh options. When you choose an instant refresh plan, you will get the default refresh too.
One more thing, when you use an instant refresh for some specific keywords, then all the other metrics, graphs, and the refreshed keywords that match with your competitor's keywords will also be updated with fresh data.
Yes, we recently released our competitor keyword analysis tool. Our team keeps tirelessly working on the release of our upcoming unique and valuable features.
Our daily SEO rank tracking software provides you with both default and instant refresh options in the free plan itself. Now it's your time to give it a try for both default and instant refresh.
To explore all such features of our daily rank tracking software, Sign up with Serpple.