Free Keyword Research Tool for Comprehensive Analysis
Discover Winning Keywords. Uncover their Accurate Performance Data. Conquer the SERP.
Keyword Research in a
Click!
Enter your search term. Choose keyword or domain extension of your website.Carry out an
extensive keyword analysis in no time with ease
Love from Our Customers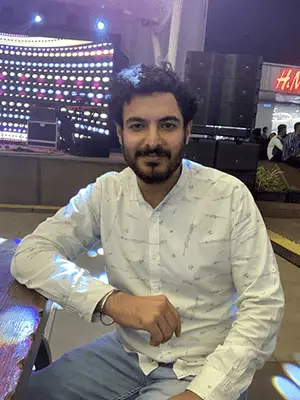 Serpple is one of the best rank trackers out there. I use it to track 1500+ keywords across 10+ competitors in a multi product category. I use it to find featured snippet opportunities and be on top of regular alerts. I wished such a tool existed earlier.
Grid view helps you in separation of concern wrt competitor tracking, top purchase driving pages, top sign up driving pages, top traffic generating pages, brand traffic. It helps you be on top of each area by spending less than 1 hour each week. This helps the team set the entire action items for the week.
Navin Gurnani
CEO, BrewBim
See more reviews for yourself
Configure Keyword Clusters
Observe the entire researched metrics that define the performance of your search term on SERP. Add the chosen keyword to your cluster. Make your intent the name of each cluster. Add more analyzed keywords under relevant intent to form rich keyword clusters.
More than 2000 Users Can't be
Manipulated-Serpple is the Apple of their Eye!
See these reviews for yourself
Serpple Keyword Explorer
No need to ransack Google's SERP from top to bottom. Smart way to fetch keywords based on
autocomplete predictions and related keywords to refine your keyword search
Deep Keyword Analysis And Rich Performance
Data from a Leading SEM Tool.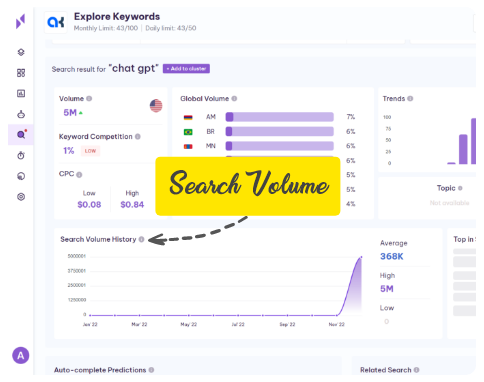 Search Volume
Observe the updated search volume of your query with more than 99.5% data accuracy.
Global Search Volume
Get keyword suggestions based on the country, sorted in descending order of their search volume to form better SEO strategies.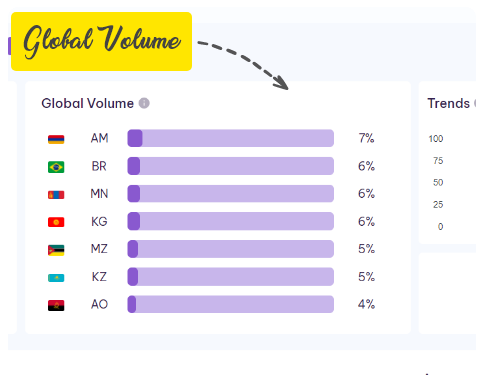 Queries in Trend
Find out what key terms rank on SERP and uncover key metrics like SERP features, trending topics, and other keyword trends.

Performance Pointers
Breakdown rich elements like Top in SERP, Search Volume history, Auto-complete predictions, and related searches that predict your ability to drive traffic.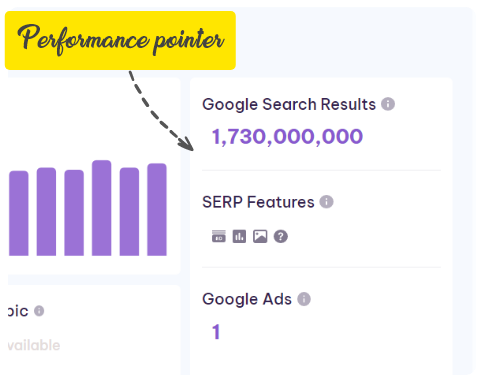 Keyword Competition
Find  out the number of advertisers globally bidding on each keyword. Serpple keyword  explorer labels it as "high," "medium," and "low".

CPC Keywords
Look for keywords with higher conversion rate to bring in customers as well as those with a high return on investment (ROI) to earn more  than you spent.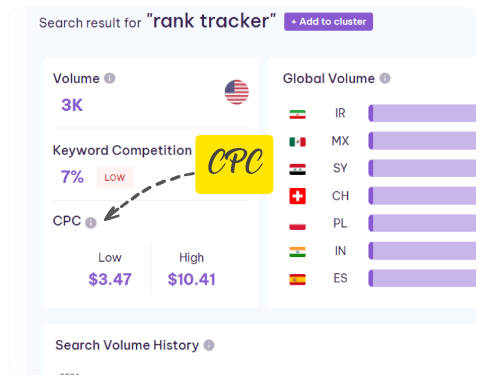 Keyword Planner
Extensive research data to get those specific keywords that can rope in the right customers
through your ads same as the Google Ads Keyword Planner.
Is Serpple Free Keyword Tool completely free?
Yes, Serpple Keyword Tool has a free plan. You can get rich keyword metrics and data for limited search queries for free. For unlimited use of the tool, check out our pricing plan and upgrade as per your need.
What are cluster and cluster intent?
Adding your selected potential keywords to a list is a cluster. And, sort each cluster based on user intent. Naming clusters with intent let you frame an efficient conceptual content strategy.
Will I get future updates on my plan?
Yes! You'll get updates each time we upgrade our tool with remarkable features. We will be adding new features periodically, a promise in disguise.
What is Keyword Competition?
The percentage value of keyword competition is not about the keyword's difficulty to rank organically. It indicates the competitive score on Ads placement for this keyword in your chosen location.
How accurate are the keyword research data?
The keyword research data is fresh with 99.5% data accuracy as the module is developed using advanced algorithms, autocomplete data from Google, and web crawlers.
Can I download my keyword research report?
Yes! You can export the analyzed keyword metrics and performance data of your search term. The reports can be exported in well-formatted CSVs.
Fetch Traffic Driving Keywords with Serpple's Advanced Algorithm
Finding Your Potential Keywords Now Made Easy and Fast