Serpple Competitor Tracker
Uncover all your competitors' Keyword Data. Slam your competitors' SEO tactics.
10x your Organic growth
Would You Ignore
Your Competitors?
Never.
When did they make it to the top?
Dominating your niche is only possible by finding out all about your direct competitors.
You Don't know all of your competitors
You may know all standard competitor trackers and may have tried out a few.
You'd have been used to the practice of entering your known competitor and tracking their keywords' rank to compare with yours. Is it enough?
You neither know all of your competitors nor all about your competitor.
You don't know your competitors' entire metrics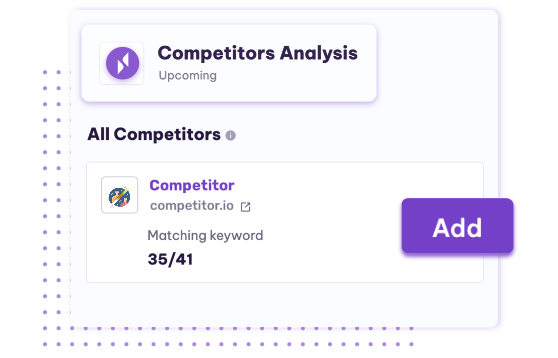 The minute you start tracking your competitors, you'll be gripping the edge to know their rankings. Of course, you'll know their rankings but, what next?
How will knowing just the rank of your competitors' keywords help you when you remain clueless even if they run ads for your targeted keywords?
You don't know your competitors' next move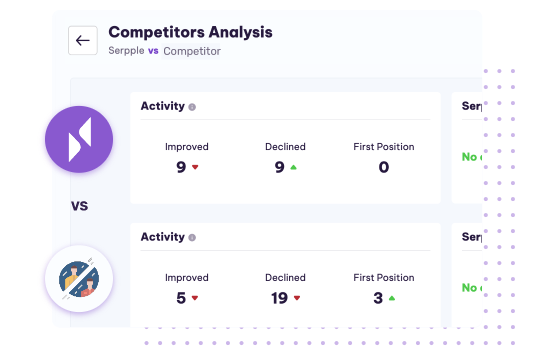 You may guess your competitor's overall growth based on the average data you have inferred.
Do you think it's sufficient to predict their next step?
Be it a small business or a large enterprise, measuring your competitor's efficiency on SERP with pinpoint accuracy is quite challenging.
Love from Our Customers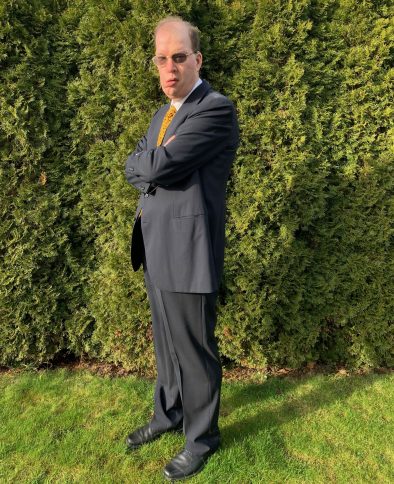 I discovered on Google a new keyword ranking tool with the name Serpple. My first thought was not again another keyword ranking tool. After seeing some comments on Facebook, I decided to buy Serpple. The user interface is easy to understand, and I quickly set it up with my keywords. I also use other keyword ranking tools. So I was familiar with how these tools work. But some unique outstanding features make Serpple stand out from the others.
Serpple has a competitor AI tracker, and based on my keywords; it suggests competitors who are using the exact keywords sorted within the order of the matching keywords. It is beneficial because, as a blogger in the tech field, I need to find out who my competitors are. I can then choose which competitor I want to track too. Serpple also tells me which competitor runs Google ADs for one of my keywords. Again this is handy information.
I can drill down for each keyword, get an overview with a screenshot of the Google SERPs, and see rank history and volume history. All helpful information with a friendly interface. Serpple also sends out notification emails, shows featured snippets, and can take notes for keywords and more.
The founder is responsive and answers every question. Serpple just started their journey.
Edy Werder
CEO, Edy Werder IT Services
See more reviews for yourself
How to make that drastic shift from
where you are to ahead of your competitors?
Serpple surveillances your competitors. Comes up with the big picture that reveals all the minute
details of their performance on SERP.

Know when they perform well on Google
Watch out for your competitor's keywords to rank on Google. Never miss knowing when their matching keywords win any of the SERP metrics like featured snippets, review ratings, local pack, etc. Eye on like a hawk if your competitors are running ads for your matching keywords.
Know how they perform well on Google
Never be the snoozing hare that missed to track the progress of the tortoise. Stay on alert to track how each of your competitors' matching keywords performs on Google. Evaluate your competitors' organic performance and SERP impacts and chart their organic progress against yours.

Leverage your Tactics with Perfect Data
Make complete use of the precisely filtered keyword data of your competitors against yours and start analyzing your SEO progress. With the Inferred keyword activity and evaluated the organic capability of your competitors', sketch a powerful strategy to dethrone them from ruling the niche.
What You Can Expect From Us?
To Tackle competitors emerging from nowhere, You should understand
what your competitors do.
Serpple's Competitor AI focuses on

Helping you gain a microscopic analysis of your competitors

Spying on all the crucial metrics of your competitors' keywords.

Getting to eye on their keywords' organic performance.
No more investing in standard SEO tools.
Track keywords. Spy on competitors. Get immersive insights on their matching keywords in one click.
More than 2000 Users Can't be
Manipulated-Serpple is the Apple of their Eye!
See these reviews for yourself
Why Serpple
AI

Competitor Tracker ?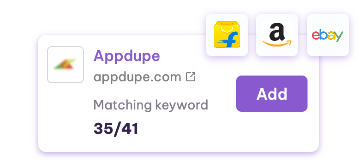 Finds your true SEO competitors and
their entire keyword data before
you finish eating an apple.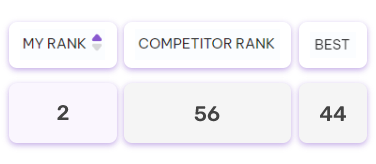 Grabs clear snapshots of even a bite-sized
change in their SEO impacts.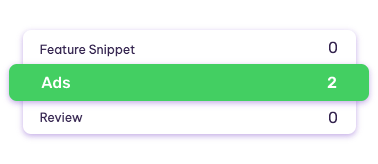 Serpple Bot watchdogs your competitors'
running ads for your keywords.
You get 99.5% accurate competitor
keyword data any time now.
Ready to Track Competitor Keywords?
If you are checking off the following boxes, Serpple Competitor Tracker
isn't for anyone but you.

Fresh and deep SEO metrics of competitor keywords to sketch a powerful strategy and overthrow your competitors.

Track the accurate organic progress of your competitors to dominate your niche in the long run.
How many competitors can I monitor using competitor AI in a free plan?
You can add 1 competitor and spy on their rankings and the other most needed keyword metrics of that one direct competitor using our AI powered competitor tracker.
What if the competitor I'm looking for is not displayed in the list?
Serpple bot will fetch 4822 competitors as a result of analyzing your added project. You can search the competitor you are looking for from the search bar you find on the top right corner of the All Competitors page in the platform.
Can I view a comparison chart of my competitors' performance and my keywords performance?
Yes! Serpple's Competitor Tracker helps you to chart your organic progress on par with your competitors' organic progress for your matching keywords.
What if any tracked competitor's keyword data gets deleted accidentally?
It's impossible for any of your tracked competitor's keyword data to get deleted automatically. To rule out such mishaps the tool has been crafted to alert you. Your tracked data will get deleted only after you ensure the action by entering 1 and on selecting the confirm button.
Stalk. Predict. Dominate
No heads or tails! Keep tracking competitors' keywords.
Predict competitors' growth. You deserve to dominate your niche.