The Ultimate SEO tool to Grab Your Spot on the Modern SERP
Stick to your SEO progress at each stage with the advanced features of our accurate SEO tool. Its smart algorithm detects even tiny SERP or organic changes with 99.5% accuracy.
SERPple Feature Index
From tracking and analysis to planning and problem-solving. With Serpple, you can have it all.
Accurate Keyword Rank Tracker
Take advantage of the Serpple Keyword rank tracker's complete feature.
Track your keywords based on every data point listed below to see Your SERP metrics and organic rankings.
Cutting-edge Ai Powered Competitor Tracker
You deserve to know who your competitor is and what's up with your competition.
At the push of a button, get to know who to go after, and track your competitors' organic search progress, SERP features, and other valuable insights.
Up-to-the-minute Keyword Research Tool
Don't spend time on deep research to choose your potential keywords anymore. Picking the right one makes all the difference for SERP marketing. That's where our Keyword research module comes in handy.
Love from Our Customers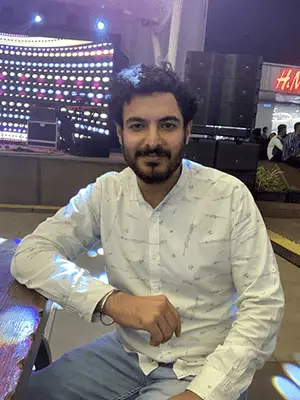 Serpple is one of the best rank trackers out there. I use it to track 1500+ keywords across 10+ competitors in a multi product category. I use it to find featured snippet opportunities and be on top of regular alerts. I wished such a tool existed earlier.
Grid view helps you in separation of concern wrt competitor tracking, top purchase driving pages, top sign up driving pages, top traffic generating pages, brand traffic. It helps you be on top of each area by spending less than 1 hour each week. This helps the team set the entire action items for the week.
Navin Gurnani
CEO, BrewBim
See more reviews for yourself
More than 2000 Users Can't be
Manipulated-Serpple is the Apple of their Eye!
See these reviews for yourself
Custom Notifications
Trigger an Email Alert
Enable email alerts to get notified of the changes you wish to be notified of. Enable or disable triggers on the most important changes to be known. Manage those alerts sent right into your inbox, quickly on the uptake.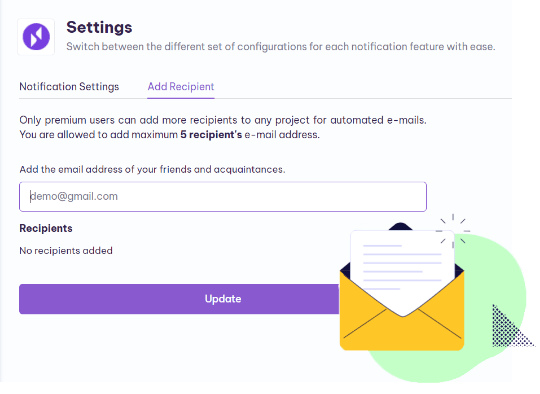 Report
Automated and Live Reports
Generate and share professionally updated reports at a specific time interval. Visualise and measure your SEO impacts and performance on SERP with live report links. Instant or real-time reports are generated using advanced reporting software.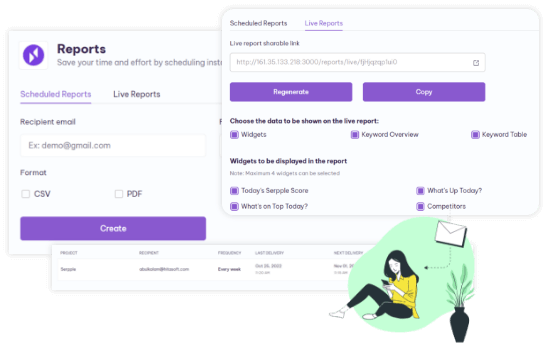 Using Serpple is like having your SEO team working for you!