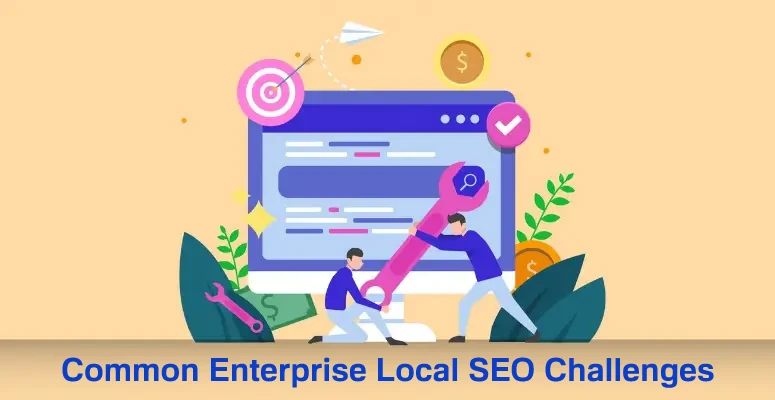 As a business owner, facing local SEO challenges is a part of life, especially when their products and services support local communities. It is indeed tempting to look for a quick fix, but the key to success is optimizing Local SEO from the beginning.
Enterprise Local SEO is all about ensuring your business shows up in those "near me" searches and solidifying your lead generation plan. It can be a bit of a Local SEO challenge, but with a few clever tricks up your sleeve, you can totally make it work.
Think about it this way: Local SEO is like a puzzle. It might seem overwhelming at first, but if you take the time to put all the pieces together, you'll end up with a beautiful, cohesive picture. So don't be afraid to roll up your sleeves and get down to business! With a little bit of effort, you can make your small business shine in the local search results.
In this blog, we will discuss several common Local SEO challenges that companies may face when it comes to Enterprise Local SEO.
Here are five of the most common issues and suggestions for how to address them: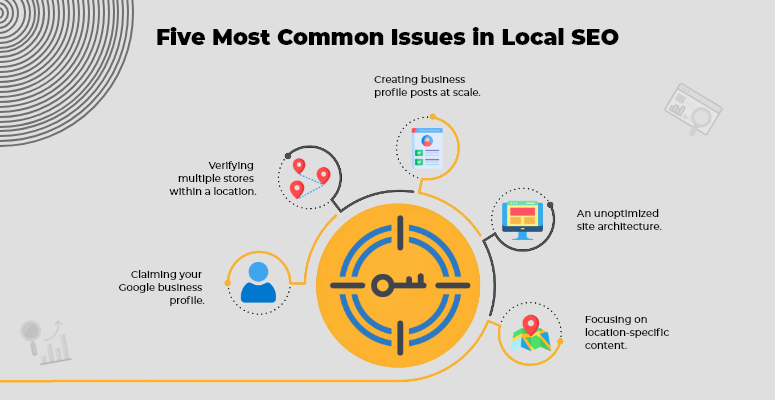 1. Claiming Your Google Business Profile
As a business, you have to maintain your Google Business Profile, as it plays a significant role in your local presence and can impact your Local SEO.
However, it's important to note that Google owns the content in your Business Profile and can change it at any time, including your primary category, description, hours, location, phone number, and website URL.
To ensure that your profile is up-to-date and accurate, consider using keywords for your Local SEO with Serpple, which can help you monitor your keyword performance at scale.
More than just a keyword tracker, Serpple brings a host of extraordinary features for SEO professionals by giving you insights about SERP metrics.
This keyword rank tracker is designed to bring you the most accurate keyword ranking position with detailed information that includes search volume history, domain data, and a knowledge panel with added SERP features Additionally, be mindful of new categories and attributes that Google may add, as responding quickly to these changes can provide a first-mover advantage for long-tail searches.
2. Verifying Multiple Stores in the Same Location
Sometimes, multiple businesses operate from the same location, which makes it tricky to get all of the businesses verified on Google Business Profile.
For example, if Dunkin Donuts and Baskin-Robbins are both operating out of the same building, Google may say that the location is already taken.
One solution is to use the "store within a store" model, which allows each business to rank in the local pack. Google is constantly evolving to improve this process, you have to find a way to provide them with accurate information.
Another common issue is having multiple duplicate listings for the same business, which can hurt your rankings and search visibility. In this case, it's a simple fix: just delete the extras.
3. Creating Business Profile Posts at Scale
Creating posts for your business profile is a great way to stay active and share crucial information, promotions, events, and special offers with potential customers.
However, it can be challenging to do this effectively at scale and by location. One solution is to use a tool that allows you to create and schedule posts in advance, which can help you maintain a consistent presence and keep your profile active.
It's important to remember that personal and local content tends to perform well, so try to incorporate these elements into your posts.
Despite the benefits of creating business profile posts, many brands are not taking advantage of this tactic, which presents a significant opportunity. By being proactive and posting regularly, you can set yourself apart and attract more potential customers.
4. Unoptimized Site Architecture
Usability is crucial for all types of SEO, but especially to consider in the context of Enterprise Local SEO. One key element to pay attention to is the store locator on your website.
Many businesses provide users with a search bar to find locations, but this can be a challenge for search engine bots unable to follow a search bar.
To optimize your site architecture for Local SEO, consider using a breadcrumb structure that includes the state, city, and location, which allows bots to navigate more easily.
This can help improve the overall usability of your website and make it easier for search engines to understand your business's location and relevance to local searches.
Additionally, ensure to consider other usability factors, such as page load speed, mobile-friendliness, and clear navigation, which can all have an impact on your Local SEO performance.
5. Location-Specific Content
In addition to maintaining a consistent and accurate Google Business Profile, it's also important to have unique, location-specific content on your website for each of your locations.
This content should be closely aligned with the information you've uploaded to your Business Profile and should provide a clear, uniform story about your business.
It's not enough to simply upload the information to your profile – you need to have the content on your website as well in order to provide relevant information to search engines and improve your Local SEO.
In addition to helping with Enterprise Local SEO, having location-specific content on your website can also be useful for customers. For example, they may be interested in reading reviews or viewing a menu option for a particular location.
Additionally, Google may be able to use specific information and attributes from your website to display in the map listing, so it's important to provide as much relevant information as possible.
Overall, the key to success is to maintain a well-organized, user-friendly website with consistent, accurate, and location-specific content. This will help you build trust with search engines and customers and improve your Local SEO performance.
The Bottom Line
In conclusion, Local SEO can be a challenge for small businesses, especially when they support local communities and face unique challenges.
However, by following best practices and implementing strategies like maintaining a consistent and accurate Google Business Profile, verifying multiple stores at the same location, creating business profile posts at scale, optimizing your site architecture for local searches, and creating location-specific content on your website, you can improve your
Local SEO and increase your visibility in local search results. It may take some effort and attention to detail, but the payoff can be significant in terms of attracting new customers and growing your business.