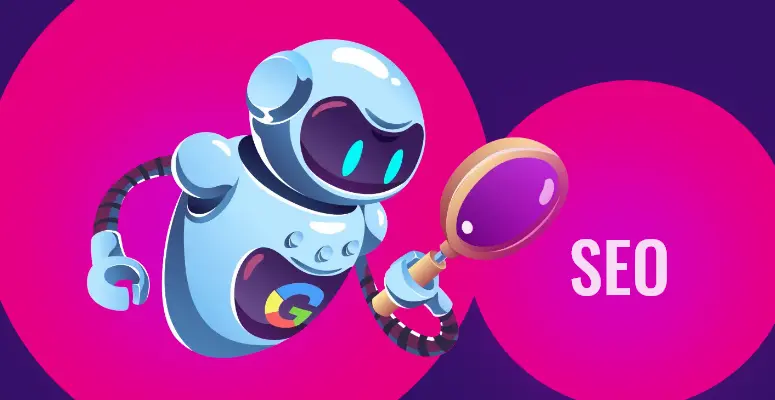 I often feel a bit overpowered when I think of SEO.
And, I'd only be surprised if anyone didn't feel that way.
But, ranking and competition aren't something alien to us. Let's be honest!
We all hate when our competitors drive ahead of us in any game we're drawn into.
And what's even more frustrating is the progress bar that visually compares us with those ahead in the race.
On the contrary, today, we who hated competitors and comparing have ended up checking it and taking it up too seriously throughout our SEO journey.
Can you deny this?
Finding an SEO who doesn't want to spy on his competitors' keywords and rankings is like looking for a four-leaf clover.
Who would neglect to know our competitors' secret of success and identify their weaknesses? In comparison and analysis with the best competitor tracker lies the fat chance of success.
So, the best competitor keyword analysis tool is all you need to rank above your competitors in search engine results pages (SERPs). But, how effective would be tracking competitor keywords using an advanced competitor keyword finder SEO tool?
Here's a breakdown of what this blog covers. We'll define what is Market competition analysis and how to achieve that using a competition analyzer. 
What is SEO Competitive Analysis?
You might think that you know all the giant competitors in your niche, but can you pick out all your direct SEO competitors from that massive list?
Moreover, the competitors you know and the real giant competitors needn't necessarily be the same.
To pick out the direct competitors amidst the multiple SEO competitors who exist, you need to compete with SERPs.
Take a look at this example, a B2B in California is trying to rank for keywords like "Topnotch services in California". Then, they would be competing with other B2Bs for Google's first-page results.
And, If you are a business octopus with projects in multiple niches, you may even have diverse lists of competitors. This list of competitors may vary for each service you offer.
Fortunately, finding out who your competitors are is simple. All you need to do is enter your top keywords into Google and write down the domains of your main competitors.
By doing this you may have your list of competitors yet, this will take you nowhere.
To track competitors you need to spy on their entire metrics for the specific keyword you've entered. You'll also need to stay on track with their organic progress.
So, to get all this done systematically you need to begin with tracking your competitors' keyword.
Expert Suggestions:
Entering your keyword in Google's search wouldn't help you dig deep into all crucial metrics of your competitors' keywords.
Enter your keywords into the best competitor keyword analysis tool and let it do the rest of the heavy lifting for you.
Why Do You Need to Track Your Competitor's Keywords in SEO?
Keywords are an essential part of any SEO strategy. They help you stay focused on what you create and ensures to make your audience believe that the content they're looking for is with you.
Only competitor keyword research can help you pick up the exact keywords you should use while creating your business content.
Weird enough, most people have no idea how to find and choose the keywords that matter.
Are you one of those?
If so, you'll either choose a handful of keywords to target or occasionally lurk on some random competitor's website.
But do you think all of this works?– Sorry! It doesn't.
Here's why many of these methods fail terribly.
You don't ensure how competitive and powerful your target keywords are,
You don't analyze the ROI they can get by targeting specific keywords,
You don't accurately gauge the resources that you'll need to compete and win.
So, If you're tired of being outranked or messed up, and if you are looking for successfully worked methods to analyze and target high ROI keywords learn the best practices for keyword research in SEO.
Above all, it is also important to have an understanding of how competitors in your niche are using these same keywords and the success they're achieving with their strategies.
You can get this understanding only through a proper keyword competition analysis.
The keywords that you perform competitor analysis for should be relevant to your business and related to the content you've already created.
This analysis also helps you understand how difficult it will be to outrank a competitor who performs better than you in the SERPs. 
It also pinpoints opportunities for high ROI where it wouldn't be too difficult to outrank a competitor for relevant keywords.
So, you can never ignore your competitor keyword research irrespective of your niche.

How to Perform Competitor Keyword Analysis?
I agree that you can manually monitor your keywords' ranking fluctuation. And, you may have tried tracking your keywords' rankings manually too.
Whereas, Analysing your competitors manually is also possible.
Just search for alternative:yourwebsite.com in Google and you'll get a list of sites.
However, this method isn't effective and accurate.
If your site is very new and hasn't yet ranked for any keywords, you might only see a limited search result. What about those new competitors who have sprouted from no where? This is why we often seek help from competitor keyword analysis tools for a better SEO game plan.
Expert Suggestion:
The best competitive keyword analysis tool is an effective way to discover great keyword insights. You can easily track your rival's keyword performance with very little effort.
These tools have been engineered with the most advanced technology and significant elements to provide you with your direct competitors' specific keywords' rank, metrics, and overall performance in a click.
How to Define Your Competition?
You may be a start-up, an agency, or a gain business, your niche will be filled with a diversity of players.

In many ways, SEO and the School ecosystem are similar; Like the students of a class seeking to rank in the top #10 or badge the rank #1. It doesn't matter who they are, where they're from, or what they do. – they are still competitors.
Your relevant competitors include
Direct competitors:
Those who have got similar products and services and target the same audience as you do.
Indirect competitors:
These lots will have the same product but they target a different audience or in a different market. In other cases, they may offer a completely different product or service, but you both may be competing for a similar audience.
Semantic competitors:
This sector of competitors may not even sell a product, but they may just extend edgy, newsworthy, or necessary information to amass visibility from the exact audience you are targeting.
These are the types of competitors with matching keywords you need to watch out for.
Expert Suggestion:
The first and foremost step is to collect all the competitors who match a set of keywords and then categorize them accordingly.
And, with the best competitor keyword analysis tool you can get to know the list of competitors in your niche without you having to suggest a random competitor and then track.
From that suggested list, mark those who seem to be the toughest rivals in your niche, the newbies who seem to have sprouted with novel strategies as your direct competitors, and the rest as indirect and semantic.
This lets you stay aware of all competitors' SEO progress.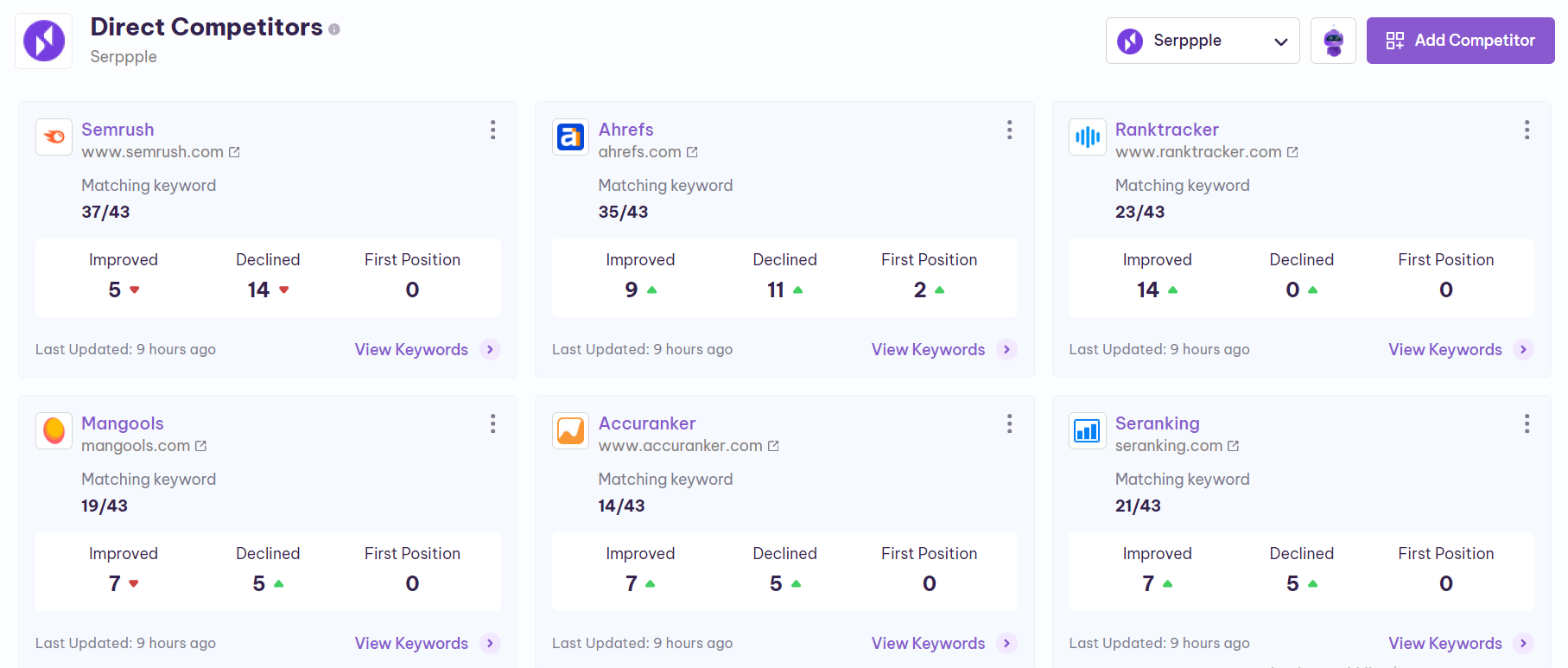 Decide Whom should You Ignore
Knowing what not to do is of primary importance. Not every competitor above you in the SERPs could be considered your open competitor and you needn't focus on trying to outrank some sites.
So, you have to identify which sites aren't your competitors.
At times it may not be worth spending time to outrank sites like Wikipedia, Pinterest, Facebook, etc. for your matching keywords.
Expert Suggestion:
Plotting against tough players like social media giants or other renowned sites would lead you to mess up with your SEO strategy.
Instead, by relying on the best competitor keyword analyzer tool you get to utilize your available resources well you can focus on the next-line competitors whose organic growth had an impact on your traffic the most.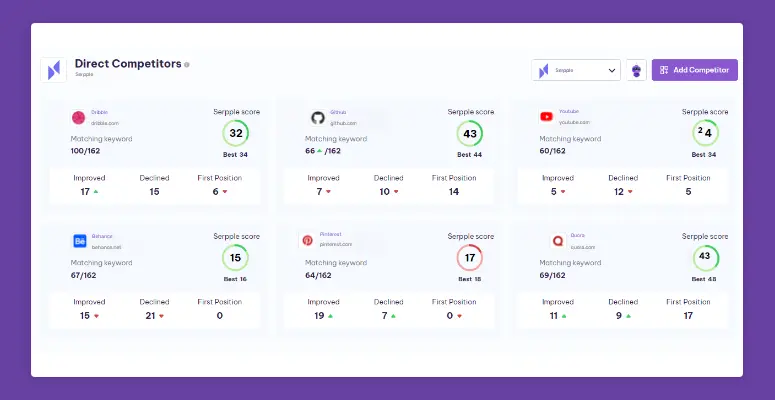 It's crucial to understand whom to mark as your competitors among the plethora with matching keywords. The next is all about tracking their organic performance with matching keywords.
How to Spy on your Competitor's Traffic?
Determine the competitors that you want to go after and include them in your direct competitor's list.
Next, you need to snatch individual metrics for each matching keyword of your competitors.
You may have identified your competitors manually, yet it's impossible to get accurate key metrics for each of your rivals.
For each competitor, find the following metrics and consider them while plotting your SEO strategy.
Position of your matching keywords – the improvement and decline in the number of matching keywords in your domain and your competitors' ranks for.
Performance evaluation of your matching keywords– Analyse the performance of both domains with the help of how your matching keywords perform in Google's SERP.
Serpple Prompt:
The smartest move is to go for an ideal and the best competitor keyword analysis tool and best keyword tracking software like Serpple.
In Serpple's Competitor AI the Serpple score(ranging from 1 to 100) of the matching keywords', and, it also let you get the accurate score of your competitors keywords' performance on SERP for that particular project lets you gain an exact picture of your competitors' overall performance.
Once you've got the list of your matching keywords and their ranking positions then, the next step is to start comparing your ranking position, and organic performance and stay on track with the keyword metrics.
Measure Your Competitor's Overall SERP Metrics
Apart from the ranking changes of your keywords, some key metrics will help you gain an accurate snapshot of just how competitive your targets are in terms of SEO.
Here are the metrics that you want to drag out:
Your competitor keyword rankings for a day, over a week, and a couple of weeks,
If your targeted matching keyword is dominated by Map packs, videos, local packs, etc,
Any ads detected for those targeted keywords,
Have those lists of matching keywords got featured on the snippets?,
Changes in their review ratings.
Expert Suggestions:
Though you are depending on the best competitor keyword analysis tool, never ignore monitoring the SERP metrics.
These SERP  metrics of competitors may give you an idea for creating either video content for you to start exploring ways to get listed on featured snippets and a lot more novel perspectives.
Now with all your tracked metrics and the spied-on ranking data of your competitors start planning for an effective strategy to dominate them.
Figure out a way to beat your competitors
On choosing your competitors and having surveillance of your competitor keywords, you will gain a clear understanding of what they do? What keywords drive high traffic? What does their overall SEO impact look like?
Meanwhile, you would also be tailing your keywords and have your key metric data at your fingertips. Just, compare the data with your partakers. Following this system lets you self-evaluate where you lack and as well as get to know your competitor's weaknesses as well.
Serpple Prompt:
Serpple's Competitor AI lets you compare the ranking history of your matching keywords with your competitors. The dynamic graph illustrations make observing the ranking fluctuations of our keywords quite easier when compared with other standard competitors keywords SEO analysis tools.

Tracking those keywords you and your competitors target and monitoring their performance lets you weigh each other's organic growth.
Moreover, to form a much better strategy you definitely need to look for ways to get more accurate metrics.

Serpple Prompt
Serpple, the best competitor keyword analysis tool gives you a snapshot of your metrics that gets updated with each SERP change.
The fresh metrics and rankings with 99.5% data accuracy are the tool's attributes. Here is how to track search engine rankings easily.
So, now monitoring your competitors' on-site optimization efforts is now possible with a perfect competitor keyword analysis tool. 
The dramatic change in the SEO impacts of any of your competitors is an indication that there are chances for optimizing their pages in the search results.
While planning your next move be it a campaign or any strategy, it's advisable to keep an eye on your competitors' use of keyword-optimized headers, and other SEO metrics to evaluate their organic activities.
Conclusion
For your business to always experience consistent success you need to keep an eye on your competitors and their growth.
By employing the best competitive keyword analysis tool, you can measure your organic progress in the marketplace and where you stand on par with your competitors.
Are you all set to make those changes that would set your company up on the path of continued success?
Great! Now, as you are aware only an accurate and the best competitor keyword analysis tool can help you gain the required knowledge.
So, Try our Competitor AI to experience the accuracy and the SERP metrics tracked for your competitors' matching keywords.