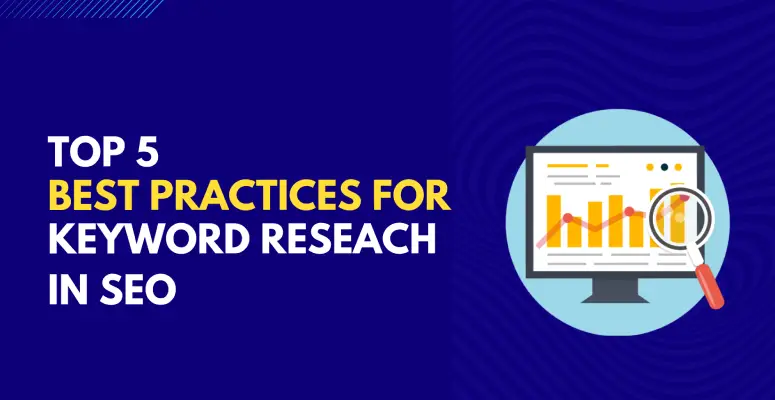 You may either be a newbie or an SEO pro, What's the one thing that keeps eating your brain?
It's the keyword Zombie!
Yes! Keywords play a vital role in digital marketing. Everything starts with people typing specific words into the search engine to search for the information they are looking for.
This is why you need to know what exact key phrases your target audiences are looking for in Google (sounds like mind-reading isn't it?).
And, usage of words that don't match with your target audience's search, will fail to interest your audience. Thus, finding the right keywords plays a key role.
Moreover, never get convinced that keyword research best practices are only about hunting for popular words and phrases. Knowing how to find keywords is like winning only half the battle.
So, you need enough wisdom to analyze what your users need and predict your competitor's strategies.
And, this makes mastering the art of keyword research a fundamental SEO task beyond doubt. So, undoubtedly every blogger and digital marketer must carry out a complete and effective research method.
Well then, how to get it done?
To find out the key steps in the SEO keyword research process stay glued to this page.
Top 5 Keyword Research Best Practices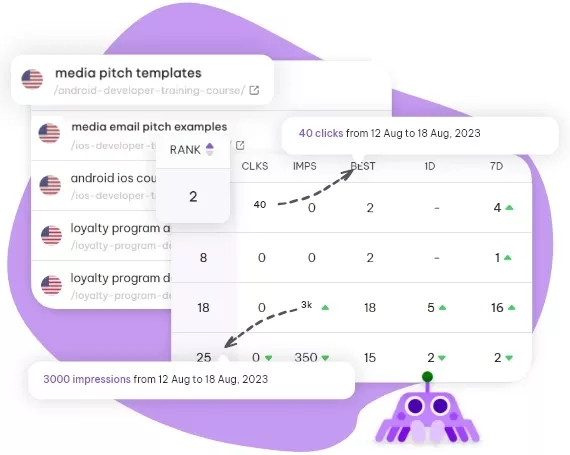 Before getting straight away into the research methods for SEO purposes, it is important to realize the difference between the keywords you want to achieve high rankings and the keywords that can rank high on Google.

Thus, understanding the difference from the start lets you formulate much better research strategies to make it to the first page of Google.
1. Understanding your Audience and Competitors
The first and foremost step in the keyword research process is to learn as much as possible about your audience and your competitors. This constitutes your mission, doesn't it? Start with knowing your target users,
Who is your audience?
What does your audience look for?
What do you need to do to meet their preference?
This will aid you a lot while you start to create your site's keyword list.
After having learnt everything about your target audience,
You need to start looking for your competitors.
Just take a glance at the checklist below to analyze your competitors.
Who are your competitors?
How often do your competitors post new content on their sites?
What type of content do they publish that gains a lot of attention from users?
What keywords your competitors are targeting?
Having observed both, start collecting search terms that match your audience's search preference and make you stand out among the rest.
Later, when your keyword research gets done you can devise a successful SEO strategy and overthrow your competitors' using these insights.
2. Compile a List of Relevant Topic Ideas
On completing step 1, your next step is to record your content topic ideas.
Do a bull session and list down the types of content that you feel would work related to your niche. And, to find out what your users need, put yourself in the place of your audience.
After putting down your ideas, sort and segment the related ideas together to form different topic buckets. Let us see an example,
Let's say that you are in the B2B niche selling an app or a product. Then, to find keywords that can potentially help you get clients for your firm, create topic buckets on,
SEO,
Inbound marketing,
Blogging,
Email marketing,
Lead generation,
Social media marketing,
Once you've sorted the topics, kick off with finding appropriate search terms. Now the idea you inferred in first practice will ease your keyword research work.
Above all this is an ongoing process so try not to complete it in one go, you need to keep updating contents too.

3. Track Search Demand Metrics
The next best way is to look for keywords based on their monthly search volume using a google keyword planner. Some may even find this method to be more appealing than the last one.
However, you may look for keywords with high volume as they would drive the most traffic. Yet, such high volume keywords can be more competitive too.
So, what are you supposed to do?
It's quite simple! targeting long-tail keywords. By doing so you can establish decent domain authority.
Search Demand Curve
For many years the long tail of search demand continues to exist. After conducting research in recent times, Moz came up with a vital finding on long-tail search terms. That is,
The top 1,000 search terms are responsible for just 10.6% of the overall traffic.
This means Even if you get those first 1,000 keywords, and start using them will still miss out on 89.4% of the total traffic.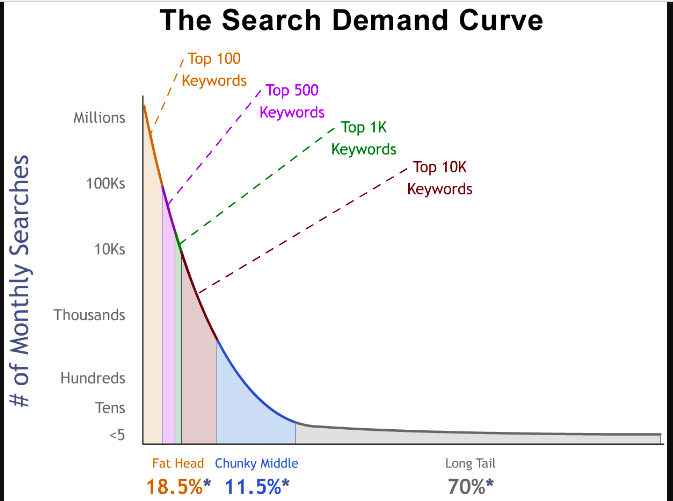 The graph depicts that Long-tail keywords make up 70% of all searches making it an opportunity to propel your keyword rank high on Google. 
Therefore, alter your keyword research strategy and start looking for long-tail keywords to bring traffic to your site in a short while.
4. Keep an Eye on Your Competitor's Ranking 
This step takes you back to the beginning. That's when you have listed your competitors and their sites. All you need to do now is revisit their sites and analyze their content.
Then find out the keywords they are ranking high and also observe the traffic those targeted keywords receive from Google searches.
The main intent of this step is to see if you could get any keyword ideas that you haven't thought of before.  
And, having run through the site and gathered your keyword list, try using it to enhance your Keyword research strategy.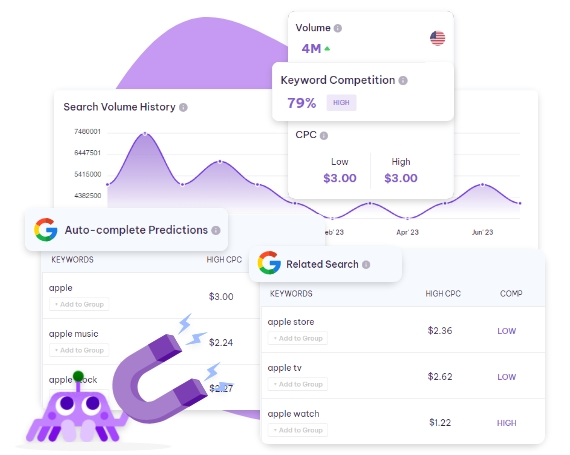 5. Keep Looking for Trending Keywords
In addition to the above steps, you need to watchdog your niche for new keywords that mushroom from nowhere.
Also, stay aware of the trending keywords that create a steer.
You may wonder why? Well, of all the queries entered into Google in a month 30%  are new keywords. Guess what?? Even the big G isn't familiar with it.
So, choosing such new keywords shall come in handy as not all of your competitors would be aware of it. And, you may rank for them faster.
Here is how to track search engine rankings.
Wrapping Up!
Did you find these keyword research best practices appealing? 
Now, are you all set to work on optimizing your website for the exact keywords?
Keyword research may be the critical step of SEO yet, try following these practices to perfectly get through it.
These tested methods will let you identify the chief keyword users type in a search engine.
In addition to this try utilizing the keyword research module available in the best keyword rank tracker online.
Here is our list of 11 best keyword rank tracking software tools in 2023.
By doing so your pages will successfully start ranking for those search terms and drive organic business growth.
Asides from this, What are the other practices you find to be more effective?- and how are you implementing them?
Let us know about it in our Facebook community.