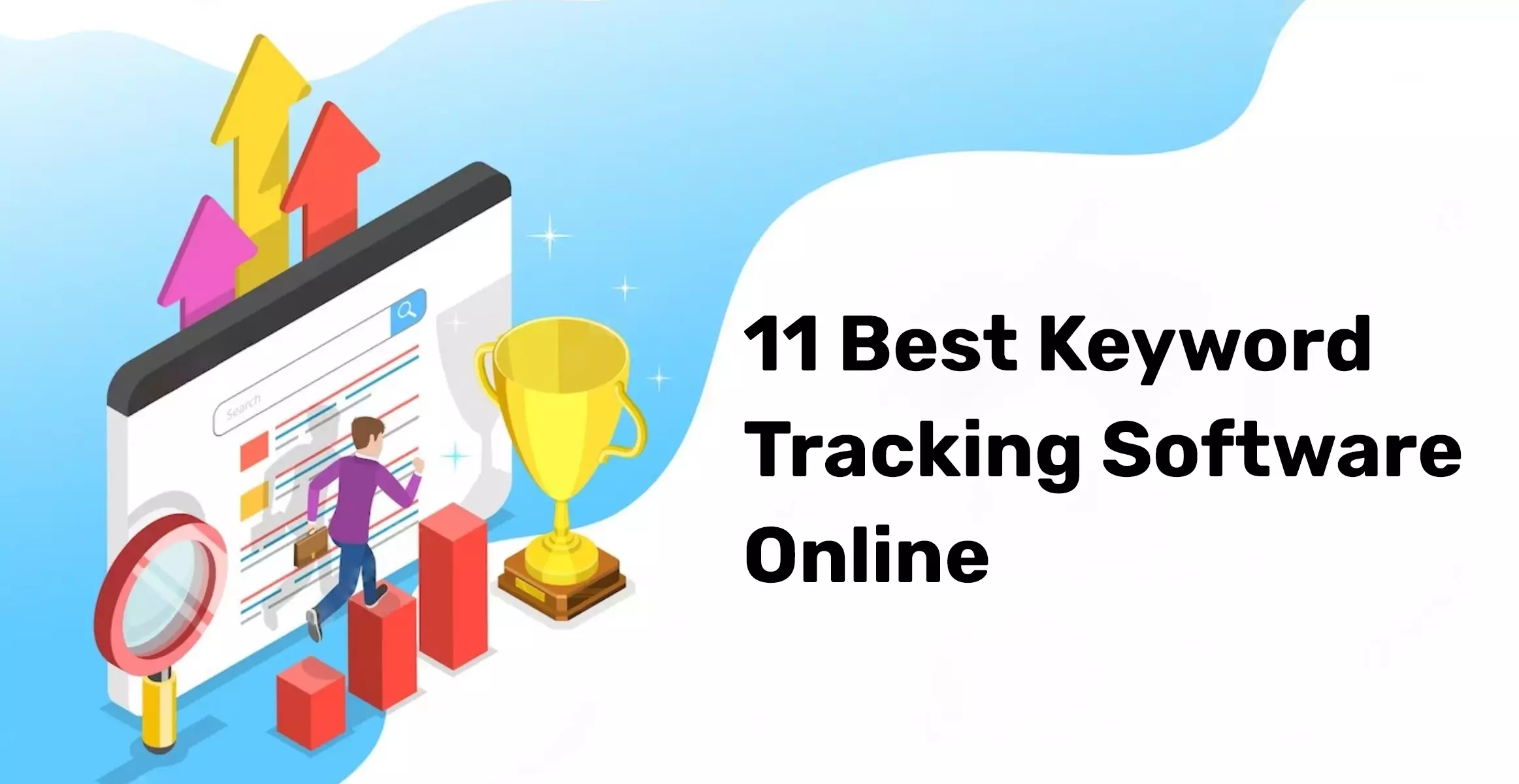 Looking for the best keyword rank tracking tools online? Look No Further. This blog is for you to dive deep into the top keyword tracking tools available.
Contents:
Admit it, we have all experienced that feeling of "meh" when we try to stay on track with our SEO Impacts on SERP. Haven't we?
Yes! It's extremely hard when it comes to finding keyword tracking that doesn't require a degree from MIT to read, but is easy to digest and make smart SEO decisions.
You have to be well-informed of your site's ranking on the SERPs as well as its rich features with supreme data accuracy.
And, here comes the need to depend on the best keyword rank tracking software online.
For a proper and effective monitoring of your site's efficiency you need to pick one among the best keyword tracking software available online.
So, keep scrolling to know all the essential details you need to make an informed decision and optimize your website's performance.
List of 11 Best Keyword Rank Tracking Tools in 2023
Here is a list of the 11 best keyword tracking software that you can rely on to find the rankings of your web pages and monitor your SEO impacts in the SERPs.
1. Serpple: The Best Rank Tracking Software
Serpple's keyword rank tracker, is changing the rank tracking game.
As SERP tracking tools have evolved they have only gotten more and more complex and difficult to digest.
But Serpple is on a mission to create the best rank tracking software on the planet by making it super easy to read and digest so you can quickly make improvements.
Apart from the extremely low price (plans start at just $19/mo), the daily Google ranking updates come standard and are 99.9% accurate.
Serpple not only tracks rankings but has built in SEO tools to help you improve those rankings with simple yet powerful SEO advice that can be implemented quickly.
The tools' interactive dashboard, competitor tracking and keyword research module makes it even more powerful SEO software.
Serpple is very thoughtful on which SEO tools to include to make sure you can real value out of all of the tools, and not pay for things you'll never use.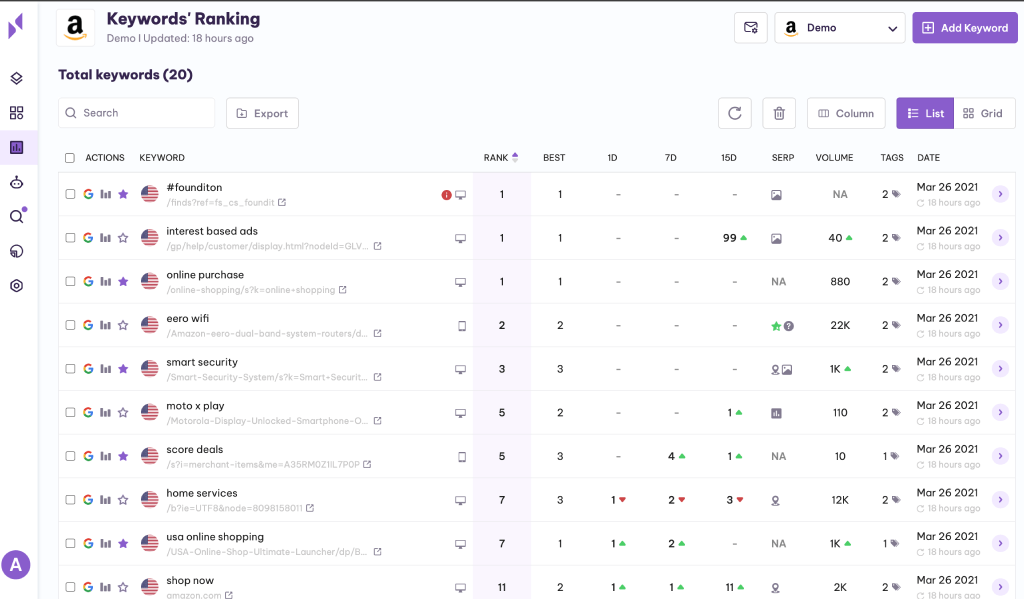 And, the rank-tracking software has tooltips to help users navigate throughout the platform with ease
For you SEO agencies and consultants out there, our ranking reports can be white labeled so you can affordably track the rankings of all of your SEO clients.
Product Ratings
Overall: ⭐⭐⭐⭐⭐
Support: ⭐⭐⭐⭐⭐
Accuracy: ⭐⭐⭐⭐⭐
User-Friendliness: ⭐⭐⭐⭐⭐
Affordable: ⭐⭐⭐⭐⭐
Feature Updates: ⭐⭐⭐⭐⭐
Pros
👍 Track Bulk Keywords in a click.
👍 99.9% Ranking Data Accuracy (Manual + Automated Refresh ).
👍 White Label Ranking Reports.
👍 Dynamic graphs to visualize your SEO efforts.
👍 Set Email triggers to get alerts on required changes.
👍 Keyword explorer and Competitor tracking available.
👍 Stay on top of the fluctuations in rankings happening dynamically.
👍 Experience all powerful features in the Forever Free Plan (no credit card needed).
Cons
👎 More Features and modules are yet to come. We're on a mission to be the best rank tracking software on the planet.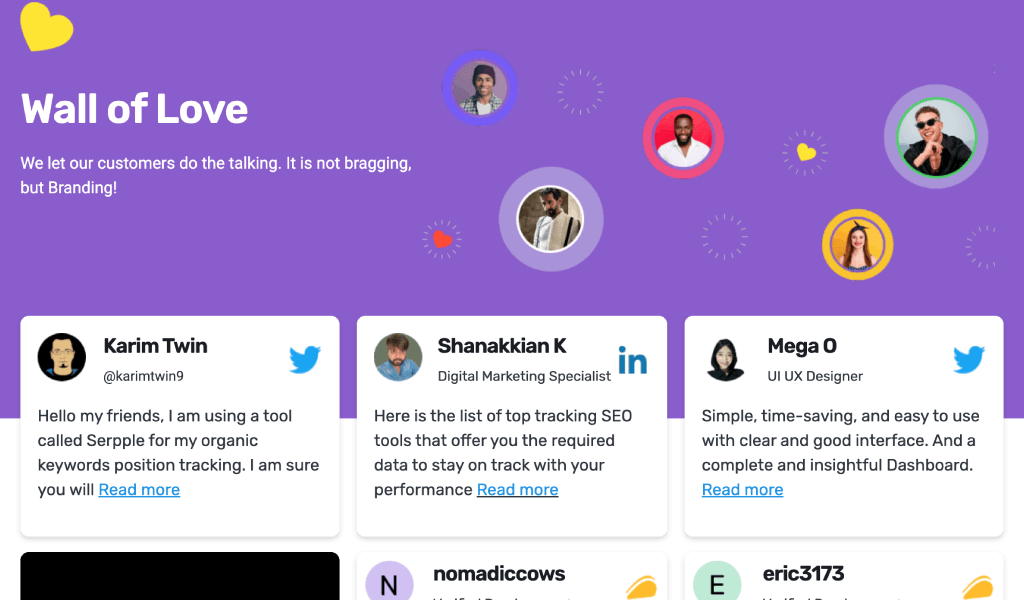 Serpple is one of the best SEO tools out there. I use it to track 1500+ keywords across 10+ competitors in a multi-product category. I use it to find featured snippet opportunities and be on top of regular alerts.
Because Serpple is built to be easy to use, you can spend less time staring at hard-to-read reports and more time growing your traffic and sales.
Pro Tip:
This tool has automated refresh and also provides manual refresh if you want up to the minute rankings.
Check it out and get free access to explore more.


2. Mangools
Mangools is a web-based software that provides users with various tools to track search results. This rank-tracking software can be trusted to quickly monitor your performance's raise and drop in SERPs.
The keyword tracking software arrives at your and evaluates the proprietary Performance Index score to measure your ranking success.
There's a Keyword Position Flow board that gives information on the number of keywords that improved or declined from their position in the SERP.
All these data are distributed across their compact dashboard.
Product Ratings
Overall: ⭐⭐⭐⭐
Support: ⭐⭐⭐⭐⭐
Accuracy: ⭐⭐⭐⭐
User-Friendliness: ⭐⭐⭐⭐
Affordable: ⭐⭐⭐⭐
Feature Updates: ⭐⭐⭐
Pros
👍 Track your keywords' ranking performance, based on location and devices (mobile or laptop).
👍 Check rankings on the search results page and their quality like page authority and backlinks.
👍 Get to infer about their related queries, Autocomplete, and Related questions.
👍 Sharable SEO reports.
Cons
👎This SEO tool offers a fairly limited free trial.
👎There seems to be no option for users to request any feature or guess the upcoming modules.
3. SE Ranking
SE Ranking is a cloud-based rank-tracking software for SEO and online marketing professionals and SMBs.
The platform has understandable keyword dashboards that make it easy to observe your tracked results.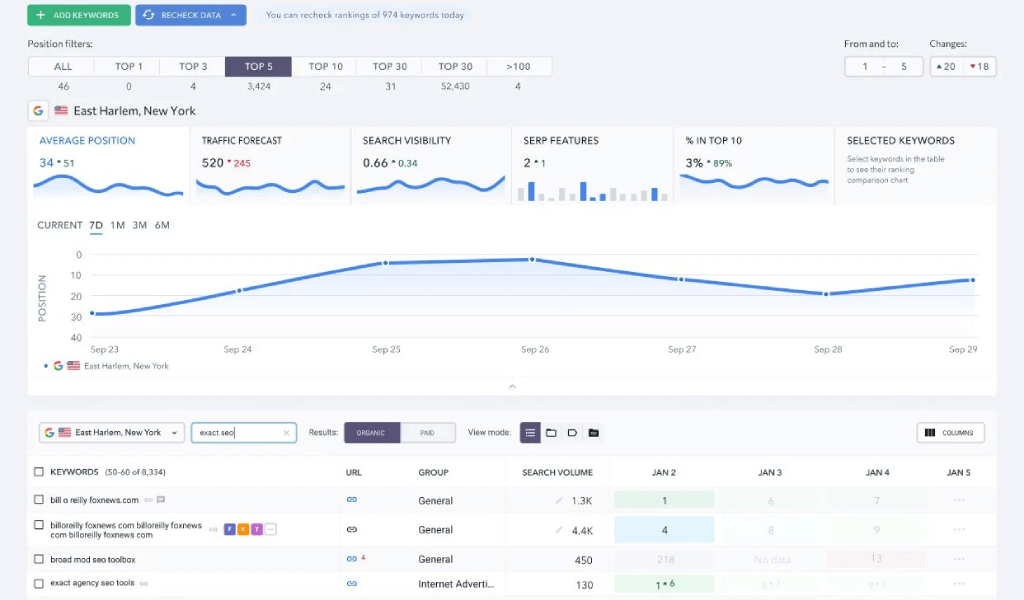 Product Ratings
Overall: ⭐⭐⭐⭐
Support: ⭐⭐⭐⭐⭐
Accuracy: ⭐⭐⭐⭐
User-Friendliness: ⭐⭐⭐⭐
Affordable: ⭐⭐⭐
Feature Updates: ⭐⭐⭐
Pros
👍 Web-based software and site audit platform.
👍 Track your site's ranking positions in various search engines Google, Bing, Yahoo, Yandex, and YouTube.
👍 Get local and mobile keyword rankings.
Cons
👎 This tool offers 14 days free trial, not a forever free plan.
👎 There seems to be no option for users to request any feature or guess the upcoming modules.
4. Ahrefs – Best Overall SEO Tool
Ahrefs is a well-known SEO and marketing platform. It lets you audit websites, research keywords, analyze backlinks, and more.
Ahrefs has a must-view dashboard where you can grasp all your keyword ranking data at a glance.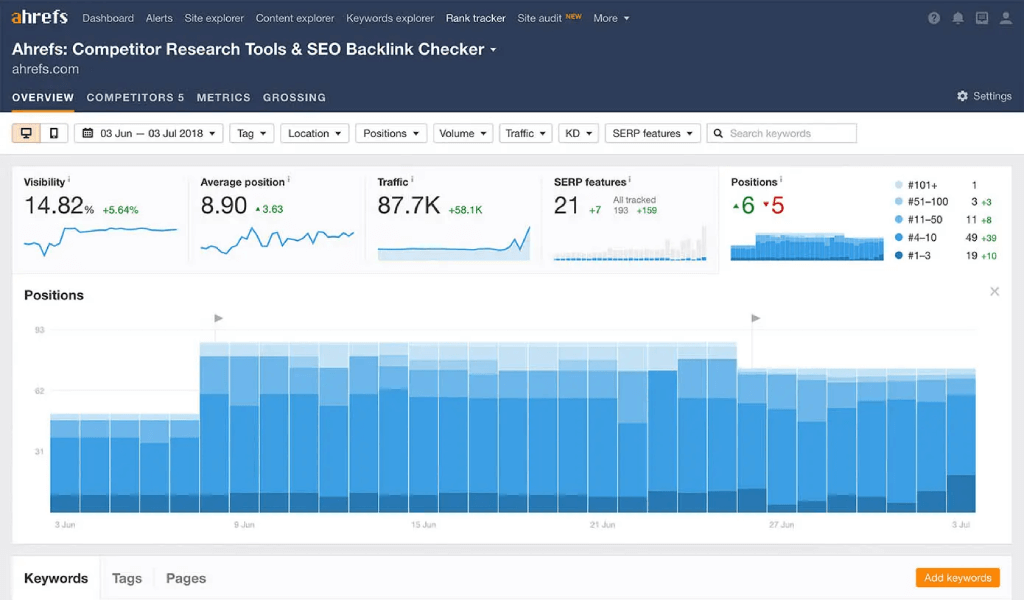 Product Ratings
Overall: ⭐⭐⭐⭐
Support: ⭐⭐⭐⭐⭐
Accuracy: ⭐⭐⭐⭐
User-Friendliness: ⭐⭐⭐
Affordable: ⭐⭐⭐
Feature Updates: ⭐⭐⭐⭐
Pros
👍 All-in-one web-based SEO software.
👍 Observe top traffic keywords on the SERP.
👍 Detailed results accompanied by important metrics.
Cons
👎 Limits on tracking the unverified domains starting with five from the basic plan.
👎 Your weekly updates on your ranking progress can't set triggers or customize alerts.
👎 Rank positions history is available in all plans except Lite and there is no forever free plan.
5. Semrush
Semrush is an all-in-one web-based solution for SEO and digital marketing. It's mainly designed for Large scale businesses and SEOs.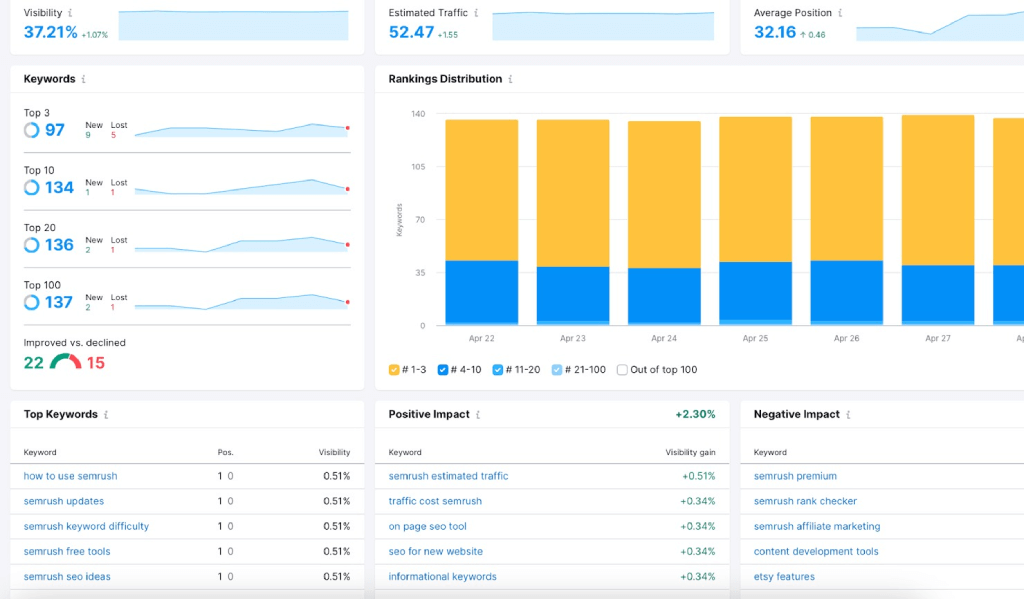 Product Ratings
Overall: ⭐⭐⭐⭐
Support: ⭐⭐⭐⭐⭐
Accuracy: ⭐⭐⭐⭐
User-Friendliness: ⭐⭐⭐
Affordable: ⭐⭐
Feature Updates: ⭐⭐⭐⭐
Pros
👍 Organic Traffic Insights with complete SERP data for 12 months.
👍 The graphs help you visualize the status of organic keyword trends.
👍 Tracks search engine rankings in multiple countries and languages.
Cons
👎 Most features, as well as keeping historical data, are limited and aren't accessible by basic plan users.
👎 Due to its costly pricing, it is often sought for by large SEO agencies.
👎 The free plan is available but limited to 10 requests per day with a 7-day free trial.
6. Pro Rank Tracker
This is one of the best rank-tracking software. It is developed for the smooth tracking of keywords in the SERPs.
You gain a variety of analytics that comes in handy with improving your SEO too.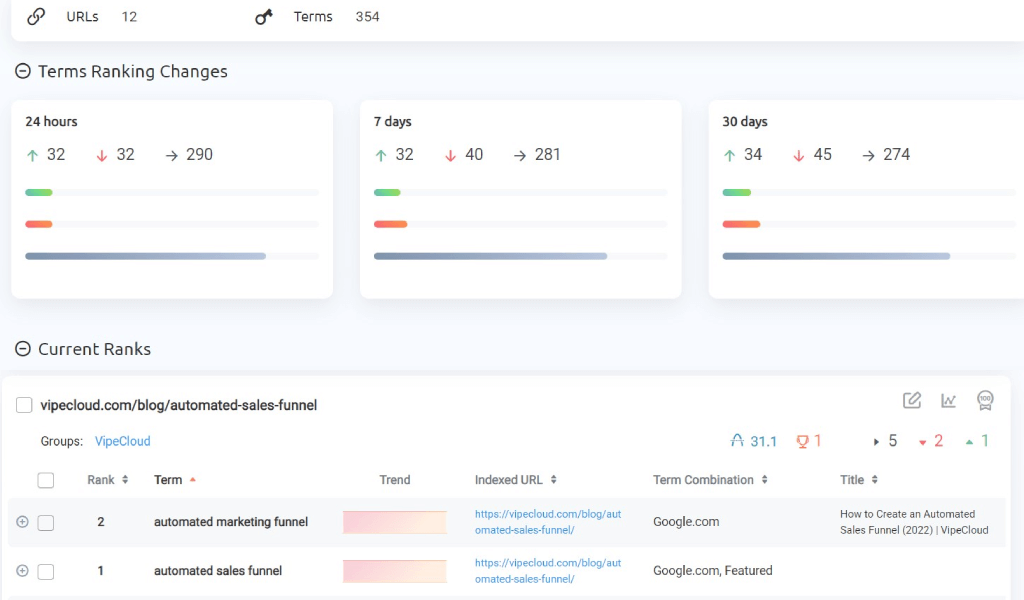 Product Ratings
Overall: ⭐⭐⭐⭐
Support: ⭐⭐⭐⭐
Accuracy: ⭐⭐⭐⭐
User-Friendliness: ⭐⭐⭐
Affordable: ⭐⭐⭐
Feature Updates: ⭐⭐⭐
Pros
👍 Instant rankings discovery.
👍 Check if your websites are performing.
👍 Timely support, nice interface, and API available.
👍 Helps to manage a lot of client properties and generate their traffic reports.
Cons
👎 There is no constant update with the system. Users may miss out a lot.
👎 No automated visual email reports are available.
👎 Difficulty with setting client reporting for specific keywords.
7. Zutrix
Zutrix is an AI-powered tool built with complex algorithms to track your keyword positions on SERP.
It differs from other tools by offering real-time notifications. It enables you to get notified via Telegram and Slack.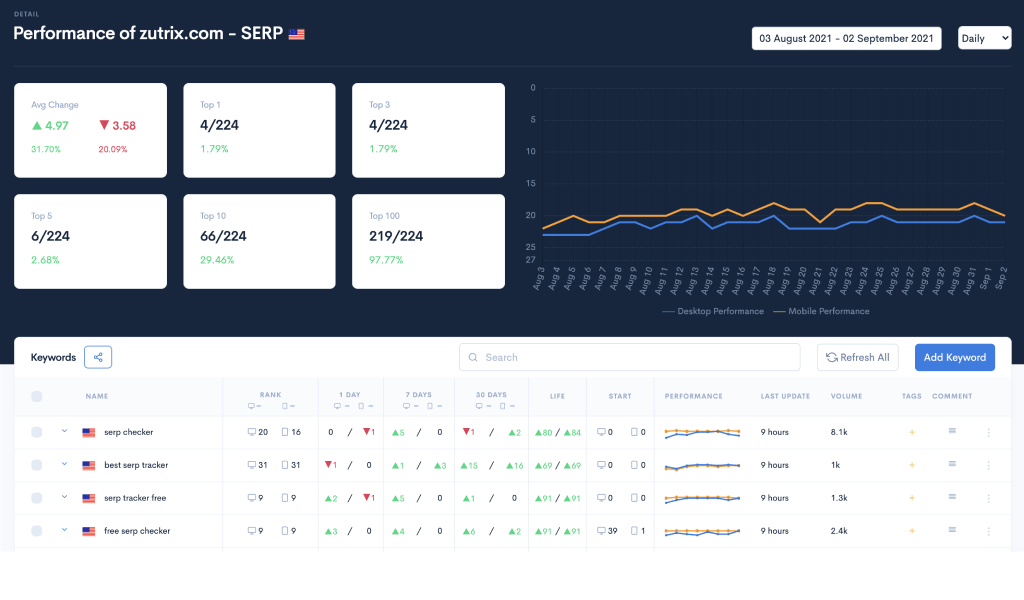 Product Ratings
Overall: ⭐⭐⭐⭐
Support: ⭐⭐⭐⭐⭐
Accuracy: ⭐⭐⭐⭐⭐
User-Friendliness: ⭐⭐⭐⭐
Affordable: ⭐⭐⭐⭐
Feature Updates: ⭐⭐⭐⭐
Pros
👍 Easy-to-use.
👍 Multi-channel notifications.
👍 Great functionality with Live demo.
Cons
👎 No forever free plan only 7 day-trail.
👎 There is no API available.
8. Accuranker
AccuRanker provide accurate search volumes and allow you to organize your keywords into tagged lists.
Most tools can be tracked from Google and sometimes Bing. Here is where AccuRanker differs by monitoring rankings on all the major search engines – Google, Bing, Yandex, Yahoo, and Baidu.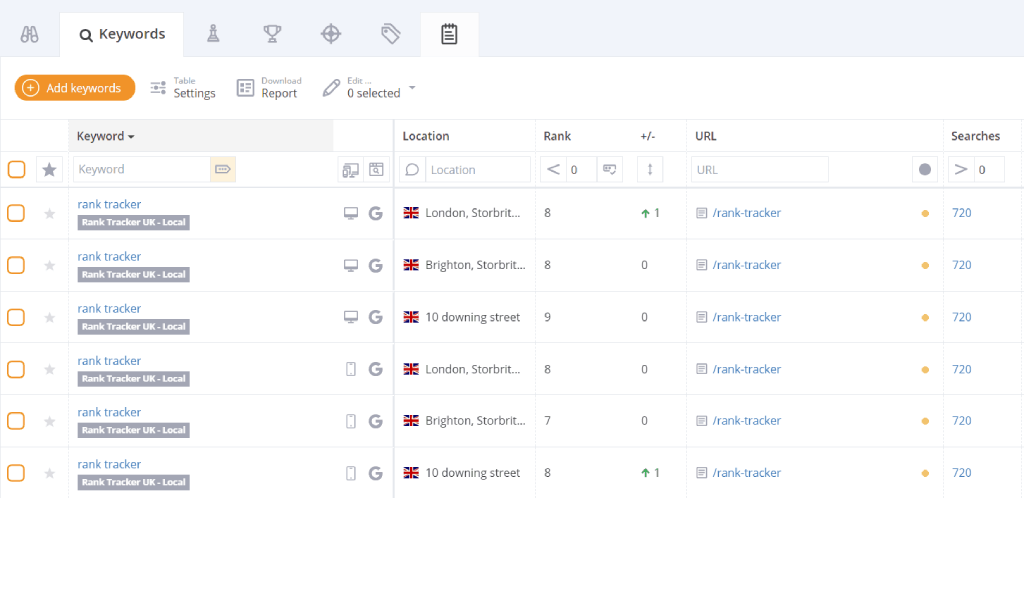 Product Ratings
Overall: ⭐⭐⭐
Support: ⭐⭐⭐⭐
Accuracy: ⭐⭐⭐⭐⭐
User-Friendliness: ⭐⭐⭐
Affordable: ⭐⭐⭐⭐
Feature Updates: ⭐⭐⭐
Pros
👍 Real-time rank positions .
👍 Separate analytics tracked through mobile, desktop, and local searches.
👍 Responsive app interface that's easy to configure.
Cons
👎 Can export ranking data only in PDF formats.
👎 Metrics and reports aren't easily understandable.
9. Moz Pro
Moz Pro is an all-in-one SEO solution that offers excellent insights to optimize your website and drive more traffic.
It helps to improve your SEO performance by letting you tailor your SEO impacts on your site.
And, it is easy to use. Apt for anyone without profound technical knowledge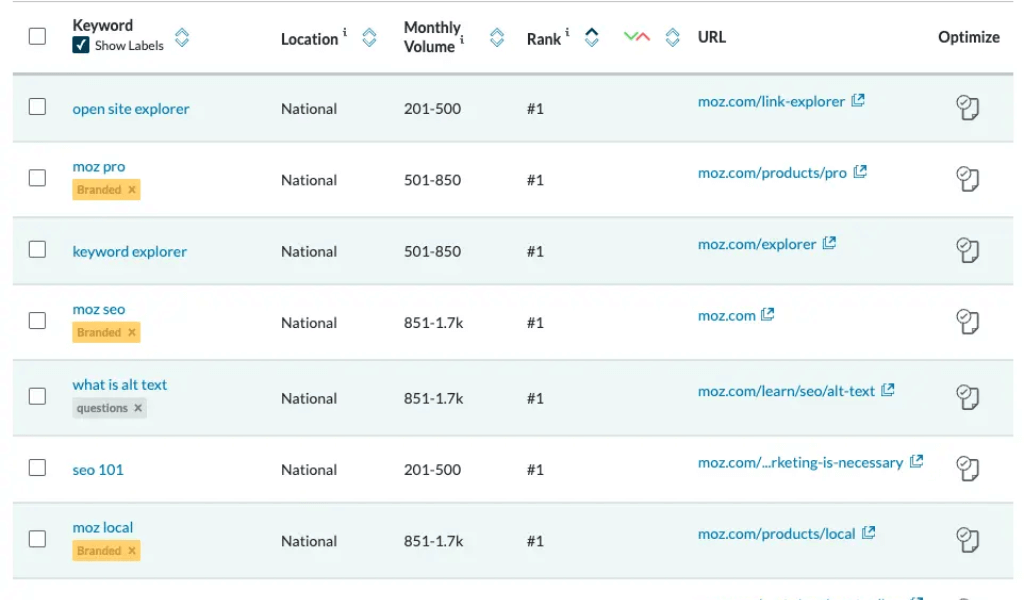 Product Ratings
Overall: ⭐⭐⭐⭐⭐
Support: ⭐⭐⭐⭐
Accuracy: ⭐⭐⭐⭐⭐
User-Friendliness: ⭐⭐⭐⭐⭐
Affordable: ⭐⭐⭐⭐
Feature Updates: ⭐⭐⭐
Pros
👍 Extensive link analysis available
👍 User-friendly interface and free trial option.
👍 Free yet limited API access.
Cons
👎 Moz Local is should be bought separately.
👎 Not many features are offered.
10. Rank Tracker
Rank Tracker from SEO PowerSuite is to track keyword positions, analyze SERPs, and make estimates for SEO and PPC campaigns.
It's an affordable and accurate rank-tracking tool for SMBs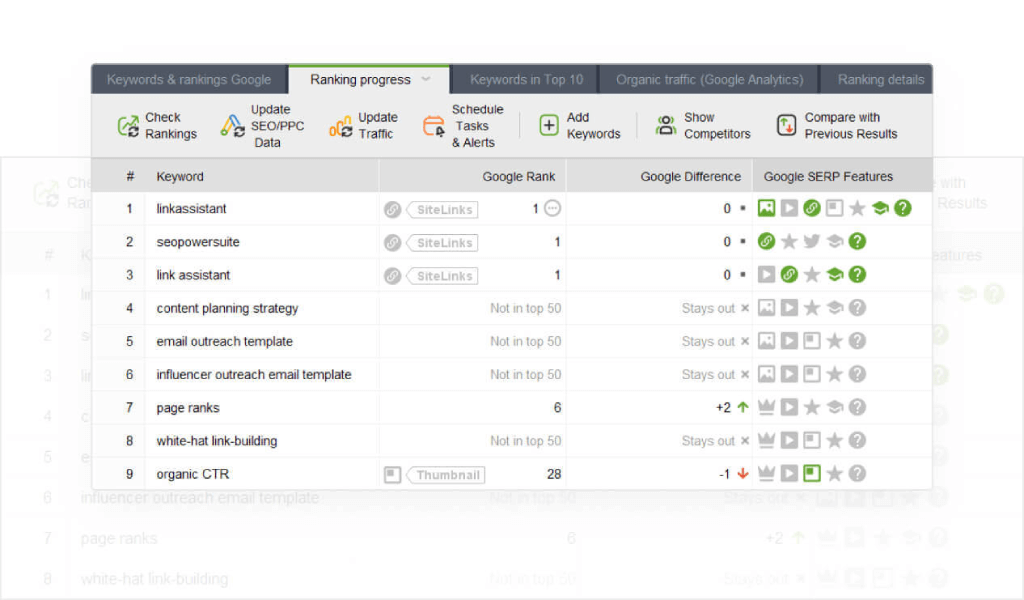 Product Ratings
Overall: ⭐⭐⭐⭐
Support: ⭐⭐⭐⭐
Accuracy: ⭐⭐⭐⭐
User-Friendliness: ⭐⭐⭐
Affordable: ⭐⭐⭐⭐
Feature Updates: ⭐⭐⭐⭐
Pros
👍 No limits to adding keywords and projects
👍 Automated rank checking for day-to-day keyword tracking
👍 Proper SERP feature analysis for your site
👍 Google Analytics, Google Metrics, and keyword Planner integrated
Cons
👎 As an SEO tool more features needs to be added.
👎 There isn't a forever-free plan.
11. Serpstat
Serpstat is an all-in-one growth hacking tool suitable for SEO, PPC, and also content marketing.
Though we have much rank-tracking software, Serpstat Being an all-in-one platform exceeds the expectations of its users.
It's one tool that impresses the users with its prices and features.
Being a comprehensive yet reliable solution it aids you to improve your search visibility and drive more organic and paid traffic to your site.
And, it guarantees qualified leads for your business.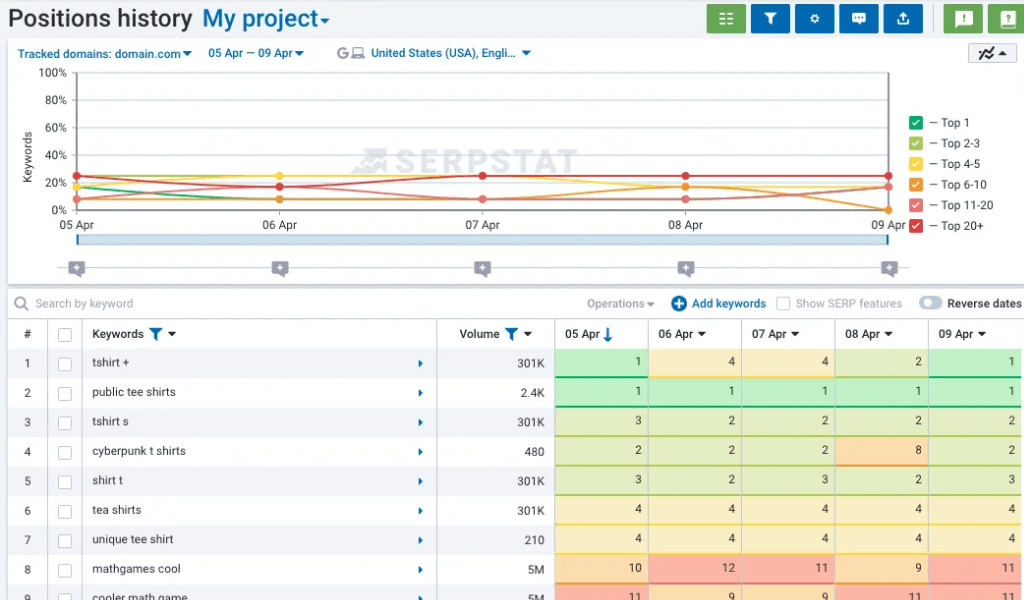 Product Ratings
Overall: ⭐⭐⭐⭐
Support: ⭐⭐⭐⭐
Accuracy: ⭐⭐⭐
User-Friendliness: ⭐⭐⭐⭐
Affordable: ⭐⭐⭐⭐⭐
Feature Updates: ⭐⭐⭐⭐
Pros
👍 SEO friendly tool.
👍 Ideal tool for multi-user mode to back your SEO and content teams
👍 Automated tracking to get reports every day about your SERP positions.
👍 API for all pricing plans, for analysis of the chunky volumes of data.
👍 Multi-user mode along with analysis of the whole team for free.
Cons
👎 To many features, at times confuse the users.
👎 Limited queries bother users.
Factors to Consider while Picking the Best Rank Tracking Software Online
To Choose the most promising and the most needed tool out of the Top Tracking Tools you should deem a pack of factors.
Here are few factors to pick the top-rank tracking tool:
Price
First things first, is funding. It's reasonable to prefer a rank-tracking tool that has all the features you need and falls within your budget.
Getting a cheaper one, at the cost of giving up the vital features is not worth it.
Doing so will only result in you searching for a different tool again.
Scalability
The software needs to meet your business goals and needs as it grows. Since most of the tracking software is SaaS tools, they need to fit all sizes of businesses and be easy to understand for different user personas.
Keyword Sorting
Options to group your keywords using tags like location, date, time, etc let you steer your keywords data and monitor your performance on SERP like a pro with ease.
Accuracy
Not all keyword tracking tools will be able to track the keywords with supreme accuracy. Most rank-tracking tools will have automated daily tracking. This will be the ranking fetched at a particular scheduled time.
To experience supreme accuracy of the ranking results apart from the automated tracking you must be able to refresh your data on demand to get up-to-date results
Which is the Best Rank Tracking Software?
Here's a brief comparison of the best rank-tracking software, their pricing, and other prominent details like their accuracy, reports, and feature updates.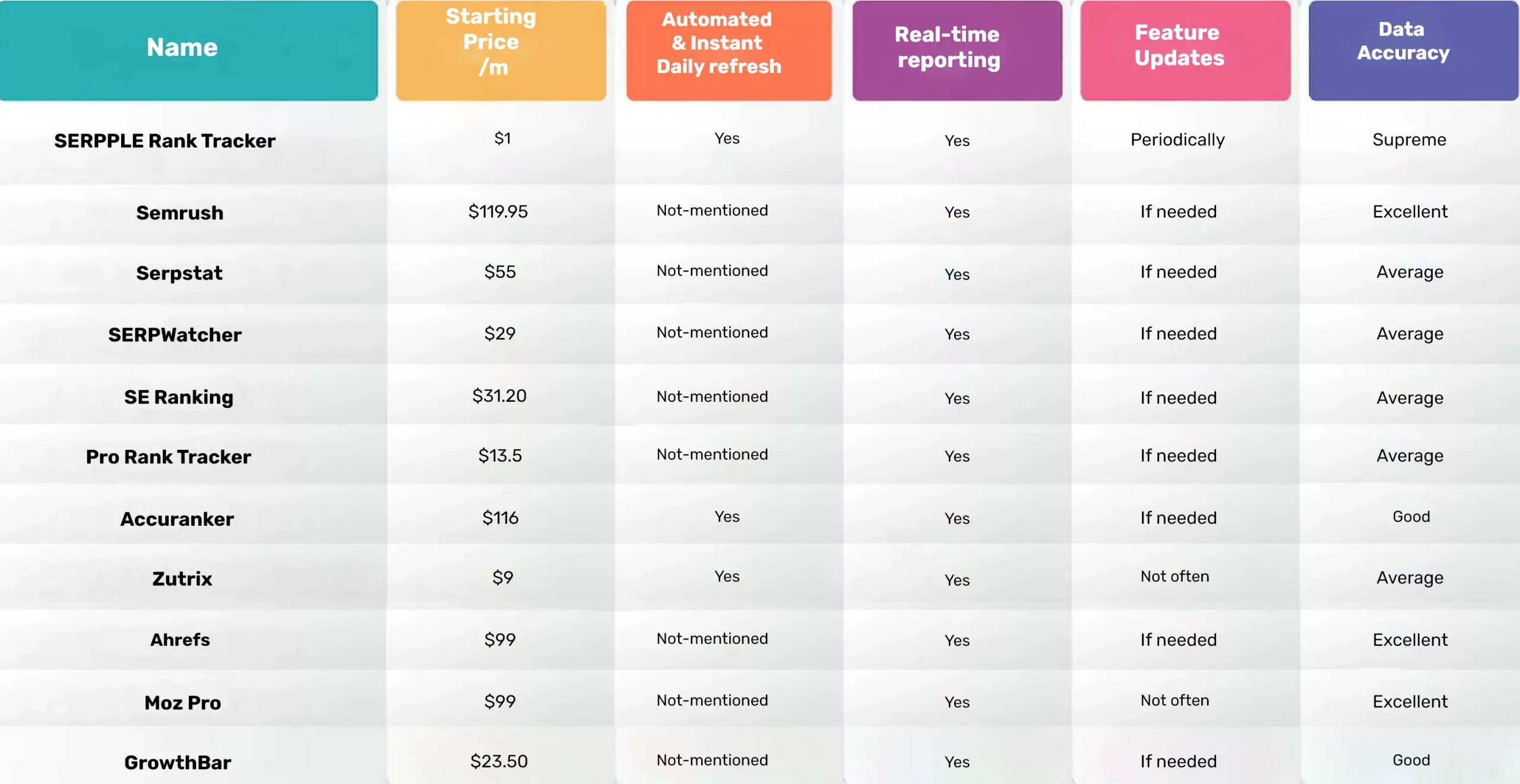 All the above-listed software are the most popular when it comes to search engine optimization.
Why Do You Need The Best Tracking Software online?
Software to check keyword rankings is a solution developed to suit all types of SEO tasks for a newbie in SEO or even an SEO pro.
An SEO should track ranks without any hassle, check keyword position fluctuation in both desktop and mobile SERPs, gain rich SERP features, explore your keywords, analyze competitors' next move, and boost your traffic.
And, keyword tracking software lets you track all of it and show results as graphs making it easier for better understanding and optimization.
This makes him seek the help of rank-tracking tools.
We Know Search engine optimization is a sea without limits of its changing trends and the SERP rank finding tools are an SEO's compass. It should,
Provide real-time updates of your seo impacts as well as competitor's progress.
In-depth, explored data on keywords that are most searched by users to enrich your content.
Eye on competitor websites, gives an exact picture of how well their pages perform on SERP, for similar keywords.
Manage to drive enough traffic, as well as find out where your competitor's traffic is coming from.
Essential rich metrics on SERP Features.
Like humans, each rank-tracking software is different and all aren't developed the same way. This is why you need to make sure that you choose the right rank-tracking software.
The one that has all the important features needed and will withstand the changing SEO trends.
And, it's crucial to thoroughly check all the features that are available and how effective and useful are the features provided.
So, I took up the responsibility of analyzing all the pros and cons, prices and support of the top-rated rank-tracking software.
This list is prepared after completely experiencing and exploring the trial version made available online.
Though I've compiled this blog after exploring each of these tools, needs, and goals always differ.
And, to decide which is the best and the most advanced keyword position tracker among all, the only way is to try them as I did.
So, don't trust me, try and find it yourself. Let me know your favorite.