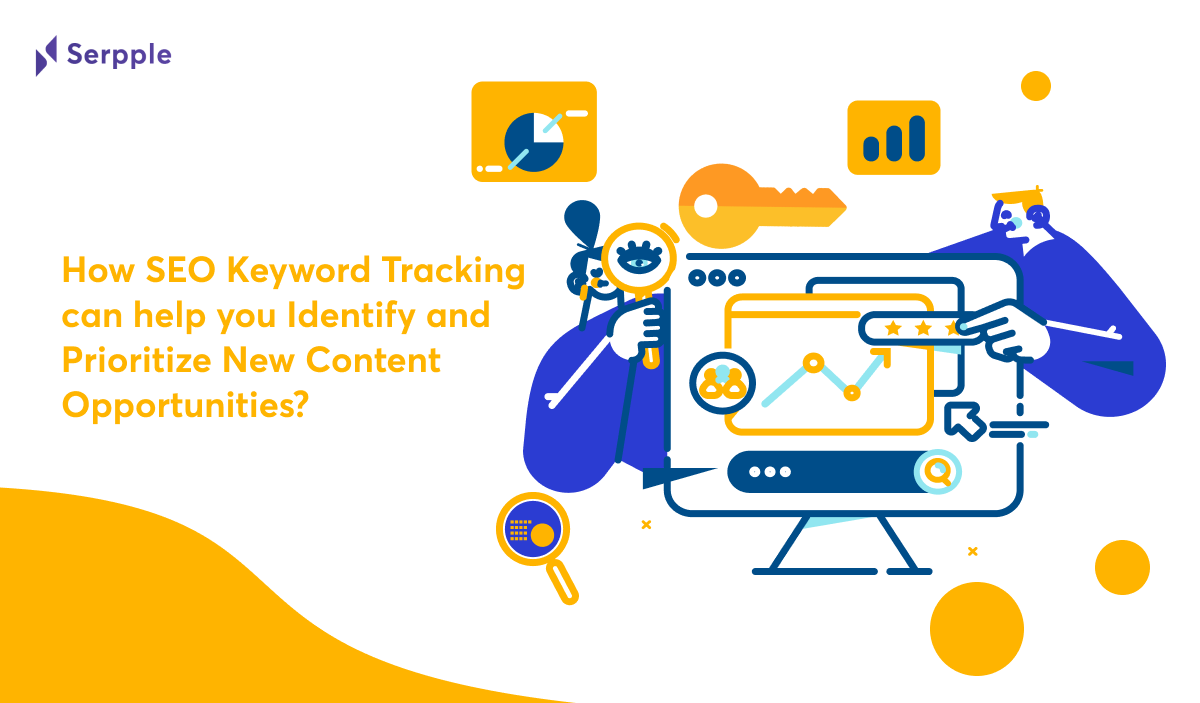 With a large volume of keywords, content requiring optimization, and limited resources, Few marketers ought to prioritize SEO work, hence they entirely focus on specific areas which gain the highest returns.
The focus areas may be content, keywords, and strategies. The data based on the keywords, would reveal the place to start with.
Research on SEO and its optimization is the efficient means to get high performance and yield more organic traffic results for your website.
In SEO, the end goal of performance does not gain success, until optimized content, has been pushed live on the website.
Thus, both the precision and speed with which you accomplish keyword research, optimization in content creation, and keyword mapping, depict how rapidly you would perceive the work performance impact.
To determine and prioritize different content sections and their optimization explicates where and what to commence with keyword research.
But also keyword research and the SEO keyword tracking process by itself, might undermine the fruitful place for beginning the content optimization in SEO and prioritizing the content. Hence this SEO keyword tracking stands as an essential component in SEO performance.
The Deep keyword research and tracking branded and non-branded keywords using Serpple allow us to create distinct opportunities for content placing and prioritization.
Do an estimation of the highest prioritization of content, according to keyword tracking outcomes, which maximizes the website's organic search results could offer.
Perform some high-level keyword research, on categories in Google keyword planner navigation to determine approximate search demands for every keyword.
Assess the present SEO conversions and visits of every section to pick out which particular section underperforms based on the search demands of keywords.
Assume business drivers such as profit margin, for focussing on areas of brand, product, or website yield the highest returns.
Keyword Tracking – What is it all about?
Keyword rank tracking stands as best for measuring the success level of SEO efforts and it determines rapidly any sort of sudden search ranking changes in your website.
Companies generally do investment in SEO works, in order to drive high organic traffic to your website. In order to bring a website, with acquiring more traffic, web pages of the website should rank higher in Google for particular keywords.
As the outcomes, the best approach in determining the SEO efforts of the company are working out, relies on the process of tracking your keyword ranking across different periods, for all the most significant keywords.
This could be accomplished through different keyword tracking tools. This SEO keyword tracking aids to optimize the content accordingly to lift to high website ranking.
As keywords are the foundation for the entire efforts in SEO, it is well worth the investment cost and time to make sure that your keywords in SEO were highly relevant for the target audience and efficiently organized for the action.
Purpose of SEO Keyword Tracking in Content Strategy
Keyword rank checkers, in SEO, unlock the capability to quantify the success of business initiatives.
For instance, Best Buy may start launching a new product and add it to its category. They could add this category to their corresponding website, and does addition of content, for this product to thrive more website traffic.
It could be more beneficial, if this Best Buy uploads keywords for this particular keyword rank tracker interface, to yield success in their marketing efforts, to win competitors.
To track your keyword rankings make to identify any large difference in the performance of SEO. The SEO keyword monitoring accomplished through Serpple in the explore keywords page.
You will not notice any performance changes, in SEO, without the keyword tracking outcomes unless there prevails a large decline in web traffic. The best keyword tracking also adheres to scheduled automated alerts like in Serpple, which notifies you of changes in ranking, keyword performance, immediately. How to track your keywords must be fulfilled effectively.
You control the SEO keywords, you wish to track for your website, assigning them to your groups. The keywords can be tracked as many as per the requirements of the user.
Additionally, tools of keyword tracking comprise user-friendly reporting modules which make the user uncover valuable insights and in understanding SEO performance.
You will be likely in a situation to handle pressures for content optimization in SEO, and opportunities creation for your website, which were been marketed heavily by the competitor marketing channels.
The following section would provide all the ideas related to creating some content opportunities and placing them based on the SEO keyword tracking process.
The keyword tracking process can be effectively different SEO tools, wherein Serpple is the best among offering many features.
Otherside, combined marketing support obtained from various multiple channels, specifically offline channels inclusive of print ads, and television, tend to contribute to maximizing the people's likelihood of searching for your brand through branded keywords.
These sorts of searches, turned as navigational searchers, arrive at the home page of the brand. However, few consumers would search by some catchy phrases or characters shown in advertising unless they are either viral or vintage.
Hence in this scenario, the content on the landing page must be optimized with a call to action ad.
In this phenomenon, different presentations of content are attempted by analyzing keyword tracking of both branded and non-branded keywords.
Identifying New Content Opportunities through Keyword Tracking
The core idea in optimizing the content, is to generate the content around keywords acquired through the keyword tracking tool, your audience looking for in the search engine.
Hence it promotes high ranking in Google search results. The high you gain the ranking, the high will be the traffic for our website.
You can determine high-traffic and relevant keywords through different content optimization tools. For instance, in case if you are doing marketing for a "project management tool" , then you would specific keywords like project management or maintenance for start-up companies or websites.
You will be optimizing your content, around this chosen keyword, to shuffle the keywords in between the content that aids Google search to identify what is your page all about.
When any person does search for project management, the Google search engine would show off the website, in SERP, on having dependency on how effectively the page optimization is done for.
How to use Keyword Tracking to spot Content Gaps in your Industry?
Content gaps assist to fill the void with information that your target audience wishes to look for. How to improve SEO keyword ranking. The gaps in the content must be addressed, just to ensure if potential keywords are used to improve SEO keyword ranking.
Use the following approaches to determine content gaps through keyword tracking.
1. Explore target audience
If you are not playing to the demands, wants and questions, what are you going to do to know your target audience?
This is the first and foremost way to pick out the content gaps in SEO. The search volume of each and every keyword is explored in the SEO keyword tracking tool through the keyword research interface in Serpple.
Also utilize client personas, in bringing out the user's pain points.
2. Review the Competition
Once you have determined the areas of content gaps, view your competitor statistics. Their competitive keywords used in the content, is their article missing or outdated?
Is there any information you can add in the cluster keywords, adhered inside content, to make a high ranking to your article? Analyze the left out of the competitor's article.
These guiding questions, support filling the gaps in content creation and offer high value to the target audience.
3. Monitoring of community discussion
Discussion boards, comments sections, and social media are the places wherein people come to air their own grievances.
Their demands, and thoughts towards a specific query are well noted, in community forums and other platforms, making it easy for many people to get responses to the posed questions.
The keywords mostly asked in the forum section can be inhibited inside your content. If inside the forums of the website, you can see some people asking the same questions repetitively, on different website platforms, this is where you find content gaps as well.
4. Look at keyword rankings for your content
Review keywords, for your content, like the short tail and long tail keywords, while in content creation.
Ensure all the keywords, used inside content, do have proper ranking in the search engine, however, it may not have sufficient traffic.
SERP rankings and keyword rankings could be a vanity metric if it is not translated to sales or real traffic.
5. Use the Right SEO Tools
To do keyword research there are different and featured SEO tools, to help. Both SEO tools and keyword research aid in learning which are keywords, and topics search frequently in online. If any particular keyword or set of keywords possesses a high search volume, however, not many outcomes for this topic.
In this scenario, a content gap occurs, therefore, the content is created for such keywords and topics. The keyword gaps of your competitor, your competitor's keyword ranking, and potential opportunities for content promotion and syndication outreach are explored well in SEO tool.
6. Check the SERP
Check out the SERP, in its positive space, is what you perceive is in top-ranking content. What is the keyword playing a high role in top-ranking SERPs?
What is the content do all the pieces on the web page have in common? Pick out the high-ranking keywords or the created keywords, and put them in an Rank Tracker like SERP's explore the keywords, by assessing CPC, search volume, related keywords, auto-complete predictions, and the trends associated with them. These keywords can be used in the content, throughout for better ranking.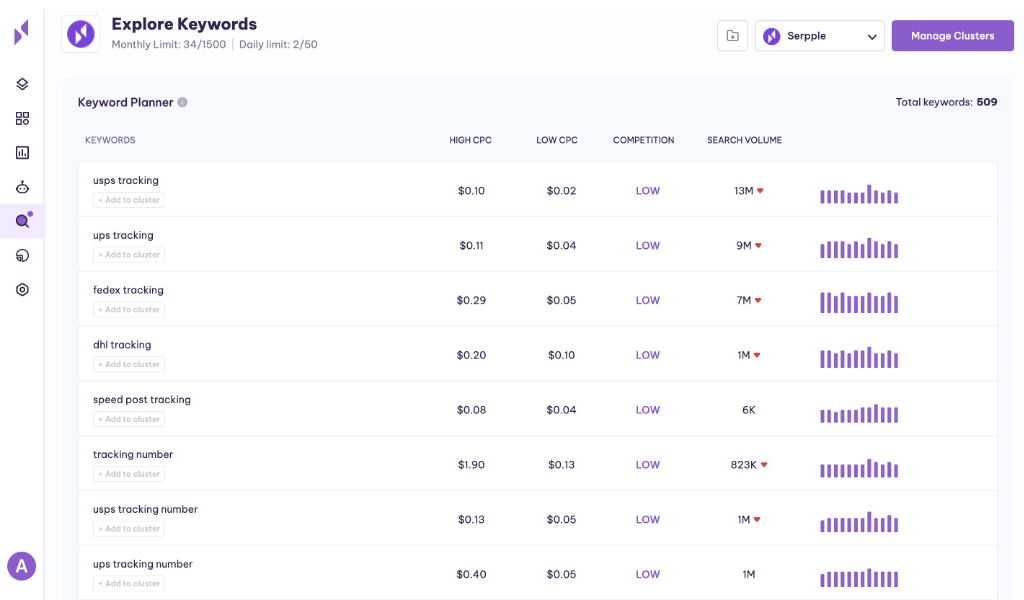 7. Execute Content Audit
When you cross over SERP content, with fine tooth comb, you can do a review of your own content. Have a look at other pieces such as
Articles
Web-page content
Ebooks
White papers
Blog posts
to have a new content opportunity, based on the keywords. When the content seems useful and does not repeat as your competitor's data, it will be more appealing to your target audience and increase sales, conversions, and search traffic.
8. Identify the Search Intent of the Audience
Better targeting the search intent of the users, will be more beneficial to your content projected to the audience.
The right information for the user's search intent directs the users to arrive at your website. This content could be optimized with new keywords added in subheadings and image tags, to become relevant, attractive, and valuable to the audience.
Exploring long-tail keywords for niche content opportunities
Long-tail keywords, are the long search phrases having high particular search intent. This is due to the fact that these keywords have low search volume and more unique than others.
Long-tail keywords are highly targeted and acquire high conversion rates. To rank for the right long-tail keywords may be better instead to strike gold. First of all grab all the long-tail keywords, which rank from the Google search console.
Download the same data from other social media accounts, and PPC campaigns, revealing new terms. After that, attempt to uncover the new related long-tail keywords in a niche which ranks for in search engines.
Prepare group of seed keywords – Utilize keyword planning tool, in order to generate a group of seed keywords, but rid away from Google AdWords.
Refer to Google auto-complete suggestions : Type every created seed keyword in Google and note down its auto-complete suggestions like below.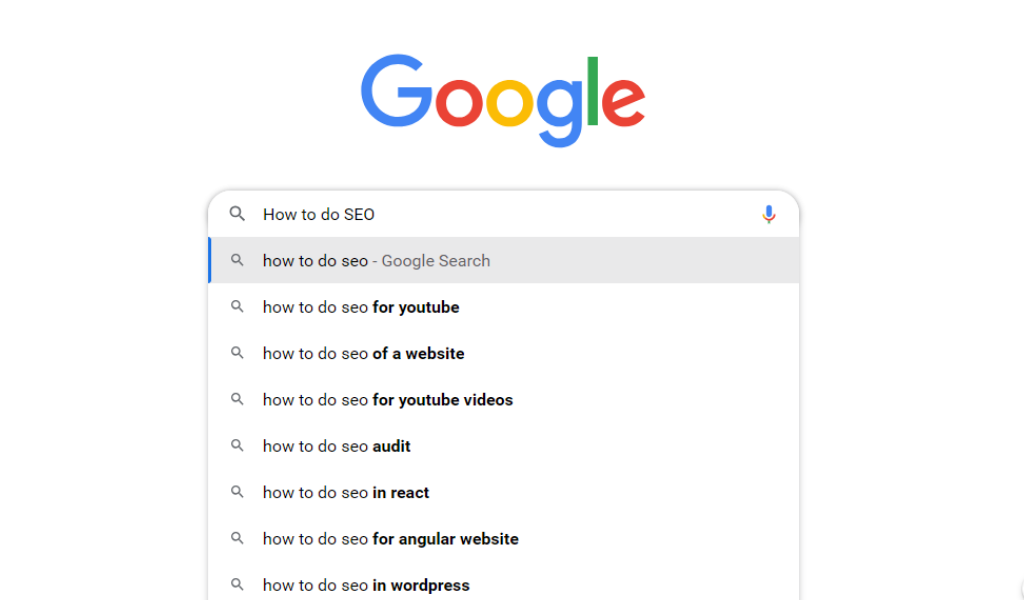 Collate related search suggestions from Google – Scroll down to the bottom section of every SERP and note down the related searches of those keywords. Rinse and then repeat for search suggestions from Bing or any search engines you wish to go for optimization.
Addition of those potential long-tails keywords to your target – How to use long tail keywords in content, in order to improve SEO ranking. Group all the collected terms and be ready to commence pruning your complete list.
Weed any specific terms, which do not clearly communicate the user intent of the audience.
When you have completed trimming down your long-tail keywords to strong ones, you will be ready to commence page optimization and add those long-tail keywords to your content.
Create a dedicated webpage per long-tail keywords.
When you have more long-tail keywords, you need to create content apart from landing pages which you could optimize for long-tail keywords.
Break your list of long-tail keywords into easy and understandable keywords by the intent of searchers.
Prioritizing Content Creation based on Keyword Tracking
Assessing search volume and potential traffic
There are multiple approaches to choosing appropriate keywords in tracking based on the kinds of content creation.
The content must be prioritized as well based on keywords and SEO efforts must concentrate to know what keyword metrics and attributes are valuable to yield out better results for your website.
Through selecting out the potential keywords, suitable content must be generated. The keywords are also chosen based on the search volume and organic traffic as well.
Selecting viral keywords by tracking might not alone led to success, it may gain organic traffic. The best recommendation is in researching keyword ideas and pick out the appropriate ones which your business needs or business sells.
You check out the search volume of keywords, by tracing tool and how hard will it bring ranking to your website for that particular keyword through utilizing Serpple keyword explorer.
Search volume is generally a good metric to estimate the search traffic, however, it is not much flawless. You must check search trends even though search volume shows as the top-ranking of a particular keyword.
Assessing the search intent of the user is also significant to create a new content for your website. This user intent denotes the goal of the user has in mind while he/she is typing a search query.
Focus to create content that matches the demands of users to get the utmost of your efforts in SEO. Do not attempt in-home page optimization for any keyword, when users are in search for any blogs.
For instance, the intent behind in search query could have informational content, if the people were in the research phase and looking for more information to rectify their issue.
Navigational intent refers that the users looks out for any particular product, page, or any service. Commercial intent is assessed to include content if the users are ready for buying any product or service.
The keywords and content must be chosen which has a high monthly search volume of that keyword and a keyword intent. Similarly, the keyword value it has on business must also be overseen to have a better ranking of the website.
Evaluation of keyword difficulty and its competition
Even though the target keyword possesses significant search intent among users, high search volume, and offers a better business value, it does not mean that those keywords are much good fit to be get included inside your content creation inside your website if this seems challenging.
For this scenario, another hand that checks out keyword difficulty is present in keyword difficulty checker in ahrefs. A top-ranking website consists of more backlinks, stands as one most important ranking factors, outranks others, as a competitor.
As there are many types of content, inclusive of blogs, social media posts, landing pages, white papers, etc., a good professional content writer should get to know about the core elements in content creation which makes the finest and potential keywords through SEO keyword tracking.
Based on the good and efficient keywords, the new content opportunities are created. A good keyword comprises of different attributes stated below.
Specificity – it's a recommendation to prevent any generic words inside the content as it is tedious to move in good ranking. You have to be more specific in choosing keywords and creating content based on the keywords.
For example, if a website selling makeup , your add about the attributes of the products, service been offered, product brands, and your location.
Use Natural Language – The keywords and content must be prioritized by utilizing phrases, in natural language, since the content will be optimized for only people and not the robots.
Imagine how a search query is typed by any user in the search box, what and all the questions the customers ask, and how well the online content will be delivered to the user demands, and what is the content they are looking for, through keywords.
Making profiling of customers and generating buyer's personas is a unique way of understanding the behavior of the audience and their demands while in searching.
Day by day semantic search grows. This is the reason why the content marketers and writers must do focus to understand the search terms content and search intent.
Even though we discuss about evergreen keywords, commercial keywords, negative keywords, informational keywords, etc., search engines anchor to enhance the accuracy and deliver more associated results that imply that the content author understands well.
Also you must assume the planning content and implementation of content for the voice search as well.
Users may ask questions in a general language only in search of content. On the other hand, they do not use any disjointed phrases and all, however, they also pose queries as they do in day-to-day life, like "Where can I find the best plumber in near my Sweden". Hence including these sorts of elements of those kind of questions to include inside your content may be recommended as keywords.
Long-tail keywords describe your service or product in a better way. The usage of long-tail keywords is strongly recommended through this phrase, as it is high specific, and chances to get a high rank in SERP ranking are better since the competition is low aggressive.
Region-specific keywords – the usage of region-specific keywords inside the content is a greater way to enhance local SEO outcomes.
These keywords are more essential to allow search engines for good ranking, and other potential customers get to know the location of the business. You would support the local clients to determine you by your location, like in terms of in-store purchase.
Prioritizing high potential keywords for content creation
Once the target keywords are identified through keyword tracking, it ought to be featured inside the content, whenever it is feasible. The easiest approach to include this is through building your content around the targeted keywords.
Whichever keywords you select, the suggested best practice is to use them in page header, in the URL of webpage, and entire page content wherever it is possible. The potential keywords can also be included in alt text related to meta description and images.
The best keywords, are chosen, were put in suitable places, to drive out the best results in SEO such that to have good conversions, good stuff on search volume, and search-driven traffic.
Now that you've found the best keywords, you need to put them to work in order to get SEO results (search-driven traffic, conversions, and all that good stuff). How to proceed? With this.
How to use keywords in content writing to improve SEO keyword ranking?.
The relevant keywords are recommended to be used in high-attention site areas, body text of web-page to meta-tags of URL and titles.
But in some places, an optimized website can have more keywords, so we cannot cram every keyword to a handful of web pages to have a ranking for individual keywords, leading to keyword stuffing.
In this situation, keyword grouping and its organization, make it work out to use in content. By dividing the keywords into manageable, small groups of associated keywords, you can segregate workload. Hence the specific targeted pages can be created from these cluster keywords.
For instance, let us consider that you are running an online pet store website. You can create a single keyword, for the entire dog-associated products, and another keyword, denoting to all parakeet-related projects and so on.
The next step is segmenting every individual group to small sub-groups (parakeet toys, snacks, cages, etc.,) now the website content is created for every individual page, for every individual group of a keyword.
A marketer, who does the content optimization in SEO for the website based on the keywords, for a web page "gourmet parakeet snacks" keyword group, must assume the following things.
Use the keyword in page title.
Use the keyword in URL of website ( for instance: online-petstore.com/parakeets/snacks/gourmet)
Use the keyword and its differences in entire page copy (for example – "gourmet parakeet snacks")
Use keywords in meta tags, specifically in the meta description
Also use keywords inside image file paths and in alt-text in images.
Keywords must be used in anchor text inside links.
Whenever the content is optimized on webpages, keep in mind that relevance in keywords is high significant in comparison to keyword density in search engine optimization.
Optimizing Your Content Strategy with Keyword Tracking
Optimization of content, deliberated as a process to update images, On-page copy, code, and link to aid search engine algorithms, in ranking your webpages higher. By this, the target audience will be able to identify you.
The more efficient SEO content would be search-friendly for people and for search engines as well.
Start with keyword research by tracking tool
Create effective meta-description, from this, to gran more user attention.
Where to use SEO keywords in content optimization.
By primary keyword, use eye-catchy images.
Also SEO user-friendly headings.
Research related phrases and keywords associated with content and high ranking.
Incorporating keyword insights into your content calendar
Keywords as a significant tool in SEO-driven tasks.
Do not stuff your webpage's content, entirely with primary keywords, you create differences with synonyms.
Employ those primary keywords in first hundred words, since Google puts high weight on specific terms which come in early in web pages.
Always keep keywords up-todate through keyword research tools like in Serpple.
Optimization for Featured Snippets
Featured snippets are the answer boxes, appearing in SERP's top section. Below demonstrates an example.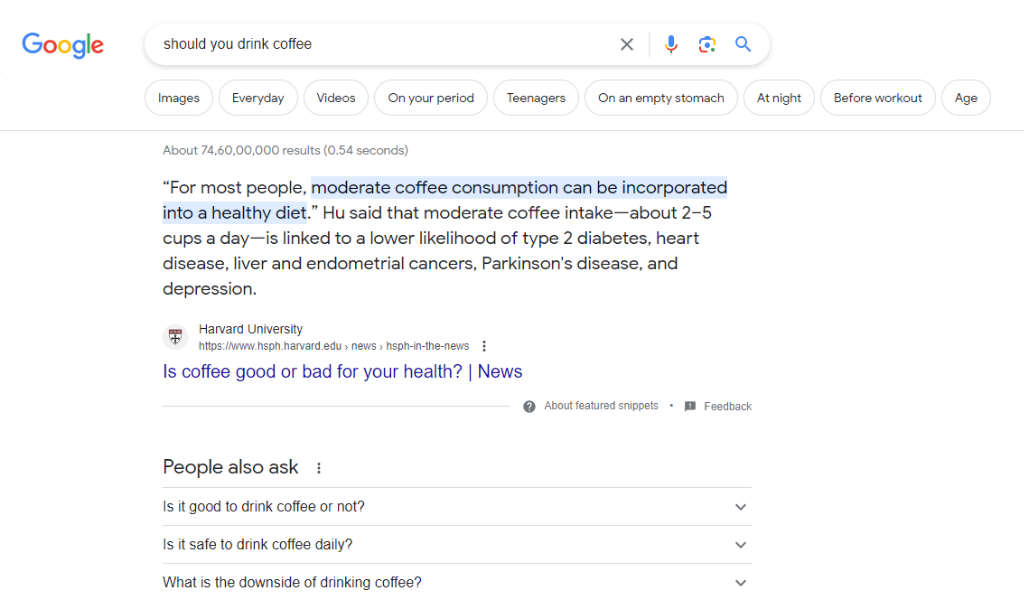 Features snippets, turning out more popular, as it transforms the SERPs ranking. From the keyword ranking SEO perception, these featured snippets seem to be more common for many question-based keywords.
Select a question-based keyword or long-tail keyword for writing an authoritative response and this boosts your featuring chances. Tools such as Serpple, Ubersuggest aid to choose the right keyword for your content and ranking.
Strategic utilization of Primary Keyword
Always utilize this primary keyword in the title of the webpage, to assist Google what is all about the webpage. The same primary keywords and their differences can also be used in subheadings.
The best practice is to use this keyword inside the content on the very first of web-page. Do not overuse the primary keyword also, that damages the rankings of SEO.
Optimize Meta Descriptions
Meta descriptions summarizes the content of a web page. When this meta-description is optimized, it explicates what is your webpage is all about, and could aid in generating better-targeted web traffic.
Example below displays the SERP of "Neil patel". The home page appears in SERP. The meta description of the primary keyword is shown below. The content is added inside the webpage as per the primary keyword. It shows what the user expects if we do a website visit.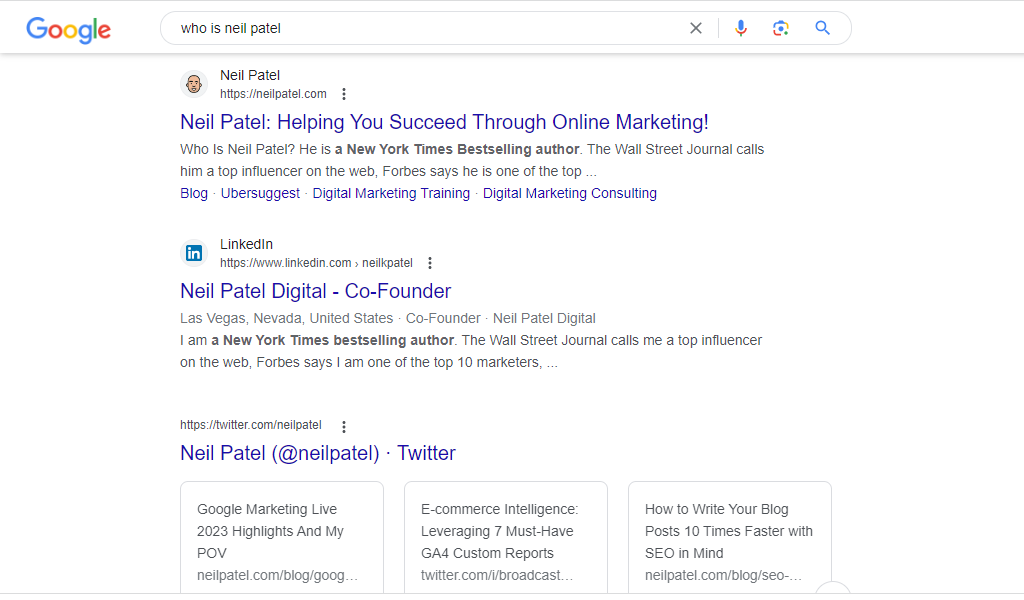 Meta description can also be optimized with primary keywords used in meta.
CTA is also included when the contents of a linked web-page are sold.
Keep meta-descriptions below 160 characters.
Use keywords inside anchor text
Anchor text is clickable content that navigates the reader from one page to another page, Google recommends a few words for anchor text.
In according to HOTH research, nearly 50 percent of inner web pages, anchor text must consist of differences in keywords.
The content must be created in such a way, that there is no need to compromise the readability, without forcing the keywords. The URL anchors must be concise and short.
Adjusting your content strategy based on keyword performance
Once you arrive at the idea to grasp what the potential buyers, in the competitive market, were looking out for any services or products, it is the perfect time to do some keyword research, to add inside your content.
To know how to include keywords in content makes to create a effective content strategy which are all to be added based on keyword performance.
Keyword research seems essential prior to preparing the content since it supports aligning your topics with what and all prospects were searching actively in search engines.
While you prepare the content, which meets users' demands, and if it acquires high volume monthly search, you can boost the content rankings in SEO, ideally to rank top of SERP.
Based on the performance of keywords by analyzing in keyword research, you may meet the needs of users, their interests, and what they want as services to grab more organic traffic.
There are many SEO tools in the market to aid with the keyword research phase, like Serpple, ahref and Semrush. When deciding what and all the keywords you can utilize within your content, it is more important to see the performance of the keyword first of all with the following metrics.
Search volume: This metric is the average of how many counts of users search the keyword in the search bar per month. The highest search volume keyword, are frequently inside the subheadings and headings of web pages.
Difficulty: this is the average of how many content marketers also create content revolving around this particular keyword. The high the search volume tends to be, the higher the difficulty is there.
Intent : this parameter of keyword performance, supports the content creators in understanding the keyword intent and if it is commercial, navigational, or informational. This intent assists to clearly understand what sort of content had to be created for appropriate users, to offer quality and value, thus elevating the traffic ranking.
SEO Keyword Tracking Best Practices
Measure Your Rankings
The best place to start is to measure the rankings of keywords. Without understanding of baseline keyword performance, you would not be capable to arrive what are the improvisation areas and yet to enhance them.
It is highly suggested to export all the valuable keyword data and to retain all the keyword data for future reference. So the efforts of SEO are measured step by step.
Target The Right Keywords
In order to make sure your keyword targets were aligned with the over-arching goals of business and provide real value, it is more significant that search intent and ranking difficulty is understood well.
While terms have specific meanings to you, but would take a complete different meaning in Google.
Hence knowing this intent, if it is transactional, navigational or informational content, would assist you in understanding what stage of website traffic funnel users were at.
Do a complete SERP analysis. This is more essential to, point what is currently located in top ranking in SERP for the keyword targets inclusive of
People also ask
Advanced search features
Related searches
Google auto-complete suggestions.
Target the appropriate keywords for your content. To know what content what is necessary to rank for a specific keyword would help to draw our conclusions and to arrive at content creation plans accordingly.
The SEO content template is really helpful for this kind of analysis. The tool will assess the top results of google to offer the recommendation for creating SEO-friendly content.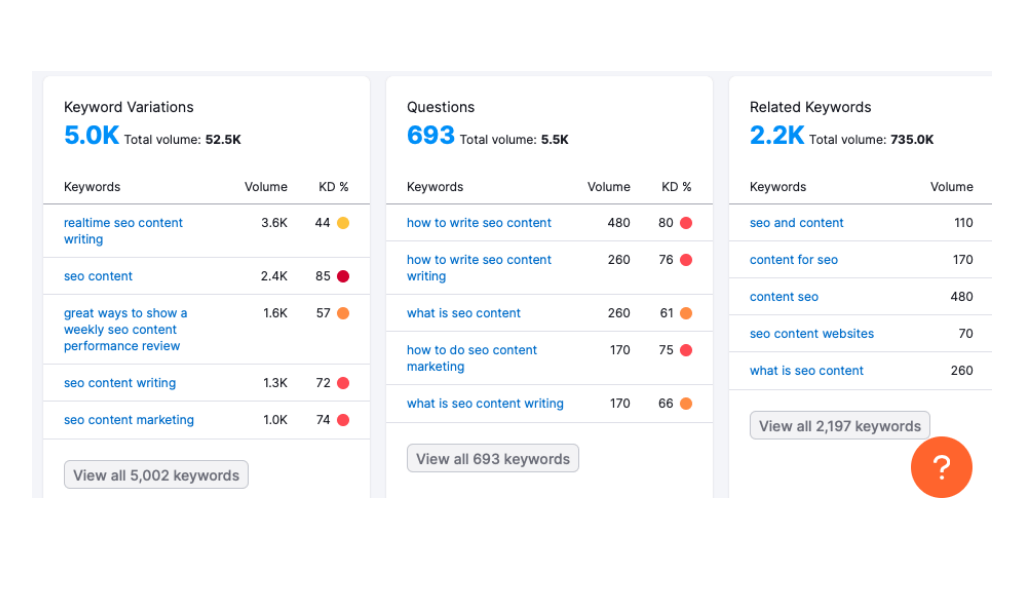 Cross-referencing, the organic keyword research with paid advertising help to bring out new content opportunities and fill out the gaps. Do not neglect the long-tail queries. If the search volume is low, you will be missing upon the extremely targeted audience who were ready for purchase.
Clean Up structure of your Website
The technical issues in your website may also diminish your keyword visibility. Thus it ought to be resolved prior, to play a high role in SEO, by maintaining the website structure and it content optimization in SEO every web page.
The keyword ranking will be impacted negatively if the users finds difficulty in navigating from one web page to other, and is tedious for search engines. Fix out any broken links and solve out any repetitive content issues inside the webpages with having solid site structure.
Focus towards User-Experience Signals
Brand equity and user experience are more significant when to drive search visibility of keywords.
Mobile web browsing has been surpassed first in 2017 in desktop and it is currently accounted for more than 54 percent of entire global traffic.
In order to attain high keyword tracking results, few elements to enhance this SEO are
Keyword Research: make sure targeting suitable keywords which has right search intent and were aligned with language which is used by target audience are confirmed.
Optimization of Content: Navigational pages for the content with potential keywords they search for, internal cross-linking, and calls to action on your webpage make users to stay on your website, increasing search volume and traffic.
Page Tagging: The highly competitive keywords, and competitor analysis, are chosen from keyword tracking tool. After this page tagging is ensured and this is the one that encourages massive clicks to your website with title tags, main headings and meta descriptions.
Based on the high preference of keywords, offer the users with content that are been requested rapidly across different devices.
Optimize For Search Engines and Users
Humans and search engines does have different approaches to read and digesting content, hence content creation based on keyword tracking must be always kept in mind, satisfying both users.
Both humans and robots want the content and keyword as
Provide precise information
Concise and clear
Cover related keyword topics
Avoid using jargon.
These all must be kept in mind throughout the content creation strategy.
Not alone the entire readability of content, but also it also make sure search engine could proceed with what is perceived as important on the web page.
Creation of engaging and eye-catching titles based on primary keywords
The title tag catches effectively the user's eyes and encourages the user to click on the page.
Identify page which you wish to rank for every keyword target, and figure a way for the title to be more competitive than others.
Keyword target, must be included in the beginning section of title tag, but how to make the users to click on this title is again the question?
Buzzsumo assessed a hundred headlines and exposed that
Voyeurism and curiosity gain proper user engagement
List posts and number 10 in headlines, were more efficient to grab their attention.
Emotional headlines drive user interactions
Stay focussed on all Algorithm Updates
Why should one care about recent algorithm updates of Google? This is because better Professionals in SEO stay to take care of this stuff. This constant check it out of algorithm updates of Google helps to make sure if the keyword rankings are improvising constantly or not.
To know the time when this Google algorithm updates hits first and when it officially ended, is beneficial for the SEO keyword tracking process. This will permit tracking keywords and fluctuations in traffic to their root cause.
The also beneficial for you to uncover capable reasoning, for why or how a website is hit by any update or keyword rankings and associated content influenced by it.
Do research on keyword research as like in Serpple, and explore the primary and cluster keywords for your blog. Know about the keyword tracking results and do content optimization in SEO accordingly.
Based on the keywords, the optimized content, with all the recommendations for the readers, will pave your post to high ranking status.
Common Pitfalls to avoid in SEO Keyword Tracking and in Content Optimization in SEO
Avoid utilizing the same keywords, alike competitors. This would thrive your content as unique and extraordinary. Be more innovative and creative to ensure your content as outstanding than the competitors.
Avoid utilizing only one keyword: usage of a single keyword phrase can make repetitive content. The readers may find it to be a little boring and you may be penalized by the search engines. For this action, focus to create different keywords for your content. This makes interesting and risk-free content. Keyword research can be put forth before selecting out appropriate keywords.
Avoid using Overstuffing keywords: People think often that keyword stuffing could over-optimize the blog post or any article. This can be taken as a warning, for there are not any terms referring to over-optimization. If the content is loaded with so many keywords and repetitive keywords also, it may impact the content quality as well. Do not consider this keyword stuffing lightly.
Final Thoughts
Use the efficient keyword research methods, through the keyword tracking process, which feels low daunting and you would determine the high valuable data-sets.
Do prioritization on the selection of keywords for your entire content and body of the content which brings in high business value. Get started today to indulge in this process and as a result, you will come closer to enhanced performance in SEO, yielding profitability to your business.
It is strongly recommended to give focus on your keyword distribution in your content and SEO performance as this gains core advantages in long run.
Many businesses do not have a clear understanding on the significance of content optimization based on keywords, and ongoing maintenance of SEO, hence they depend on PPC campaigns and paid ads. We disagree with this approach as they do just boost your sales and traffic in short term, however, 70% – 80% of users ignore ads.
Enhancing SEO works out and is low expensive in all ways. The results of keyword research, to be used inside your site content, to rise to better ranking and volume can be monitored using the Serpple Google Rank Tracker.
You can think about your target audience, choose the keywords and optimize content according to their demands and what are they searching for with answers , outperforming competitors.