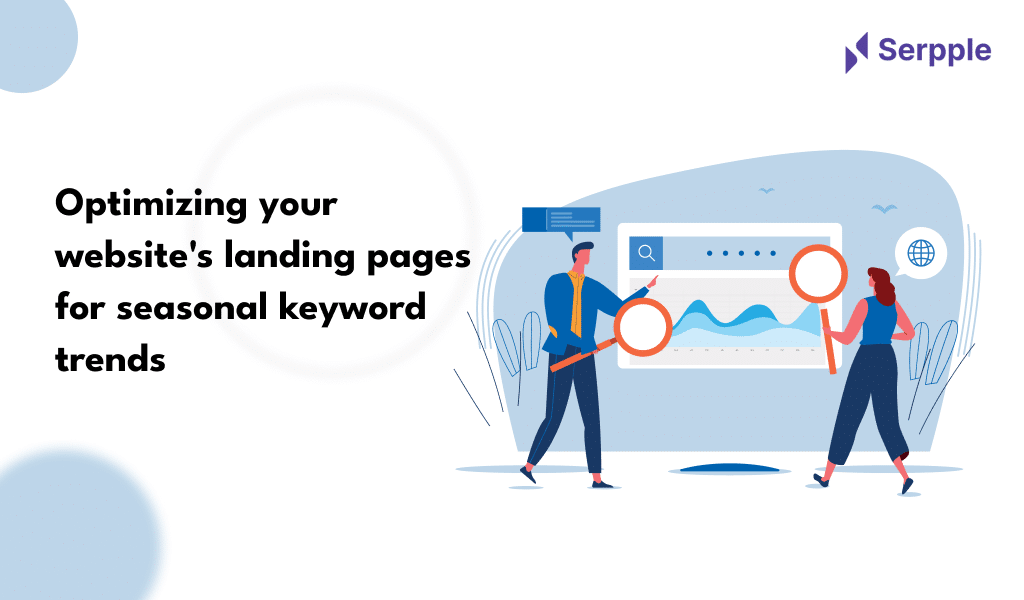 In the world of SEO, we often talk about technical problems and the way to resolve them. After that, we look out at keyword research, content strategy, PR, and backlinks.
However, one thing, we don't discuss much about is seasonal SEO particularly its impacts on websites and how leveraging can be carried out to enhance marketing performance.
A solid understanding of these seasonal keywords and seasonal SEO is more essential to build a winning, effective, and sustainable SEO strategy.
This understanding is also more important to acquire insights from performance data and offer accurate reports for your business to look out for any alternative ways or strategies to improve the website ranking, search volume, and SEO performance.
Hence in consideration of this, in this column, you will be aided in navigating seasonal trending keywords and how to put them to work for your SEO strategy. You gain some examples, gain tips, and approaches to do landing page optimization of your website based on your seasonal keywords.
Definition and Significance of Seasonal Keyword Trends in Online Marketing
Seasonal keywords are the keywords, that have a big spike in search volume at a specific time period of year, while more volume of people were searching for them. 
For example, many people do search for information about AFL Grand Final in September, November, and December. 
Similarly, information related to Christmas gift sales and ideas will be searched by people more in December. What makes the unique difference in seasonal keywords is that people search information by seasonal keywords for specific months or weeks. 
Outside of those times, there will be a significant drop in search volume significantly. The trends that those categories of keywords follow in the entire year are referred to as keyword seasonality.
From an SEO perspective, these Seasonal keywords are highly significant to understand what is the thing people search for and at which time. 
Amalgamating those keywords, into your website landing page's content at the right time in a year, helps in ensuring your website has peculiar visibility during peak times.
When we decide to plan and optimize the content for your website, seasonal keywords thrives as a great commencing point to do content planning ahead and acquiring ideas for relevant images, video, social media post, and associated blogs throughout the year.
The Role of Keyword Research in Identifying and Capitalizing on Seasonal Trends
Keyword discovery indulges to determine the right keywords for website optimization. Understanding user interest, user trends, and user behavior and perceiving in which place are the competitors won in the global market, through picking out top search seasonal keywords.
In order to grab the appropriate keywords, keyword research is persuaded. Gain the competitive benefits by utilizing keyword seasonality insights, as a part of website content strategy and SEO strategy.
The tool to pick out the seasonality of the keywords generates a list of metrics and highlights the months, where those search terms gain the utmost traffic.
You can use this Serpple tool, a better Keyword Suggestion Tool, to find the statistics and obtain the trending keywords for your website landing page for good traffic volume.
Step-1: Open Serpple.
Step-2: From the left sidebar, click Keyword Research Icon.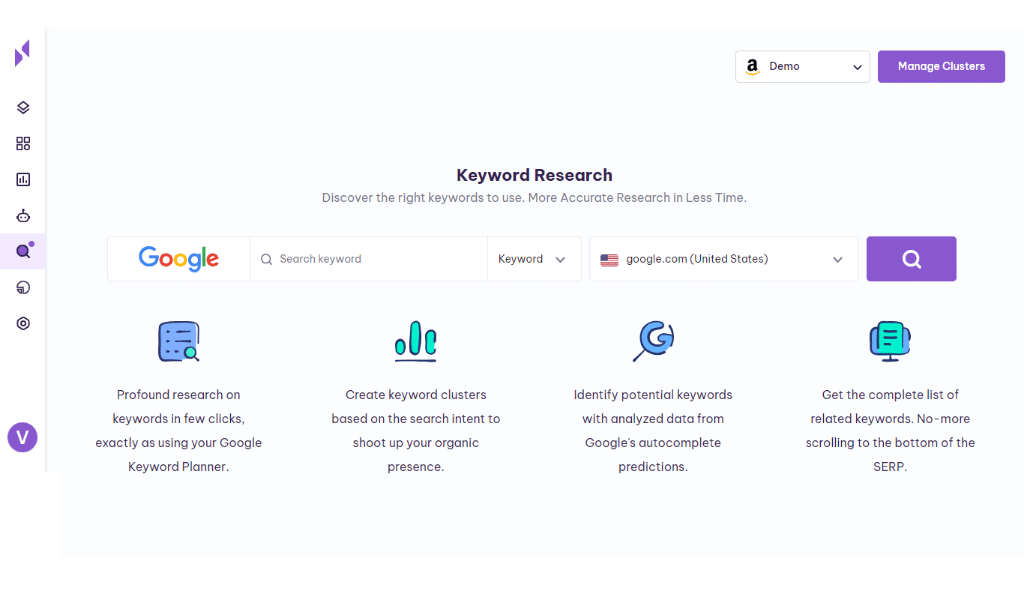 Step-3: Type a general keyword, associated with a niche or business. Then select search.
Similarly, In the Search keyword text box, type the trending keywords and monitor the Google trends for your keywords. Based on the search volume and trend changes, pick out your seasonal keywords for your website.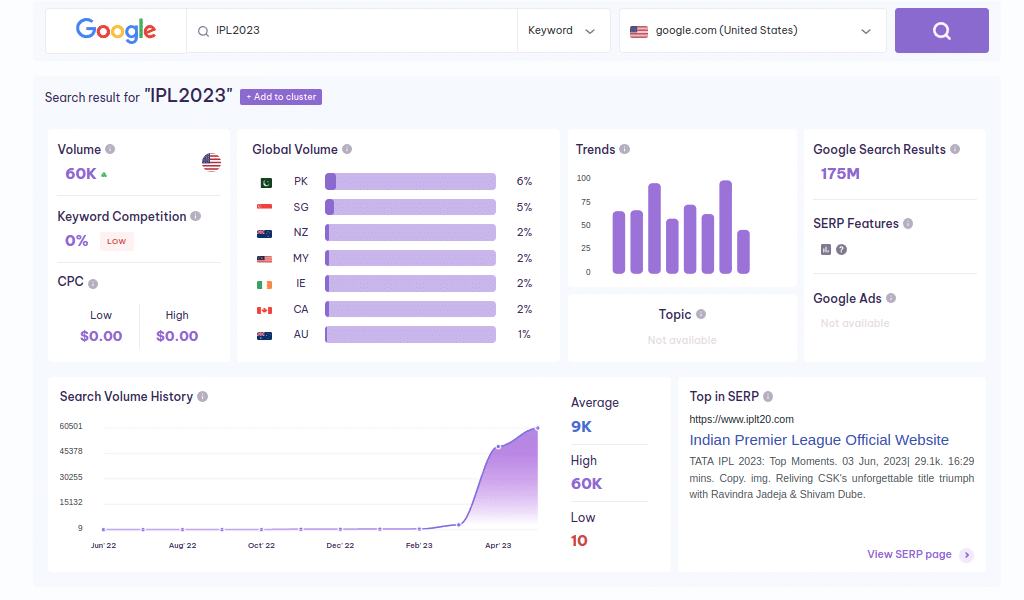 For example, the above search results of the inputted keyword "IPL2023" deliberates the overall results in Serpple. 
The search volume, fluctuating trends, and how this search volume history elevates in April month 2023, explicate the keyword's seasonality. Hence the website landing pages must be optimized accordingly to this seasonality to improve your business SEO outcomes. Seasonal Keyword tracking will help you to optimize your content and modify it accordingly. This keyword tracking informs your content strategy.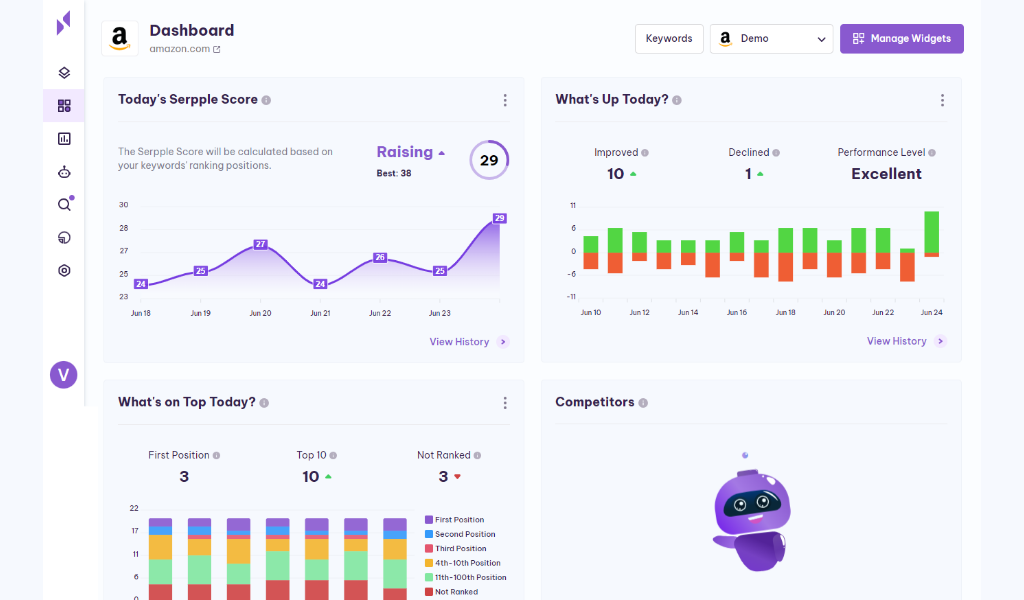 The above figure enumerates the improvisation of ranking, and how the keywords are positioned as per today's report.
All the keywords used in Serpple blogs are expounded above. The competitor's data are also shown in the dashboard of Serpple.
By this information, the keywords are defined as seasonal keywords. If the trends spike more at a particular period of time, every year, then those keywords are identified as seasonal keywords.
Using Your Seasonal Keywords
The most efficient strategy in SEO after identifying seasonal keywords is to target a single keyword per page so that your website pages do not end up competing with one another. While creating of content, ensure that your seasonal keywords appear in a regular pattern, but not too regularly twice or once for every 100 words).
Ensure to utilize the seasonal keywords in your title of the page, in its sub-headings, and in the alt text of the image which you use in the webpage.
Use the other related keywords also, similar to seasonal keywords, found during the research, but you were not planning in building your unique content around these seasonal keywords since this approach aids to prevent keyword stuffing.
Always remember SEO is a long game, and we should not expect outcomes all overnight, however b following this guide, you would significantly maximize the chance to create your potential webpage based on seasonal keywords, which will rank better on Bing or Google.
Optimizing Landing Pages for Seasonal Keyword Trends
SEO stands as a better choice to drive long-term success. But also if your business wishes to capitalize on seasonal SEO, then you would construct an effective strategy for generating better results in a shorter time frame.
Aligning and Optimizing Content for Seasonal Keyword Trends
Customizing content creation and its optimization depending on relevant holidays and seasonal weather are a great approach to boost better conversion and explicate new revenue streams. 
Even though you cannot be able to utilize this seasonally-based content all year round, creating and optimizing your content and overall strategy in SEO, to match the customer's needs for particular seasons could pay off for your utmost goal. 
Involve in Optimizing landing pages for keyword seasonality, satisfying the customer needs at the utmost level so that you will able to yield better search traffic with new visitors. 
Besides website seasonal SEO and content optimization, Our strategy in using seasonal keywords would indulge to create valuable, high-quality, and unique content in promoting your website, globally in order to generate more leads and direct traffic to your website.
The high-quality content with seasonal trends such as "Valentine's Day gifts", and "Christmas celebrations" with its catchy phrases and offers at its peak period in February and December may pave users to direct towards your website.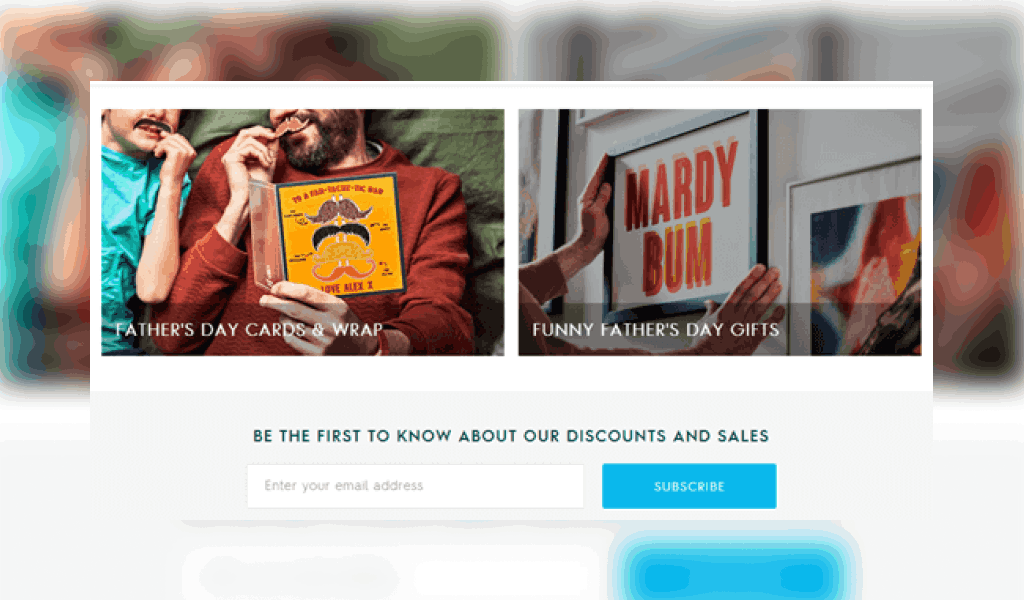 At the same time, utilize seasonal content for promoting seasonal businesses and products.
Your seasonal content is concentrated on specific events, trends, and topics associated with your products, permitting us to connect directly with people and it promotes at that specific time period. 
Updating meta tags, titles, and descriptions to reflect seasonal trends
We looked at some historical PPC Ad copy which drove higher CTR for different keyword themes ( knowing that visitors might find something interesting in ad copy highly enticing in comparison to others having low CTRs) and plugged keywords having high CTR to your met descriptions in making more enticing for clicking on the organic search results of Google.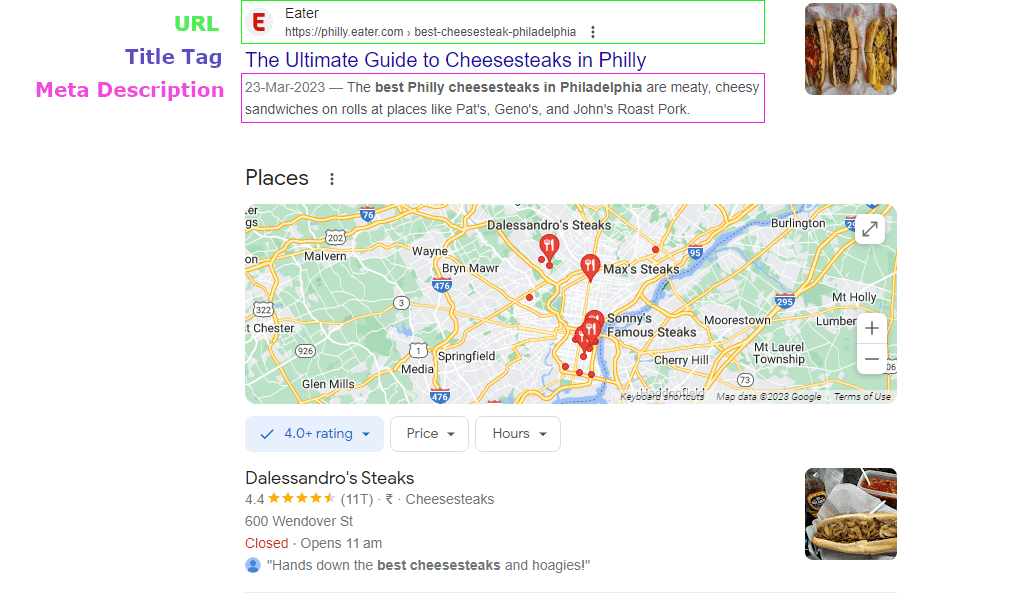 The title tags also communicate what the webpage is all about to those users, and seems a ranking factor.
Optimizing Meta Descriptions for Increasing Organic CTR
Choose the landing page, having lower-than-average CTRs on the basis of the position of the ranking.
Use PPC ad copy analysis, in understanding different seasonal phrases performance used in Ad text.
Craft a suitable meta description inclusive of high-reported CTR keywords.
Implementation of new meta descriptions, testing the performance, and then implementing again.
For instance, if you do search for "wedding dresses" in Google Trends and modify the costume date to June 2022 – June 2023, the search interest changes on different time periods.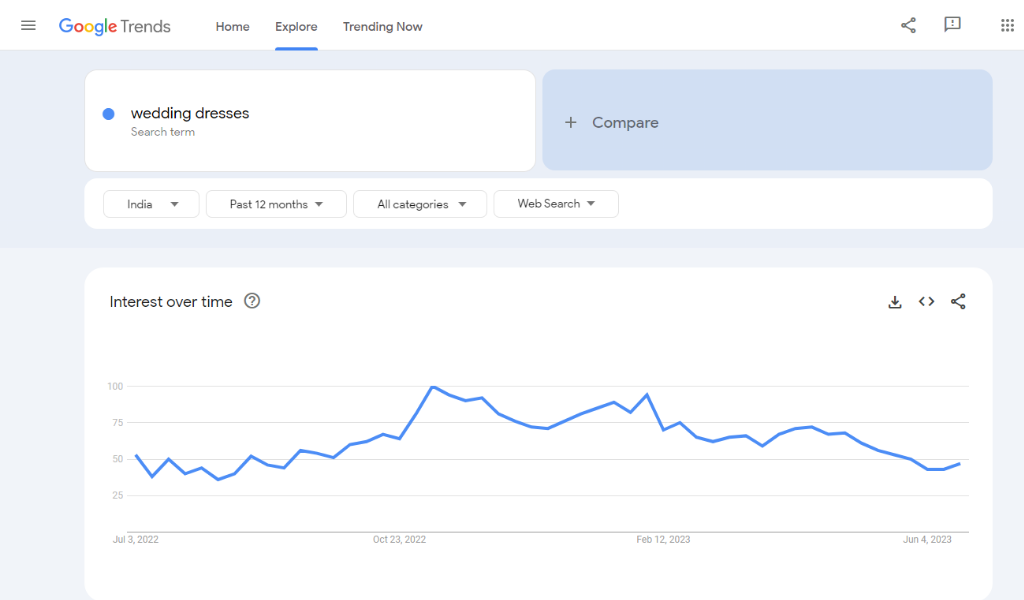 The CTR might be higher in certain times of peak interest like around head terms alike in November, December, and January in the example above.
Optimize On-Page Experience for Conversions
Suppose in the example below, that a winter clothes-selling company prefers a better idea about the content, timing to optimize content, and keywords, it has to do website optimization for perfect conversions.
You will have to create unique website landing pages for every seasonal campaign, which our business could reuse for every year.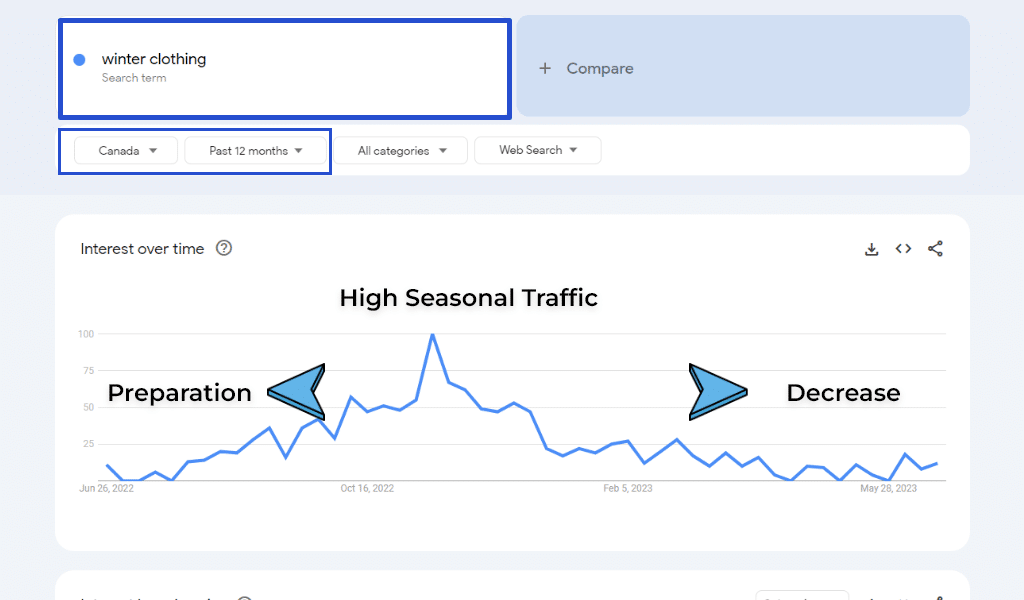 If your company wishes to give focus on the ramp-up period for this winter clothing, we have to create special messaging to show off in the months of October to January. 
The landing page of the website must have a distinct message like "Spread the Warmth with Winter Big Fashion Sale" or We can run a special combo offer for on upcoming winter clothes"
Landing pages: As you start to build your website content calendar, for various channels, assume in creating specific landing pages and optimize them for every offer. This would enhance your rate of conversion and sustain your message over your journey of marketing strategy. 
Navigation menu: Keep Updating your navigation menu, for promoting your services and key products your customers are wishing for. This could improvise UX and aid in driving your customers towards the user-friendly and preferred solutions they wish for.
Customized CTAs: Avoid providing generic CTAs for content and special landing pages for seasonal SEO strategy. Rather to give "Call now" CTAs, this Winter clothes selling company would utilize more innovative and attractive CTAs like "Keep your Family more Comfortable Now!" or "Buy more and Save Big. Order Today!"
How to Measure Seasonal Keywords
The algorithm of seasonal keywords, analyze traffic variations for each keyword, by considering four years of historical information.
If the algorithm glances that any particular keyword, spikes every year for a specific period of time, then it classifies that keyword as seasonal during those relevant months.
For example, traffic for the keyword "Valentine's Day Gift" spikes around the month of February every year.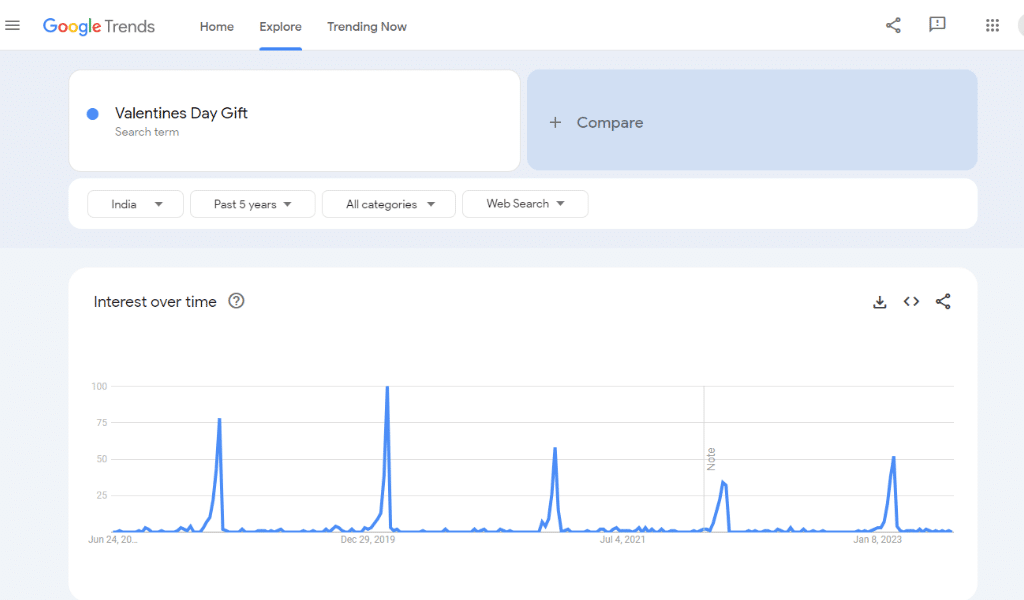 As per the Google Trends data, the input keyword has been marked as Seasonal keywords, for this month. 
Assessing the seasonal keywords and their trends is supporting to craft the of timely deals and promotions for your business. Some of the seasonal keywords examples are pointed out in this section. 
For instance, if you own a separate gardening business, you may run a separate campaign for celebrating Earth Day by donating 10 percent of your profits to environmental charity in the month of April.
Step-wise Procedure for Website Optimization based on Seasonal Keywords Trends.
Following are the steps, you must proceed to make sure of your seasonal SEO campaign attain success.
1. Do a Glance at year-Wise Data at constant intervals (depending on availability)
In order to have a better understanding of the seasonality of your target audience, or if there is a spike in search traffic, traverse to your account on Google Analytics. Look at year over year data statistics data for around the past 2-3 years.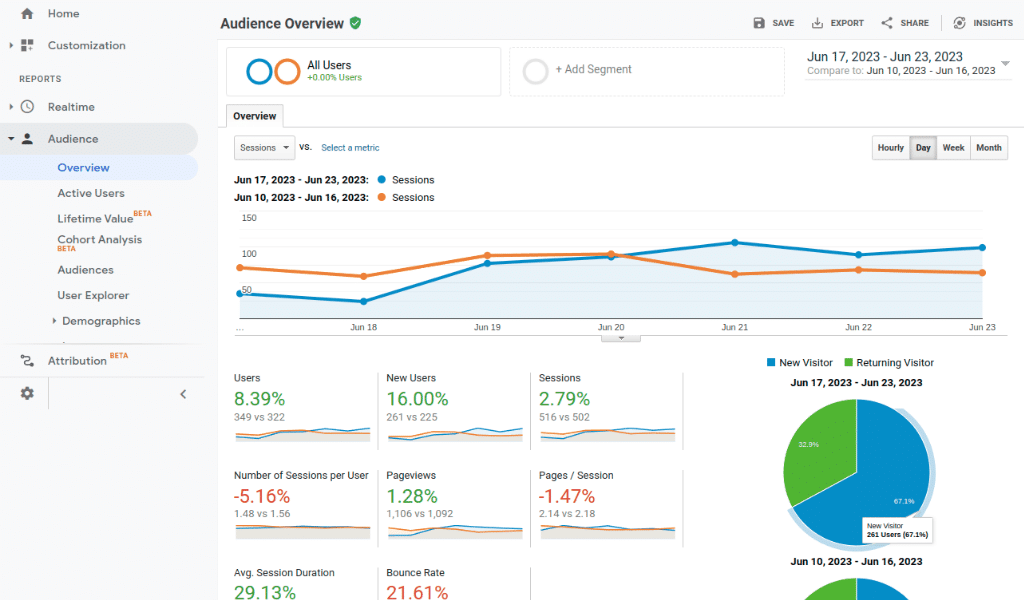 As per the example, above, this gives you a clear picture of those audience statistics, who searches your target keywords, and when those keywords are been searched mostly each year.
By determining a little more about your target audience, you will come to know to commence preparing your business campaign and which are the products focussed for promotion. 
2. Do keyword research
Involve in doing keyword research to find all your keywords, which and all performing well, and which are search terms that may benefit from a sudden seasonal lift. 
By incorporating these seasonal keywords into your content, you could boost global and local search ranking and traffic in organic SERP results, before their spike occurs in popularity. 
The content through doing keyword research can be optimized and maximize profitability by incorporating the seasonal keywords in the landing page of your website.
Certain effective tools such as Serpple, Google Keyword Planner, and Google Trends prevail to execute a keyword list, to perceive when the keyword search volume spikes and when this volume declines.
Absolutely it is helpful and free while you are looking about for trending keywords and phrases to incorporate into your site landing page. 
Meanwhile, you can also do a comparison of many search phrases, at a single time, utilize geo-targeting to know which countries or cities your keywords perform well.
If you move towards Google Trends and do a search for the keyword "heating repair" then below is the display.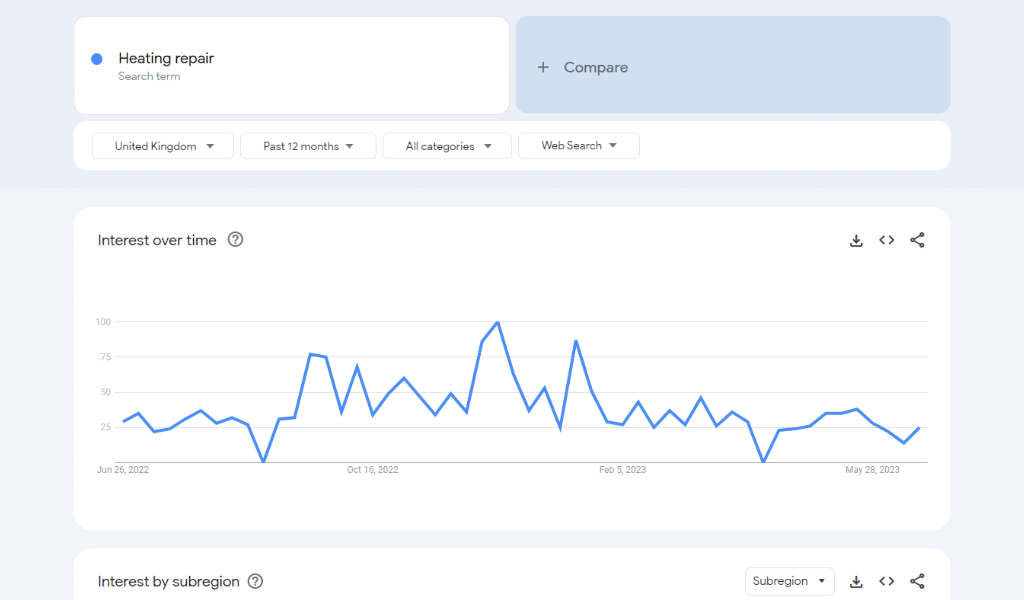 As illustrated in the graph, you can see that demand for heating repair in the UK starts more from the month of September to November.
Hence forecasting the seasonal keyword traffic is accomplished in Google Trends.
A few other tools for keywords such as Search Metrics, Trillian's seasonal trends, and SEMrush also depicts the keyword trends for the previous 12 months. 
The tools permit predicting the searches for many events such as Christmas, Mother's Day, or any other events, to analyze the seasonal trends and also see how demands for particular services or products are likely to get changes throughout the year.
So all you need to do is in coming up with keyword lists on the basis of your offering. 
Think about the keywords that people may search while trying to determine your services and products and bring up some variations and explore long-tail keywords for grabbing more visitors. 
You could employ an integration of the Seasonal keyword + Product name/service name + city/county that you are targeting. This combination must be used in the landing page of your website, to direct traffic towards your website.
For instance, if you are running a restaurant or hotel in Switzerland with a nice terrace and you would wish to promote it to be a wedding venue, then you can create and optimize landing pages for seasonal keywords , optimize the content around the keywords "outdoor Wedding reception venue in Switzerland" or "Summer Wedding Venues in Switzerland".
One of the keyword research best practices is to keep looking for trending keywords and do website optimization according to those keywords.
3. Planning content
Now after you come to know what keywords that drive more traffic to your website and when this traffic prevails, you ought to commence to plan your content accordingly. 
Instead, to feature your seasonal deals on the website landing page alone, you can create a link to your existing service or product page.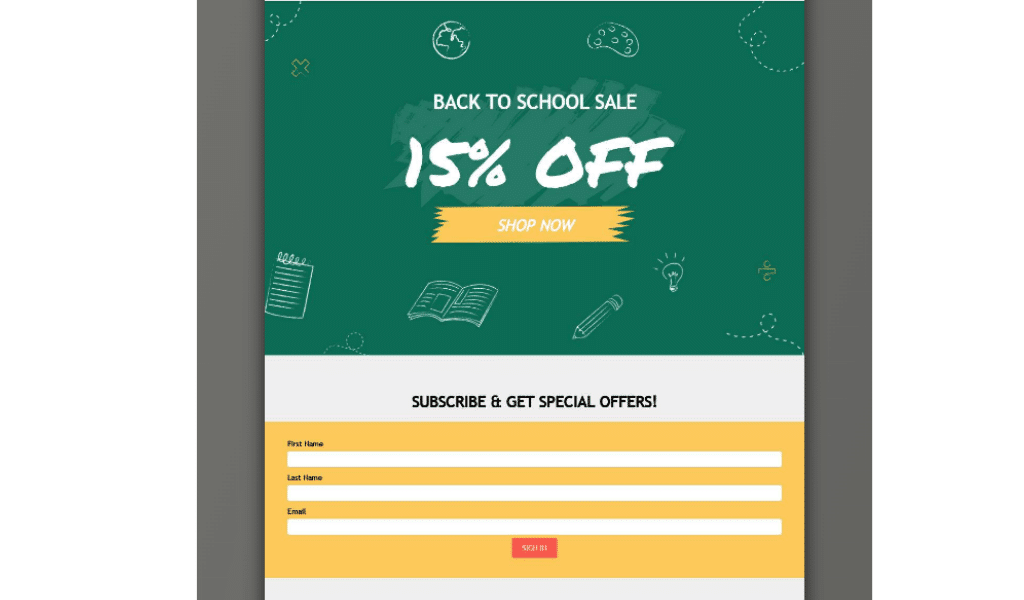 Assume creating particular pages in which you could optimize your content in landing pages and include seasonal keywords targeted to that particular occasion or event. 
Those web pages ought to get published a few months prior in advance, so that they are indexed and kick off their own ranking for all your seasonal keywords.
If it is a recurring event, you would be able to re-utilize those webpages in the upcoming years, by applying authority that you have already built for the webpages and getting to know that they have been indexed already by the search engines.
Ensure each page on your website includes a suitable seasonal title, description, and appropriate headline tags with unique content in it. You could also make a URL dedicated to that specific event.
For example "www.yoursitename.co.ukchristmas-deals"
To make your website landing page attain more visitors converted to a customer, main three things seem to be vital.
A Clear offer with regards to Seasonal keywords
Making it easier for customers in knowing what you wish them to do
A Strong call-to Action with seasonal keywords.
If you wish to dig deeper and grasp how to create a better website landing page that sells, ensure to check out the great resources. 
Anatomy of the perfect landing page.
How to carry out your landing page from better to best
Vital elements for the perfect website landing page.
Apart from unique website landing pages, you will have to create effective supporting content on your on-page articles adhering to seasonal keywords at regular intervals, and external articles and websites to aid in raising awareness and boosting the site ranking for such seasonal keywords.
What do you have to write your content about? 
Do a little bit of research, about search keywords, to see what people are mostly talking and typing about in your industry, and then capitalize on those temporary seasonal trends for raising awareness of your brand. 
The keyword research can be performed through efficient and accurate rank tracker like SERPPLE. 
Do you have plumbing services? Then write a specific guide, about the typical faults expected in the heating system or provide an article about the ways in "how to fix central heating". – using long-tail keywords.
Hence instead of promoting the services constantly, you can acquire a competitive edge by offering the audience with qualified and beneficial content with all the inhibited seasonal keywords in it.
4. Promotion of content
Implement different ways to advertise your seasonal campaign as well such as 
Pay Per Click (PPC)
Websites dedicated to seasonal offers or events.
Email
Social media channels inclusive of Pinterest, Twitter, and Facebook.
Create a calendar for each piece of content you are planning to expose with seasonal keywords, for posting on the website landing page, or on external sites. This may include Facebook, guest posts, blog posts, tweets, infographics, etc…
If your competitors are targeting the same occasions and same events, then you ought to step up forward. 
Instead of posting the content with a seasonal keyword on the Facebook page, attempt to run a specific campaign on the channel and target your optimized content to display the particular geolocations and demographics. 
In Email, give certain killer information with advice or tips which the users are looking for and then hint about your seasonal occasion or events soon approaching. 
Creation of a yearly calendar, to have a note on all the relevant. events, holidays, and on special occasions. 
Creation of a plan across every event to optimize your website.
Strategy creation across each channel: social, paid, and organic.
Content preparation and optimization in advance.
Promotion.
What should you do with the pages after the holiday/special occasion ends?
Do not delete anything! Keep all the web pages live and if a few visitors land on your webpage, just give suggestions on similar deals which they may be interested in. The other way you can redirect the URL to another new URL associated with your coming year.
This may safeguard your efforts and time the next year since the thing you must do is rewriting and refresh old content and revive the content with search engines.
Optimizing images, alt text, and multimedia elements for seasonal keywords
Adding relevant captions, descriptive captions, alt text for your images, and tags to all your multimedia content indicating the seasonal keywords, could aid search engines in understanding the relevance and context of your content, resulting to enhanced visibility in the search results.
When it comes to retaining and learning new information, our brain process quickly the visual information more effectively rather than text interpretation.
The more engaging and more visually appealing the content is, the more likeliness it will be to get shared and to reach out to a wider audience.
When you add some multimedia elements to your seasonal keywords, to your website landing pages, and blog posts including the audio, videos, and images, you lead your content more likely and shareable to get picked by a wide number of users.
Incorporating different elements of multimedia content of special offers and deals regarding the seasonal events into your website assists to add uniqueness and personality to your website. This makes your site more relatable and memorable to your target audience for it drives more traffic to your website.
Along with the implementation of the file name and image title best practices, such as alt-text for your seasonal trends make sure that bots and users could understand your site content and more come into your website.
Alt-text in SEO provides you with one more opportunity to add your target seasonal keyword. With on-page seasonal keyword usage yet pulling the weight to be the ranking factor for search engines. 
Therefore, it is in your best interest in creating alt-text describing the image and also you can include the target keyword or phrases which you target that deliberate the website keyword seasonal trends. 
In addition to this, if search traffic from image search stands as a key part of your strategy in SEO, then offering Google the right information about images thriving as the better way for revealing the relevancy of the topic. 
You can achieve this utilizing alt-text, schema markup, relevant file names, and modern file formats.
Creating seasonal-specific offers or promotions on landing pages
You know the best-selling products and the target audience best: peep into your past year's data and determine what are you going to utilize in order to lure with customers.
You can create specific offers related to the seasonal events, and other visual promotions may be on the landing pages of your website, to attract more customers and lead organic traffic.
Some of the key points which you need to feature on your website landing page.
Product bundles of your seasonal offers to help in the discovery of products.( Example: "Gifts for Dog Lovers").
Products captioned with seasonal keywords which sell better during seasonal events.
Special offers which will be different for return and new customers.
The benefit is the thing, wherein you can re-use the same strategy each year, with few modifications with according to your previous experience. Even process automation can be performed.
Monitoring Seasonal Landing Page Performance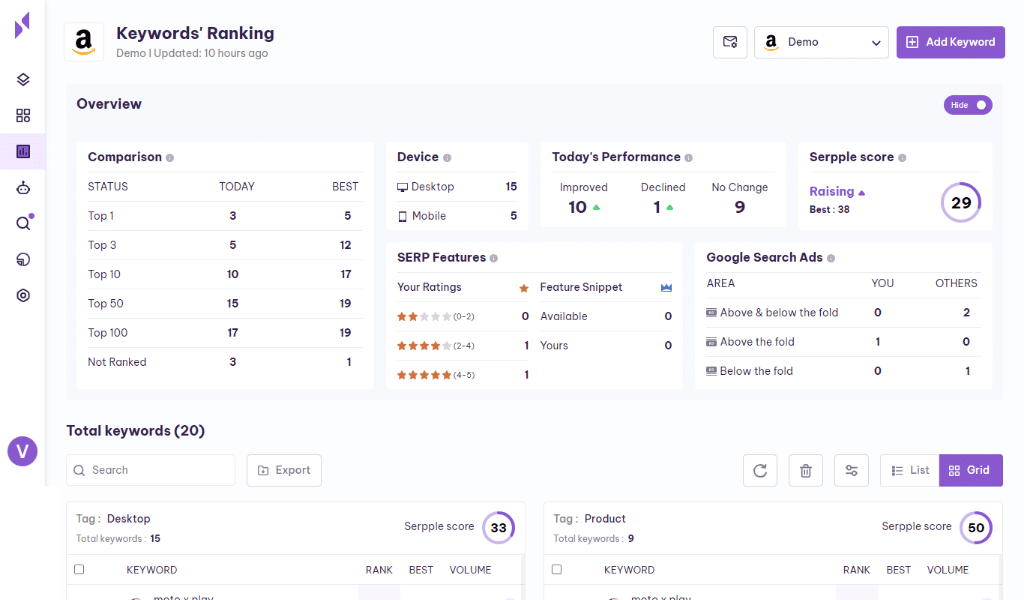 Monitoring the traffic levels of your website could offer you clear insights into which seasonal keywords bring you more volume of traffic.
Utilize this information in informing your future marketing efforts. Since there will be a change in seasonal trends, your marketing strategy must be decided for the best SEO performance.
You can better analyze the ranking, search volume, and competitor statistics of all your target keywords. Input all your seasonal trending keywords also, to include inside your content.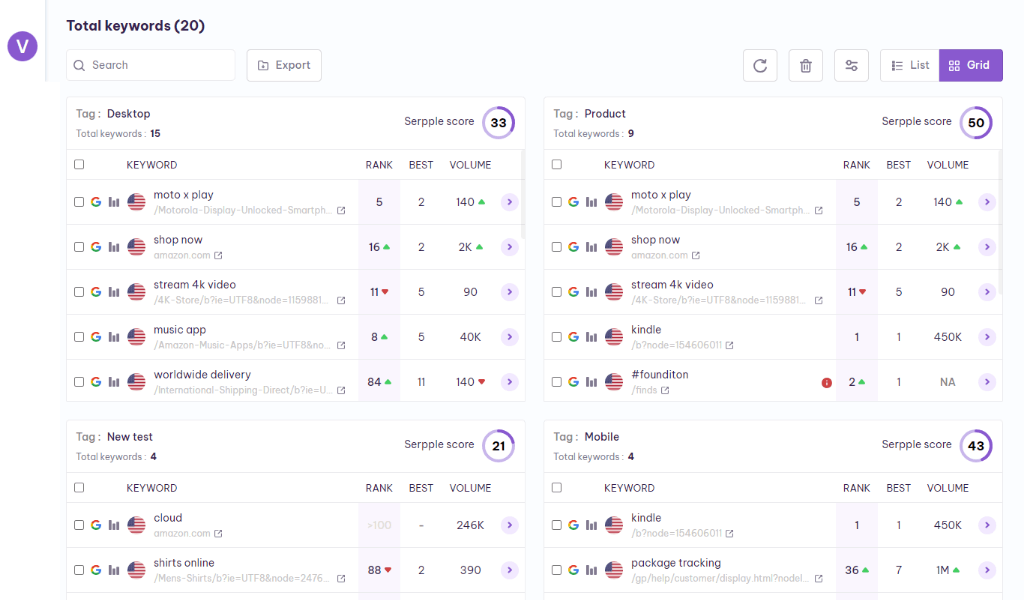 Keyword research tool such as Serpple as exposed above uncover the insights and data to have a deeper understanding of the competitive landscape and position of seasonal keywords across global markets.
Monitor Your Competition
Understanding and finding low-competition keywords and high competition is essential in SEO strategy and this copes with seasonal keywords as well.
Have a look at all the seasonal keywords your competitors were targeting and attempt to do ranking for these same search terms.
You can also utilize a competitive AI interface like in Serpple tool to gain insights into the keyword performance of your competitors.
Using Serpple To Determine The Effectiveness Of Using Seasonal Keywords
Serpple is one of the perfect tools when you wish to keep track of your seasonal keyword ranking on a seasonal basis.
 By tracking out the keywords regularly, you can also see how your SEO campaign platforms of your clients perform and can make necessary adjustments to make sure they can yield good traffic and gain profit.
With its comprehensive scheduled reports and easy-to-use interface, Serpple is a prominent tool for having an eye on seasonal keyword performance and can make necessary changes in your website's landing page optimization, and content optimization, following the ranking and traffic volume spikes. 
Whether you are tracking non-seasonal or seasonal keywords, this SERP alert ranking tool facilitates to assess the SEO effectiveness.
Bottom Line
By doing all the above points, in a more diligent way, you will be able to forecast and spot the emerging trending keywords, and how to add them to your website, which could bring off tons of organic traffic to your site.
Optimize your articles and fresh blog post for those seasonal keywords by working out them to your body text and titles.
Ensure your website content does not been oversaturated with those seasonal keywords.
Otherwise, the text might sound more robotic, this would discourage your prospects significantly from brand engagement. 
Finally, after your keyword research, track its performance. Do not hesitate in adjusting your content marketing strategy if demanded.
All in all, Improve the search ranking of your website by using seasonal keywords, given that you attain them before the peak period. 
The task to spot out the trending keywords now will not be harder, when you are used to SEO tools, knowing which tool to use, learning about the tool usage, and how the report interpretation is carried out.
Apart from seasonal trending keywords, you might also need to know how to analyze and research other unexplored keywords as well.
However, if you would like SEO to ride the wave, use the SEO tool to analyze keywords, track the performance, pick out the trending keywords, use the keywords for website optimization, and grab the better results in hitting the traffic level leading to SEO success.
Great content, depending on the customer's seasonal needs, would assist to impact the search traffic and to position the business in a better position, with smart and optimized seasonal SEO.