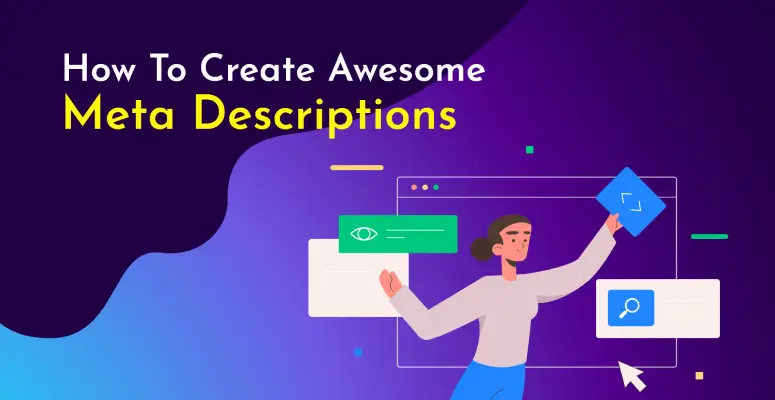 Meta descriptions are the crucial aspect of search engine optimization as they help entice users to click on a website from search results pages. 
They provide a brief summary of the content on a webpage.
According to Google, the meta description tag gives search engines a summary of the webpage's content. 
However, it should be noted that meta descriptions do not have a direct impact on Google search rankings.
In this article, you will discover how to craft effective meta descriptions that not only assist search engines in understanding the content of your page, but also entice users to visit your website. 
They play a role in providing potential visitors with an understanding of what a page is about, which can positively impact search referrals.
What is a Meta Description in SEO?
The meta description, also known as an HTML element, is a summary of a webpage's content that is displayed on search engine results pages (SERPs) under the title of the page.
This tag plays an important role in the search snippet, which includes the URL, title, and meta description. It provides both search engines and users with an understanding of what the webpage is about.
Meta Description Example
The World Wide Web Consortium (W3C), the organization that sets standards for HTML, states that a valid meta description must have three characteristics.
These are: it should accurately describe the content of the webpage, it should be appropriate for use by search engines, and there should only be one meta description per webpage. 
Users can include any text that satisfies these criteria in the description.
Google Rewrites Meta Description of Your Page
According to Google's guidelines, the text that appears in the search snippet can either be the meta description from a webpage or text selected by Google from the visible content on the webpage.
The search giant will only use the meta description if it is accurate. 
A study from 2020 revealed that Google rewrites meta descriptions 70% of the time, which could suggest that publishers are not creating accurate descriptions. 
It is important to understand the proper way to write a meta description to ensure it is used by Google.
Meta Description vs SERP Snippets
Some individuals may confuse the terms "meta description" and "search snippet" as the same thing, however, they are distinct concepts.
The meta description is an HTML tag that can be controlled and optimized by the website owner. 
On the other hand, search snippets are the descriptions that are shown by Google for the webpages.
It is important to understand the distinction between the two to effectively optimize your website for search engines.
Why are meta descriptions important for SEO?
Even though meta descriptions are not considered as ranking factors, they are still an important aspect of SEO.
They can help drive clicks, traffic, and potential conversions by convincing users that the webpage has the information they are seeking.
Google advises using the meta description to summarize the content of the webpage and also to persuade users that the content is what they are searching for.
It can be thought of as a pitch that convinces the user that the page is exactly what they are looking for. 
The ultimate goal of SEO is to rank the site at the top of the search results, and meta descriptions play a role in that process by convincing users to click on the site.
What is Ideal Meta Description Length?
The standard practice for meta description length in SEO has been to keep it within 160-165 characters. 
This is to prevent truncation in search results.
However, it is important to note that Google uses the meta description to better understand the webpage and has no set limit on the length of the description, but suggests keeping it within a short paragraph.
SEOs recommend keeping the meta description within a set limit based on the amount that can be shown on the search results page. According to W3C HTML standards, there is no limit on the length of meta description, it's considered a "free-form string."
Therefore, one should aim to summarize the webpage accurately but also be concise and not exceed a short paragraph. 
Ultimately, use your own judgment when determining the optimal length for your meta description.
7 Tips for writing perfect Meta Description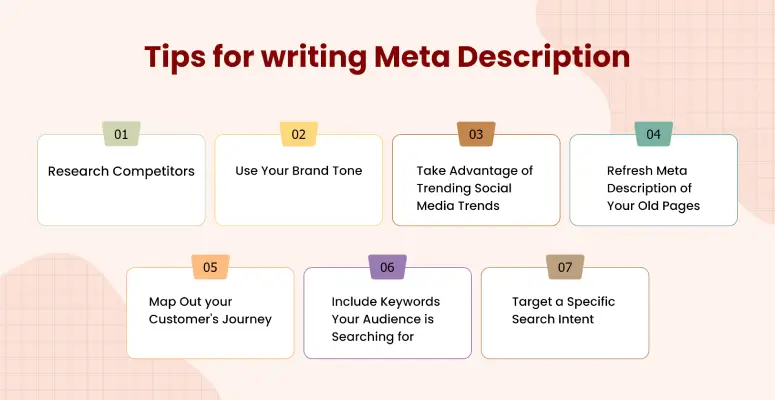 1. Research Competitors
To effectively research, you should focus on understanding what works for your competitors. 
This can be done by analyzing the meta descriptions of the top-ranking pages for your target keywords and noting what makes them effective.
You can also compare your own meta descriptions with those of your competitors to identify areas for improvement.
Here are the steps to conduct SERP research effectively:
Step 1: Research the SERPs for your targeted keyword: It can be time-consuming to manually go through every search result and identify what your competition is doing well.
Step 2: Research the SERPs for your competition: Look at your competition and figure out exactly what they are doing for their brands.
Step 3: Put them together in a spreadsheet and track them: Use tools like the SEO Quake Google Chrome extension to export Google SERPs to an Excel spreadsheet, which allows you to keep a running tally of your competition and track them easily and efficiently every month.
By following these steps, you can gather valuable insights into what is working for your competitors and adapt your own strategy accordingly, which will help you create meta descriptions that are more likely to be shown in the search results.
2. Map Out your Customer's Journey
To create effective meta descriptions, it's important to understand the buying journey of your target audience and the stages of the marketing funnel they go through.
The marketing funnel can vary depending on the target market, so it's essential to tailor your meta descriptions accordingly.
To do this effectively:
Identify the optimal buying journey and stages of the marketing funnel for your target audience.
Target and tailor your meta descriptions based on your findings.
Remember that the ultimate goal of meta descriptions is to accurately summarize the topic of the webpage.
By understanding the needs of your target audience and tailoring your meta descriptions accordingly, you can create descriptions that effectively guide them through the buying journey and increase the chances of them clicking through to your website.
3. Use your Brand Tone
Having a consistent tone of voice that aligns with the brand's identity is crucial for a brand's online presence. 
Each meta description should be crafted uniquely to reflect this tone of voice across the brand's ecosystem.
It's important to use a different tone of voice for different types of websites, for example, a corporate law website would have a different tone of voice than a daycare website. 
Using the same tone of voice across all pages can be ineffective.
The main advantage of using a unique tone of voice is that it allows you to reach different personas by targeting specific keywords.
By researching user intent and combining it with keywords, it's possible to reach your target audience with optimized and sophisticated messaging that resonates with them.
4. Include Keywords Your Audience is Searching for
Google has stated that they don't use keywords in the meta description for ranking purposes. 
However, when conducting SERP research, it's common to see highlighted keywords in the meta description.
These highlighted keywords can help draw the reader's attention to the most relevant result that will satisfy their query. If the meta description of your webpage satisfies the user's intent better than any other results that appear, it is more likely that the user will click on your webpage.
Therefore, including relevant keywords in the meta description can help increase the chances of getting clicks from users.
5. Take Advantage of Trending Social Media Trends
As a social media expert, you have the advantage of being well-versed in identifying current trends and what resonates with your audience.
To stay ahead in your industry, you should already be following influencer accounts and industry firms. 
To take it a step further, you should also assess which topics are currently trending in your field and examine the meta descriptions of the highest-ranking results.
Some useful tools for this research are Google Trends, BuzzSumo, and Twitter's Trending Topics, which can help you identify relevant trends in your industry.
By staying informed about current trends and incorporating them into your meta descriptions, you can create descriptions that are more likely to resonate with your target audience and improve your search engine rankings.
6. Target a Specific Search Intent
Using generic meta descriptions or overly sales-oriented language can discourage potential customers from clicking on your webpage. It's crucial to create meta descriptions that inspire confidence and accurately reflect what the user is searching for.
Instead of using phrases that simply promote your own product or services, focus on addressing the user's intent and providing relevant information.
Your goal should be to speak to what the users are looking for and not solely trying to drive them into your own sales funnel. 
By providing accurate and relevant information in the meta description, you can increase the chances of users clicking on your webpage.
7. Refresh Meta Description of Your Old Pages
Revitalizing old content on a website can be beneficial for the site as it can attract new traffic to older pages.
Refreshing meta descriptions can also increase the visibility of older posts on social media. 
By systematically updating all of your meta descriptions, you can re-share older posts and gain more visibility and traction.
This can be a great way to get more engagement and drive more traffic to your website.
Final Take Away
In conclusion, crafting effective meta descriptions is an important aspect of search engine optimization. 
They can also help drive clicks, traffic, and conversions by convincing users that the webpage contains the information they are looking for. 
And, with the right approach, meta descriptions can play a significant role in driving traffic to your website and improving your search engine rankings.
Besides, how do you ensure that your on page SEO strategy works well in improving your keyword ranking in Google? If you want to track your on page SEO strategy, there are a few ways you can track and identify areas for improvement. 
One option is conducting an audit of your website, analyzing its technical SEO, on-page optimization, content, and link profile.
Another option is to use specialized google rank tracker tools such as Serpple to track your performance and compare it to industry benchmarks.
It eases your ways of tracking your SEO performance on Google SERP.
This tool tracks your site position on Google SERP with 99.5% accuracy.
Start your free trial and explore this tool to become a Serppler.
To explore this tool quickly, take a look at the rank tracker page.