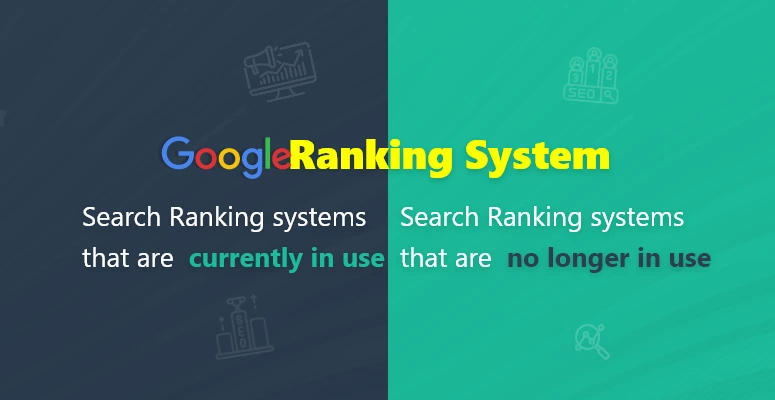 Search Ranking Systems, what are they? Before jumping on straight into the topic let me ask you something.
Can you relate the cloud nine feelings when you see all your keywords gaining positive impacts after an algorithm update? We feel extremely ecstatic, right?
At the same time, outpacing the competitions and ranking out of it is the real challenge we face when it comes to organic ranking.
As SEO analysts, we can always find our keyword rankings got stuck in a SERP race with lots of competitors running ahead and behind us.
Along with that, we'll also find certain challenges while pursuing the race which include algorithm updates, over-optimization, AI powered tools, etc.
That's why the journey of attaining top Google ranking seems to be a daunting task. 
However, when we strive to plan our SEO strategies according to the Google algorithm updates we can definitely increase our chances of winning the SERP race by ranking on top of Google's SERP.
If you want a way to track your search engine rankings, and monitor the difference, check out Serpple.
And, to achieve this, you have to know about the latest Google algorithm updates. Recently, Google has published an ultimate new guide to its search ranking systems.
Furthermore, Google has also published a guide on differentiating between ranking "systems" and ranking "updates".
According to Google's new terminology, a ranking "system" represents a boost to Google's algorithm that's constantly running in the background. 
An algorithm "update" relates to enhancements to ranking systems.
So, before knowing about the recent search ranking systems guidelines, it is essential to learn the ropes on how Google ranks websites and the time taken by Google to rank a keyword.
How Google Rank a Website?
To rank the websites on SERP, Google uses web crawlers which help to scan and index the pages on your website. Google often changes the way they rank the websites regularly. 
The minor changes happen regularly and about every quarter of the year we receive a core algorithmic update. 
We can't predict the exact changes on ranking, but based on historical data, we can guess when an update is about to happen.
As an outcome, Google ranks a website based on its BERT algorithm and recent algorithmic changes and data gathered by search engine spiders.
Google's search ranking system displays your website on SERPs in order based on certain valid ranking factors. Now, do you shoot us with a question,
How many ranking factors does Google have?
Here are some quick bites about Google's ranking factors.
Backlinko claims that Google uses over 200 ranking factors in their algorithm.
According to statista, 24.6% of SEOs stated depth and accuracy of content is one of the most important factors.
According to Ahrefs study, nearly 60% of the pages ranking in the top 10 Google results are 3 or more years old.
But, in recent days, there are lots of speculations about Google's ranking factors.
Couldn't able to make heads or tails about the myths and facts about Google ranking factors?
Take some time to understand the working of Search Engines in a better way to attain top ranking.
It is very likely a well-known fact that attaining top results on the result page indicates the authority and usefulness of your website for the users' search intent.
The higher the rank, the more traffic to your website tends to generate leads and potential audience.
At this moment, are you uncertain and want to know about the time taken by Google to rank your website?
I've got this, here you go!

How long does it take Google to rank a website?
The most common answer to this question by SEOs is undoubtedly, "It depends," because there remain too many factors to rank a website which include website strength, competition, content, E-A-T, etc.
However, on average, it takes a website anywhere from 2 to 6 months to rank on Google's Search Engine Result Page.
And, as afforested, Google's periodical algorithm updates play a major role in ranking your website.
Therefore, it has become the need of the hour for SEOs and digital marketers to stay updated with Google's recent update. So, without any further delay, let's dive into the topic.
What is the latest Google SEO update?
According to a recent update by Google as of November 2022, Google has published Google search ranking system guidelines.
This guide explains "notable" ranking systems that Google has implemented over the years. Based on those ranking systems, Google has categorized the list of algorithms currently in use and no longer in use in Google Search.
Google also provides a detailed description of each ranking system.
Google Search Ranking Systems That are Currently in Use
Make a note of the current search ranking systems that are part of Google's core ranking systems
BERT: 
The term BERT stands for Bidirectional Encoder Representations for Transformers. Through BERT algorithm helps Google to understand the context of the overall words in a sentence instead of processing every single word.
Crisis information systems: 
It was a system developed by Google for the purpose of providing some significant sets of information at times of crisis which includes SOS alerts when searching for natural disasters, and information about a personal crisis
Deduplication systems: 
Google's search systems focus to remove unhelpful duplication, and deduplication.
Exact match domain system: 
This considers words in domain names as one among many ranking factors to determine if the content is appropriate to a search
Freshness systems: 
Google has implemented a "query deserves freshness" system for certain queries to display fresher content for queries where it is required.
Helpful content system: 
Google's Helpful Content System focuses on providing helpful content written by people, and for people. It aims to avoid content that is primarily created to gain search engine traffic.
Link analysis systems and Page Rank: 
It understands how a page links to each other, what are the pages about, and which pages are likely to be helpful as a response to a query.
Local news systems: 
It is a system that works to find and surface local sources of news whenever appropriate.
MUM:
The term MUM is an acronym for Multitask Unified Model. The MUM algorithm is one of the vital search ranking systems that works to answer complex search queries with multimodal data.
Neural matching:
It is an Artificial Intelligence system that is used by Google to understand the intent of concepts in queries and pages and match them based on that.
Original content systems:
The ultimate aim of this system is to ensure that Google shows original content prominently in search results which mainly includes original reporting, ahead of those who simply cite it.
Removal-based demotion systems:
It is a system that downgrades websites that have a high volume of content removal requests.
Page experience system:
A system that determines various criteria to evaluate if a page provides a better user experience.
Passage ranking system:
It is an AI system that is used by Google to find individual sections or "passages" of a page to get a better understanding of how relevant a page is for a search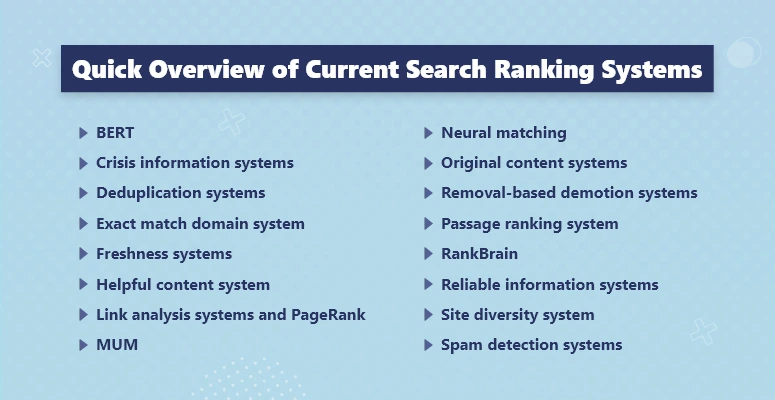 Product reviews system:
It is a system that focuses on rewarding high-quality product reviews that are written by expert authors with deep analysis and authentic research.
RankBrain:
It is an AI system that helps Google to understand how the words are related to the concepts. It provides relevant results even if there aren't any exact words used in a query.
Reliable information systems:
Google has multiple systems that help to provide reliable information, such as identifying authoritative pages, downgrading low-quality content, and promoting quality journalism.
Site diversity system:
This system functions to prevent showing more than two web page listings from the same site in Google's top results
Spam detection system:
As the name implies, the system deals with content and behaviors which violate Google's spam policies. That's the reason behind constantly regulated Google spam update. They are guidelines to keep up with the spam threat that evolves. 
Google Ranking Systems That are No More in Use
Make a note of the retired search ranking systems that are no more in use and not a part of Google's core ranking systems
Hummingbird:
It was a remarkable enhancement to Google's ranking systems that was launched in 2013.
Mobile-friendly ranking system:
A system that targets content works better on mobile devices. The system has since been included in Google's page experience system.
Page speed system:
This system was rolled out in 2018, and it focuses on content that loads fast on mobile devices. This system has since been included in Google's page experience system.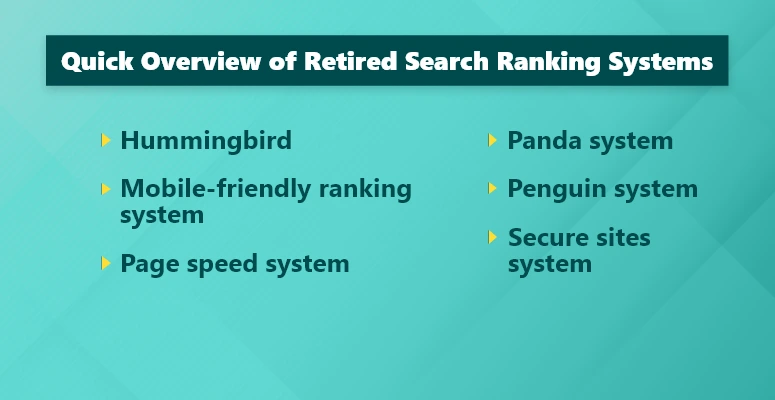 Panda system:
This update was rolled out in 2011, and it ensures providing high-quality and original content on search results
Penguin system:
This system was introduced in 2012 that downgrades websites with spammy link-building practices.
Secure sites system:
This system was rolled out in 2014 that prefers websites secured with HTTPS.
Why Does This Update Matter?
Being SEO Analysts or Digital marketers, we ultimately aim to stay on top of Google.
To achieve the top ranking, it is essential to stay updated with Google's updates and announcements.
And, this search ranking system guidelines by Google is undoubtedly a significant update that every SEOs should watch out for.
Did you find this blog helpful? Let us know your thoughts. for building an engaging network between SEOs.
Join our Facebook community, for building an engaging network between SEOs, to get insightful SEO tips, engaging SEO memes, Google's latest updates, Serpple's Feature Updates, etc.
Keep an eye out for our next blog. And, to gain an all-new experience of an AI powered accurate rank tracker that keeps evolving to meet the changing SERP trends claim your free access to our highly advanced Serpple platform.
Happy Serppling!