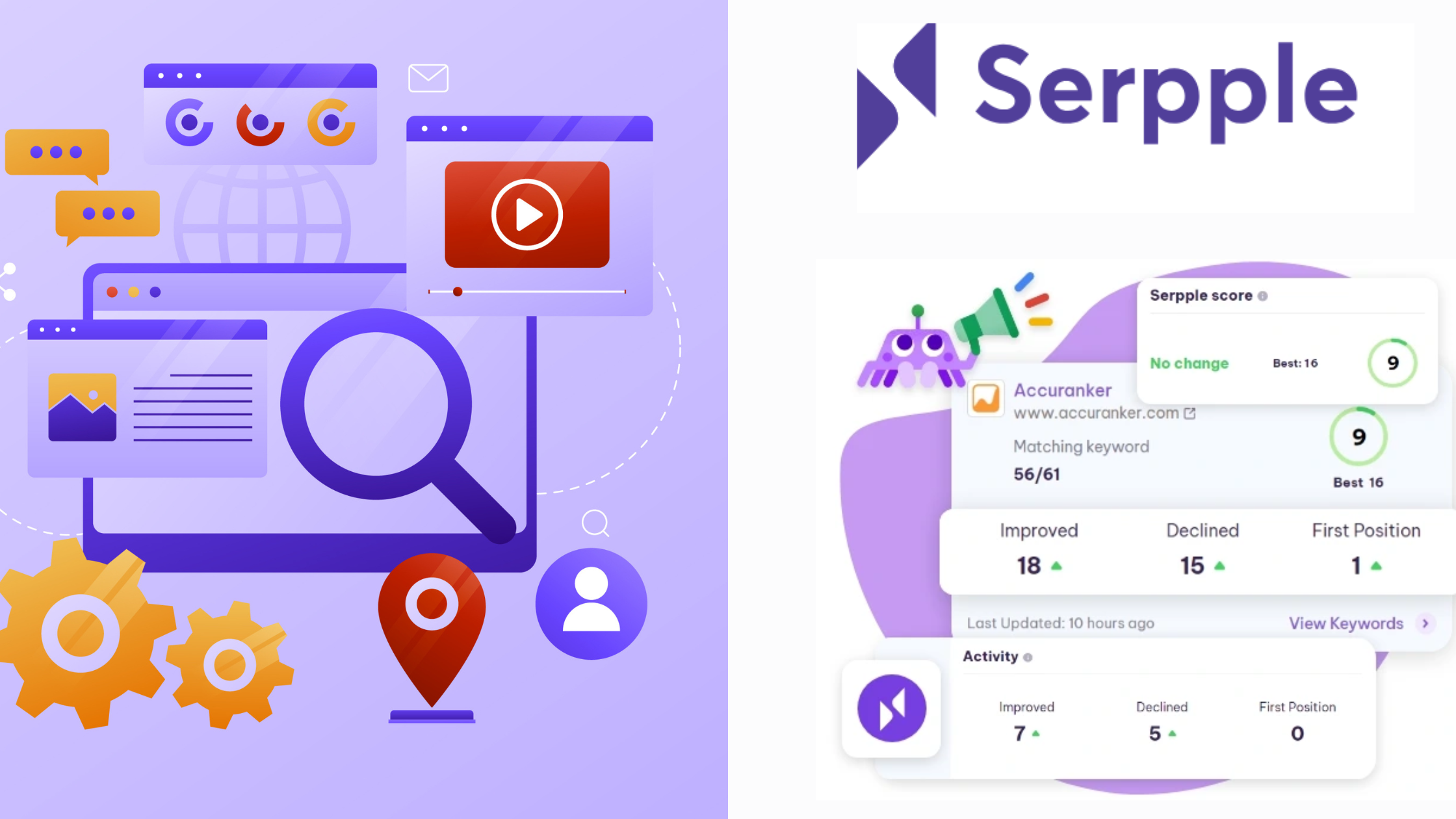 AccuRanker is SEO software popular among professionals and SEO enthusiasts due to its excellent keyword tracking capabilities and user-friendly interface.
However, some users have left reviews saying it is difficult to filter keywords and export reports with AccuRanker. That, combined with high-end pricing, drives some users to look for alternatives.
As I've done a full review of AccuRanker to test its interface, features, pros and cons, I now want to share some alternatives based on my experience to help you make an informed decision.
Overview of AccuRanker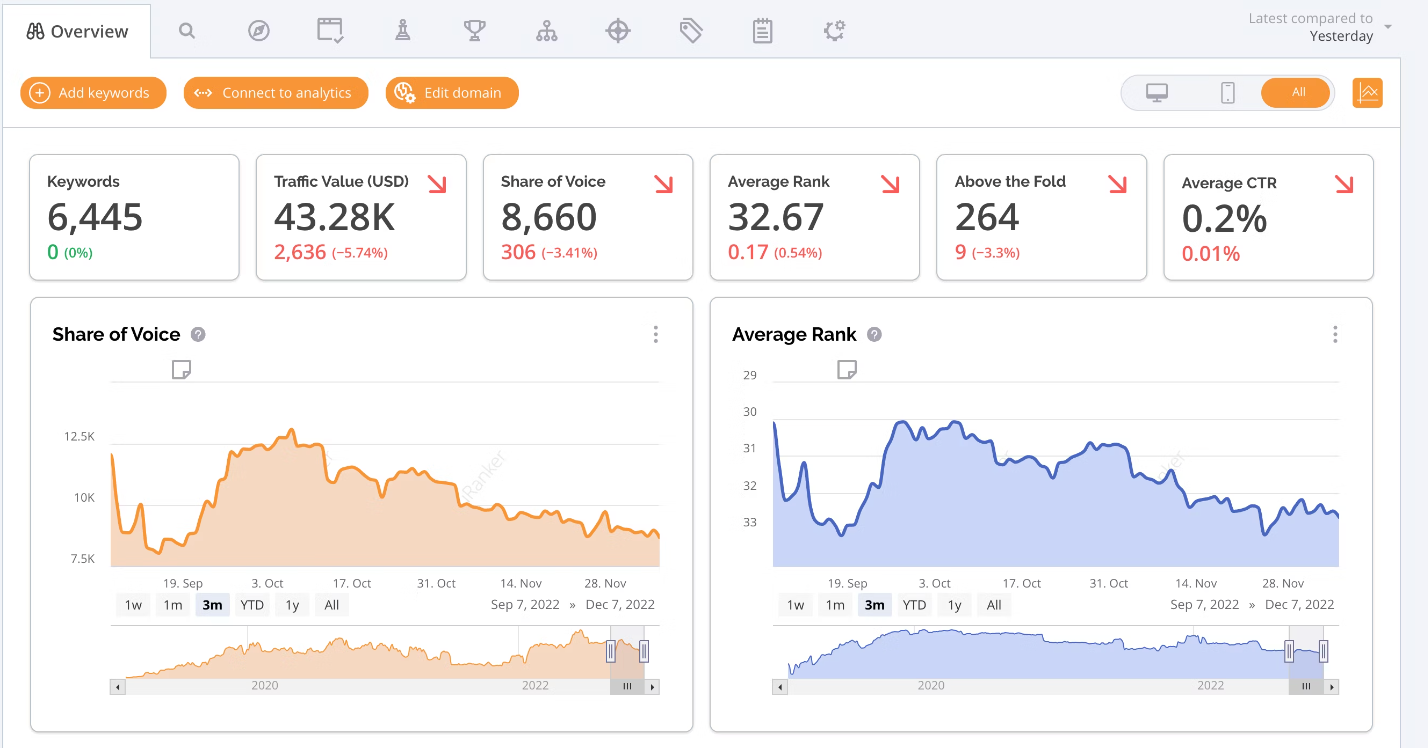 Source: Capterra.com
AccuRanker is a very accurate tool that updates its database daily and can be used for rank tracking on different search engines, including Google, Bing and YouTube.
Features
Keyword tracking
Ranking distribution graph
In-depth SERP analysis
Competitor analysis
Historical data
Geo-location tracking for 12 countries
Daily reports
Sub-accounts, suitable for large agencies
Numerous integrations
 (Google Data Studio and other analytic tools)
Pros
Data accuracy: I was pleasantly surprised to discover that this software is more accurate than many other tools and that it updates its database every 24 hours
Granular insights: You can divide data by factors like region or device used and track ranking differences down to the smallest details
Numerous integrations: You can integrate Google Analytics, Google Search Console, Adobe Analytics, Data Studio and other analytics tools
Cons
Price: The cheapest plan starts at €116 per month, expensive for small and mid-businesses
Confusing reports: They're difficult to understand because there's a lot of data and metrics without proper order and explanation, which can be especially confusing for beginners
Missing features: AccuRanker lacks some features that other similar tools have, like different options for keyword filtering and data export
Pricing
The pricing is flexible and completely dependent on how many keywords you want to track.
It starts at €116 per month for up to 1,000 keywords and can go up to €2,492 per month for up to 50,000 keywords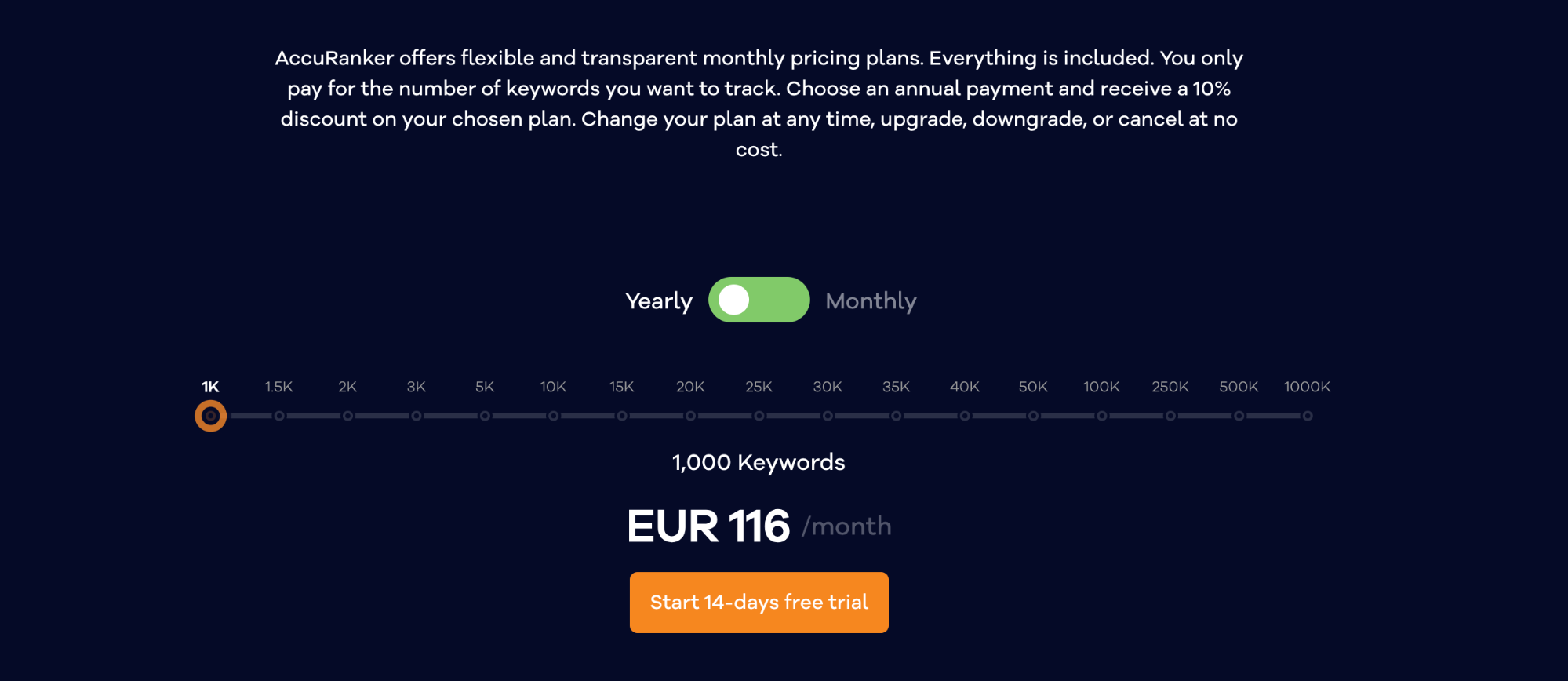 User ratings
Users are generally satisfied with the AccuRanker features and quality of data, but users note that they could get the same features elsewhere for a lower price.
G2: 4.8
Capterra: 4.8

Why look for AccuRanker alternatives?
Price: Its price is a bit too expensive, and some other tools offer better features for less money.
Reports: Difficult to understand if you're not an SEO expert. Moreover, there are limited options for exporting and sharing reports with others.
Lack of features: Some features are missing, for example, it's not possible to filter keywords by individual pages.
No free trial: There's no free trial for individuals, only for companies. People looking for the best SEO tools for freelancers and SEO beginners don't have an option to try it out before buying.
The best AccuRanker alternative
Serpple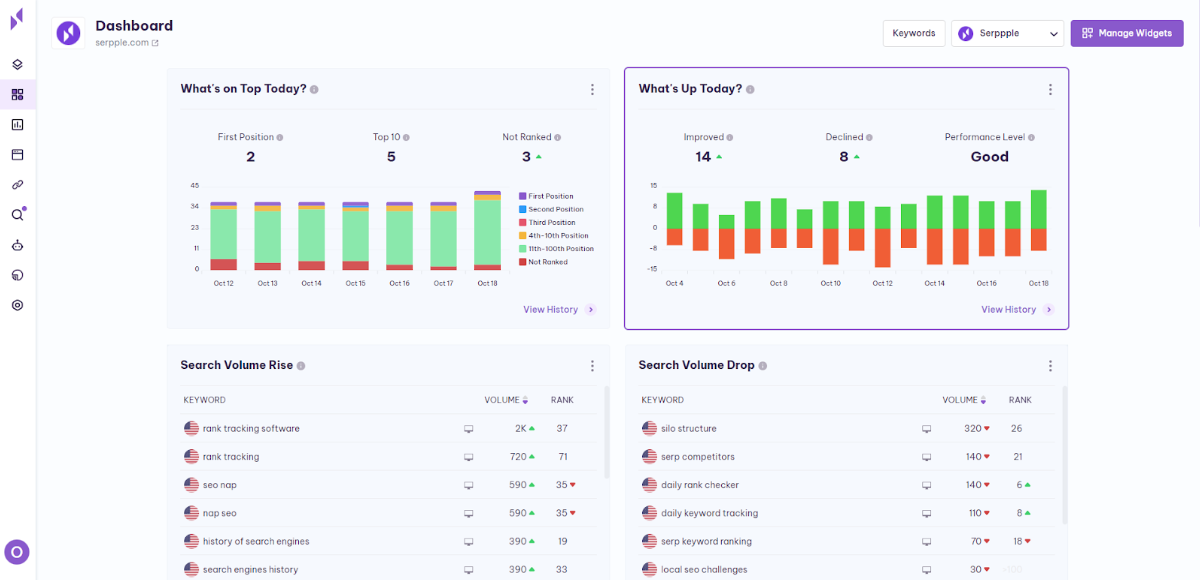 Serpple is among the best keyword rank tracking software of the latest generation. It combines advanced features and supreme accuracy with a simple user interface that everyone can use, from beginners to experts with a lot of experience.
Now, you may be wondering how to track search engine rankings with Serpple.
Our comprehensive dashboard shows you all the keywords you're ranking for in 3 clicks.

Insert your domain and simply add or upload all the keywords you want to track. If you're an agency, you can track up to 3,000 keywords for only $99 per month, while AccuRanker charges over three times more for the same number of keywords.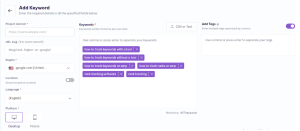 Thanks to our automated search engine position tracking, you get to see drops and increases in rankings, without the need to compare and calculate anything manually.

Features
Competitor AI tracker
Predicting trends and keyword opportunities
Keyword grouping and bulk tracking
Dynamic graphs to visualize changes
On-page content audit
Pros
Supreme accuracy:  99.9% accuracy and daily Google ranking updates sent to your email makeSerpple more accurate and reliable than most other tools
Keyword opportunity predictions: Serpple can predict trends enabling you to optimize your content for profitable keywords before anyone else –  a good shortcut for ranking a new website on Google.
Value for money: Serpple offers advanced SEO features at a starting price of only $19 per month, whereas other companies charge hundreds of dollars for similar features
Cons
There isn't a free plan, but our tool comes with a 14-day free trial
Pricing
Side Hustler: $19 per month
Entrepreneur: $29 per month
Agency: $99 per month 
*If you opt for an annual subscription, you'll get two months for free.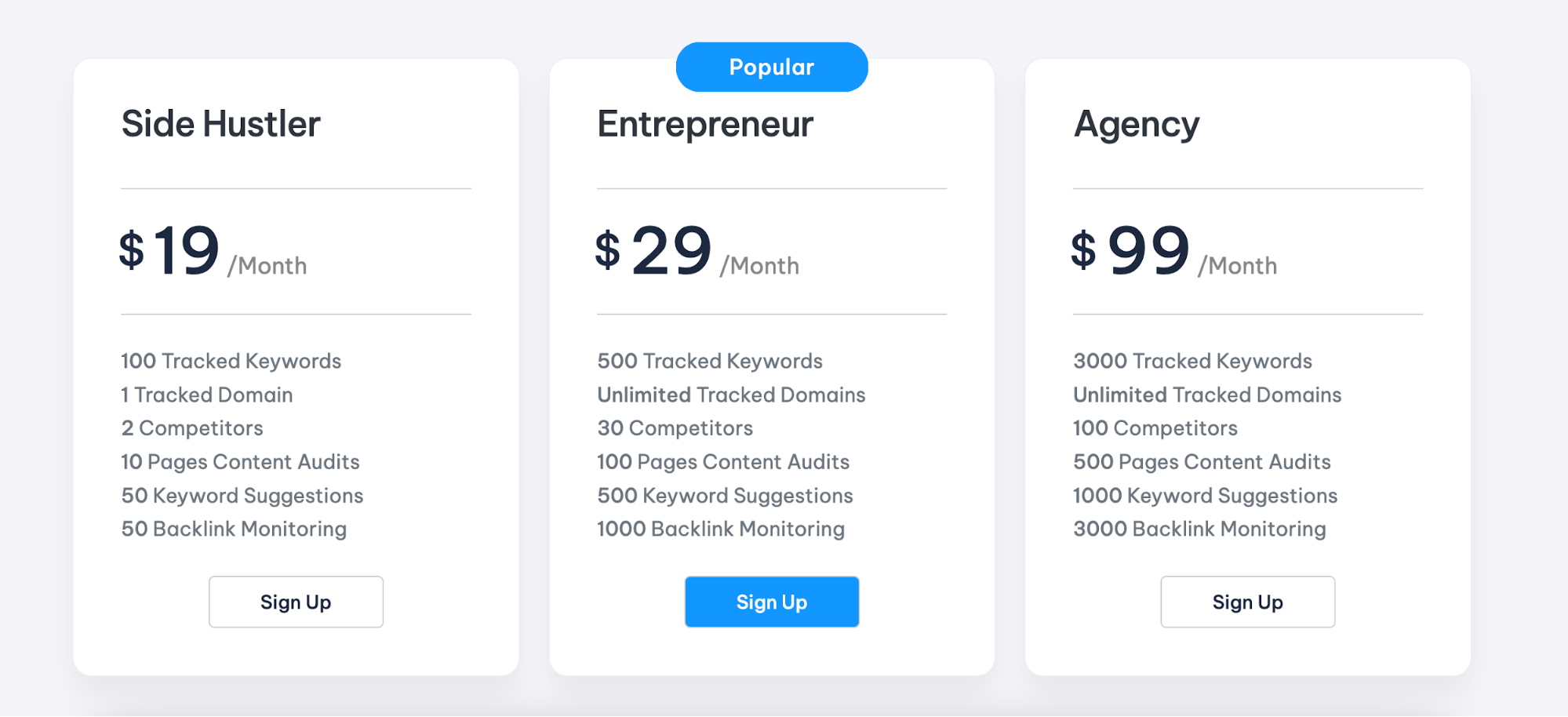 UI/UX
I might seem biased here, but Serpple is by far the most user-friendly rank-tracking tool on the market. Everything is organized in a logical way, and you can find most things with only one click.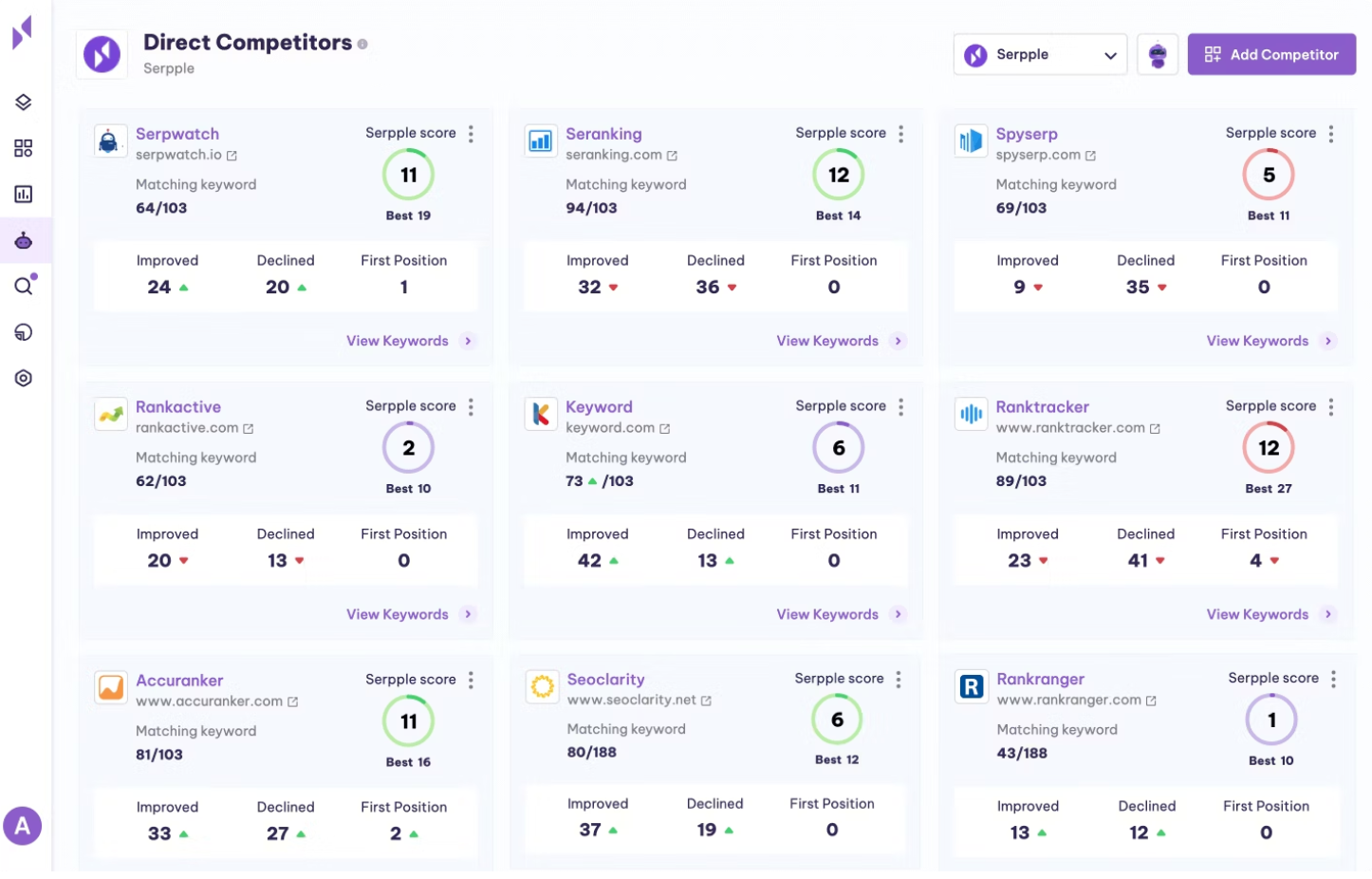 User ratings
Many users are praising our tool as the best keyword rank-tracking software due to its ease of use, great UI, excellent value for money and supreme accuracy.
Capterra: 5
G2: 4.5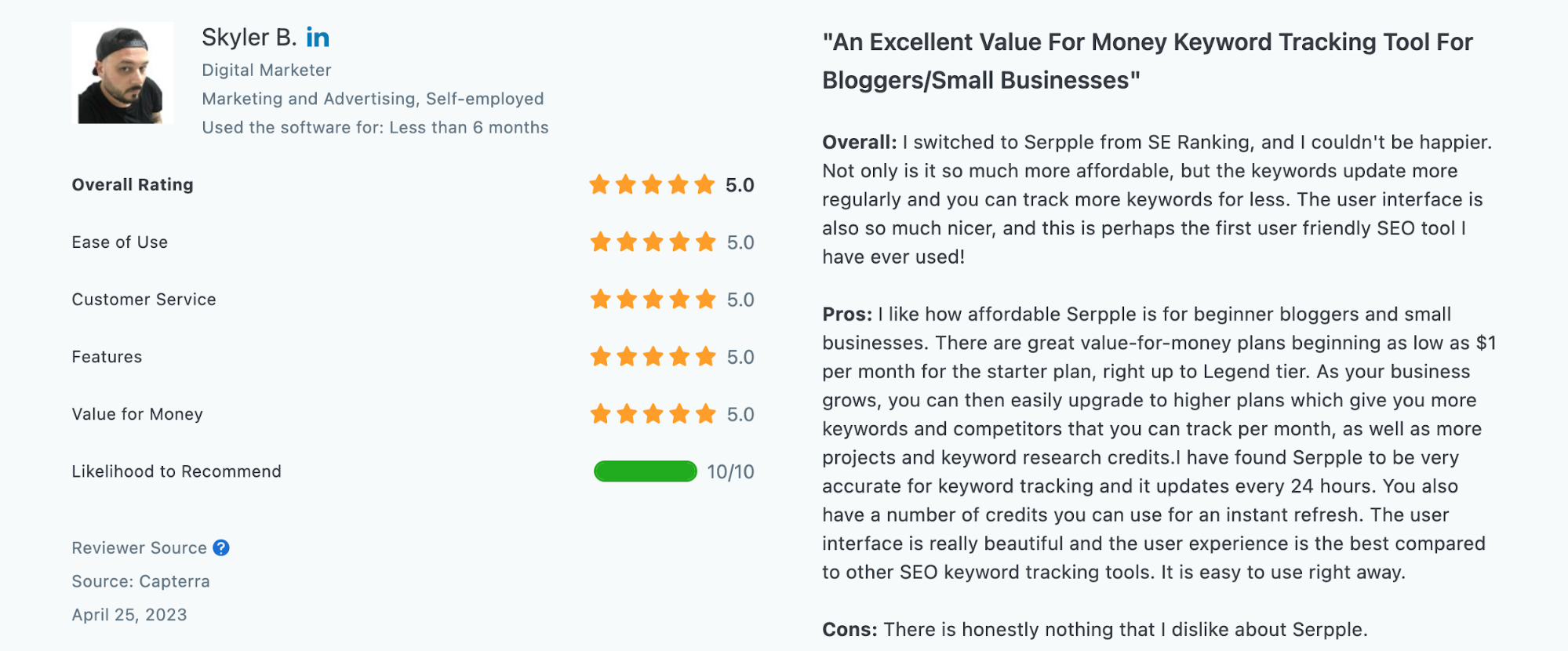 Zutrix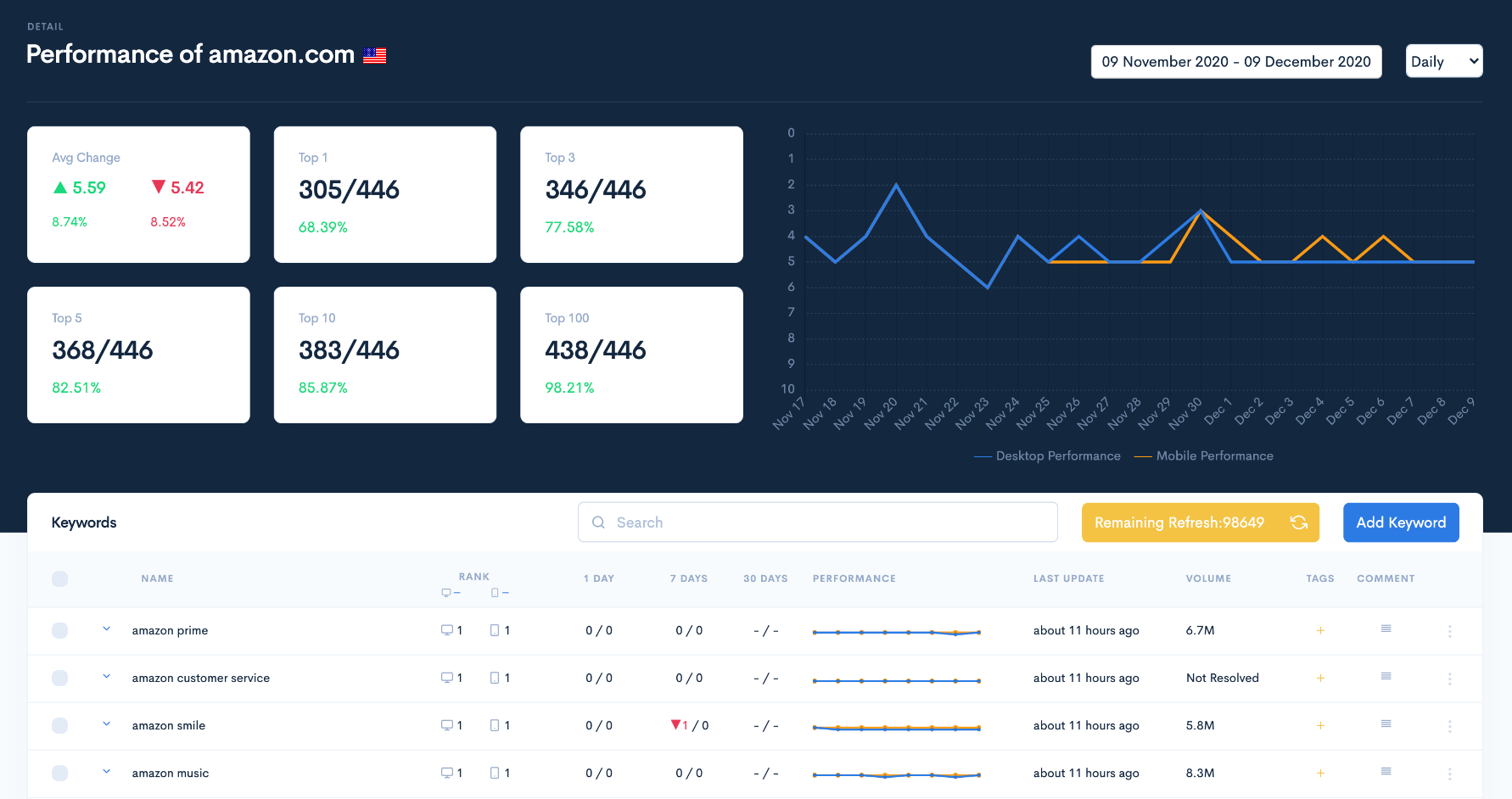 Source: G2.com
Zutrix is an AI-powered tool that can help you track your keyword rankings in real time, by getting notifications via Telegram or Slack.
Features
Rank tracker
Geo-targeted results
SERP checker
Backlink monitoring and link-building strategies
Comprehensive dashboard for all rankings
Pros
Free features: Features such as SERP checker and keyword planner are available for free
Accurate local results: You can track and compare local keyword ranking, down to small towns
Multi-channel notifications: Zutrix sends you real-time notifications via Slack or Telegram
Cons
Limited reporting: Only basic reports are available, no multi-format
No data backup: The tool doesn't backup data and some users complained that they lost all their historical data due to some technical issues
Slow customer support: Fixing minor issues can take days due to unresponsive customer support
Pricing
Starter: $9 per month (250 daily tracked keywords)
Pro: $28 per month (1,000 daily tracked keywords)
Agency: $54 per month (2,500 daily tracked keywords)
UI/UX
The design is user-friendly and easy to navigate. A central dashboard lets you see all projects and keywords tracked, and everything is sorted logically.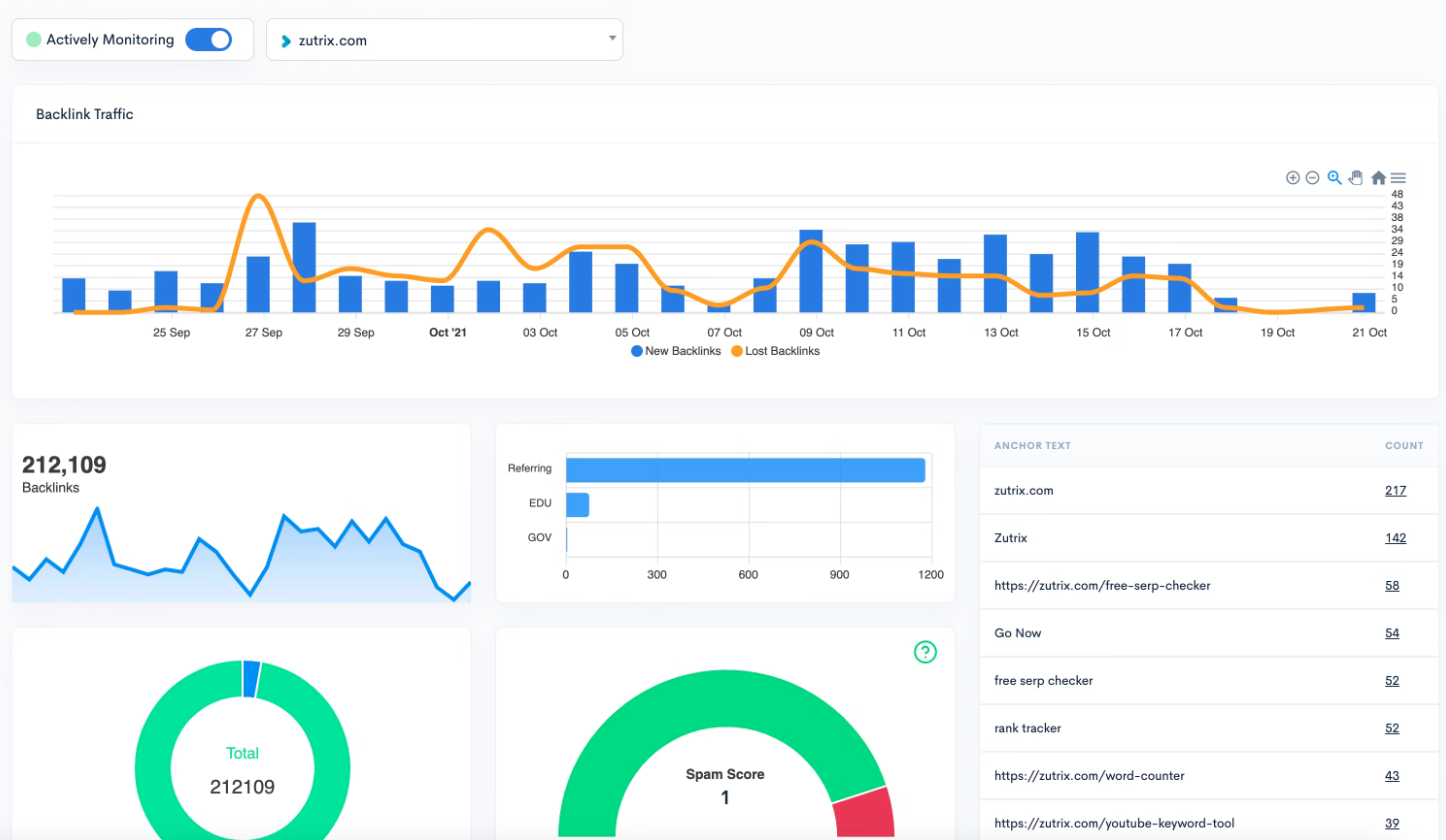 Source: Capterra.com
User Ratings
While users are satisfied with the interface, ease of use and most features, the only downside they mentioned was slow customer support.
G2: 4.3
Trustpilot: 4.3


Ahrefs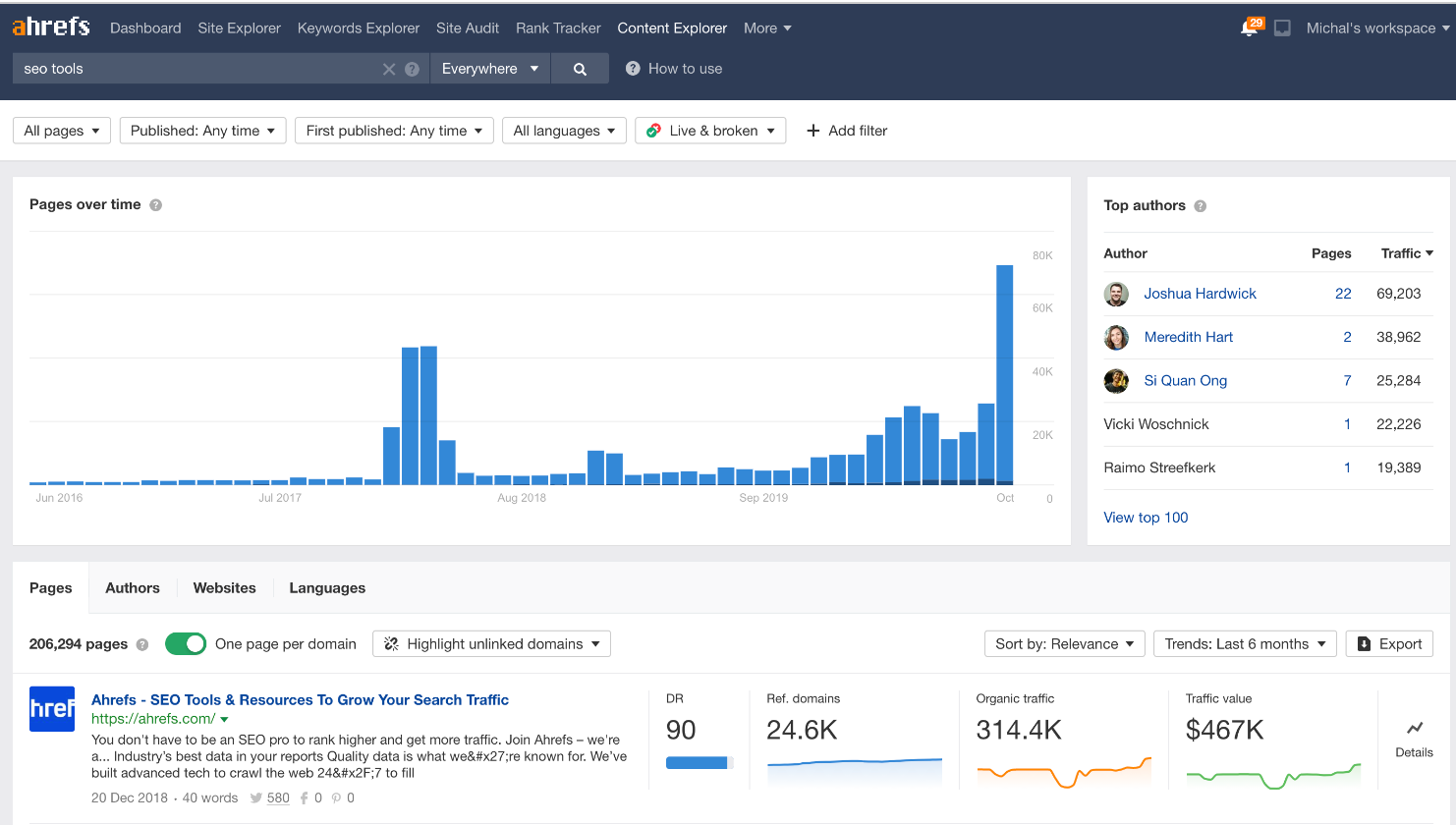 Source: G2.com
Ahrefs is an all-in-one platform for SEO, very popular among seasoned SEO professionals with a lot of experience as it provides a detailed overview of all factors to rank higher on Google. Even though it is comprehensive, I think new users could find it a bit overwhelming and difficult to navigate.
I find myself only using just a small percentage of all the tools they have available.
Features
Detailed SERP checker
Filters and tags to sort keywords
Integration with Google Search Console
Tracking historical SEO performance
Pros
Interactive graphs: A good way to visualize your rankings
Comprehensive SERP feature: Check your website's rankings in over 15 SERP features
Detailed competitor analysis: You get to compare your rankings, traffic and SERP features to direct and indirect competitors
Cons
High price: It's over-priced especially knowing that some features are available only in the most expensive plans
Hidden costs: For daily rankings you need to get and add-on for an additional $100 – $250/month
Tracking limits: Limits on tracking the unverified domains
Pricing
Lite: $99 per month (up to 750 tracked keywords)
Standard: $199 per month (up to 2,000 tracked keywords)
Advanced: $399 per month (up to 5,000 tracked keywords)
Enterprise: $999 per month (up to 10,000 tracked keywords)
Bear in mind that choosing a more expensive tool won't magically improve your ranking on Google. In these articles, I've talked about common SEO mistakes and misconceptions as well as things to avoid in your Google SEO campaigns.
UI/UX
Ahref's interface is not really beginner-friendly, and you might find it a bit overwhelming and difficult to find what you're looking for. 
User ratings
When it comes to Ahrefs, opinions are mixed. While some SEO professionals swear by it, others find it overwhelming and confusing.
G2: 4.5
Capterra: 4.8

Rank Tracker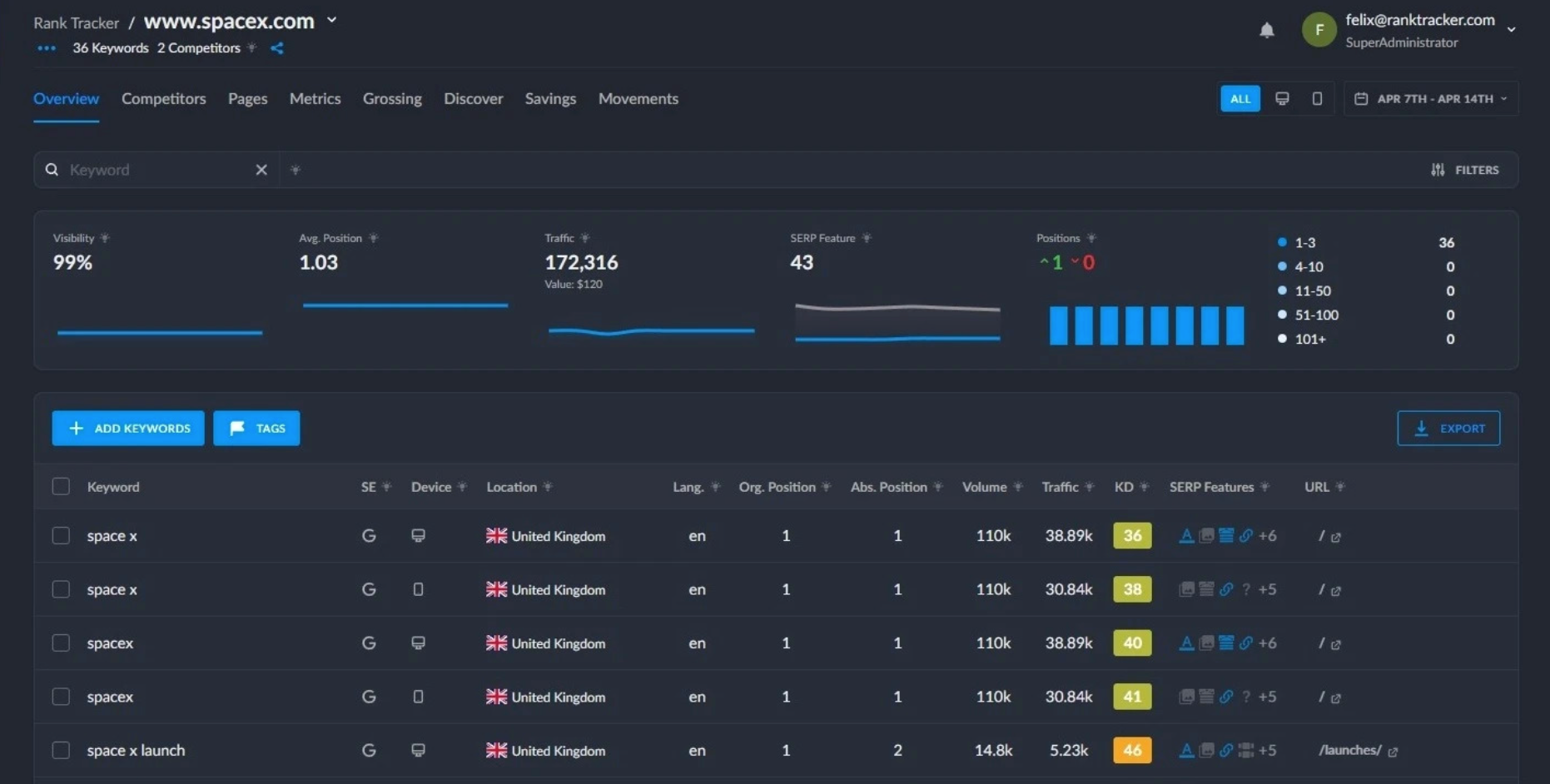 Source: G2.com
If you're looking for reliable rank-tracking tools with affordable prices, Rank Tracker might be something to consider. However, everything comes with a price, and its interface is a bit outdated and slow.
Features
Rank tracking
SERP checker
Accurate local searches
White label reports
SEO/PPC savings diagram
Pros
The SEO/PPC diagram: This feature shows you how much your organic traffic would cost if you were using PPC campaigns – useful for agencies that need to measure their results
Local SEO pack: Local businesses can track rankings on Google My Business
Daily email notifications: You'll get notified about any changes in your search engine rankings
Cons
Slow interface: Some features take too long to load, like SEO/PPC diagram
Unintuitive design: The interface could be more user-friendly, so you may want to check Rank Tracker alternatives
Limited integration options
Pricing 
Starter: $24 per month (200 daily tracked keywords)
Double data: $59 per month (1,000 daily tracked keywords)
Quad data: $109 per month (2,000 daily tracked keywords)
Hex data: $209 per month (4,000 daily tracked keywords)
UI/UX
Rank Tracker's UI is a bit outdated and if you're used to working with other SEO tools you might find it hard to navigate.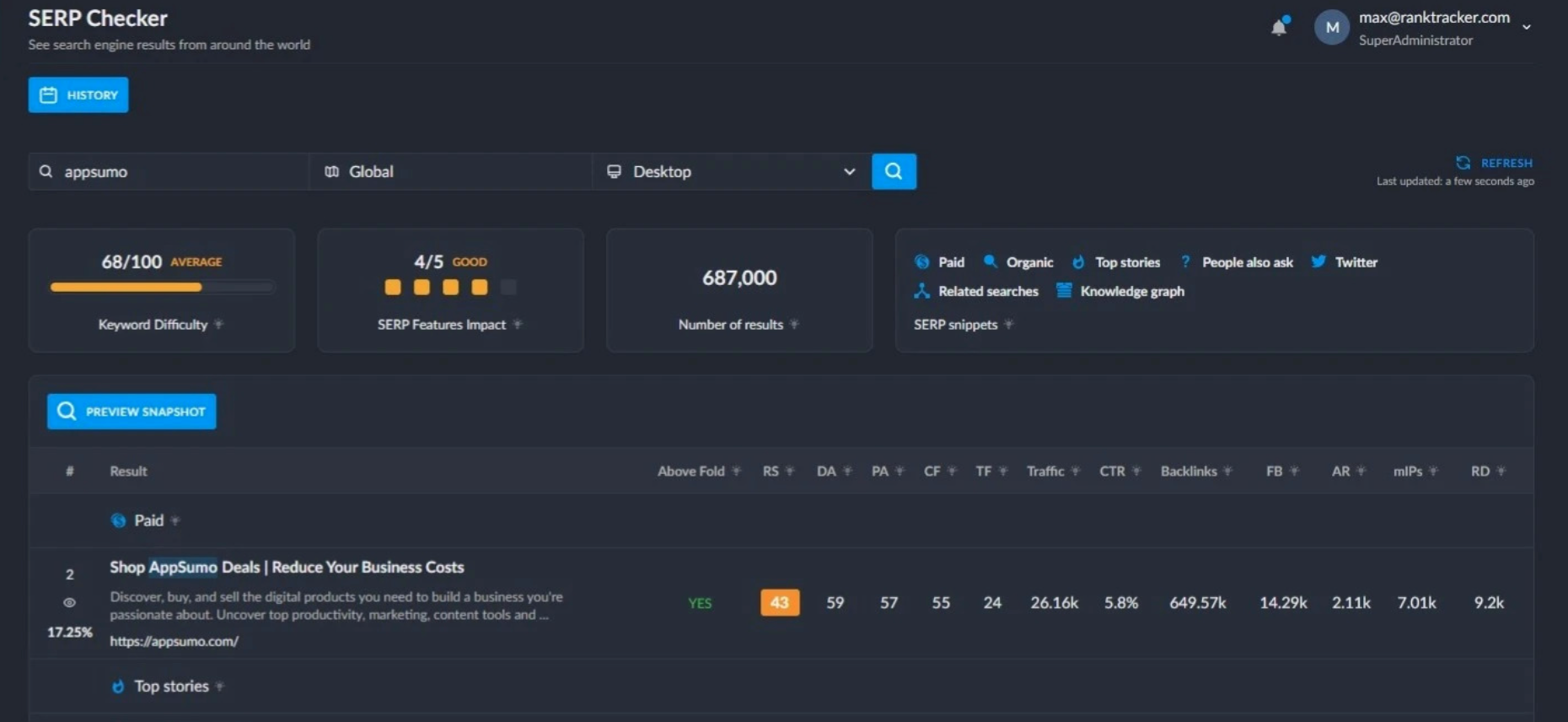 Source: G2.com
User ratings
Users are generally satisfied with Rank Tracker's accuracy but some features are very slow, negatively affecting their productivity.
G2: 3.2
Capterra: 4

SE Ranking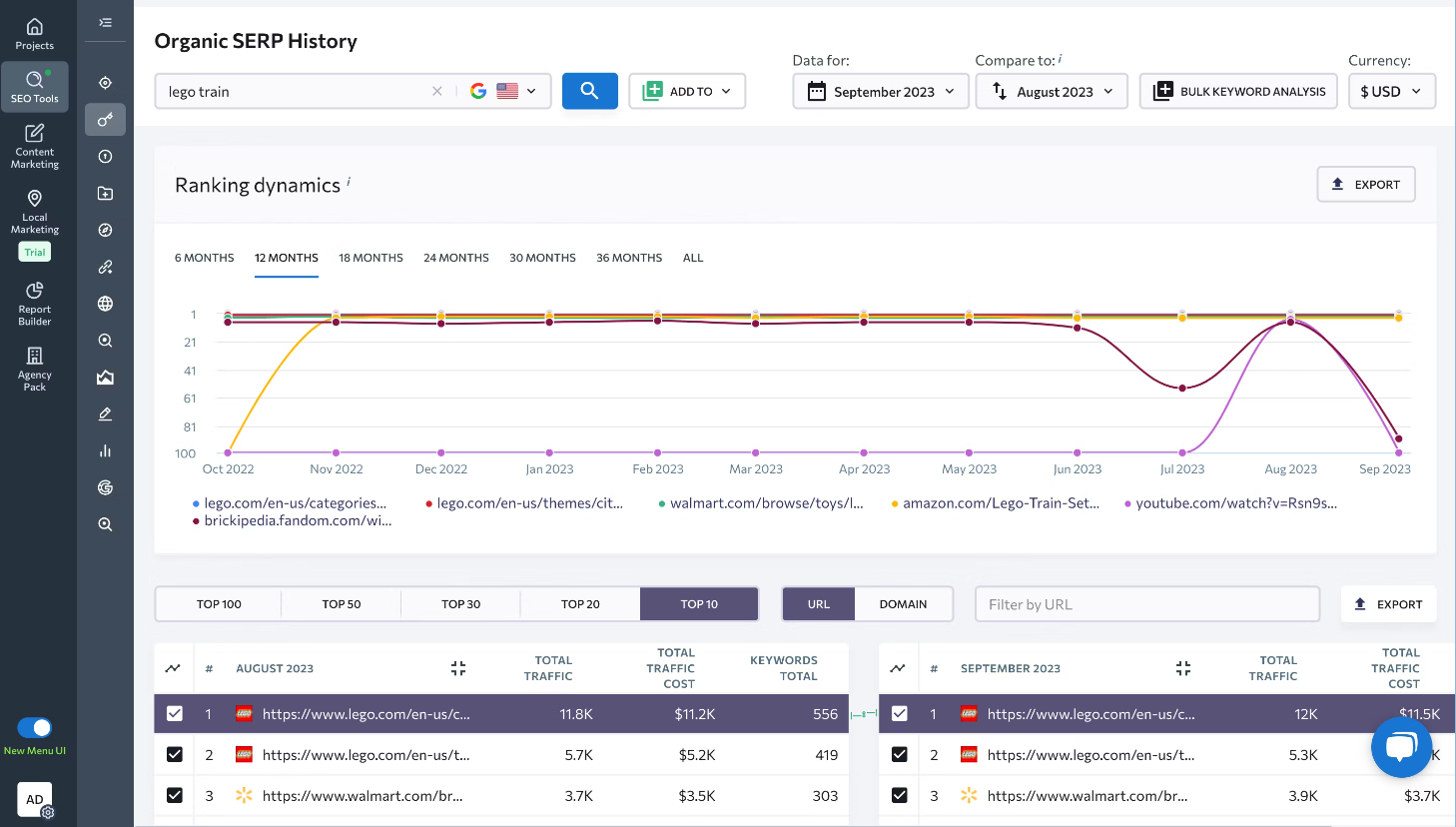 Source: Capterra.com
SE Ranking is a flexible and scalable SEO tool that has different plans for marketing agencies, small businesses and enterprises. It brings together keyword tracking and content strategy, due to some helpful content marketing features like content optimization and quality checker.
Features
AI-powered insights
Ranking predictions
Keyword segmentation
Competitor analysis
Integration with Google Analytics
Pros
Multi-engine: Rank tracking is available for all major search engines, including YouTube
Future ranking predictions: AI algorithm provides pretty accurate estimations for future rankings and organic traffic
Keyword organization: It's great for tracking bulky projects with a lot of keywords, thanks to keyword grouping and tagging
Cons
Limited keyword database: Compared to other tools, SE Ranking provides less keywords, especially for some particular industries and long-term keywords (you may want to check out other tools for long-tail keyword research)
Limited SEO features: SE Ranking has fewer advanced features than major SEO tools like Ahrefs and Semrush
Hidden costs: Pricing is not completely transparent, you need to pay additionally to unlock some features
Pricing
Essential: $44/month (750 daily tracked keywords)
Pro: starting at $87.20/month for up to 2,000 daily tracked keywords
Business: starting at $191.20/month for up to 5,000 daily tracked keywords
*Custom plans available for an additional fee.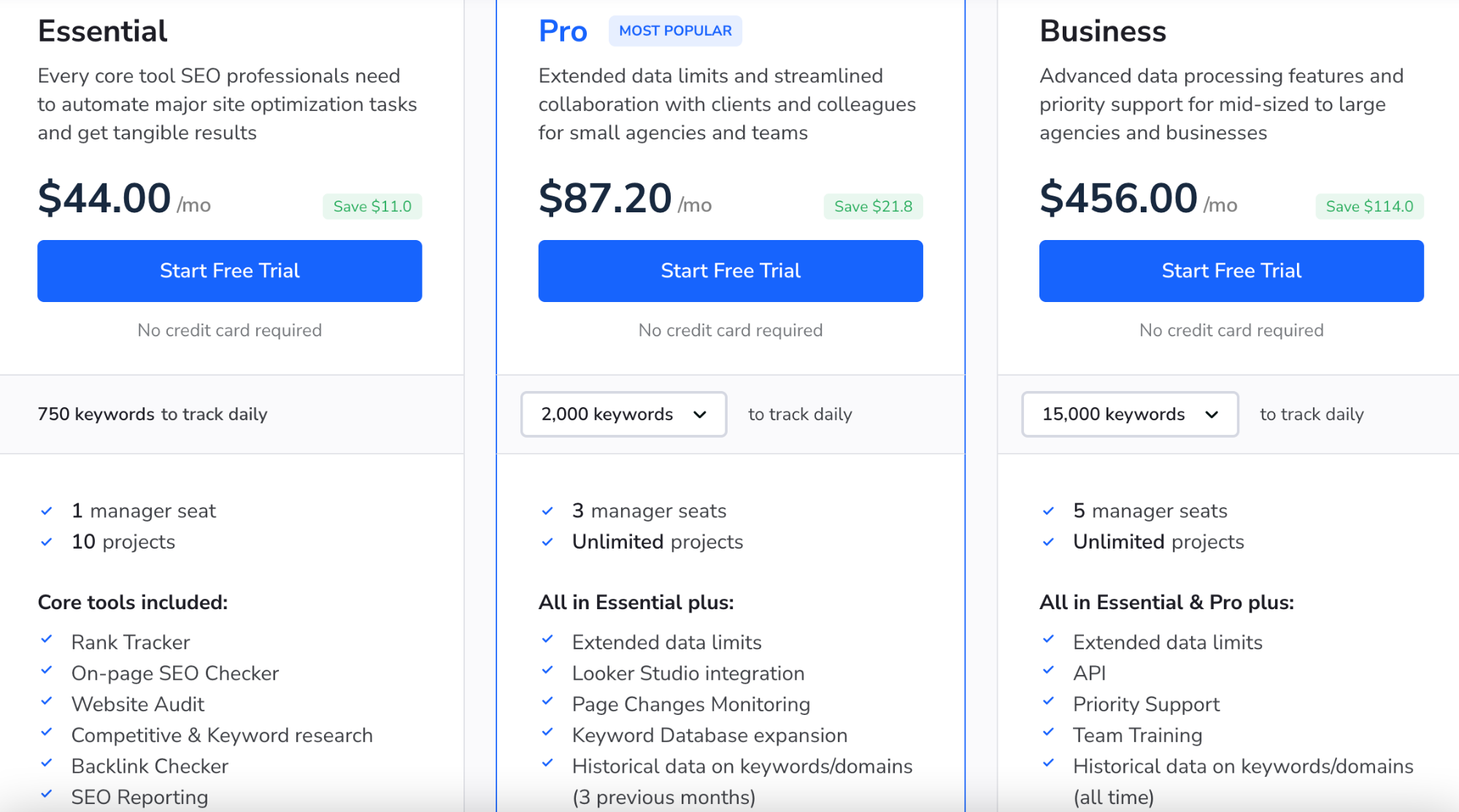 UI/UX
SE Ranking has a user-friendly and modern interface, but there isn't a comprehensive dashboard where you can visualize all keywords ranking at once.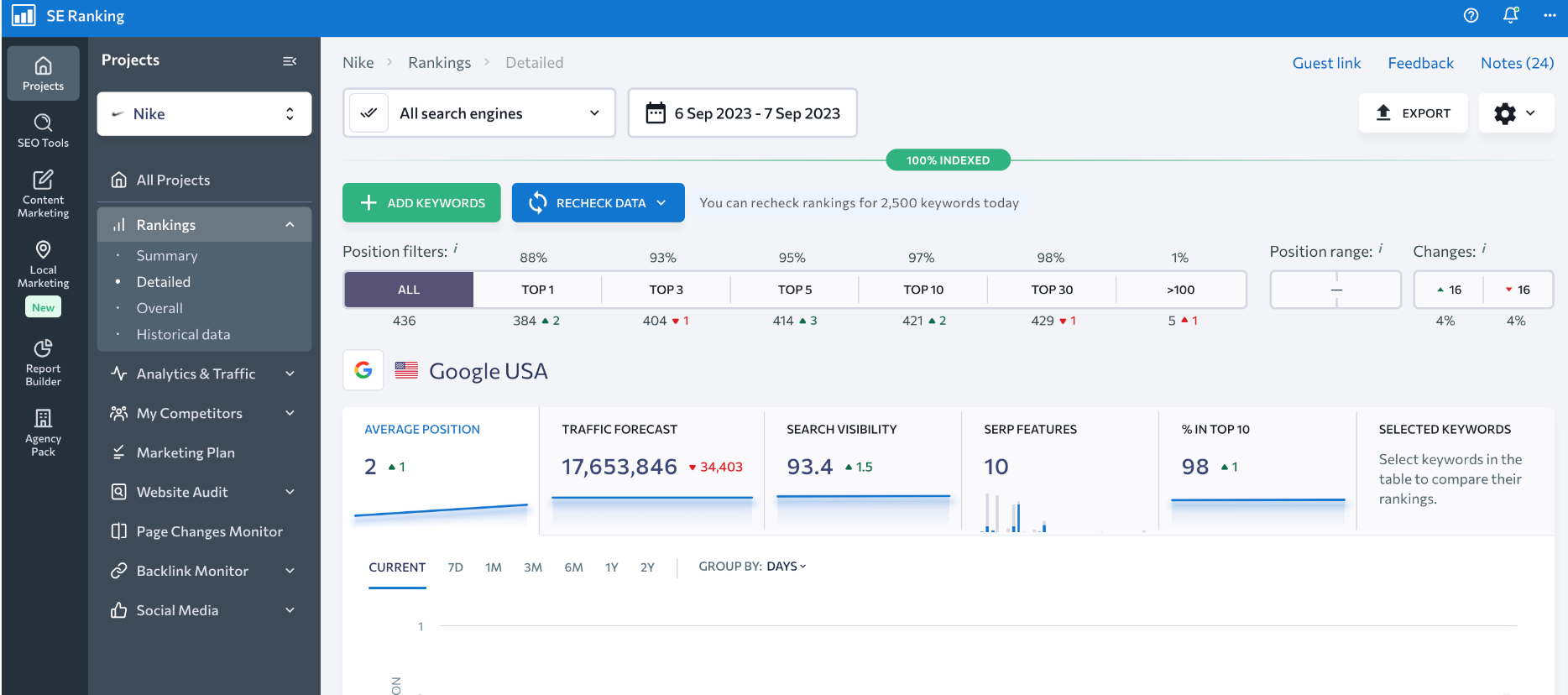 Source: G2.com
User ratings
SE Ranking got many positive comments, especially from digital marketing professionals. However, some users complained that they weren't aware they would need to pay additional fee for some features.
G2: 4.8
Capterra: 4.8

Semrush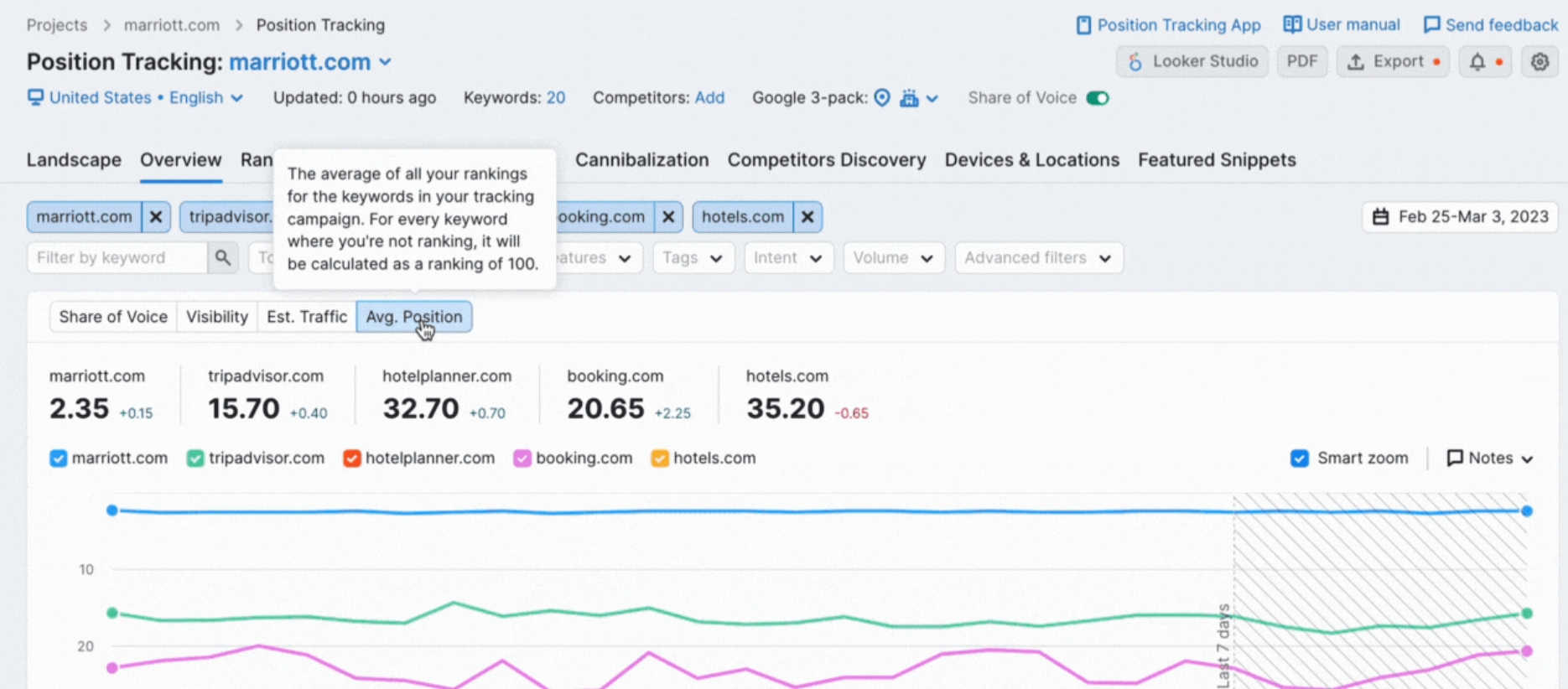 Source: G2.com
Semrush is a professional SEO tool with many advanced features, primarily used by enterprises and agencies with big teams of SEO experts. It's great for competitor research and discovering gaps in their performance to help you improve your Google rankings.
Features
Rank tracking
Keyword research
On-page SEO
Competitor research
Link building
Pros
Supreme accuracy: Semrush provides very accurate SEO data, for different languages and locations worldwide
Customizable reports: You to add annotations and additional images to enrich your reports
Baidu rank tracking: Semrush is one of the rare tools that can be used for rank tracking on the most popular Chinese search engine
Cons
Steep learning curve: Not suitable for beginners due to the number of features it has ( even more than Ahrefs)
High price: Many small businesses can't afford it. Also, you have to pay extra to unlock some features
Lack of historical data: Historical data is available only in the most expensive plans, which may not be accessible to everyone
Pricing
Pro: $129.95 per month (500 daily tracked keywords)
Guru: $249.95 (1,500 daily tracked keywords)
Business: $499.95 per month (5,000 daily tracked keywords)
UI/UX
The design is modern and intuitive but it may be a bit overwhelming for new users, due to the number of features and options available.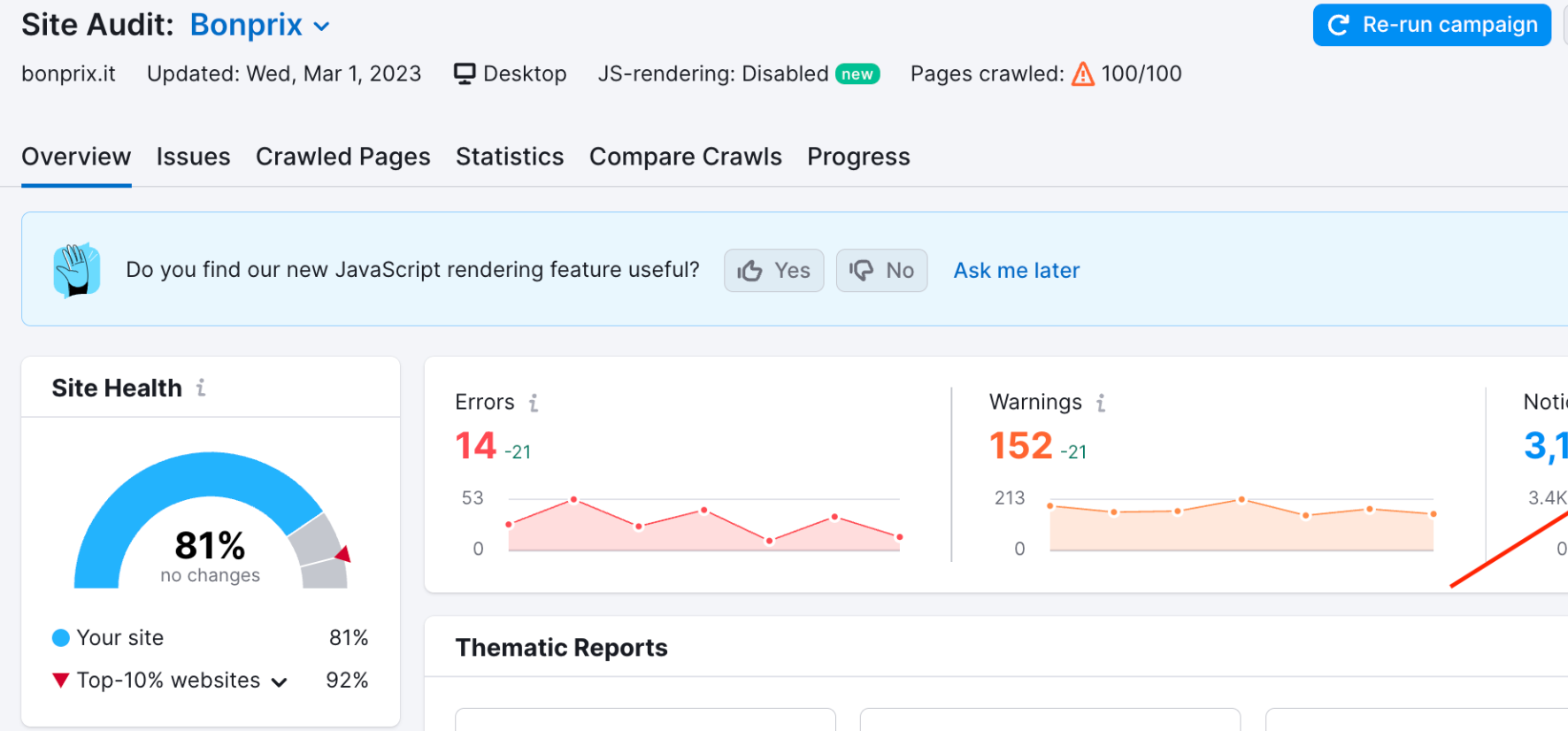 Source: G2.com
User ratings
While Semrush has a huge base of loyal customers who claim it's the best SEO tool, new users complain about its steep learning curve and high-ticket pricing.
G2: 4.5
Capterra: 4.7

Comparison table
Conclusion
There are many AccuRanker alternatives and it can be time-consuming to test them all. I hope this article provided you with insights to help you choose the best rank tracker according to your needs.
If you're looking for a user-friendly tool with the same and even better features than AccuRanker for just a fraction of the price, Serpple might be the right option.
Try out for free and see how we can help you improve search engine rankings.