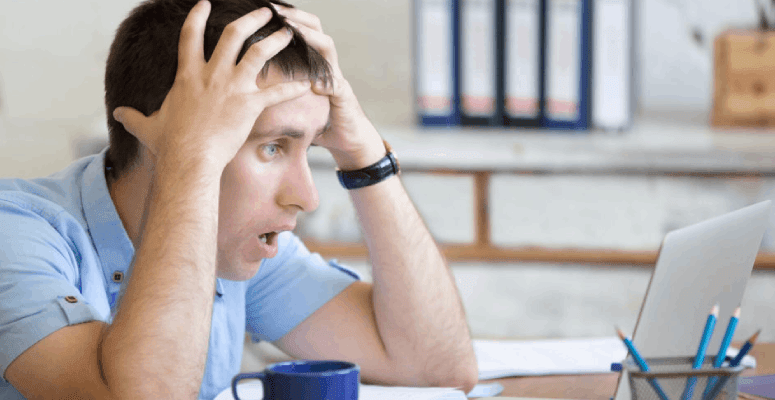 Have you ever made a common SEO mistake?
Possibly Yes!
Every one of us is capable of making mistakes. And, it could be more common if you are in the ever-expanding world of digital marketing.
To err is prevalent in SEO as it evolves with changing marketing conditions, Google updates rollout, user behaviour changes, etc.
So, trial and error is always a part and parcel of the SEO journey and meanwhile, this is not as easy as it sounds.
Well, let us observe these strange statistics reported by Ahrefs,
Top-ranking pages on Google could generate the most search traffic only 49% of the time.
Only 5.7% of pages can rank in the top 10 of SERP within a year of publication.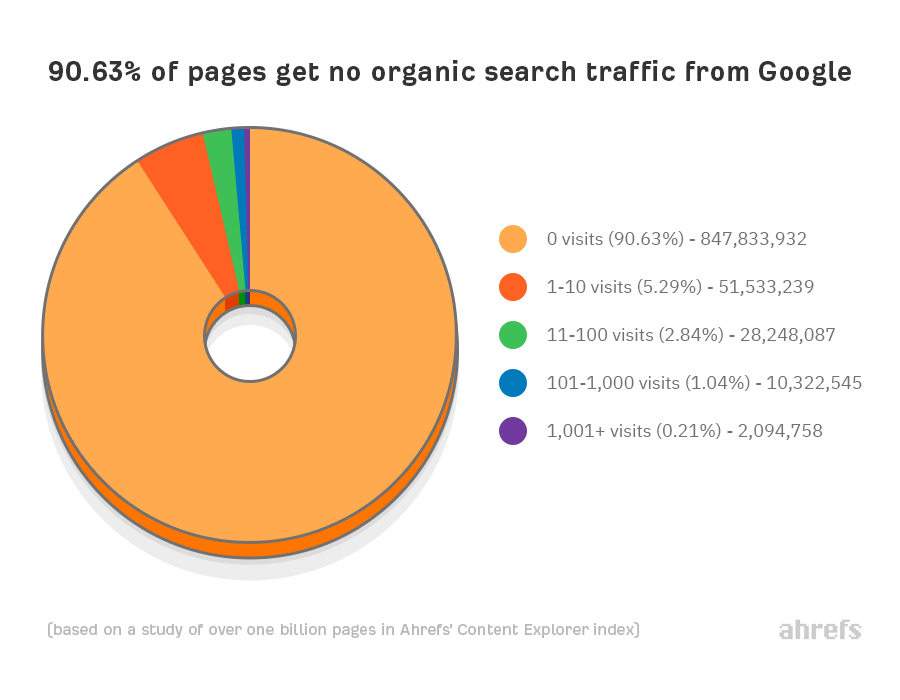 Thus, you've to improve your website's visibility on Google's SERP and drive more organic growth.
This becomes possible only with a better SEO strategy.
On the contrary, what you believed to be the perfect SEO strategy may miserably fail at times.
Yet, this doesn't mean you are a failure at SEO. Hope you are familiar with Edison's anecdote.
Thomas Alva Edison kept on experimenting with a thousand different materials in search of that one exact filament to turn a light bulb on.
Unfortunately, nothing worked as expected. His assistant lost hope and desperately asked Edison, "why should we keep trying when we haven't found out anything so far?"
On hearing this Edison replied "Look at it this way, we have found out what are the thousand elements that cannot be used to make a good light bulb."
Edison has exactly nailed the point! The same goes with SEO where you don't fail but find out what doesn't work instead.
Therefore, knowing what are the common SEO mistakes to avoid would give you a broader perspective.
And, here are the 6 common SEO pitfalls with tips on how to avoid them.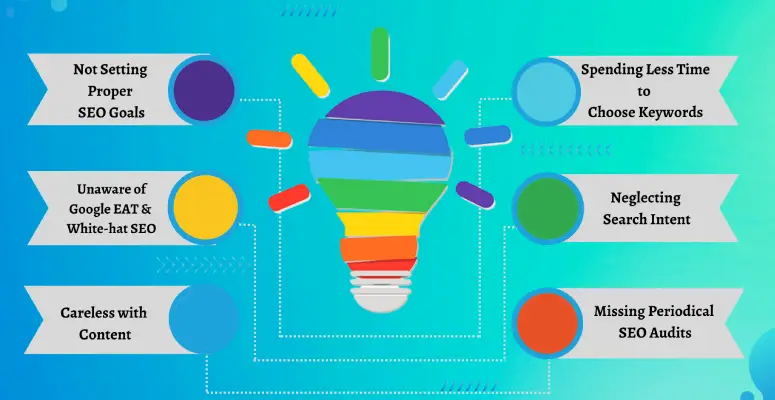 1. Not Setting proper SEO Goals (Common SEO Mistake of Beginners)
You need to have clear goals to succeed with SEO, It may sound as plain as a nose on a face.
Whereas, many SEO campaigns are planned without having any goals.
How can you start doing SEO without a goal and expect it to increase your site's traffic?
The solution is quite simple.
For your SEO efforts to pay off, you need to have a clear picture of what you need to acquire.
It may be high traffic, better organic leads, or further sales. It's only when you know where you need to go, you can decide which road should be taken.
For example,
let's say your site gets a good monthly organic view yet, less than 1% of them turn out into leads and generate conversion.
In such cases, there could be two possible reasons:
You're not focusing on and driving the right kind of traffic to your website.
Your website doesn't engage your visitors and fails to convert them into customers.
If you lack clear goals then it's impossible to niche down without losing out.
Therefore, not setting proper SEO goals tops the list of the most common SEO mistakes.
2. Spending less time to choose Keywords (SEO mistake that delays Organic Progress)
The next on the list of very common SEO mistakes is choosing and using the wrong keywords within your site's content.
You can't be a stranger to the fact that search engine ranking depends on the keywords spread equally through the content in the right numbers.
In many cases, the content and the selected keywords don't go hand in hand.
This is the reason why the content doesn't see any ranking progress in terms of search engines.
So, to overcome this shortcoming, identify the exact keyword by following the keyword research best practices.
Then, check if those chosen keyword phrases are distributed evenly throughout the content.
And, to rank higher it is generally advisable to use keywords in the title, and in the fist paragraph of your content.
This way of using keywords will signal the search engine bots to rank your content higher.
You can easily check if you are ranking high with these 3 steps.
Meanwhile, make sure not to stuff your content with keywords either, keyword stuffing is certainly awful for your content's SEO.

3. Unaware of White hat SEO and EAT (The Biggest SEO Mistake)
Search Engine Optimization is not all about ranking higher on Google's SERP. It's about building a reputable brand.
Yes! The big G is always partial and only favours sites that are real, trusted, and outstanding.
This is Google's E-A-T (expertise, authority, and trust) theory.
And, Google defines the EAT of every website by using a combination of various data points and algorithms.
So how to be on the good pages of Google?
Confirm your expertise, authority, and trustworthiness.
Make sure your SEO strategy is not to increase your ranking but to increase your brand's visibility.
Many try to manipulate the search engine algorithm with the black hat SEO tricks to gain quick results.
On the contrary, you will be completely wiped-out from being listed in the search engine.
So, of all common SEO mistakes following unethical practices just to rank on top of Google's SERP is never encouraged but heavily penalized by Google.
4. Careless with Content (Most Common On-page SEO Mistake)
Doing SEO for text-based content can be a bit difficult and tricky at times.
This is because all your competitors will be doing the same for every site and blog.
So, to stand out in your niche it's good to focus on creating innovative content.
Asides from this, there are other content formats (think videos, info-graphics, podcasts, webinars, and images) that you need to concentrate on too.
Thus, this is not just about changing your meta description but optimizing the entire content is inevitable.
Along with title tags, you need to work on your meta title, meta descriptions, internal links, external links, and images.
This helps you rank higher on Google and drive organic traffic to your website.
Such common SEO mistakes can be eliminated by analyzing what format of other content many people prefer these days.
For example,
Reels, gifs, and videos are doing a great job on social media feeds as well as on Google SERP.
Therefore, videos seem to be the most demanded content format. And, considering all of this you can try posting video content. 
This is because, videos take less time to rank on Google and YouTube than text-based content.
5. Neglecting Search Intent (SEO Mistake that Companies Make)
Google loves you when others look for you in the first place.
This means bots hunt only for sites that satisfy the search intent of any given query.  
So, search intent is a hidden ranking factor that influences SERP results. Search intent is the ultimate reason behind a user's search. 
Thus, to get it right you need to have a perfect understanding of what a user wants to get by searching that query on Google. 
For example,
If a user types "blog writing" into the Google search bar, that probably means the user wants to know how to write a blog. 
So the user has informational intent. Here the user is looking to learn something.
However, if the user was searching "content marketing services", that would probably mean that the user wants to hire a freelancer or company that offers content marketing services. 
Therefore, you need to realize the searcher's intention to avoid such common SEO mistakes.
And, if you fail to satisfy it you will face difficulties with ranking your site.
6. Missing Periodical SEO Audits (The Most Costly SEO Mistake)
Google has just  rolled out its core update and we are on the verge of getting switched over to the Google Analytics 4 update.
Thus, search engines will keep changing their algorithms regularly.
And, missing audits to review your website and not figuring out how those changes have impacted your site are not just common SEO mistakes but major SEO blunders.
SEO audits provide a clear insight into where your SEO strategy stands.
Knowing the worth of your SEO strategy can drastically increase your ranking. 
Although site audits can be time-consuming, it is invaluable at the same time.
To put it in a nutshell, a  site audit is the one solution to rectify all other mistakes. So, profound SEO audits
Help to rectify mistakes in your website's code, content, and pattern.
Observe your ranking progress for your potential keywords.
Update your content as per the rolled-out algorithm and core update changes.
As you can see, an SEO audit is vast and neglecting it can affect all the major areas of your website.
Wrapping Up
Well, now do you realize the need to look for the SEO mistakes you were making?
So, if you are making any of  these, then it is high time you rectify them. Start fixing them and start tracking your organic growth using reliable rank tracker tools. 
Luckily, now you know how to prevent them from turning into the biggest SEO mistakes that can't be rectified.
Moreover,  have you made any other common SEO mistakes apart from these 6 and resolved it?
And, do you  need more SEO tips and tricks that work or even an expert's guidance at times?
Then let us know about it in our Facebook community.

Mistakes are always a part of the learning process, let us all learn from them.