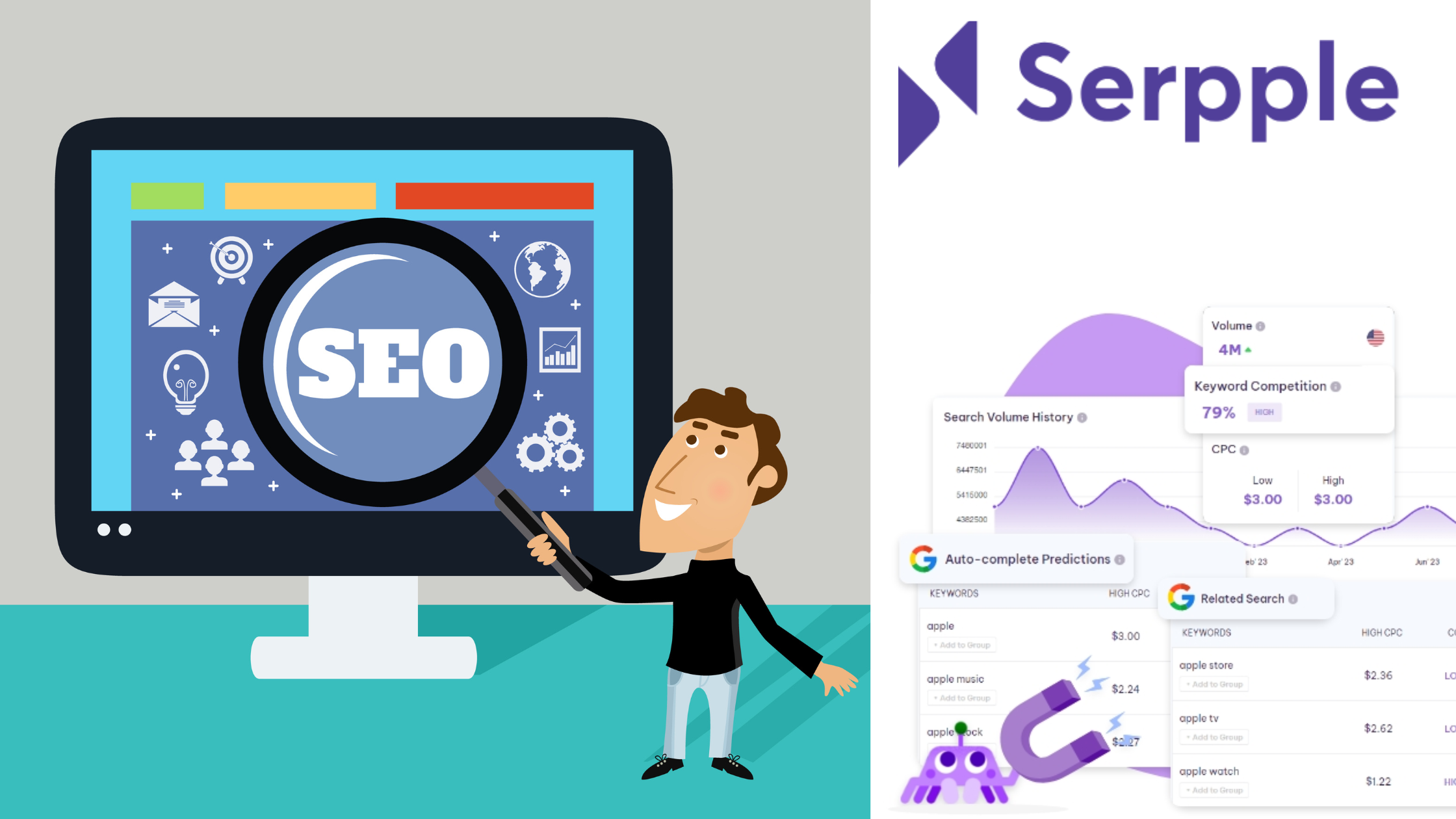 Did you know that 75% of internet users don't scroll past the first page of search results? In fact, I bet that you and I are both a part of this large portion of internet users who disregard anything beyond the first page. 
That is why, if you wish to get more eyes on your website, keeping tabs on where it ranks for important keywords is extremely important.
SE Ranking is a well-known keyword tracking software that many use to improve their search engine rankings. It's got some great features, but it definitely falls short in a few areas that I will be covering here. 
So, read on for the lowdown on SE Ranking's strengths and weaknesses. I've got several SE Ranking alternatives listed below that should fill those gaps.
Overview of SE Ranking
SE Ranking is a robust SEO toolkit tailored for the needs of small to medium-sized agencies and in-house teams. Its datasets are used to help SEO professionals in crafting and executing digital marketing strategies.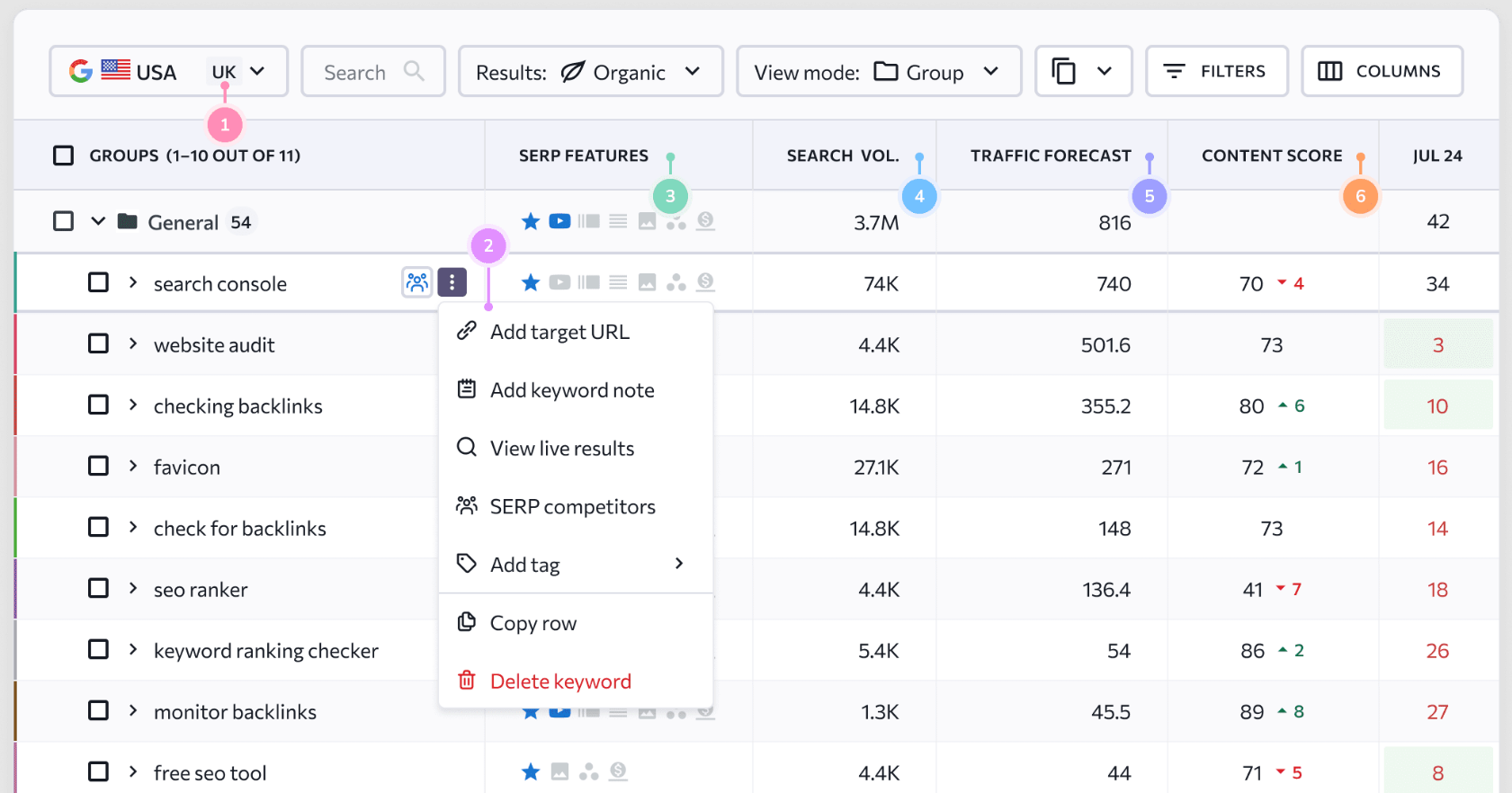 Features
Keyword rank tracker — used for pinpointing top-performing keywords for high traffic, proactively preventing ranking drops, and refining your SEO strategy by focusing on promising keywords and pages.
On-page SEO checker — provides a checklist of actions to enhance a page's rankings directly. It assesses page elements and metrics crucial for search engines to determine content relevance and user experience.
Website audit — evaluates a website's score and uncovers growth prospects.
Backlink checker — assesses the backlinks of any domain and helps you formulate a strategy based on the findings.
Local marketing tool — enhances your online presence for increased discoverability in local search.
Competitive analysis — examines competitor websites for valuable business insights for both your own and your clients' enterprises.
Pros & cons
SE Ranking has a detailed interface tailored for marketing professionals, offering 360-degree data for projects and incorporating efficient AI-powered tools. 
However, SE Ranking may pose challenges with its overwhelming dashboard, slow loading times, and average data accuracy.
Beginners may find it cluttered, and the platform's pricing is higher than similar tools. Additionally, the absence of options for specific user requests and occasionally ambiguous customer support solutions are notable drawbacks.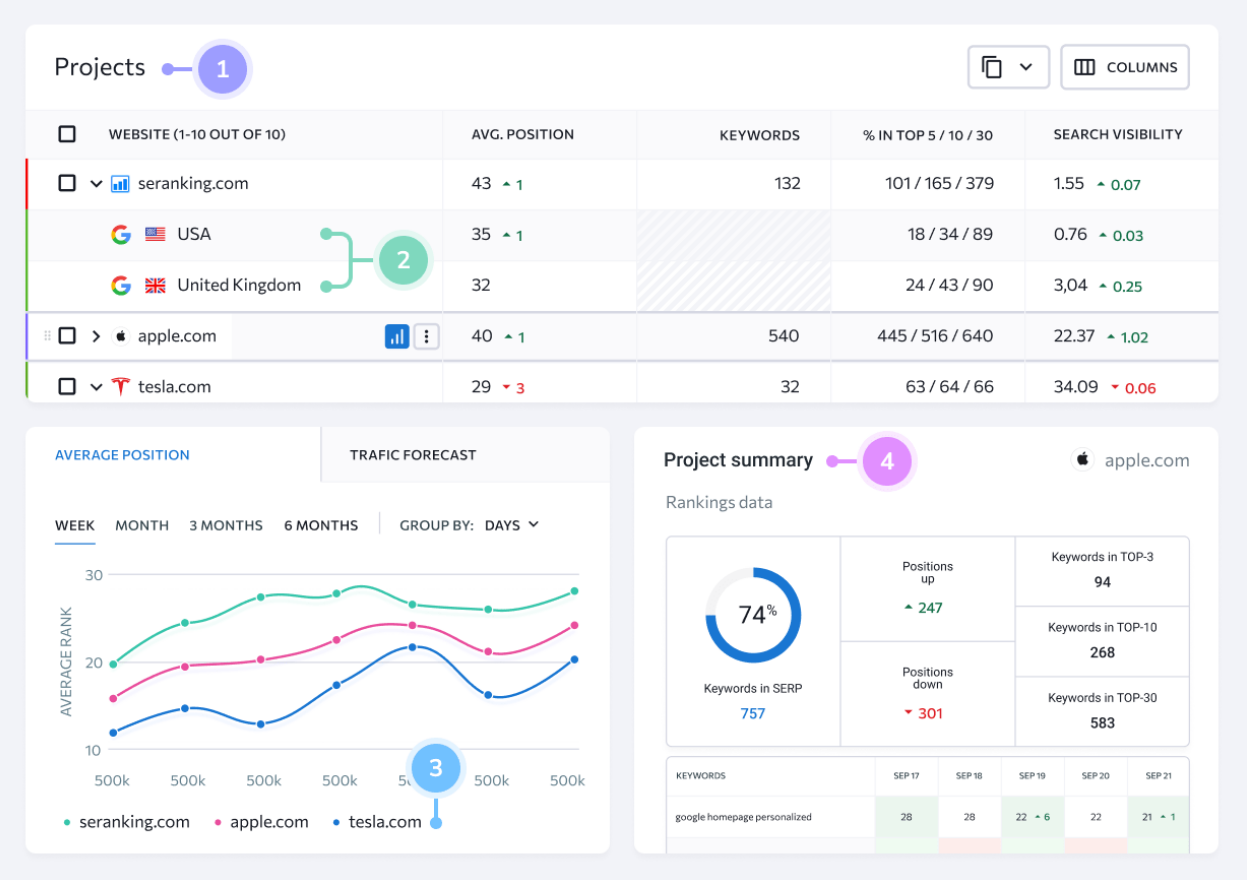 Why look for an alternative to SE Ranking?
While I would say that SE Ranking does a good job when it comes to keyword research, its users (myself included) have noticed that it sometimes fails to generate enough relevant keywords for specific niches or industries. 
Integration with web analysis tools also gets identified as a potential weakness — and I, for one, would like to see more integration options with CRM platforms.
Plus, some users have noted SE Ranking's lack of customization options, even in the most comprehensive plans.
Finally, while some SEO professionals may thrive on so many features to choose from, the abundance of features can be overwhelming for some users, especially beginners.
As this platform markets itself as a tool for SMBs, the user interface and overall UX could be simpler.
The best SE Ranking alternative
Now that we've covered the advantages and disadvantages of SE Ranking, let's go over some brilliant alternatives!
Serpple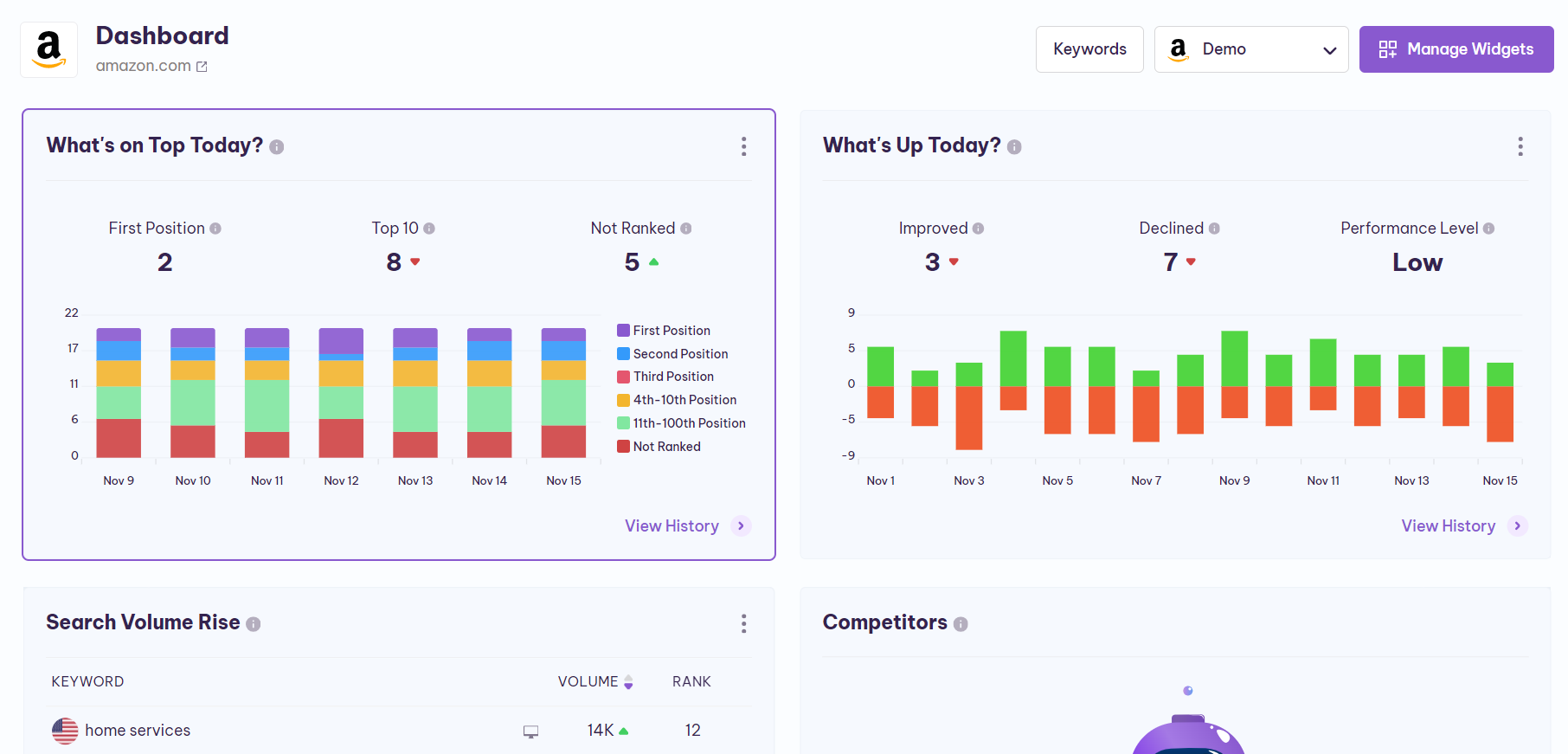 I know what you're thinking — okay, I'm reading this on Serpple's website, so of course they're going to name it the best alternative out there — but let me make my case for why I genuinely endorse Serpple as the top alternative! 
Whether you're looking for a budget-friendly solution, advanced analytics, enhanced keyword research, or specific SEO capabilities, Serpple is designed to fill those gaps and present you with the best possible bang for your buck.
The best thing about it? It's incredibly easy to use. The tool's intuitive dashboard helps you track your search engine ranking in just a few steps. Once you've added your domain and the keywords you wish to track for it, the tool will take over from there. 
Features
Keyword grouping — this feature organizes keyword rankings by each page, facilitating easy tracking of individual page performance and providing improvement recommendations.
Competitive analysis — offers competitor tracking and competitive keyword analysis so that you can monitor organic changes and stay ahead of the competition.
SEO content audit tool — scans each page individually, offering SEO insights to enhance content optimization and improve visibility, engagement, and conversions.
Keyword research — goes beyond tracking by presenting overlooked keywords' traffic periodically, allowing users to discover high-impact keywords and keyword ideas.
Daily Google ranking updates — provides daily Google ranking updates with an impressive accuracy rate of 99.9%, ensuring users have up-to-date data for informed decisions.
White-label ranking reports — enables SEO agencies and consultants to white-label ranking reports, providing professional, branded reports to clients.
Dynamic graphs — allows users to visualize SEO efforts through dynamic graphs, aiding in understanding trends and changes in rankings.
Email triggers — enables users to set email triggers for receiving alerts when specific changes or improvements are needed, ensuring they stay on top of their SEO strategy.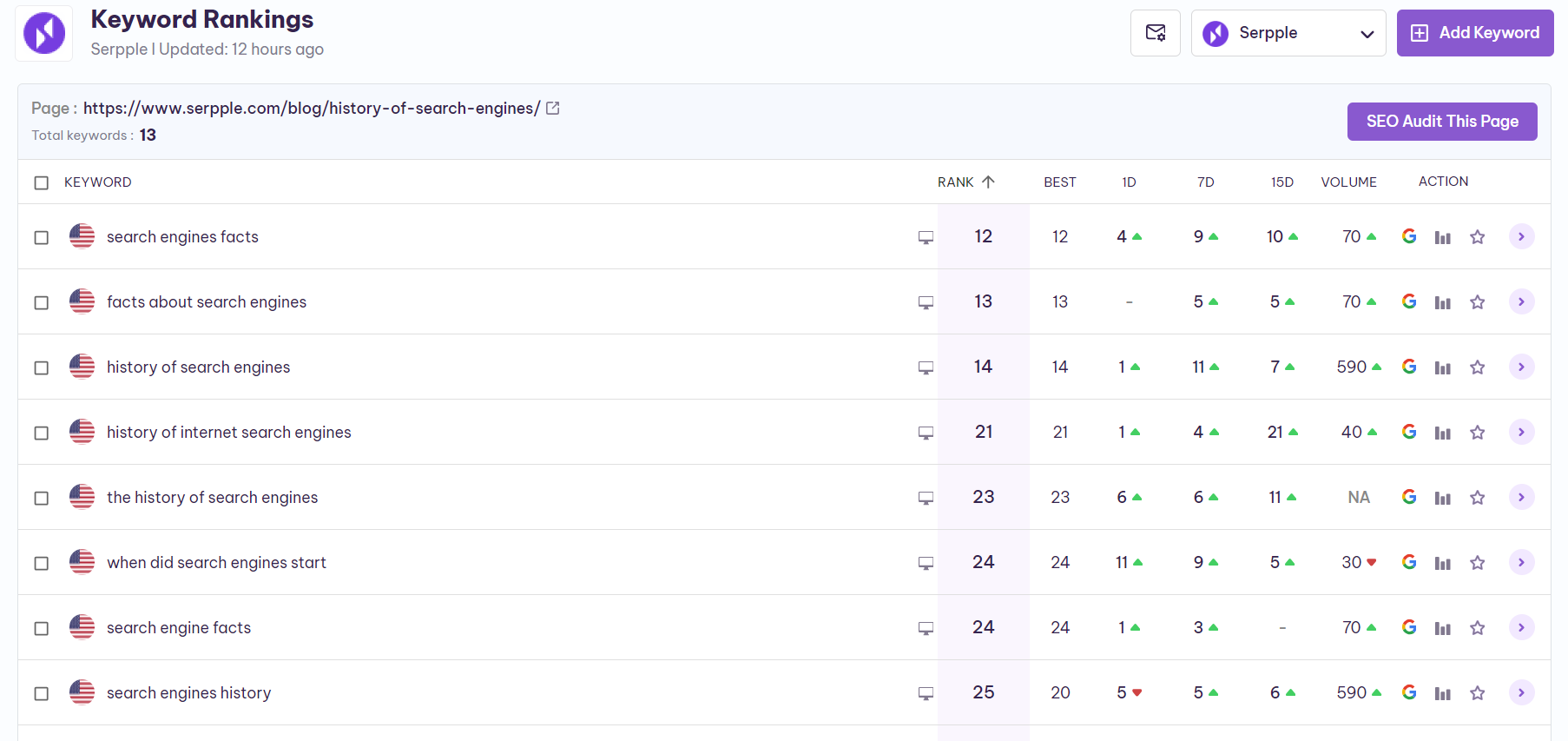 Pros
Trend prediction — Serpple is able to forecast upcoming keyword trends, empowering you to optimize your content for emerging topics and outpace your competitors.
Data precision — the tool boasts unparalleled data accuracy, ensuring that the keywords insights guiding your SEO strategy are of the highest quality.
Real-time tracking — Serpple keeps pace with the ever-evolving search landscape through real-time tracking, providing real-time data on your keyword rankings.
Keyword grouping — you can break away from traditional lists by grouping your keyword rankings according to each website page.
User-friendly interface — unlike SE Ranking, Serpple's dashboard is intuitive and aesthetic, catering to both SEO professionals and beginners.
Budget-friendly — Serpple makes excellence affordable with a modest starting price of just $19/ month. 

Cons
Serpple currently only works with Google Search
There is no free plan available — however, there is a 14-day free trial, and paid plans are at a much lower price point than those of SE Ranking
Pricing
Side Hustler — $19/month
Entrepreneur — $29/month
Agency — $99/month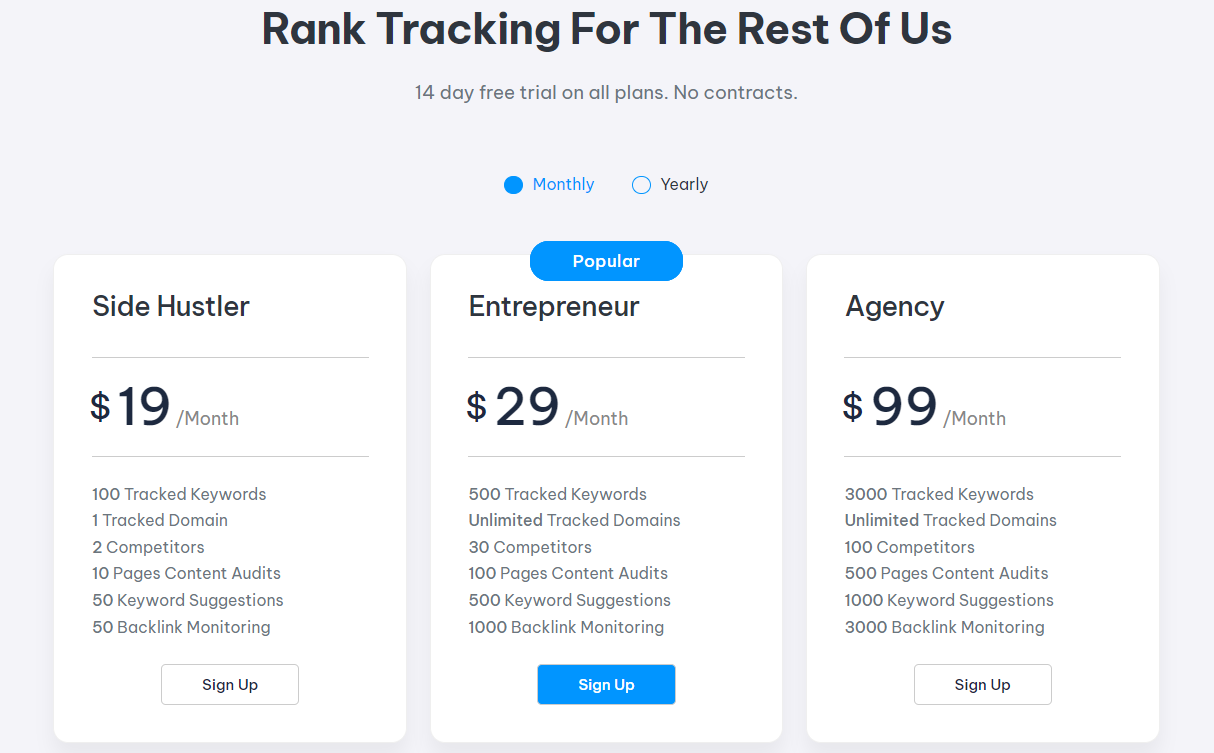 User Ratings
Serpple has an average user rating of 4.5 out of 5 stars on G2, and 5 out of 5 stars on Product Hunt.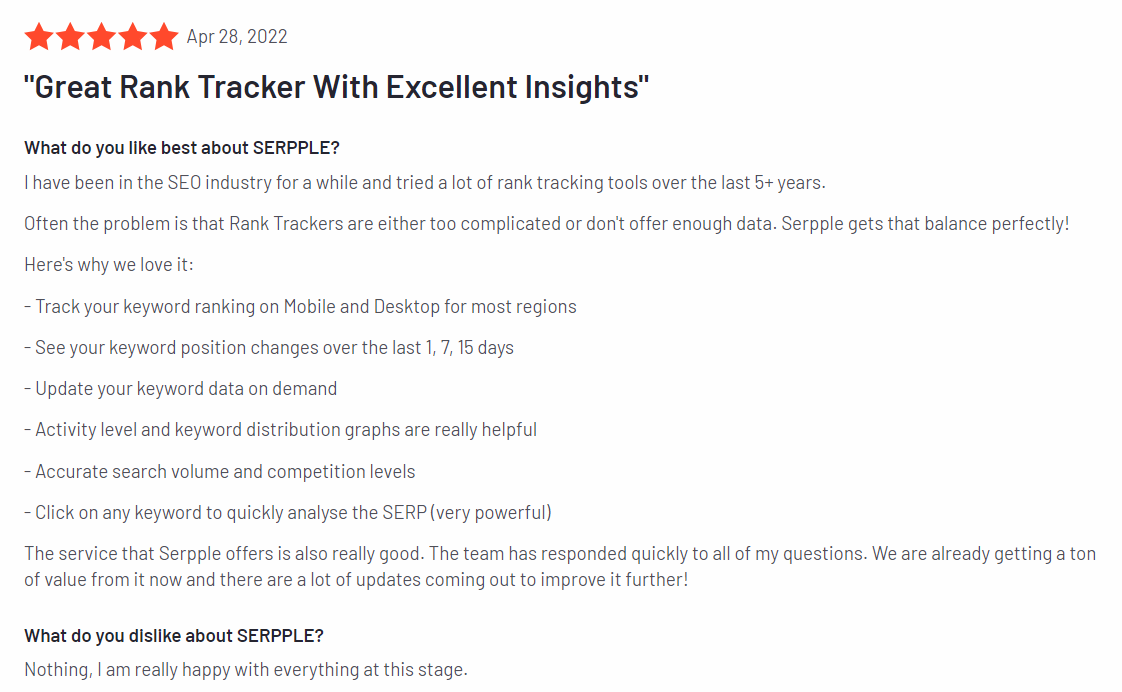 © G2
AccuRanker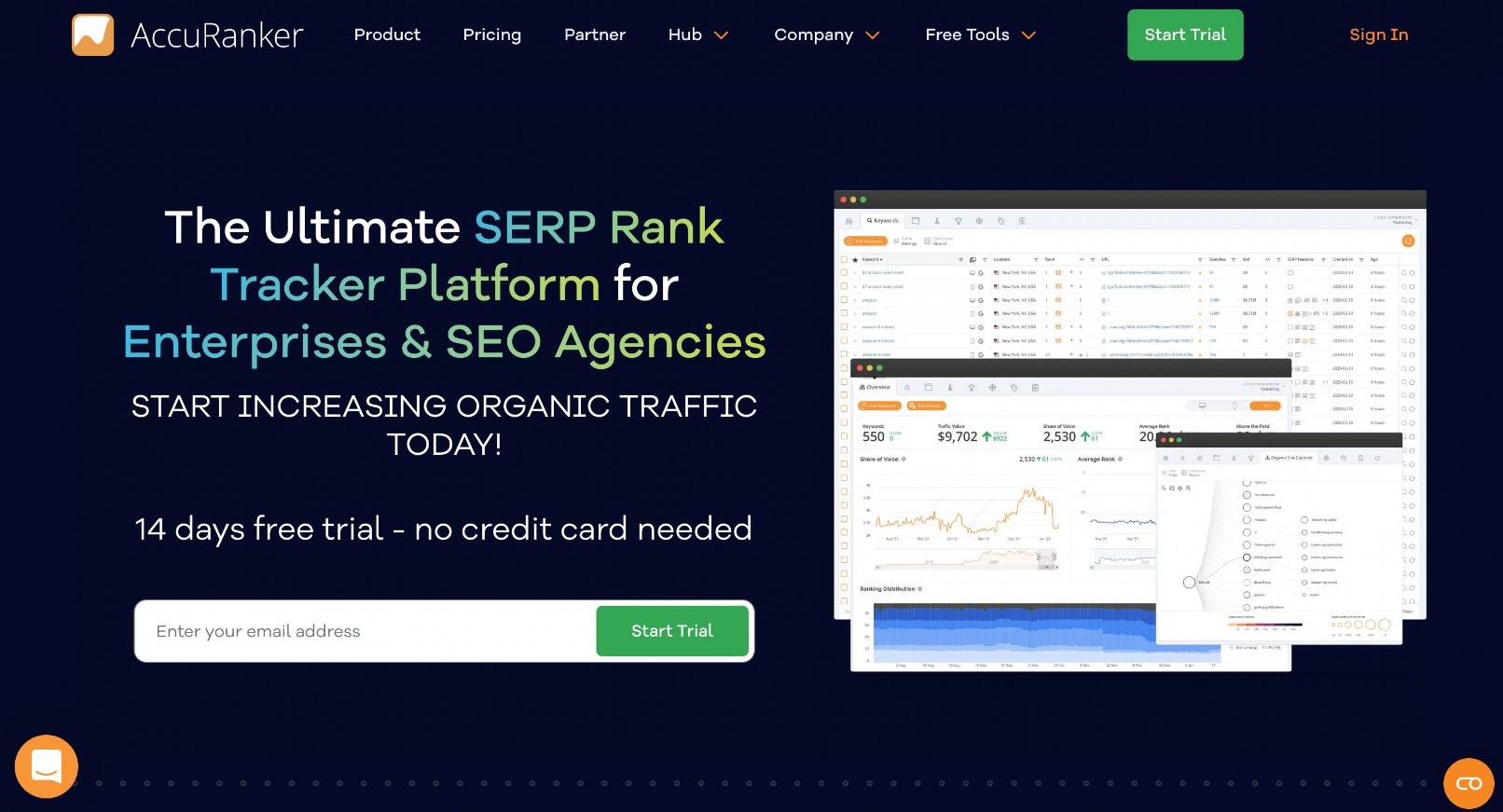 AccuRanker has long been a go-to choice for digital marketers and SEO professionals. Renowned for its reliability as a rank-tracking tool, it has earned its place as a trusted name. 
With effective keyword tracking capabilities and a user-friendly interface, AccuRanker is well-regarded in the industry. However, I would say that its price tag might be steep for smaller businesses. 
I've also looked at recent user reviews and found that some reported occasional data inaccuracies.
Even so, AccuRanker remains a robust rank tracking tool that, in my opinion, outshines SE Ranking's performance.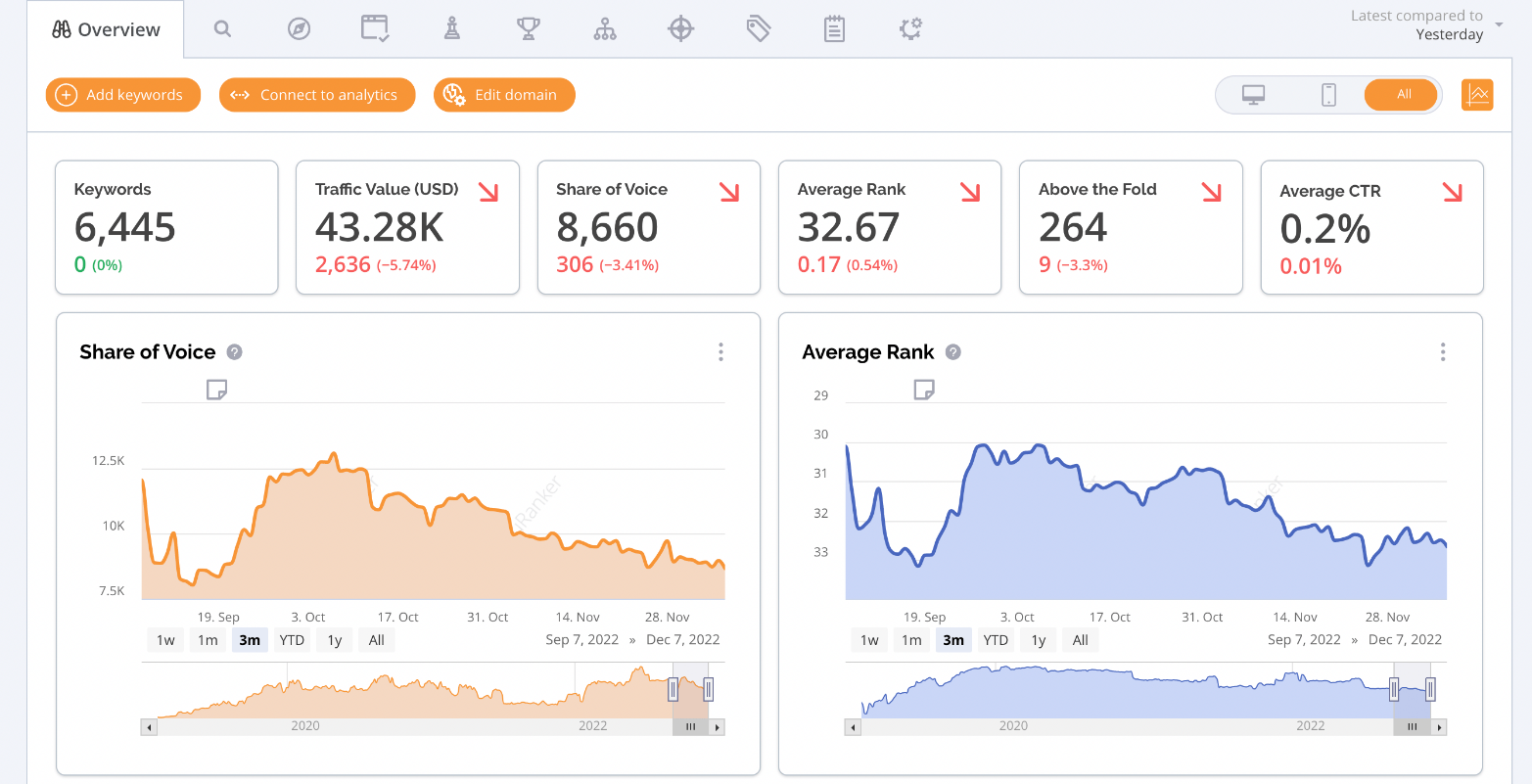 Features
Keyword tracking
Ranking distribution
Comprehensive SERP analysis
Historical insights
Competitor tracking
Multi search engine tracking (Google, Bing and YouTube)
Pros
Reliable rank and position tracking features
User-friendly interface
Historical data access
Lots of integration options
Global reach with tracking available in twelve countries
Cons
Higher price
Occasional data inaccuracies
Filtering limitations (the ability to filter by individual pages is lacking)
Metrics and reports may be challenging to understand, especially beginners
The free trial is available exclusively to users with company emails
Pricing
Starting price — €129/month for 1000 keywords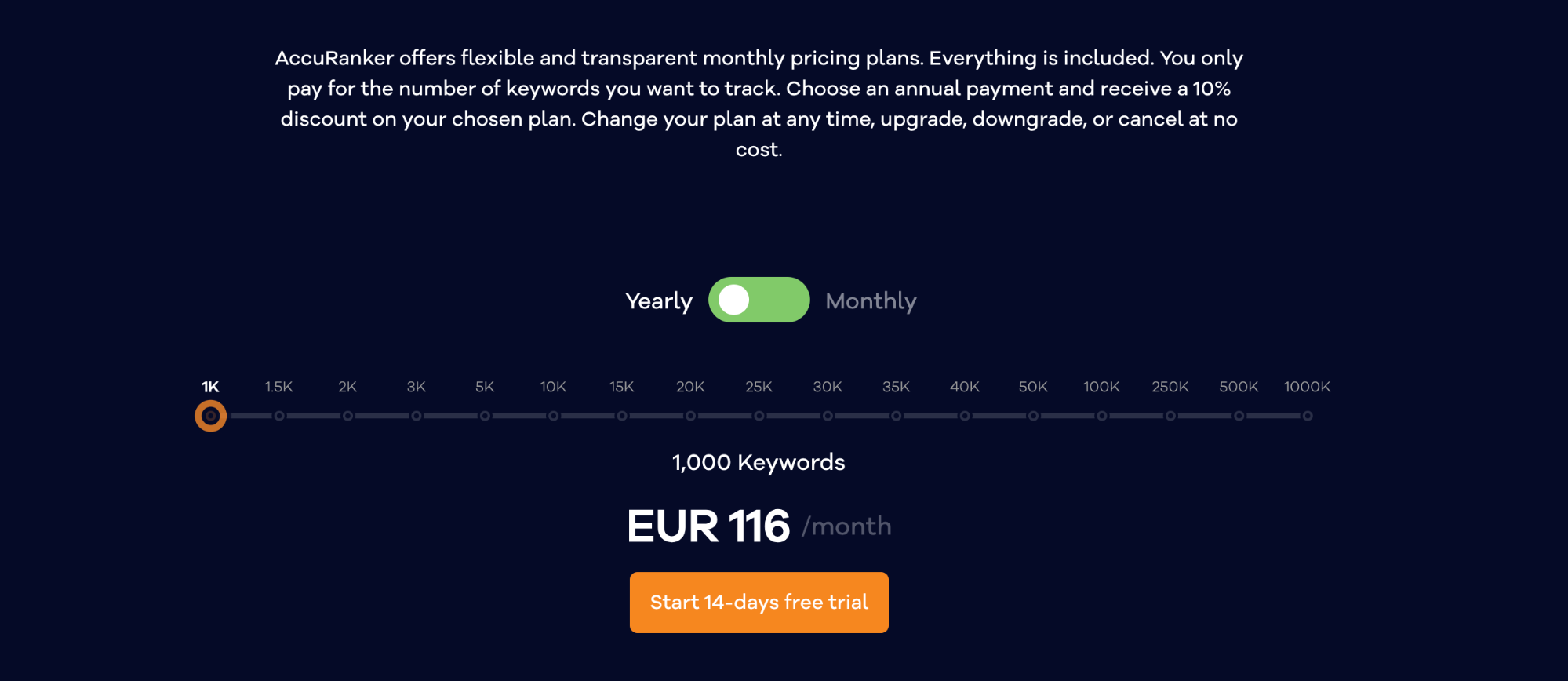 User Ratings
AccuRanker has an average score of 4.8 out of 5 stars on G2, and 5 out of 5 stars on Product Hunt.

© G2
Mangools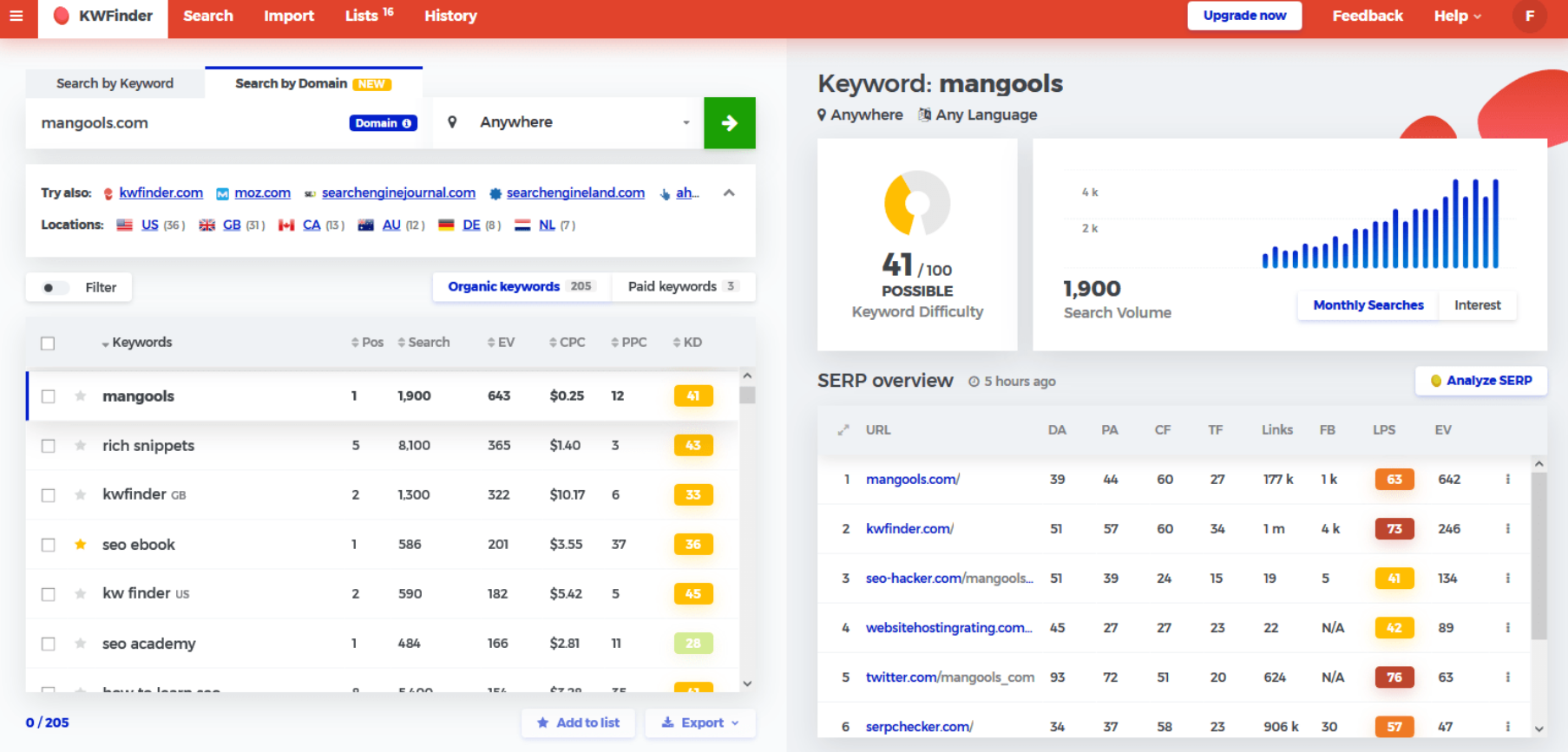 I included Mangools here because it is an easy-to-use, intuitive SEO software designed for keyword rank tracking and keyword research. It can be used as a web app or a browser extension for Chrome or Firefox, and I would say it caters to both beginners and advanced freelance users. 
However, for seasoned SEO professionals and marketing teams, the somewhat limited keyword database and analytics might not match up to the offerings of other tools in the market.
Features
Organize keywords with keyword lists
Local keyword research
Search volume and keyword metrics
SERP analysis and SEO metrics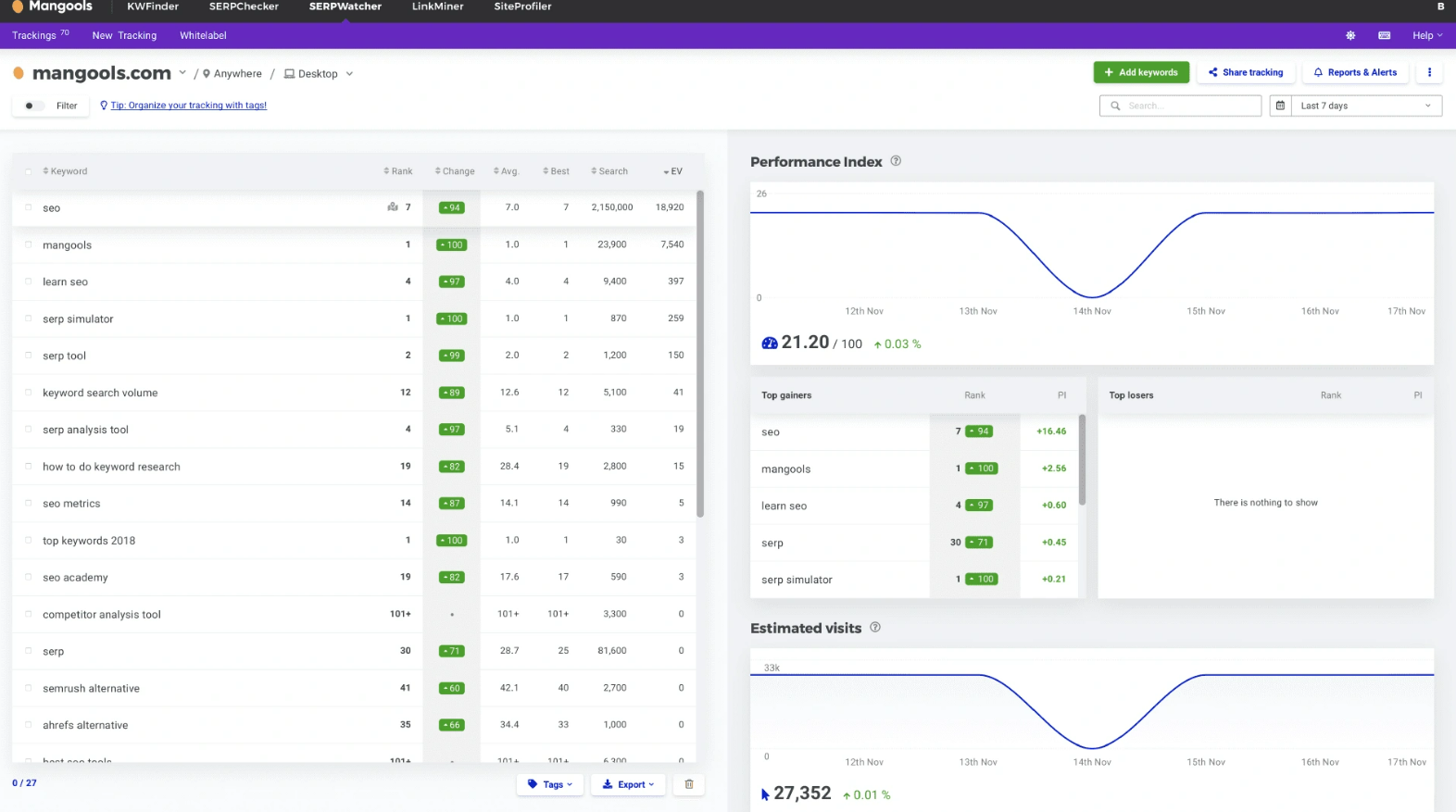 Pros
User-friendly UX, geared towards beginners
Local SERP Simulation with SERP previews for over 52,000 locations
Easily shareable reports
Budget-friendly
Cons
Modest keyword database, exclusive to Google
Off-site analytics and metrics could use some improvement
Pricing
Entry plan — €29/month
Basic plan — €49/month
Premium plan — €69/month
Agency plan — €129/month

User Ratings
Mangools has an average score of 4.6 out of 5 stars on G2, and 5 out of 5 stars on Product Hunt.

© G2

Rank Tracker (SEO PowerSuite)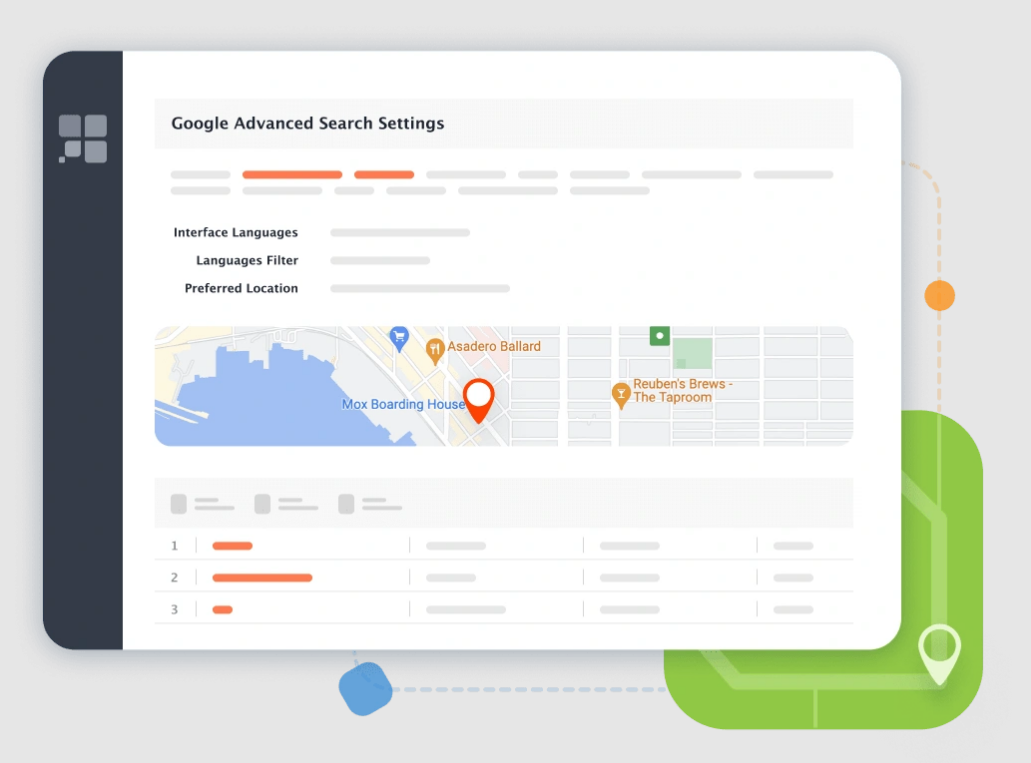 Rank Tracker (SEO Powersuite) is another good tool used for monitoring keywords, featuring customizable dashboards and SEO reports to help you rank higher on Google. 
Rank Tracker provides keyword tracking capabilities and allows users to assess positions in both desktop and mobile SERPs, optimize for local searches, conduct thorough keyword research, and analyze competitors' keywords and traffic. 
However, if you're new to the platform, you might encounter navigational challenges due to its slightly outdated and complex interface.
Features
SERP tracking/analysis
Local rank tracker
Keyword research tools
Backlink analysis and history
Website audit
SEO content optimizer
Competition research
SEO reports
Pros
Unlimited capacity for adding keywords and projects
Automated daily rank checks for ongoing keyword tracking
Comprehensive analysis of SERP features for your site
Integration with Google Analytics, Google Metrics, and Keyword Planner
Part of a larger SEO suite
Free plan
Cons
Slow customer support
Not ideal for beginners
Pricing
Free plan
Professional plan — $299/year
Enterprise — $499/year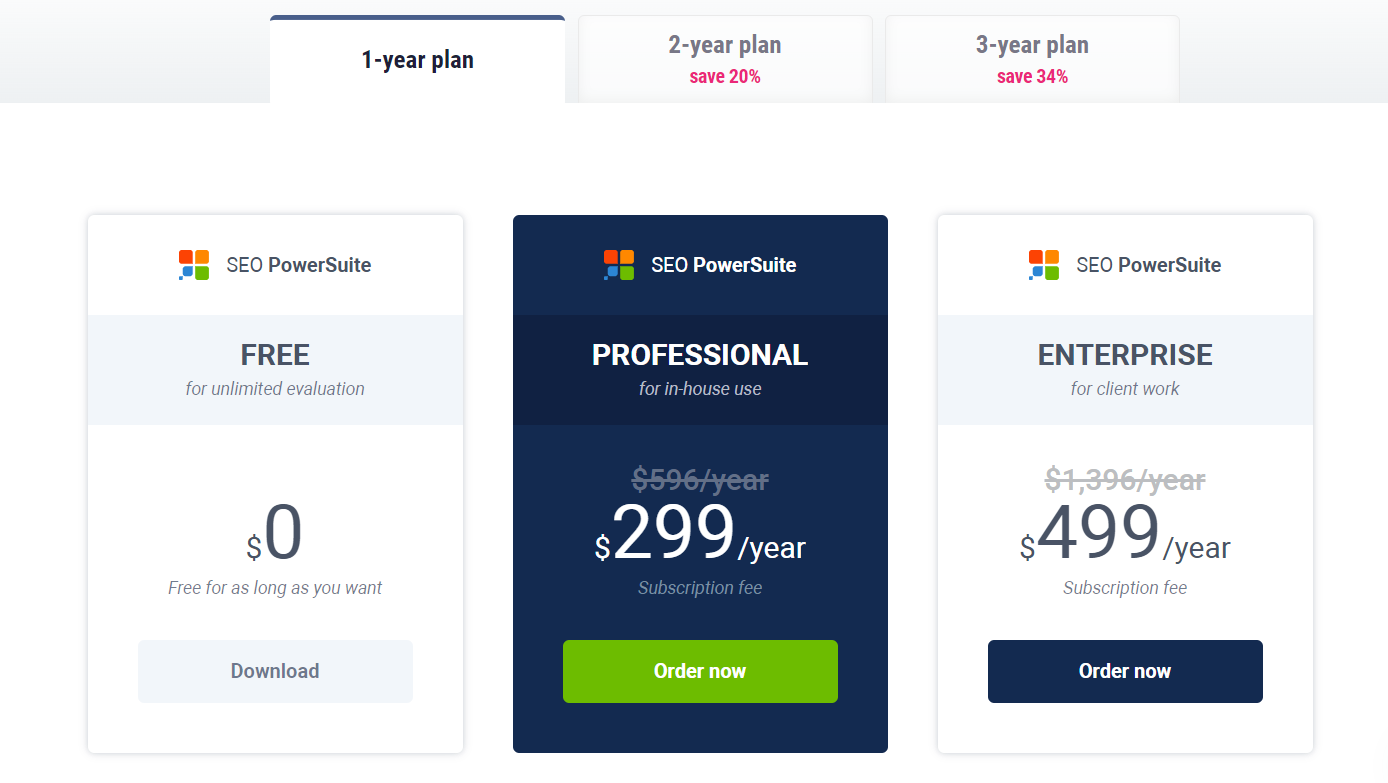 User Ratings
SEO PowerSuite has an average user rating of 4.5 out of 5 stars on G2, and 4.9 out of 5 stars on Product Hunt.

© G2
Semrush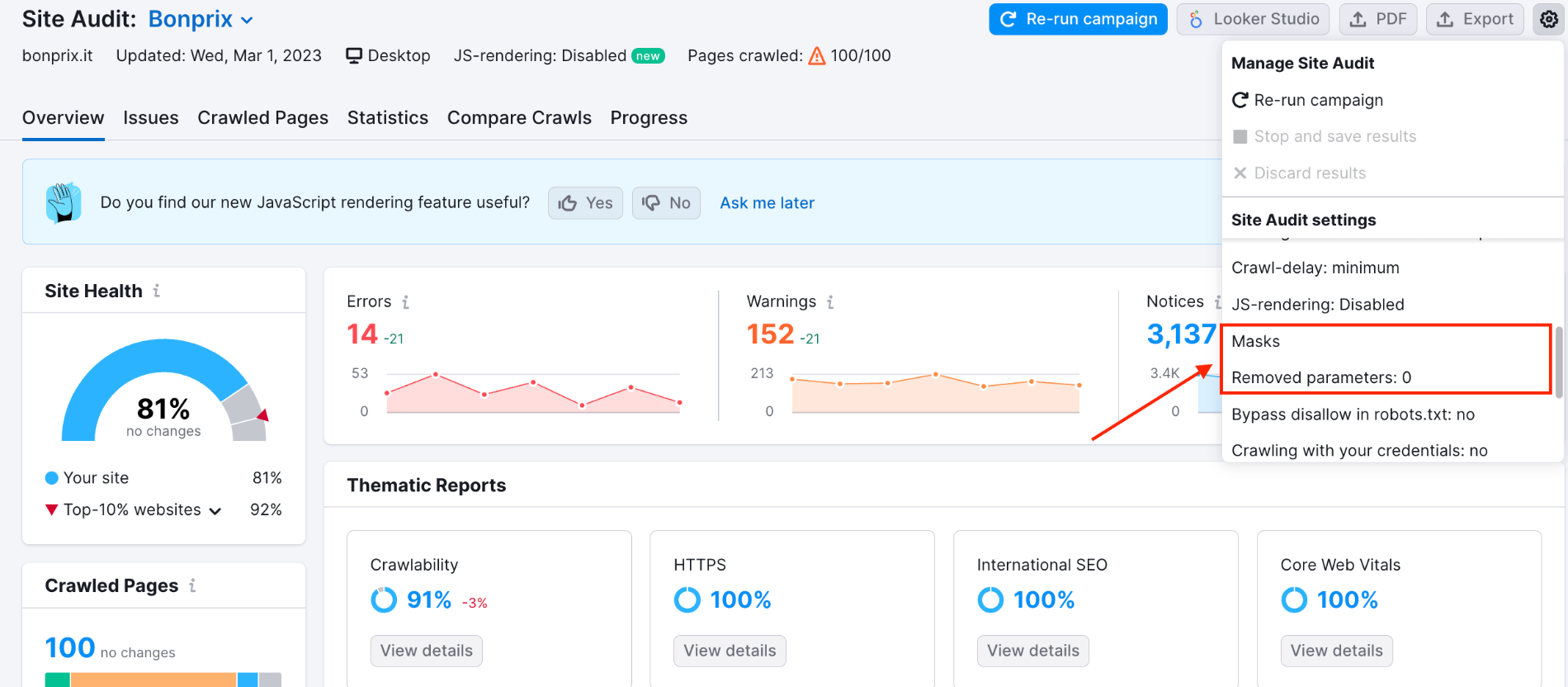 Semrush is a comprehensive web-based solution for SEO and digital marketing, primarily catering to large-scale businesses and professionals due to its extensive set of features. While it includes tools like keyword tracking, you may need some time to understand all the features.
That said, its keyword research tool is certainly widely acclaimed as one of the best in the market. However, the initial cost of $129.95/month can be quite high for small businesses that engage in minimal  SEO work. 
Features
Keyword rank tracking
Link building
Local SEO
Competitor analysis
Keyword research
On-page SEO ideas
Google Search Console and Google Analytics integration
Pros
Large keyword and backlink databases
Great customer support
Cons
Higher price compared to competitors
Steep learning curve
Some key features are only available in the pricier plans (e.g. access to historical data or the content marketing toolkit)
Pricing
Pro plan — $129.95/month
Guru plan — $249.95/month
Business plan — $499.95/month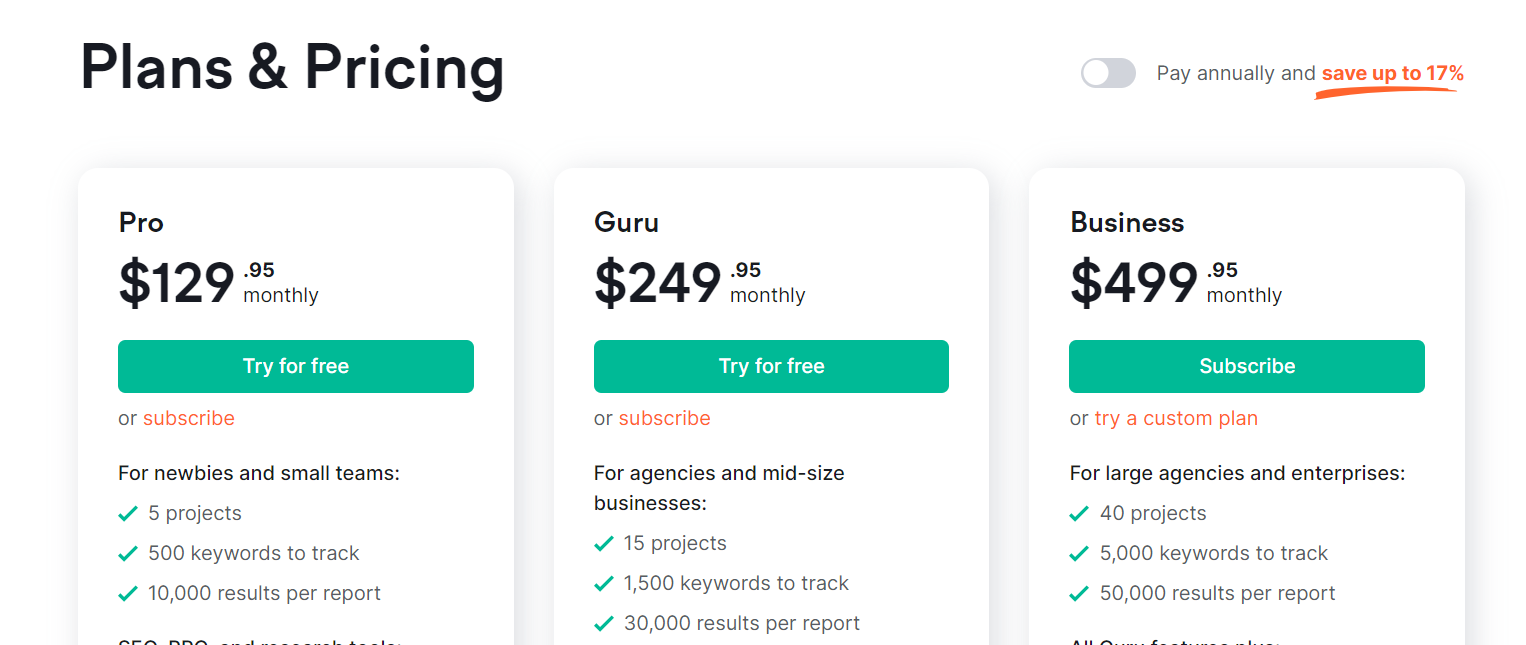 User Ratings
Semrush has an average user score of 4.5 out of 5 stars on G2, and 4.5 out of 5 stars on Product Hunt.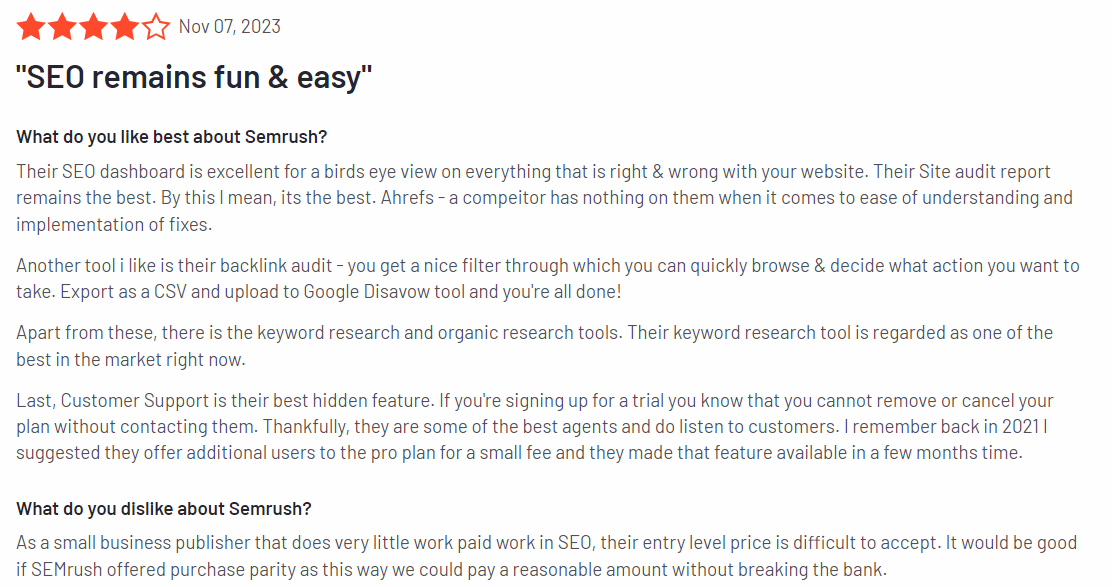 © G2
Moz Pro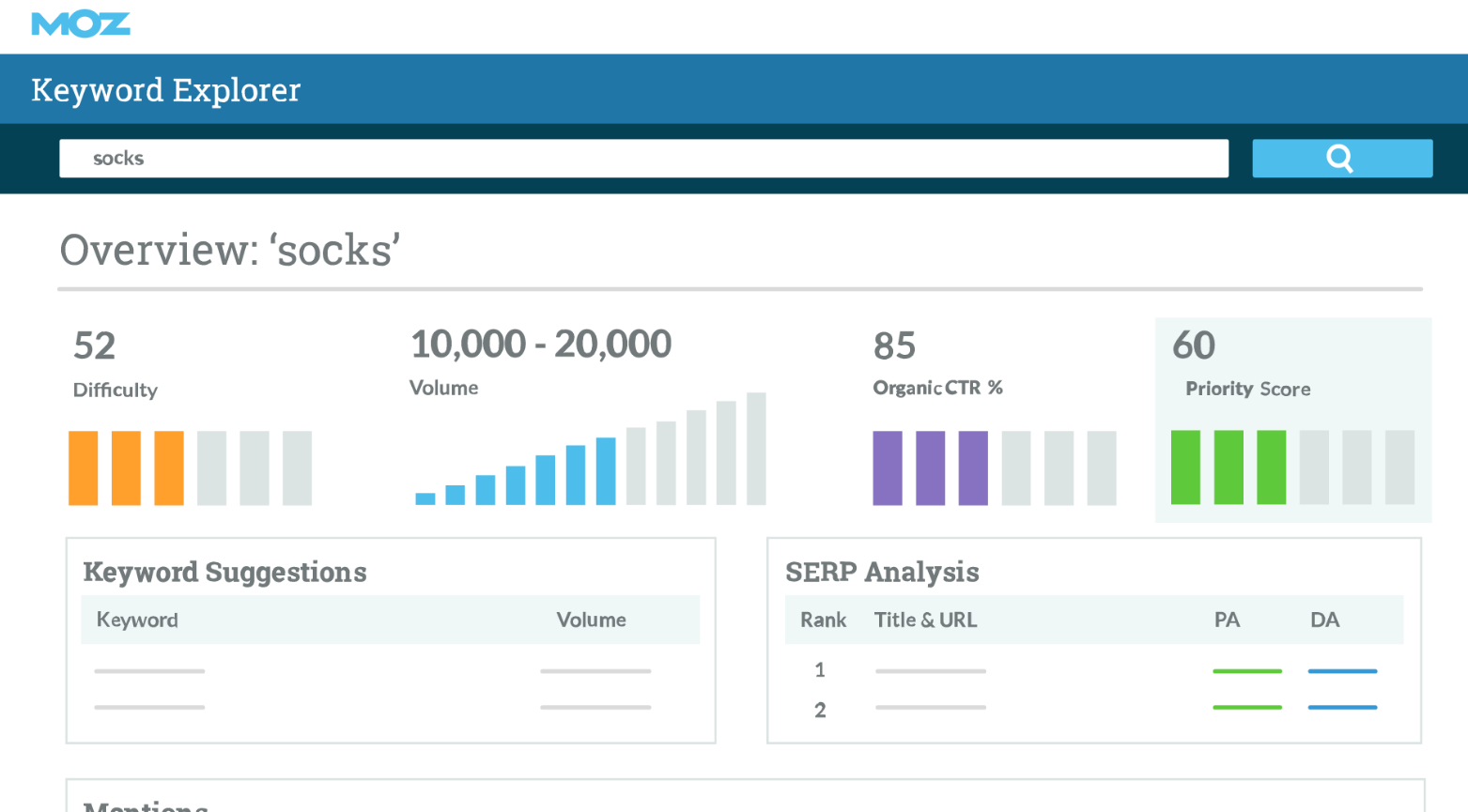 Moz Pro is another comprehensive SEO solution that provides valuable insights to enhance website optimization and increase traffic. It can help improve your SEO performance, allowing you to customize the impact of SEO on your site. 
Moreover, I'd say its main selling point are its user-friendly features, making it suitable for individuals without extensive technical expertise. However, the tool is a little outdated — it still relies on metrics like Domain Authority instead of Domain Ranking. 
Features
Keyword research
Domain analysis
Competitive research and analysis
Local SEO
SERP tracking and analytics
Pros
Beginner-friendly
Extensive link analysis
Organic visibility boosts
Cons
More features are needed for agencies and bigger teams
Non-intuitive UI
Basic backlink data
Outdated metrics (DA instead of DR)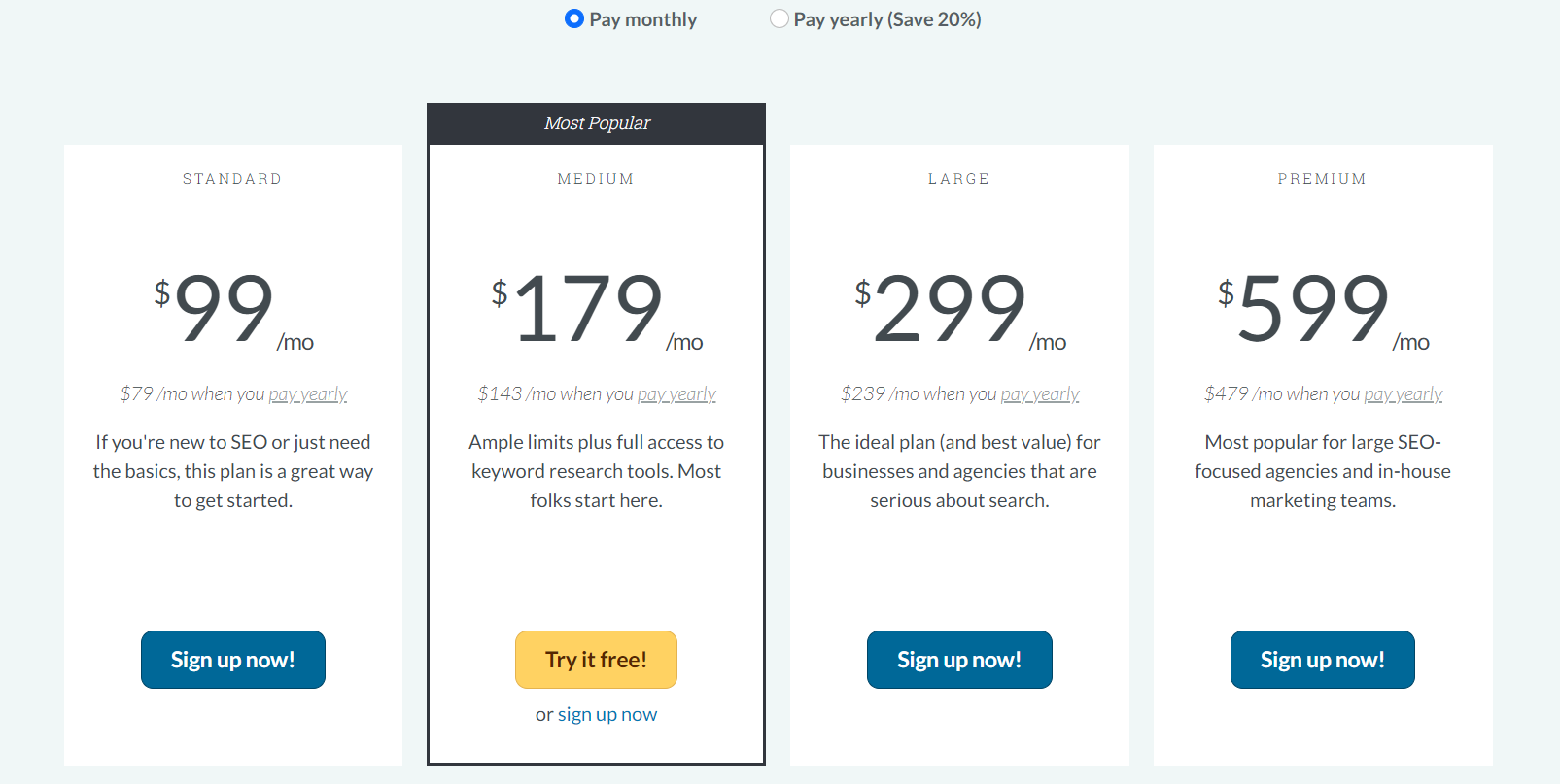 Pricing
Standard plan — $99/month
Medium plan — $179/month
Large plan — $299/month
Premium plan — $599/month
User Ratings
Moz Pro has an average score of 4.3 out of 5 stars on G2, and 4.5 out of 5 stars on Product Hunt.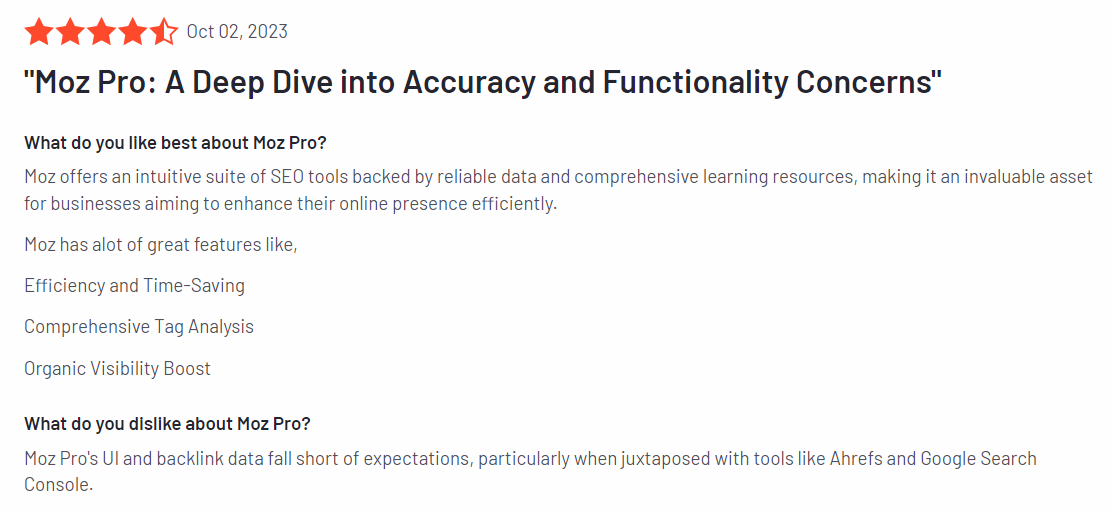 © G2
Ahrefs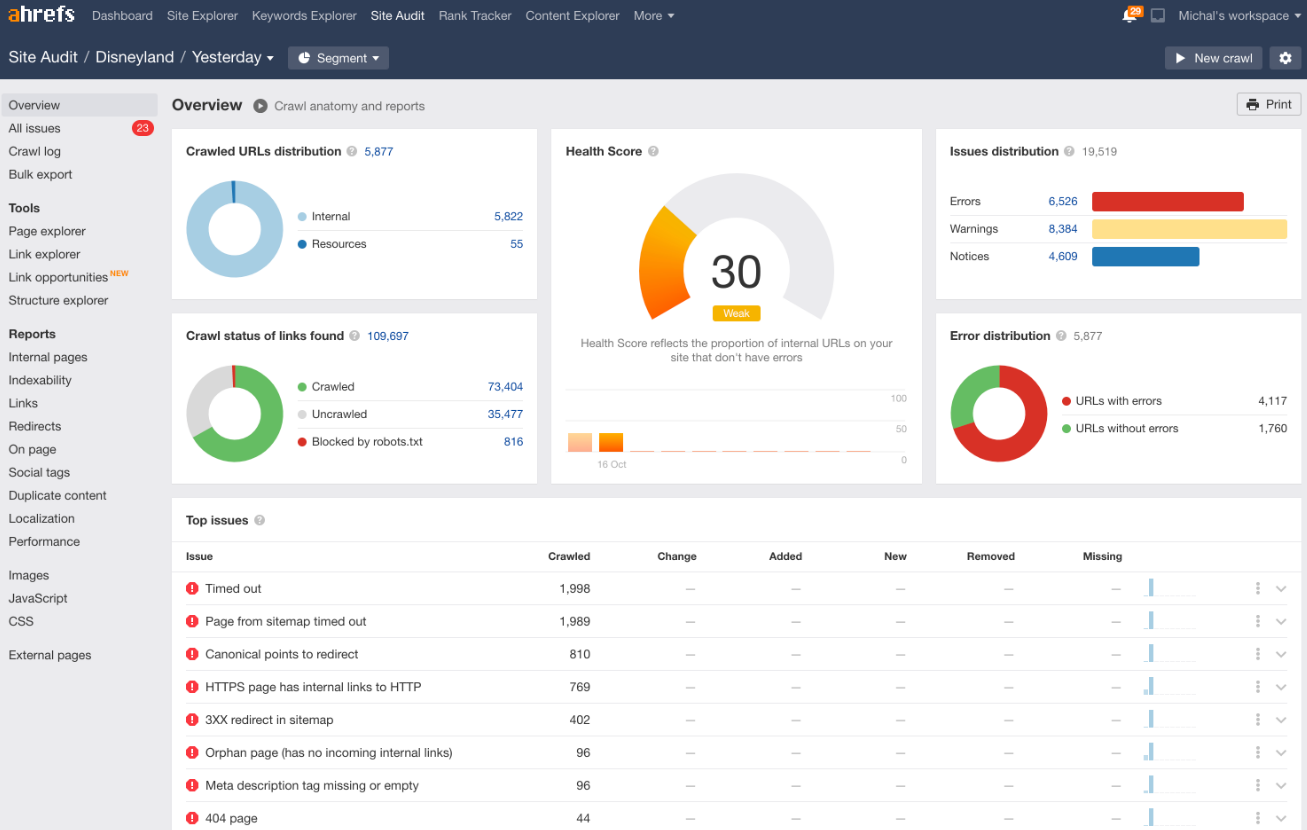 Ahrefs is another popular software offering comprehensive SEO tools and educational resources for marketing professionals. With a database of over 11 billion keywords and 400 billion indexed pages, in my experience, Ahrefs ensures maximum data accuracy for users.
Ahrefs has good data, but it can be overwhelming, and I find myself only using just a small percentage of all the tools they offer – for a good amount of money. 
While it's great at domain ranking and batch analyses, it doesn't refresh automatically, so it  takes a little while to notice any changes.
Features
Competitor research
Link building
Website audit
Content research
Rank tracking
Mentions monitoring
Pros
An all-in-one marketing tool
Extensive keyword database
Great at domain ranking and batch analysis
Cons
Too expensive compared to competitors
The UI and UX are lacking
The tool can sometimes take too long to load changes
Pricing
Lite plan — €89/month
Standard plan — €179/month
Advanced plan — €369/month
Enterprise plan — €899/month

User ratings
Ahrefs has an average user score of 4.5 out of 5 stars on G2, and 4.7 out of 5 stars on Product Hunt.

© G2
Comparison Table
Conclusion
To sum up, while SE Ranking has its merits, I believe that users should consider alternatives that might better suit their needs.
Serpple, with its user-friendly interface, dynamic features, and budget-friendly price point, stands out as the perfect alternative to many SEO toolkits, not just SE Ranking. Its intuitive features, such as keyword grouping, competitor analysis, and content audit will make your SEO tasks a breeze. 
Serpple's range of tools and ability to offer affordable pricing starting at just $19 per month give it a winning edge.
So, if you're looking for a seamless and effective SEO tool that goes beyond the basics, Serpple is your go-to solution. Sign up for a 14-day free trial today and stay ahead in the digital game with Serpple