Before get into the Best Local SEO Tips, let's try to understand how search engines evaluating in times.
Technology is witnessing lots of advancements in recent decades, and among that Google has been the best thing since sliced bread.
Google plays a significant role in making our lives easier by playing lots of roles which include the finest librarian, concise road map, fantastic teacher, prominent health/business & real estate consultant, a splendid marketplace to buy/sell, and many more.
Furthermore, in the current digital world, almost every entrepreneur either has or is looking to build a website for their business and undertake persistent efforts ultimately aiming to rank higher on Google.
And, that's where SEO comes into play.
Being a website owner or SEO analyst, it is indispensable for you to know your ultimate goal (results you are expecting out of SEO efforts) before building an SEO strategy.
For instance, if you are looking to boost your traffic and improve local SEO rankings, then it is important to know how to optimize local SEO in your website.
Now, do you have a question, what is Local SEO, and what is the best local SEO strategy to optimize for Local SEO?
Then, settle down and stretch! Sticking on to this entire blog helps you gain enough insights about the best Local SEO tips to rank well in Google.
What is Local SEO & How to Improve Local SEO?
Local SEO is the process of allowing your website to get ranked for local searches.
For instance, if you run a local restaurant and try to target the local audience in your city, then you have to implement certain local SEO strategies for your website.
If you are still puzzled by your need to know the best local SEO tips, here are a few stats that prove why local SEO is important?
Why is Local SEO Important?
Local SEO helps your business by:
Optimizing for local SEO 

makes your business more likely discoverable by more new customers.

Google My Business

 Profile optimization helps to improve your Google Maps visibility which in turn leads to more calls, and store visits.
Google business reviews is one of the most successful local SEO tactics as it allows your business to 

show up in Google's Map Pack

 search result.
If the 

review/rating 

of your local business shows up next to your business name in Google, you can gain positive impacts in the click through rate of your site.
By optimizing your local SEO, you can extensively reduce or 

cut all the advertisement costs

 spent on traditional advertising.
I would also like to bring some interesting stats about local SEO before your eyes to make you understand the significance of local SEO.
Local SEO Trends
Do you still want to know the exact difference between SEO and Local SEO? Look at the below picture.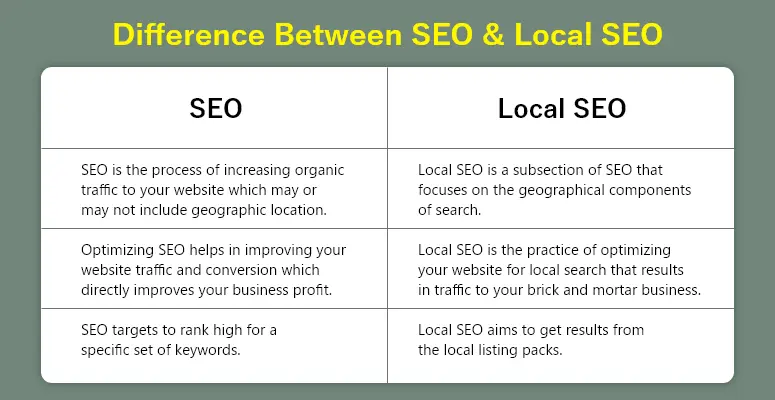 Top 7 Best Local SEO Tips to Optimize Your Site for Local Search
1. Create and Optimize Google My Business Listing
Google My Business (GMB) has become the essence of local SEO. With Google My Business, local businesses can add their business details on GMB and encourage customers to express their reviews online. 
Also, you can add your contact information, operating business days, and business working hours, to improve engagement with your potential customers to find you.
2. Ask for Reviews from Happy Customers
Collecting reviews from customers not only helps you to improve authenticity in Google My Business, but it also encourages more local target customers to visit your store. According to INC, 84% of online users believe online reviews are as much as friends.
Few suggestions to ask customers to leave reviews
Request a review from your customer in person after the closing of the sale
Send an email to post-purchase email or text asking customers to write a review (but only after analyzing and ensuring that you are not outreaching unhappy customers)
Reply to the existing reviews professionally by thanking the customers who have posted reviews.
3. Include Location Pages on Your Website
Having location-specific pages on your website helps search engines to crawl and display your result for location-related searches.
Besides, including your contact details on your website is essential. It is an added advantage to add a map view of your location on your website.
This helps search engines easily locate your listing and provide the appropriate location to the users.
4. Focus on Local Keywords
Local keywords are just like other keywords that help Google to rank your website, but they include location-specific words and phrases.
The ultimate goal of local keywords is to help the local audience to find your business/service.
So, if you're targeting to gain traffic from a local audience, it is the best strategy to give focus to local keywords.

Here are some benefits of using local keywords
Helps to target the right shoppers to identify your business on Google.
Drives traffic for your business that's more likely to convert.
Helps Google to analyze and provide appropriate results that match the user intent.
Helps to create a reputation as a trusted local company.
Want to conduct keyword research like a pro? Read the top 5 Best Practices for Keyword Research
5. Optimize Local Citation
Citation plays a major role especially when it comes to the local SEO part. Local citations help to keep Google informed regarding where you are located. This will likely increase the chances of Google displaying your listing for appropriate local searches.
What are local Citations?
A local citation is any online business mention of a Name, Address, and Phone number of any local business which can be shortly termed as NAP.
Citations can occur on local business directories, websites and apps, and social platforms.
Citations will be displayed in lots of different places in SERP that includes business directories, social networks, or anywhere the user's search for local business information.
Besides, having basic citations with high-quality basic citations helps your business to rank accurately for Google's local search results.
Local businesses can consistently include many citations to enhance data accuracy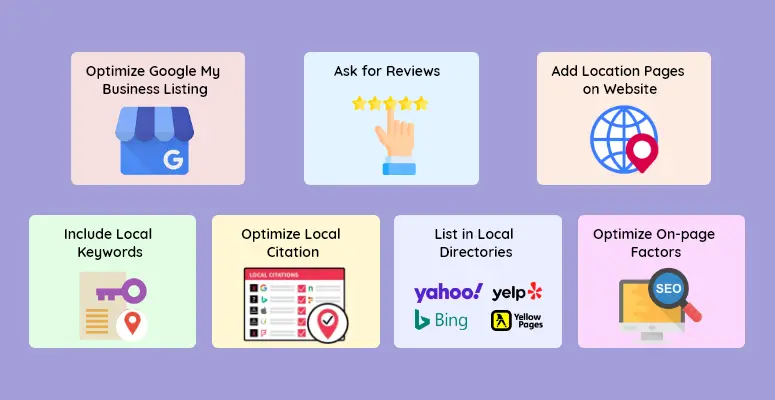 6. Add Your Business Details to Local Business Directories
This is something you shouldn't skip of all the 7 best local SEO tips listed here. Local business directories are the online version of the yellow pages which list businesses within a specific niche, platform, or industry. 
By registering in directory submission sites, you can include your business information like contact details, address, social links, logo, etc. 
Local business directories play an integral part in your local SEO strategy as it improves your traffic to your local business on SERP. 
It's an off-page strategy that features in various places on the Search Engine Results Page (SERPS) that includes a local pack, image pack, featured snippet, etc. 
The more you list your business online, the more you can appear in different places on the Search Engine Result Pages. 
It is worth knowing about the basic features of SERP to explore your local SEO opportunities.
7. Focus On Page Local SEO Factors
Optimizing your on-page SEO is a crucial part to enhance your local search ranking. 
So, consider these factors while building your local on-page SEO strategy.
Here is how to track your search engine rankings.
Use of local keywords in website content
Search engines look for the use of local keywords that are relevant and strategically placed to provide accurate results for your target audience.
Internal Link
Try to include local news sites, trusted local review sites, community blogs, and quality standard certificates from recognized organizations on your website. This will boost the authenticity of your business and encourage customers to reach your business
Mobile Friendliness
As people always use mobile phones to look for products and services nearby, it is essential to provide a better user experience.
Having read the significant Google local SEO tips would have given you a clear idea about building effective and best local SEO strategy for your local business.
End Note
If you are an entrepreneur targeting a local audience for your business, then start implementing the aforementioned the best local SEO tips for your website.
Do you think this best local SEO tips blog covers enough insights on building a powerful strategy to improve local SEO?
Besides, do you have any topic suggestions for our next blog? If so, then let us know your thoughts on Serpple Community.
Join our Serpple Facebook community which is exclusively created to build interactive networks for SEO peers. 
There is another blog for Enterprise local SEO challenges.
Stay tuned for our next blog.
Happy Serppling